WhatsApp is one of the IM's that have made communication easy and simple. It is used for sharing not only texts and calls but also multimedia files. Along with this it supports to share locations on WhatsApp as well. Sharing of location is one particular feature that is used extensively and is very helpful as well. Going to an unknown place in an all new locality in a new city hasn't been simpler ever since the use of Maps on these respective smartphones with their own operating systems creating their own maps. In this article, I will tell you how to use the WhatsApp location function on different mobile devices.
Why Choose This WhatsApp Data Recovery Software:
dr.fone - WhatsApp Transfer is such a smart tool that can help you to recover lost WhatsApp data of your phone from iOS (iOS 10.3 supported) compatible devices.
It can help you to restore WhatsApp messages and attachments to iOS and Android devices.
Even it supports to transfer WhatsApp data between iOS and Android devices one-click.
Part 1. How to Share Location on WhatsApp on Mobiles
1. Share Location on WhatsApp Using iPhone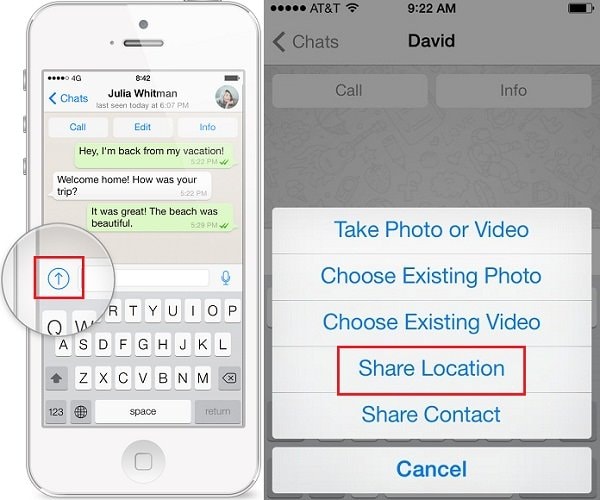 Sharing locations over WhatsApp on iOS devices is highly easy with the help of the steps mentioned below.
Open WhatsApp and open that chat you want to share any location on.
Tap the "Send Media" button placed next to the dialogue box you'd type in.
Select what you would like to send on the particular chat, in this case, tap "Share Location".
Once you tap "Share Location" iOS asks for your permission to allow WhatsApp to access the maps. Click on "Allow" at this step.
Click on "Send My Location" to send the location.
2. Share Location on WhatsApp Using Android Phones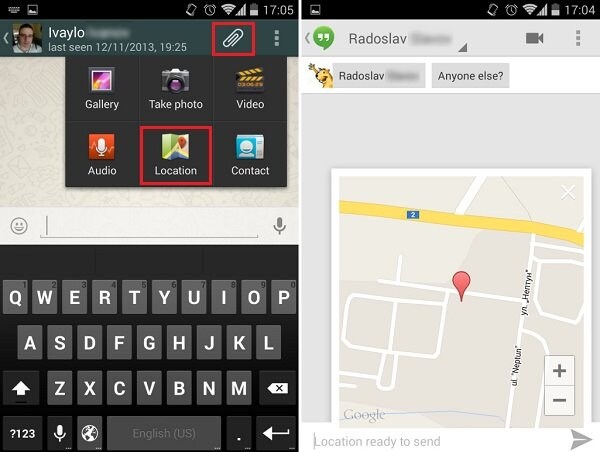 You will have successfully shared your location through WhatsApp over Android Operating System by following the steps below.
Open WhatsApp and then go to the chat you want to share your location on.
On the top right corner is a symbol of a "Paper Clip", click on it and select "Location".
Your device will now access google maps to determine your location. Click on the option "Send Your Current Location".
3. Share Location on WhatsApp Using BlackBerry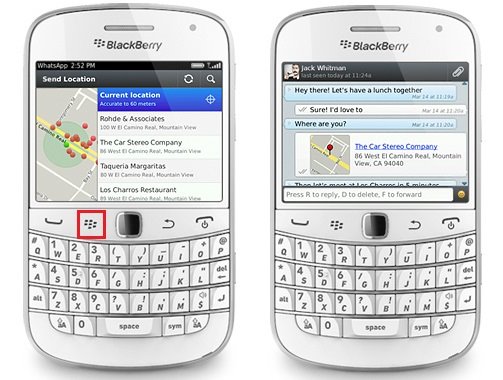 Open WhatsApp and click on the chat you want to send the location.
Click on the three "Vertical Dots" on the bottom right corner.
From the list of options click on "Send Location".
Part 2. How to Share Fake Location on WhatsApp
Not only can you share your actual location over WhatsApp but also your fake location, in case you want to avoid a few people or not let them know where you are to enjoy your own personal space. The process of sending a fake location is as follows.
Open WhatsApp and then open the chat you want to send the fake location in.
Go in the options and click on the option to send location.
When the phone judges your location, manually change your location by putting another address in the search bar and search it.
Click on share my location when the new location is searched and located.