WhatsApp is one of the most used chatting apps in the world, even though it has some common issues and problems that we gathered from the consumer.
Obviously, there are a lot of reasons to cause "WhatsApp Not Working" on your device, here we listed 7 common WhatsApp issues and guide you on how to solve these problems.
You can check the list below and ask yourself: "Did I face the same problem before?"
Part 1: WhatsApp Connection Issues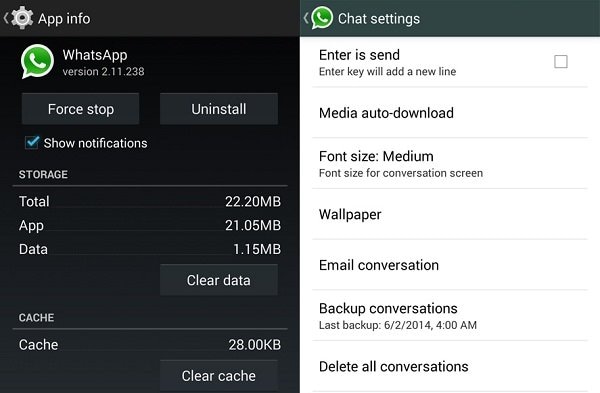 Many people may complain "WhatsApp not Connecting", "Why is my WhatsApp not working", or "My WhatsApp is down", before that, make sure your data connection is stable, we recommend you to connect Wi-Fi instead of burning your data instead of cellular data in order to work properly. Just in case you are not able to send a message, just check your internet connection.
Go to Settings > Wireless network and check whether a third party application is not activated as it may affect the performance of WhatsApp.
Or you can empty the app cache > Go to Settings > Applications > WhatsApp.
You can either follow the above two options or uninstall and re-install WhatsApp in your phone simply. Be careful, before you delete the app, make sure you have backed up WhatsApp on your iPhone or Android device already.
Part 2. Inaccurate Date in the Phone
This is a common issue faced by many users. In some cases, when the users try to use WhatsApp, and they get an error message showing that the time on your phone is inaccurate.
Lots of Android or iOS users have reported this kind of problem. Don't worry, there is a solution to solve this problem.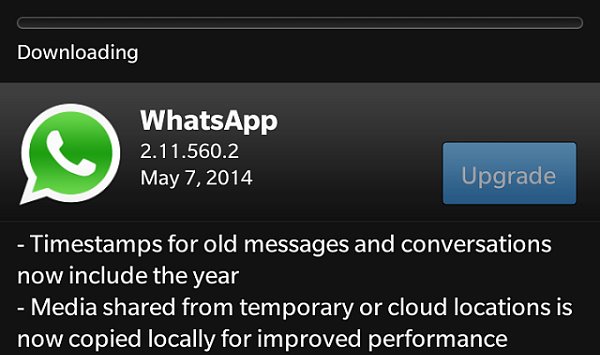 Step 1: First of all adjust your time in the phone manually and try opening WhatsApp again.
Step 2: Or "Update" WhatsApp. This kind of error may occur if your application needs an update.
Step 3: Go to Google Play Store or App Store.
For iPhone Users:
Go to App Store > Look for "Updates" on the Right bottom side of the iPhone > Choose "WhatsApp" in the list > Choose "Update".
For Android Users:
Go to Play Store > search "WhatsApp" > Choose "Update".
Part 3. Contacts Not Visible in WhatsApp
Sometimes when we try to message somebody and find in the contact list, but that people's name may not show up, even when you try to search them in WhatsApp contact. No worries, this is just a temporary WhatsApp issue.
To solve this problem, you can follow this simple guide below: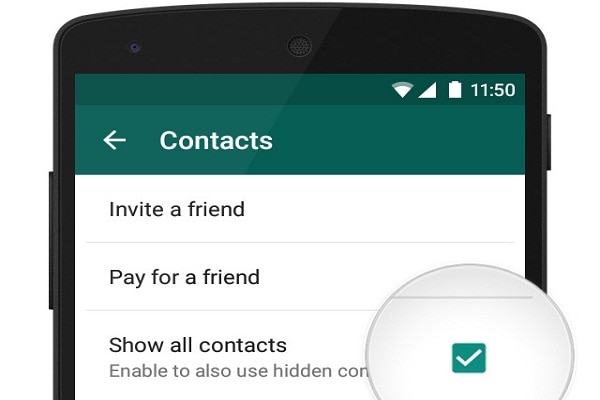 Step 1: Make sure that all the contacts are marked as "Visible" or "Viewable". At the same time, refresh the app by clearing the app cache. Waiting for a while and search for the contact again.
Step 2: Check whether they are using WhatsApp or not. If they don't have WhatsApp account, please tell them to install it to enjoy its unlimited free messages and amazing features among your friends and family.
Step 3: Go to update WhatsApp to the latest version and try again.
Part 4. How to Remove WhatsApp Duplicate Contacts
Have you ever find out there are two "Mike" but actually they are the same person? Or you've got two contacts for the same person (one with an email address and one with a mobile number for example). You may get confused, so how can we manually remove the duplicate WhatsApp contact?
The first place you have to go is your phone contact list, you can manually get rid of duplicated contacts; or use third-party tool like "Duplicate Contacts" to merge the contacts.
Part 5. Blue Ticks showing the "Last Seen" Status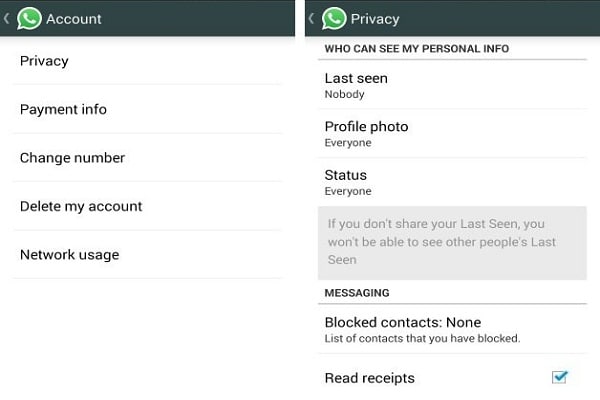 The double blue ticks show that you have read the message.
In this way, WhatsApp lets users know whether their messages have been read or not, sometime time is good to know, but sometime it could be quite frustrating as well.
You just need to update your WhatsApp to the latest version of v2.11.444. After updating the app, you can turn this feature off as the guide shows below:
Open WhatsApp > Go to "Settings > Account > Privacy" > Uncheck the box which says "Read Scripts".
Part 6. Delete and Uninstall WhatsApp Account
If you want to stop using WhatsApp, you could choose the "Delete" option and uninstall it from your phone. Of course, you can download it again from the Google Play store if you want to use it in the future.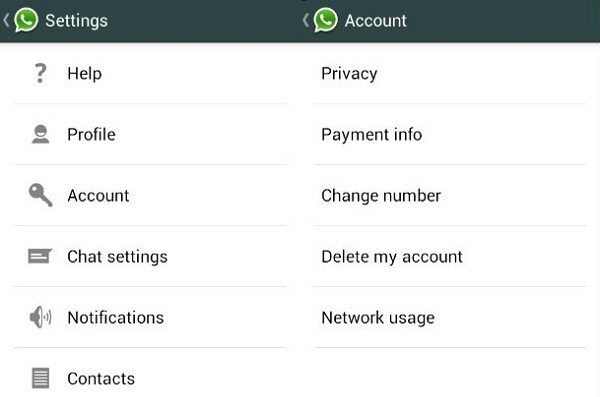 Step 1: To uninstall WhatsApp app from your mobile: Open WhatsApp > Go to Settings > Apps > WhatsApp > Uninstall.
Step 2: Adjust Facebook Sync options. If you had installed the new version of Facebook, both the applications may be facing problems in the phone book address. So, just disable the Facebook sync by changing its settings.
Step 3: Update to the latest WhatsApp by going to Google Play store or other Play store.
Tips: Before you uninstall WhatsApp, remember to backup your WhatsApp messages and data and next time when you re-install, you can restore all the data back to your phone again.
I recommend you use dr.fone - WhatsApp Transfer to help you backup and restore WhatsApp chat history , account, and all the attachments like images, audio, videos and more. You are able to backup them selectively in one click.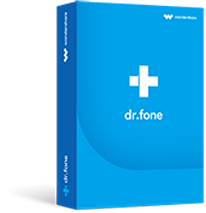 Backup WhatsApp photos, messages, videos and more on iPhone/Android Phones
It provides a simple solution to preview backup file data and selectively restore it to a computer or any type of device (iOS/Android).
It can easily restore the backup taken from an Android to another iPhone/Android without facing any compatibility issues.
WhatsApp Transfer supports most Android devices models and compatible with the latest iOS 14/iOS 13 System.
3,990,656 people have downloaded it
Part 7. WhatsApp Crash Issue
That happens that WhatsApp is down automatically for many reasons, including software bugs, invalid settings, app updates, and system issues. People always get annoyed "What's wrong with WhatsApp" or "Why is my WhatsApp down".
There are a few things that we can do in this situation. Here we give you two ways probably can help.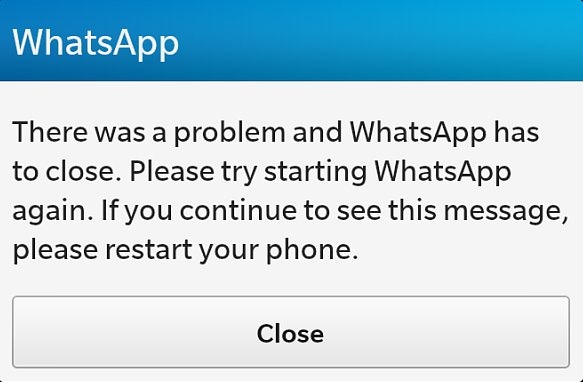 Method 1: Clean your cache on your phone, uninstall and re-install your WhatsApp.
Method 2: If you want to delete your WhatsApp account: Open WhatsApp > Menu > Settings > Account > Click "Delete My Account" option > Confirm your phone number. (You could also change your WhatsApp number while deleting your account)
Final Line
After reading the whole article, you have gotton some ideas on how to solve WhatsApp not working issue. No matter your WhatsApp web not working or notification is down, just go through the list again and find your right solution! If you find this article is helpful, please share it with your friends and families to help them as well.