How to Recover Deleted Photos from WhatsApp?
I accidentally deleted some very important graphic images in my WhatsApp. Are there some WhatsApp phoot recovery tools that can help get them back?
- From a user.
Pictures speak a thousand words, and we all know how true of a statement that is! With smartphones, capturing and sharing the everyday moments of your life has been easier than ever before. Whatsapp undoubtedly stands as the best app for sharing photos with friends or family and has taken a permanent spot on our iPhone and Android devices.
However, we have also faced the dreadful moment where we lost WhatsApp images, either due to you accidentally deleting them or some glitch that may be software or hardware related. Then we scramble to find a WhatsApp Photo recovery software that may aid us in getting back those images.
In this article, we are going to make the process easy for you! We have done all the research in finding reliable WhatsApp Photo Recovery software that helps you to get things done!
Part 1: How to Recover WhatsApp Deleted Images on iPhone
More often than not, we are left disappointed due to the lack of performance that these softwares have. Now it has become harder than ever before to pick a trustful WhatsApp photo recovery software because of all the fake ones that are widespread online. We begin our list by introducing WhatsApp photo recovery software for iPhones.
Method 1: How to Recover Deleted WhatsApp Photos without Backup
Even though you don't see your WhatsApp photos in your gallery, it doesn't mean that it's gone from your iPhone forever! They might appear deleted, but their root files may very well be there in your iPhone buried deep within the device storage. And the best part is that you don't even need a WhatsApp backup in place to do so!
What you need here is a powerful software that can scour your iPhone memory for WhatsApp images. The software is designed to perform deep scans within your device memory so that all the deleted WhatsApp image files can be successfully recovered.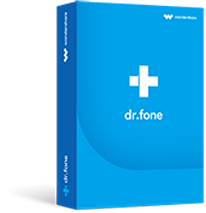 Recover WhatsApp Deleted Images Successfully for iPhone/Android
Recover Deleted WhatsApp Photos, Videos and more from the iPhone, iTunes backup as well as iCloud backup.
Preview and only choose the wanted deleted WhatsApp photos and transfer them to anohter iPhone/Android phone.
Compatible with both Windows and MAC computer
User-friendly and simple to use
3,890,385 people have downloaded it
Let us help you through the process of recovering your lost WhatsApp images to your iPhone using the iSkysoft toolbox.
Step 1: Download and install iSkysoft toolbox on your computer. Launch the software to see the different functionalities that you can use with the iSkysoft toolbox. Click on "Recovery" to begin.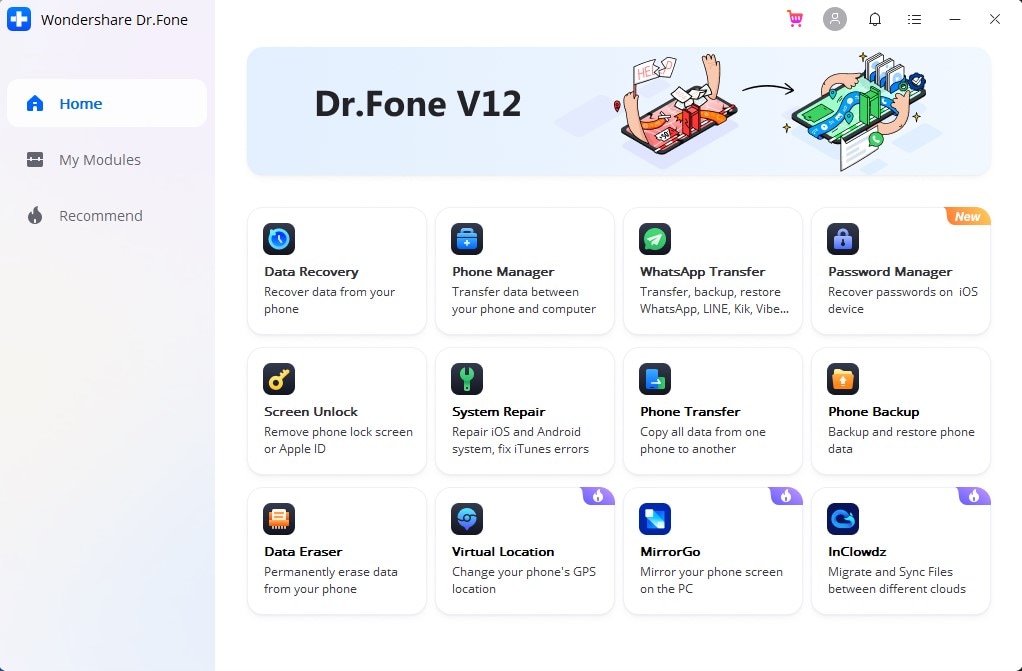 Step 2: Connect your phone to the computer via USB. Wait for the software to automatically detect your iPhone. In the following window, out of the three options given on the left side, click "Recover from iOS Device" to bring up the Media options. Tap on "WhatsApp & Attachments" files you want to recover and click "Start Scan" to begin the scanning process.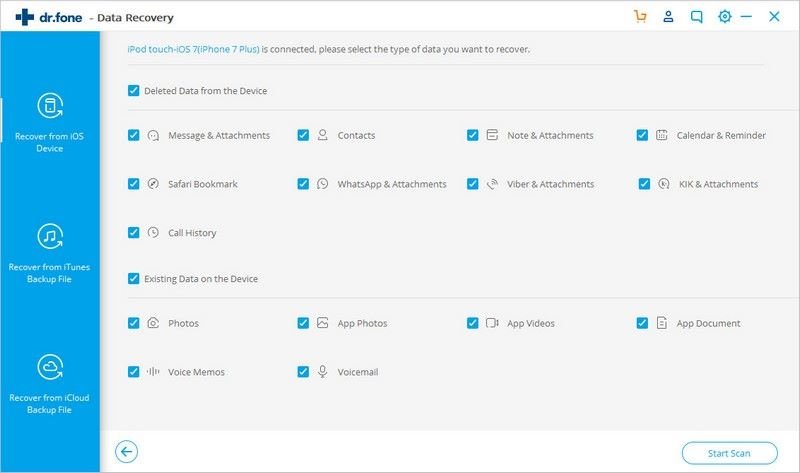 Step 3: iSkysoft will now initiate the scan. The total time taken will depend on the storage size of your iPhone.
Step 4: After the scan, you will be presented with the list of files that the software has recovered. You can choose which all files are needed to be recovered by toggling the selections. Click "Restore to Device" to move the recovered files to your iPhone.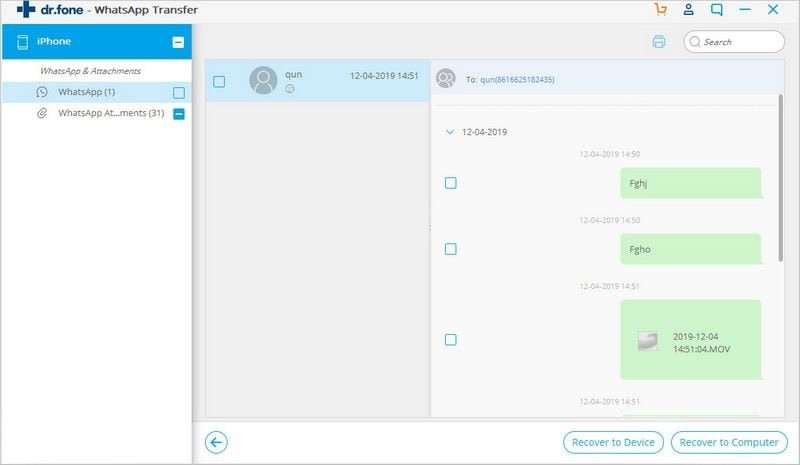 A very simple solution to a complicated problem! There is no need to download multiple softwares and burden yourself with the task of trying them all out!
Method 2: How to Recover WhatsApp Deleted Pictures via iCloud
In this method, we will help you learn how to recover deleted pictures in WhatsApp using iCloud. The steps to this are as simple as the dr.fone guide, but the differences in functionality and effectiveness are like night and day. Now, let's go through the steps involves in the actual process.
Step 1: Firstly you need to check whether you ever made a backup of data on iPhone via iCloud by going to settings>Account Name>iCloud>iCloud Back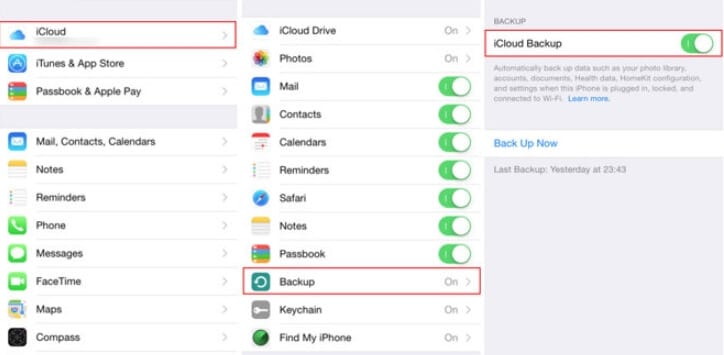 Step 2: Next, you need to reset your iPhone by opening "Settings" on your iPhone and then tapping on "General" and "Reset". After that, you can choose"Erase all content and settings".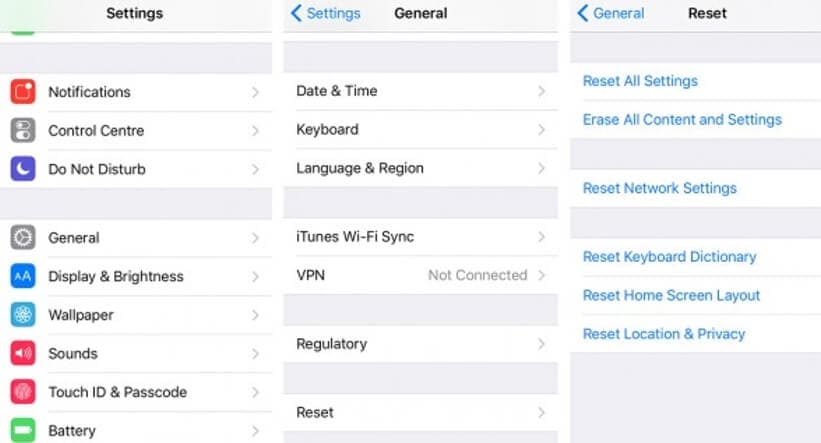 Step 3: Now the iPhone system will reboot and show you the "App and data" as shown below. When the Apps & Data window is shown, click "Restore from iCloud backup".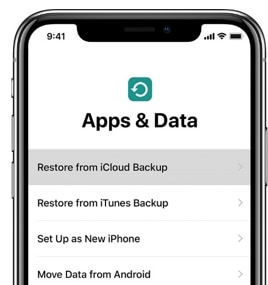 Step 4: You will need to enter your iCloud credentials during this process. The iPhone will automatically search your iCloud for backup files and select the most recent one. The restore process will then begin.
This method via iCloud comes with some obvious disadvantages which are mentioned below;
This method fails to work if there is no WhatsApp backup file in your iCloud
It will restore all the whole data on iPhone in addition to WhatsApp data
The restore process will makes you lose all the data on target device.
The user cannot select which files to restore using this process
It requires the user to have a constant internet connection
If you choose to add media files in the backup, it may go beyond your 5GB iCloud limit
Method 3: How to Restore WhatsApp Deleted Images via iTunes
The iTunes is another service from Apple that comes to help you recover deleted photos from whatsapp. We can use the backup and restore functionality in iTunes to restore deleted photos from whatsapp from a backup. Again, this method will only work if you have a habit of backing up your device data every now and then. Let's get directly into the steps involved.
Step 1: Get the latest version of iTunes and launch the software on your computer.
Step 2: Connect your iPhone to the computer via USB and wait for the iTunes to automatically recognize your device.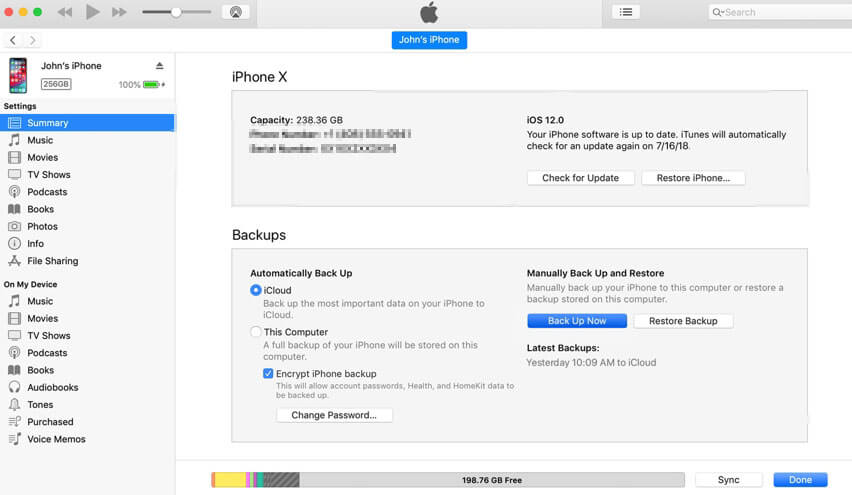 Step 3: Click on the option "Restore Backup" and you will be provided with a list of backups. From this list, choose which file you want the software to use. We recommend using the latest version to backup the latest messages. Click "OK" to continue.
Step 4: Click on "Restore" to start the restoration process.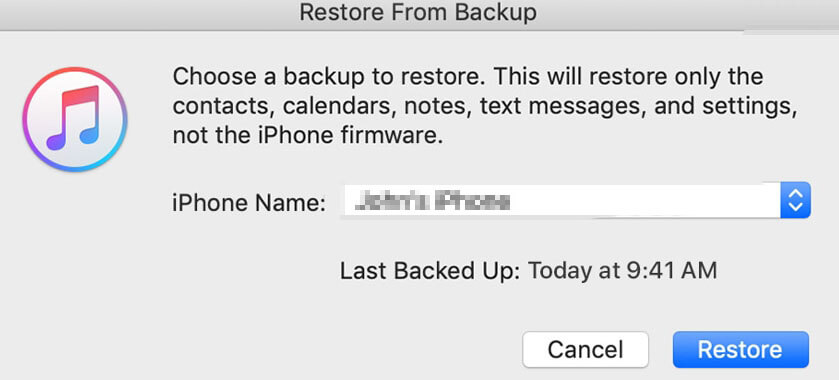 The major disadvantage of this process is that it requires you to have a backup in place before starting it. However, a large part of the iPhone users does not regularly back up their WhatsApp due to its data-hungry nature.
To make matters worse, restoring your device from a previous backup will erase all the latest data from your target device. So essentially, you are sacrificing the newer data in order to get a previous version of it.
Method 4: How to Retrieve Deleted WhatsApp Photos via WhatsApp backup
WhatsApp has an inbuilt feature that backup and restores files without the use of any additional software. It uses iCloud as the destination for the storing the backup file. However, you will have to uninstall and reinstall WhatsApp to make use of this feature. The second pre-requisite is that you need to have a backup in place to use this method.
Check the availability of a WhatsApp backup by going through the following steps. These are the same steps used to verify WhatsApp backup. Open WhatsApp and navigate to Settings>Chats>Chat Backup.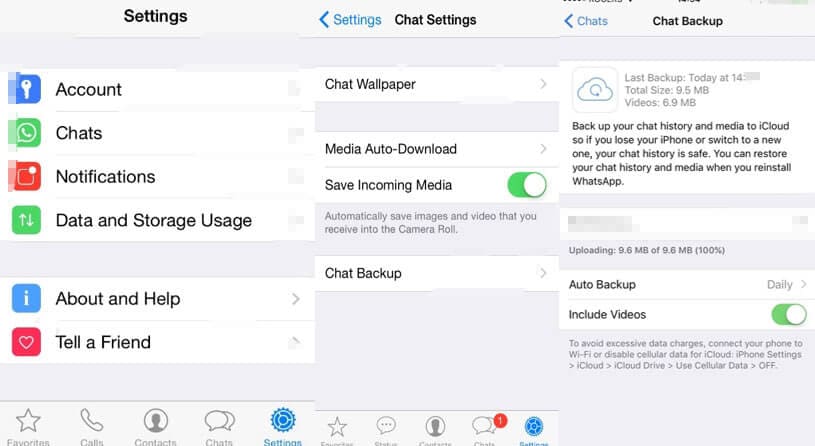 After you have verified a WhatsApp backup file, follow the steps below to recover WhatsApp images to your iPhone using WhatsApp backup.
Step 1: Uninstall WhatsApp from your iPhone.
Step 2: Reinstall WhatsApp from iTunes.
Step 3: Go through the setup process. Click "Restore Chat History" when prompted.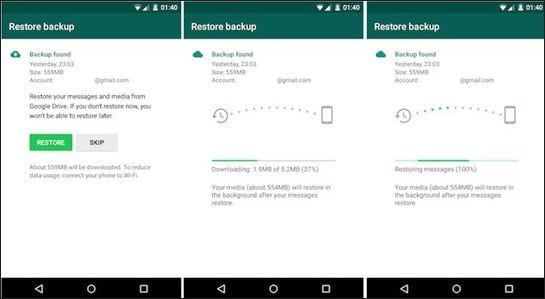 And that wraps up our list of solutions that you can use to recover WhatsApp photos for your iPhone. Choose the easiest one you find on this list to restore files without any problem at all!
Part 2: How to Recover Deleted Photos from WhatsApp on Android
The Android operating system has a number of features that make it the go-to device for people who love media. Again, WhatsApp takes the central role when it comes to facilitating easy communication between people. The same problem persists with Android systems too where users find it very difficult to restore images that have been deleted.
But as we said earlier, we have some solutions that you should definitely consider while trying to restore WhatsApp images. We will start off the list with the easiest one.
Method 1: How to recover deleted images from WhatsApp from Android directly using dr.fone
The dr.fone isn't just designed for iOS devices, as it also offers the impeccable support for Android operating systems too. There are several reasons why iSkysoft triumphs all over methods on this list and some of the key features are:
The dr.fone doesn't require you to have a WhatsApp backup file
The user will be given full control over the files to be restored
Doesn't require an active internet connection
Fast and easy setup coupled with an intuitive UI
Support legacy version of Android operating system and is available to download on both Mac and Windows.
The steps involved in using iSkysoft are also very easy to comprehend. You can refer the following steps to understand how to use the software for recovering WhatsApp images quickly.
Step 1: Download the latest version of dr.fone from the official website and install it on your computer. Launch the app and click "Recover" to bring up the recovery pane.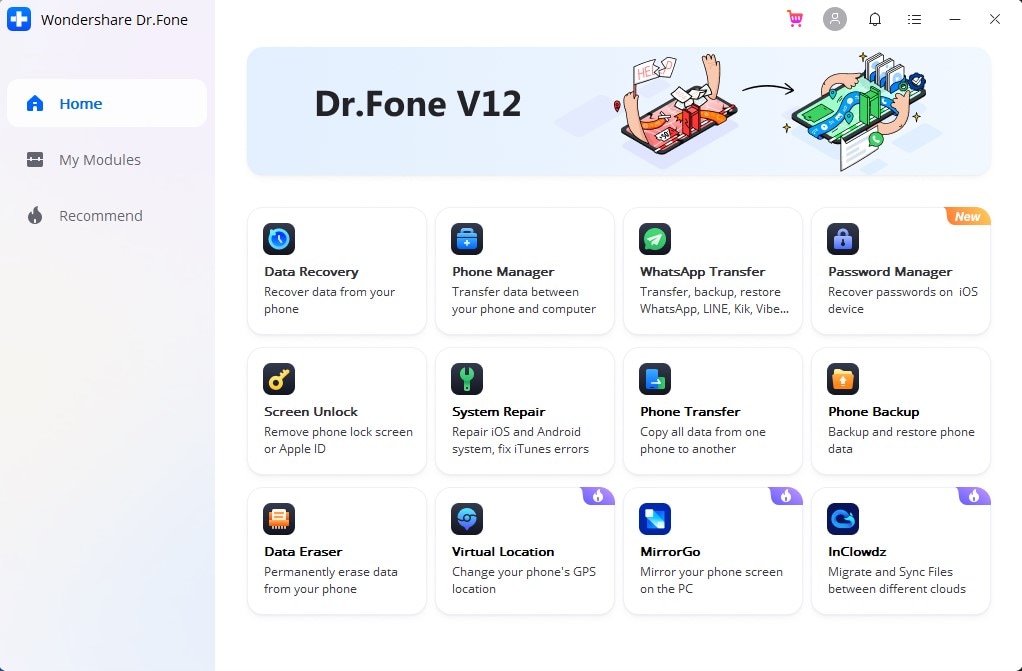 Step 2: From this window, you can choose the "WhatsApp&Attachments". Click "Next" to continue.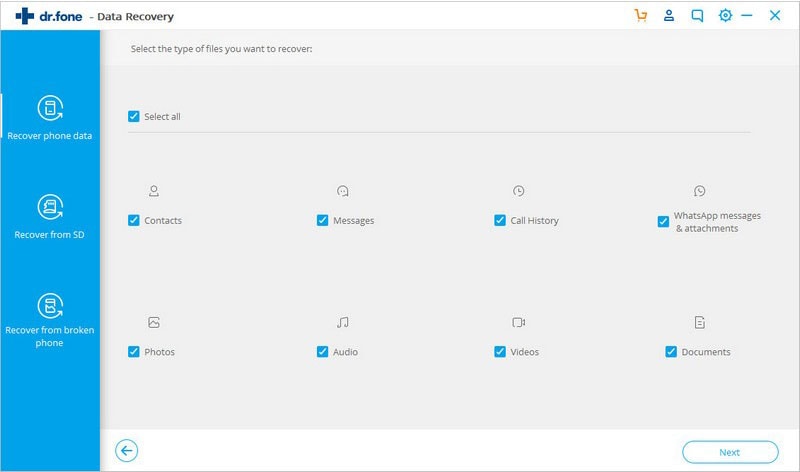 Step 3: Now you can choose the type of scanning that you want the software to perform. For specifically targeting the deleted files, you need to choose "Scan for deleted files".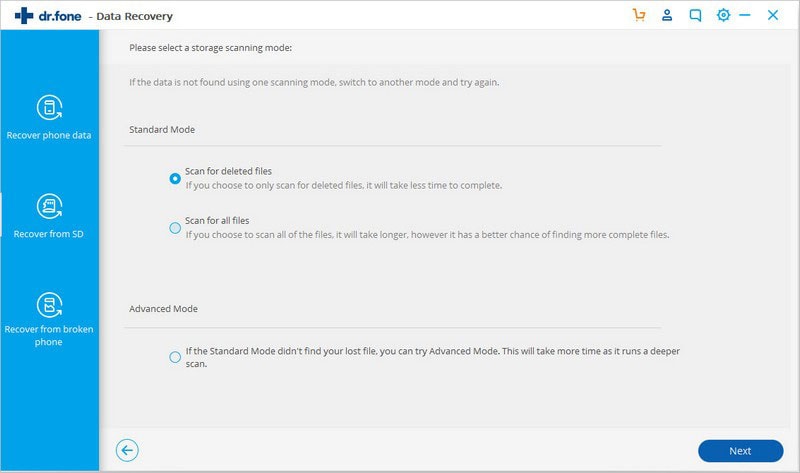 Step 4: After the scanning process, you will be shown the types of files and their categories. You can choose the files that you want to restore by selecting the appropriate tab. Click "Recover" after you are happy with your selection.
Step 5: After you have selected the files you want to restore. You need to specify the path where the files will be stored. Click "Recover" After you have a selected a folder.
You can choose whichever files you want to restore with dr.fone, however, in this case, we have only mentioned WhatsApp images. You can also dr.fone for a variety of other functions too.
Method 2: how to get deleted WhatsApp images via local backup
In this method, we are going to make use of the backup file that is present in your Android device. If you don't have a backup file in place, this process may not work with your device. You can check for backup file by using the steps detailed below.
Step 1: Launch WhatsApp on your device. Navigate to Settings>Chats>Chat Backup. You can see the details of your latest backup file in this window.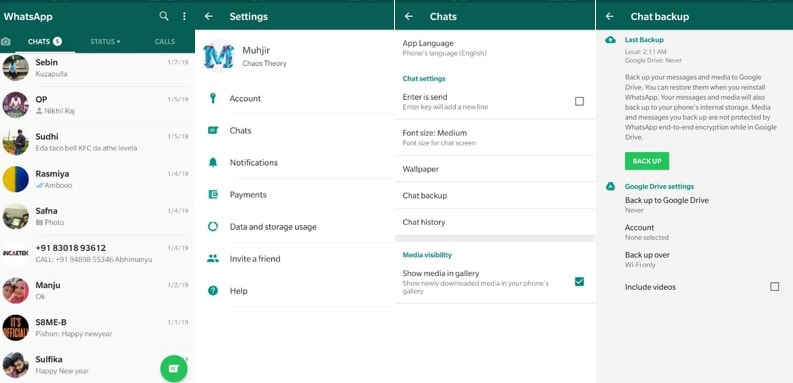 Step 2: Now you need to copy the backup files from your device storage. The files will be located in the root folder Internal Storage>WhatsApp>Database.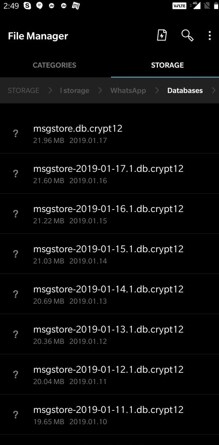 Step 3: Copy the contents in the folder "Database" and paste it in a new folder on your computer.
Step 4: Install WhatsApp on your new phone and create a backup file by following the procedure detailed in Step 1.
Step 5: Now uninstall the WhatsApp on your new phone. Navigate to Storage>WhatsApp>Database and delete all the data present in the folder.
Step 6: Now copy the files that we saved on your computer from your old phone and paste in the in the Database folder of your new phone.
Step 7: Install WhatsApp on your new phone and go through the configuration process. You will be shown the following message when the software detects a backup file on your device. Click "Restore" to get the files back into your system.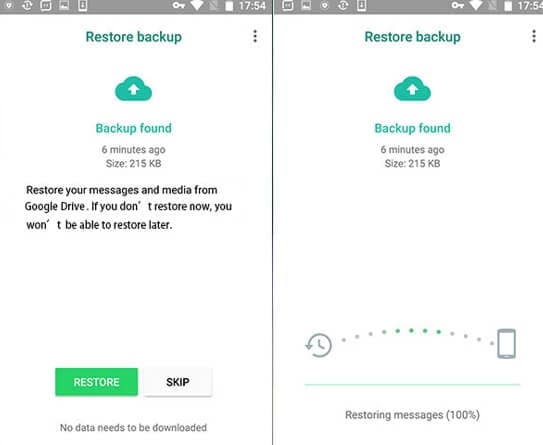 This method requires you to copy files between your devices and the computer, making the process much harder in comparison when compared to our first method. Also, it requires your device to have backup files in place to work properly.
Method 3: How to get back deleted WhatsApp photos from Google drive
We can use Google Drive to recover whatsapp deleted pictures. This method works by using your Google drive app data backup to restore the files. As we discussed before, such a method will require you to have a backup file already in place. Let's look at the steps which are involved in checking whether you have a backup already made on the Google drive.
Step 1: Launch WhatsApp on your android device. Navigate to Settings>Chats>Chat Backup, review the info given on the most recent backup. if there is no backup in place, you can click "Backup Now" to manually add a backup file.
Step 2: Uninstall WhatsApp from your Android device and reinstall the latest version from Play Store.
Step 3: Go through the setup process and enter your phone number and Gmail ID when prompted. Ensure that the phone number and the Gmail ID that you use is the same that was used for the backup process.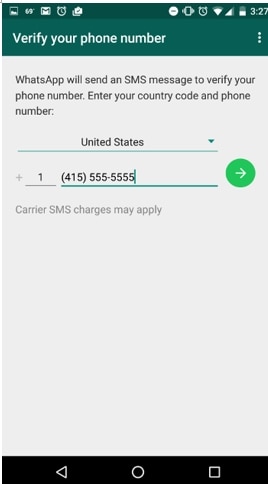 Step 4: After successful verification, you will see the following message asking you to restore messages from a previous backup file. Click on "Restore Now" to start the restoration process.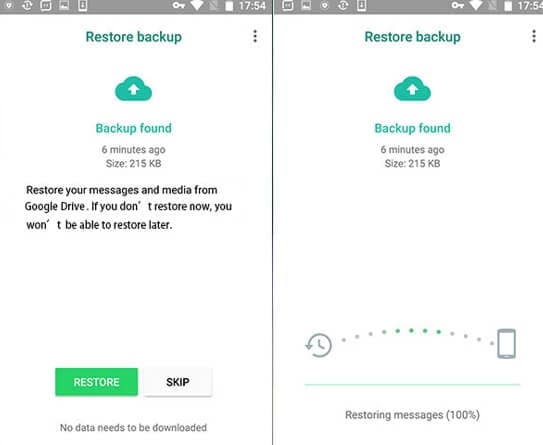 Like the previous methods, the users can't choose between the files that are needed to be restored. This means that not only your images but also all the WhatsApp data present it the file will be restored to your device. It will erase all your new messages in the process. Internet usage will depend on the size of the backup file. make sure that you are connected to a proper Wi-Fi source before using following the method.
Conclusion
No matter the phone you use, iPhone or Android, you can find a proper solution on the list! When we talk about restoring WhatsApp images, users need a solution that specifically recovers the images successfully without losing any data. The dr.fone, as an efficient and safe WhatsApp photo recovery software, is able to help you restore whatsapp deleted images as well as transferring WhatsApp from one phone to another.