There are numerous occasions when you might want to recover WhatsApp deleted images, be it accidentally deleting them or removing them to save some space in the device. Though, most people prefer to keep important pictures, the accidental deletions may cause you some inconvenience. For this purpose, we have tailored this article to show you how to recover WhatsApp images in different ways.
Part 1: 4 Ways to Recover WhatsApp Deleted Photos from iPhone
Method 1: How to Recover WhatsApp Photos from WhatsApp Auto-backup
The Auto-backup feature in WhatsApp helps you recover deleted images from your old WhatsApp conversations. This Auto-backup is done at regular intervals in your system and helps in WhatsApp photo recovery, in case you have lost them by accident. The process is not very tough or time consuming. You can easily restore the data, as the latest data backup is automatically stored for your device. All you need to do is uninstall and re-install WhatsApp on your device, and everything becomes as it was.
Follow this simple procedure and recover your lost messages and image files.
Step 1: First of all you need to uninstall WhatsApp from your phone. Now, reinstall it on your phone to set up your account.
Step 2: While logging into to your WhatsApp account, you will be prompted with a message saying it found a WhatsApp backup, and whether you want to restore from the backup. You need to click 'Restore' to and wait few minutes to get everything on sync.
Step 3: First your chats will be restored, and then it will take a while to restore the images. The major drawback of this process is you can only restore the data which you have lost within the same week.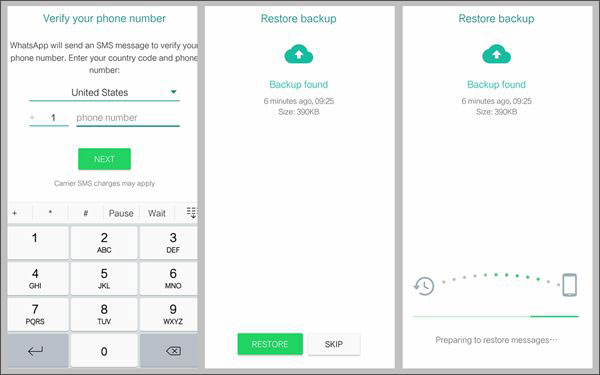 Method 2: How to Recover WhatsApp Photos from iPhone Directly
If you are wondering how to retrieve deleted WhatsApp pictures, after accidentally deleting them, then nothing other than iSkysoft Toolbox – iOS Data Recovery can help you fix it at the best. Whether the device got stolen, lost, you have forgot your password and the device is locked, accidentally deleted, water damaged, you have factory restored the device, or the iOS system crashed, it can practically recover everything (any data loss). You can easily retrieve deleted WhatsApp pictures, contacts, videos, messages along with other app data.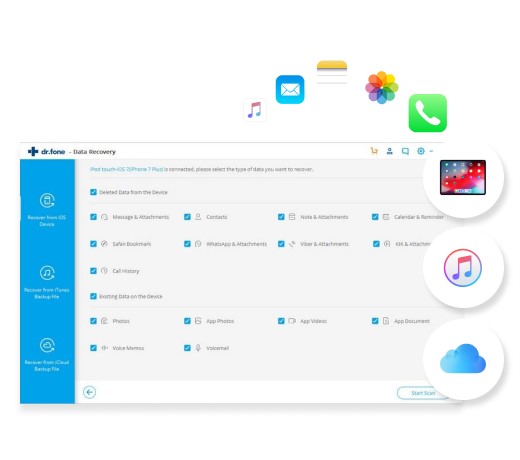 iSkysoft Toolbox – iOS Data Recovery supports 3 modes for recovering lost data to your iOS device – from iOS directly, from the backup files on iTunes, and from the iCloud backup files.
Before performing WhatsApp's deleted photo recovery, you can scan the device and preview the data which has been detected.
It supports the most recent iOS firmware versions and iPhone 8/8Plus/X as well.
It offers you full support in recovering 20 plus data types from your iOS devices effortlessly, including contacts, text, messages, photos, music, videos, etc.
The tool runs smoothly on both Windows and Mac systems.
After understanding the features of this application, let's go through the step by step tutorial.
Step 1. Install the software and connect your iPhone
Make sure you have the latest version of iTunes on your computer. Now, install and launch iSkysoft Toolbox for iOS on your computer, then tap on 'Data Recovery' tab found on the main screen. Get your iPhone connected to it through a USB cable. Click on the 'Trust this Computer' option on your iOS device screen.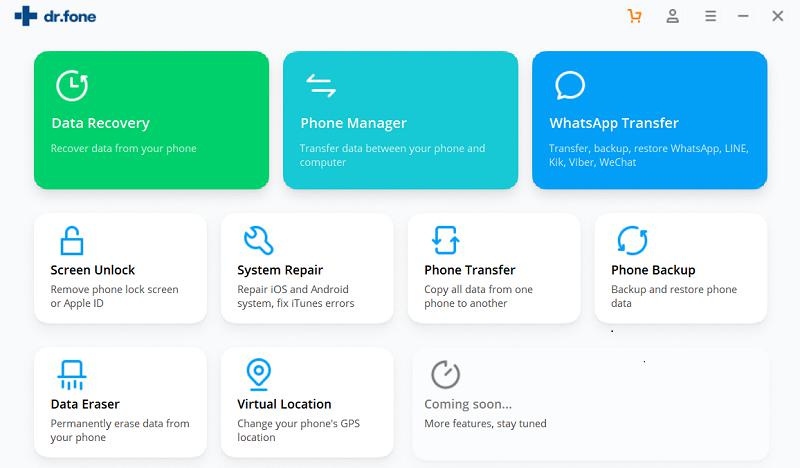 Step 2: Scan for the lost data
Here, you will get 2 options to scan the type of data – 'Existing Data on the Device' and 'Deleted Data from the Device'. You need to tap the 'WhatsApp & Attachments' option under the 'Deleted Data from the Device' in order to scan them before recovering WhatsApp deleted images. Then click on 'Start Scan' button on the page.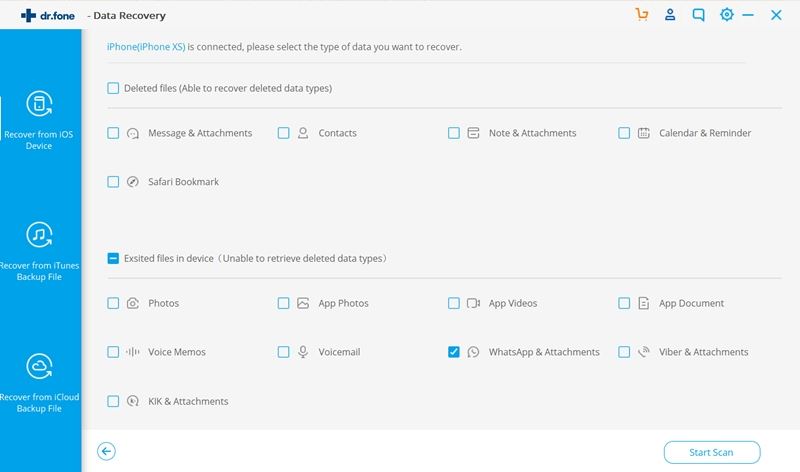 Step 3: Preview and retrieve WhatsApp Photos from your iOS device
You can preview the backup data once the scanning process is over. By tapping the data from the left panel, you can preview it on the right side. Once you figure out the data (photos in this case) select them by tapping the checkbox against the required image files.
Now, tap 'Recover to Computer' to perform WhatsApp photo recovery. You can then transfer the recovered photos back to your device safely from your computer.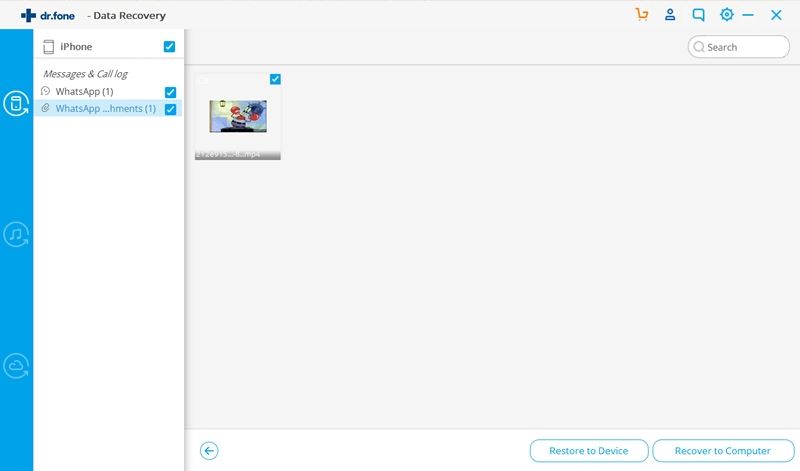 A Tutorial Video to Recover WhatsApp Lost Photos using iSkysoft Toolbox
(If it's not clear, please see it on Youtube: https://youtu.be/BgJOHwCPQEU)
Method 3 & 4: How to Recover WhatsApp Photos from iTunes and iCloud Backup
If you are wondering how to retrieve deleted WhatsApp pictures along with WhatsApp messages into your device, then iSkysoft Toolbox is your safest bet. It allows you to recover WhatsApp messages and works as the best method for WhatsApp's deleted photo recovery. When you want to recover the deleted WhatsApp images from iTunes, you need to make sure that the iTunes software is updated to the latest version and you have created a backup on the same computer in the past. For retrieving WhatsApp messages and images from iCloud, you need to have a backup saved on iCloud (through WhatsApp Auto-backup). Please read How to recover WhatsApp from iTunes and Recover WhatsApp from iCloud Backup.
Part 2: 2 Ways to Recover WhatsApp Deleted Photos from Android Device
When you wish to carry out WhatsApp photo recovery in your Android device, iSkysoft Toolbox for Android is your best pick. The iSkysoft Toolbox – Android Data Recovery not only recovers WhatsApp deleted images that you have lost or deleted by mistake, but also various other lost or deleted files (videos, contacts, call history, messages, etc) on a wide range of Android devices.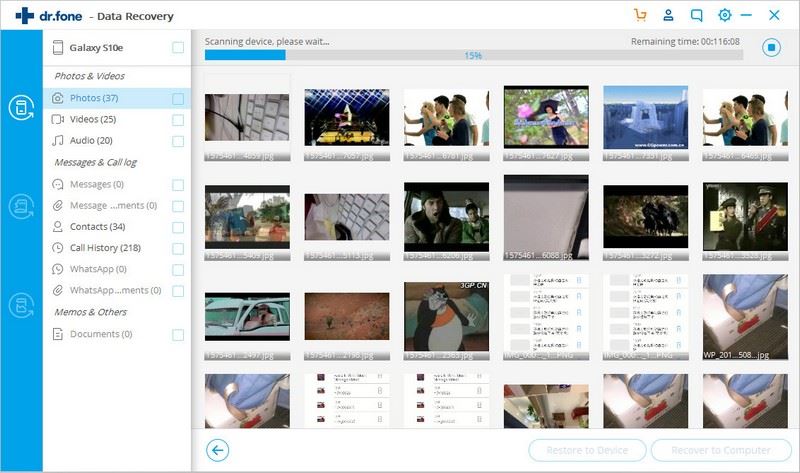 It supports beyond 6000 Android devices irrespective of the brand.
Its recovery rate is at the peak, due to the reliability and safety of this tool in data recovery.
You can do WhatsApp deleted photo recovery as well as other files retrieval from the internal storage of the mobile and SD cards as well.
It can take care of all data loss scenarios (virus attack/accidental deletion/system crash) irrespective of the cause of the problem.
It is the quickest and most intuitive program to retrieve lost data (recover WhatsApp deleted images included) for your Android devices.
As you have gone through the features of this wonderful tool, let's discuss the detailed steps about WhatsApp deleted photo recovery using iSkysoft Toolbox – Android Data Recovery.
Step 1. Install software and connect your Android
Install and launch the most recent version of iSkysoft Toolbox for Android on your PC. Hit the 'Data Recovery' tab from its main screen. Connect your device and allow USB Debugging.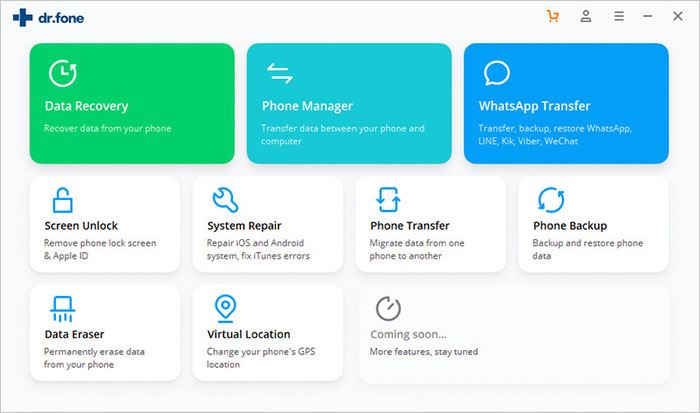 Step 2: Choose the file type to recover
As you need to recover WhatsApp deleted images, you need to select the file type as 'WhatsApp messages & attachments' from the list of options and then hit 'Next'.
Now, tap on the 'Scan for deleted files' option under Standard Mode to recover WhatsApp deleted images, and click 'Next'.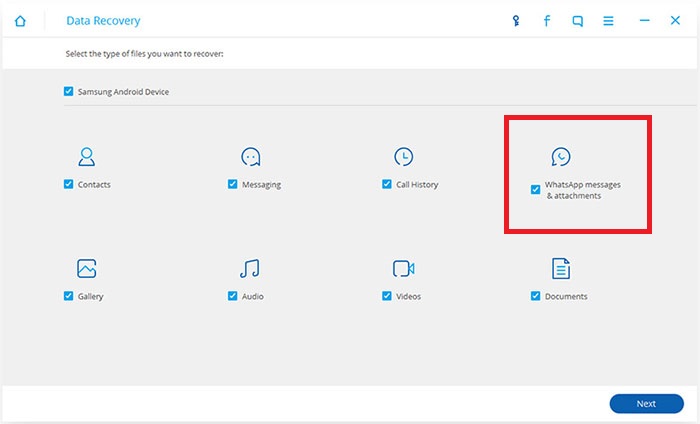 Step 3: Recover data post scanning
Once the scanning process gets over, you can see the result and pick which images you want to recover. After that, tap 'Recover' to complete the process.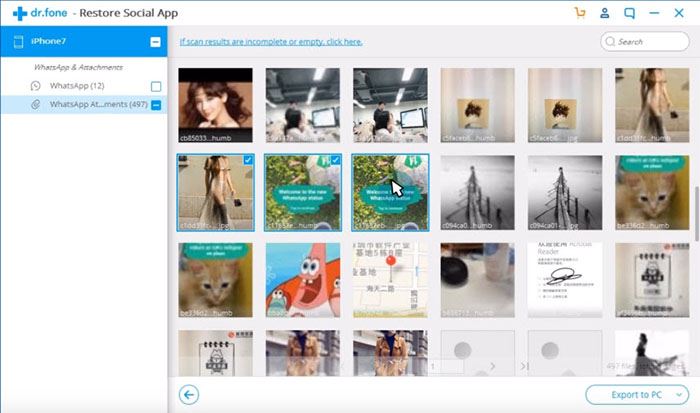 Recover WhatsApp Photos Using recover old watsup app
You can pick this third-party app for WhatsApp photo recovery as it can retrieve lost WhatsApp videos, pictures, and conversations. Though, the pros are promising, selecting a third-party app with a slow interface is a deterrent for most users. You can always pick iSkysoft software programs meant for data recovery to recover WhatsApp deleted images, whether it's an iOS or Android device.