WhatsApp is the most popular instant messaging, file sharing, and communication tool, owing to its competitive and easy to use features. Majority of smartphone users have WhatsApp installed on the devices and use it daily or on an even better regular basis. This enables instantaneous communication and data sharing among people.
This article explains the top 10 WhatsApp tips and tricks used widely. You can use these to derive maximum benefits from your WhatsApp account.
1. WhatsApp Ticks to Indicate Message Status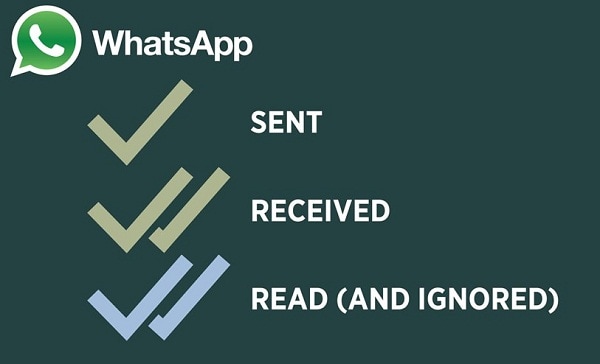 WhatsApp introduced the ticks to easily understand the status of a message sent. The different ticks and what it implies are as follows:
Single tick – Message is sent from the sender's device.
Double ticks – Message is delivered to the recipient's device.
Double blue ticks – Message has been read by the recipient.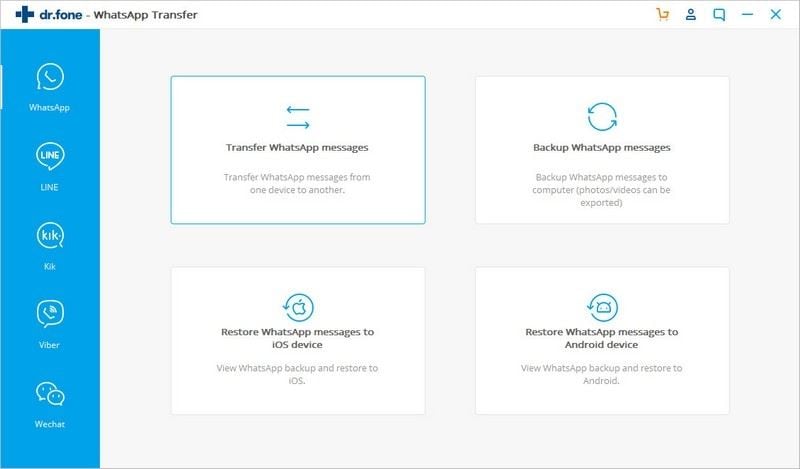 Why Choose This WhatsApp Assistant Software:
dr.fone - iOS WhatsApp Transfer, Backup & Restore is manage your WhatsApp messages and attachments among iOS devices, Android devices and computer.
It can help you backup and restore WhatsApp messages and files
It allows you to transfer WhatsApp messages and files between iPhone/Android devices and computer.
2. Message Read Status in Group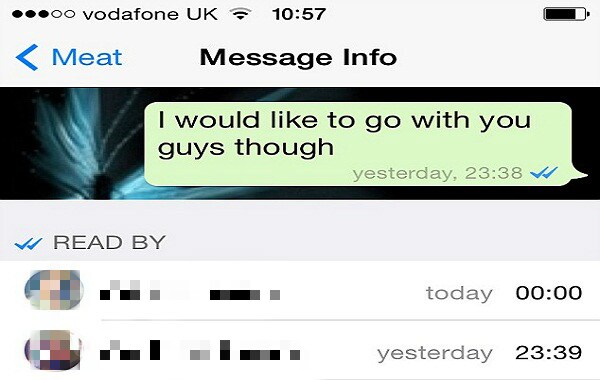 Do a long press on a message you sent in a group chat. An "i" icon with a circle around it appears on the top bar. The "i" icon in a group chat is used to identify the members of the group to whom a message has been delivered and members who have already read the message. This icon is available only for those messages of which you are the sender.
3. WhatsApp Lock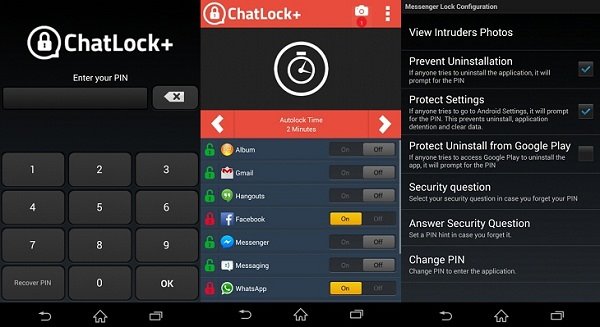 You might be a person who communicates mostly through WhatsApp. You may even send confidential data to trusted people using this tool. So it is of extreme importance to safeguard your conversations and lock your communication tool. This hinders anybody else from seeing your conversations. Apps like Messenger and Chat Lock can help you secure your WhatsApp.
4. Restoring Deleted Messages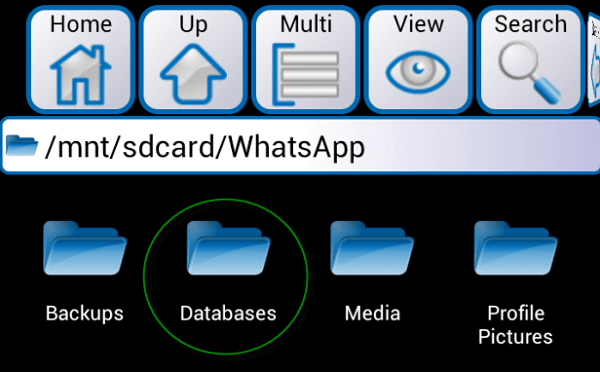 All WhatsApp conversations are saved on your SD card. If you accidentally deleted some messages and want to recover those messages, go to "SD card > WhatsApp > Database".
Locate the msgstore.db.crypt file. This file contains messages sent and received on the current date. For messages sent and received in the past seven days, see the file msgstore-yyyy..dd..db.crypt. Open the required file in text editor and you would be able to read your messages.
You can also use recover deleted WhatsApp messages from iPhone or recover recover deleted WhatsApp messages from Android using the data recovery tool from iSkysoft.
5. Mute Notifications from Group Chats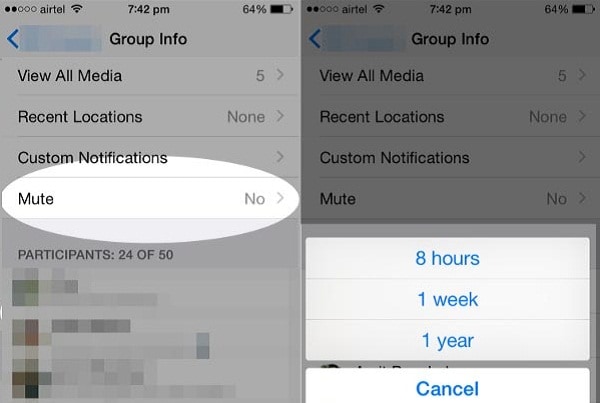 If you are not interested in receiving notifications from group chats, open the group chat and hit the Menu option. From the option list, select "Mute". Choose the time period for which you want the group notifications to be muted and click "OK". You will not be buzzed of any notifications from this group for the specified time period.
6. Changing Your WhatsApp to a New SIM Number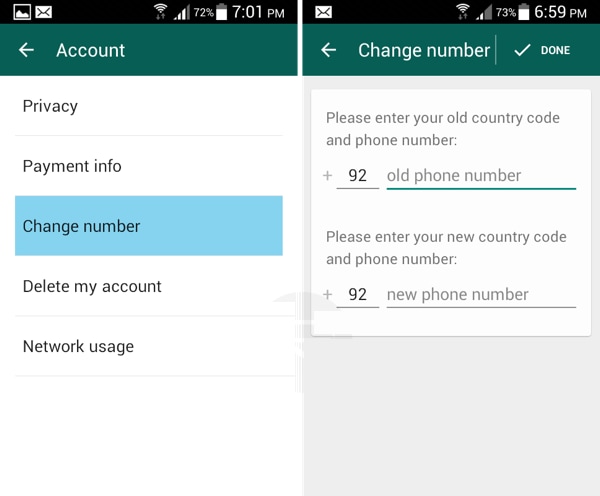 You might change your SIM card, but may not want your WhatsApp history and contacts to be lost. For this you can migrate your WhatsApp Account to the new SIM number.
On Android phones, select "Menu > Settings > Account > Change Number". In the fields that appear, type your old SIM number in the first box and new SIM number in the second box.
On iPhone, select "Settings > Account > Change Number". In the fields that appear, type your old SIM number in the first box and new SIM number in the second box.
7. WhatsApp Contact/Group Shortcut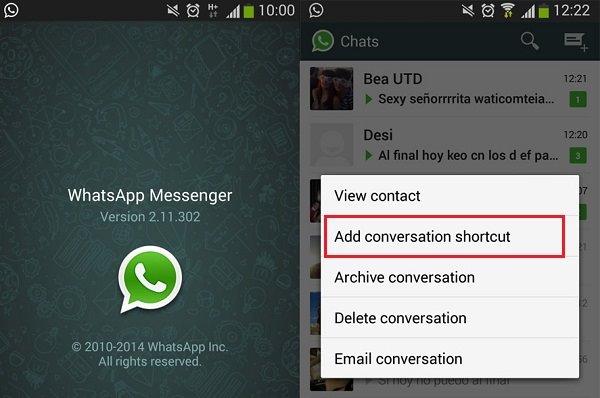 You may have very frequent conversation with a particular WhatsApp contact or group and may not want to always navigate to the application and then search for the contact or group from the list. You can instead save it as a shortcut on your home screen.
To create the shortcut, long press the required contact or group. A menu pops up. Select "Add Conversation Shortcut". A shortcut to the selected contact or group is added to your home screen.
8. Message Statistics for Android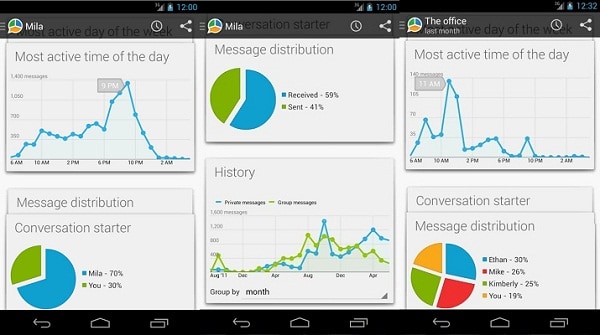 If you are a person who keeps track of messages and people who messages or does not message you frequently, the WhatStat application is your requirement. Using this application, you can see the data in the form of charts and graphs to analyze your top message senders, peak times when you get message, and the like.
9. Saving Contact's Profile Picture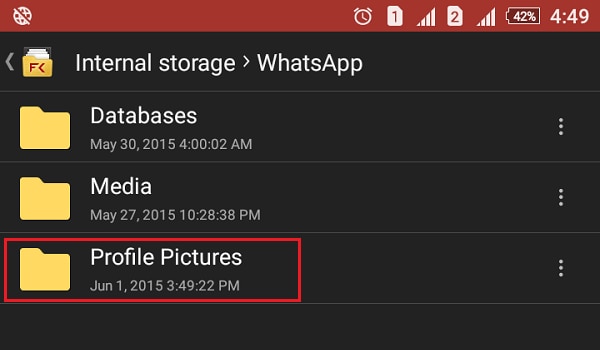 You can view the profile pictures of your contacts but WhatsApp does not provide an option to save it. You can definitely take a screenshot, but again you need to crop and save the image. Instead, you can go to "SD card > WhatsApp > Profile Pictures". All profile pictures you view would be saved here. And the pictures are associated to the phone numbers of the contacts. So check the number and then check for the number in the list.
10. Network Usage Settings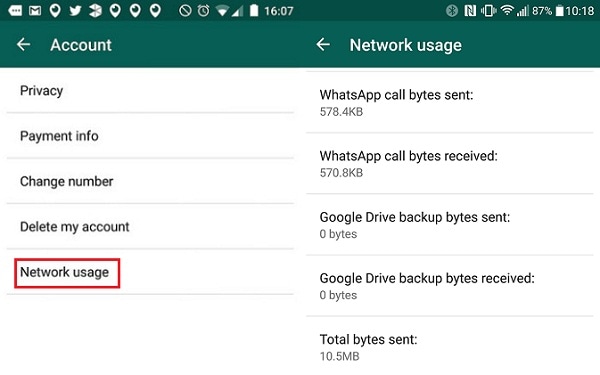 When you are not connected to Wi-Fi and you frequently use WhatsApp to send and receive messages and files, you may want to know your network data usage. This helps you to analyze your usage patterns and make changes to the pattern, if required.
To view your network usage select "Settings > Account > Network Usage". The page shows you all details on the network usage for your WhatsApp application.