Using a T-Mobile phone only lets you use their network services. It means that you can't use an alternative network on your device. So, if your current network is terrible, you'll still have to use it.
Therefore, many people would not want to use a phone from a specific service provider and choose T-Mobile device unlock. Moreover, we also suggest you buy phones from the official company stores.
You may be prepared to leave T-Mobile and its Network because of its issues. However, that doesn't mean you must sell the phone you purchased from the carrier.
You can change the carrier, but you must ensure it works with your phone. So if you're prepared to keep your phone, here's how to unlock T-Mobile phone.
Part 1: How to Check If My T-Mobile Phone Is Eligible to Be Unlocked?
Your phone might be unlocked, depending on how long you've had your T-Mobile phone. So, sign into your My T-Mobile account and select your line on the Accounts page. Tap the Check device unlock status to check whether your device is now unlocked.
If your device is locked, you likely don't yet meet the conditions in general. So you'll need to follow the steps underneath before starting the unlock process.
You'll need to meet these conditions regardless of where you buy. They are similar to those of different carriers. Here are the guidelines for T-Mobile unlock phone:
You must have bought the phone from T-Mobile.
It shouldn't be stolen, lost, or blocked.
Your account should be on favorable terms with the network carrier.
Part 2: How to Unlock a T-Mobile Phone?
1. Find Network Unlock in Settings (For Android)
T-Mobile doesn't hold back concerning Android phones. It offers one of the most mind-blowing selections of carriers because of its relationship with OnePlus. However, depending on your device, it implies that you have various methods to follow. We will cover the most famous ones here.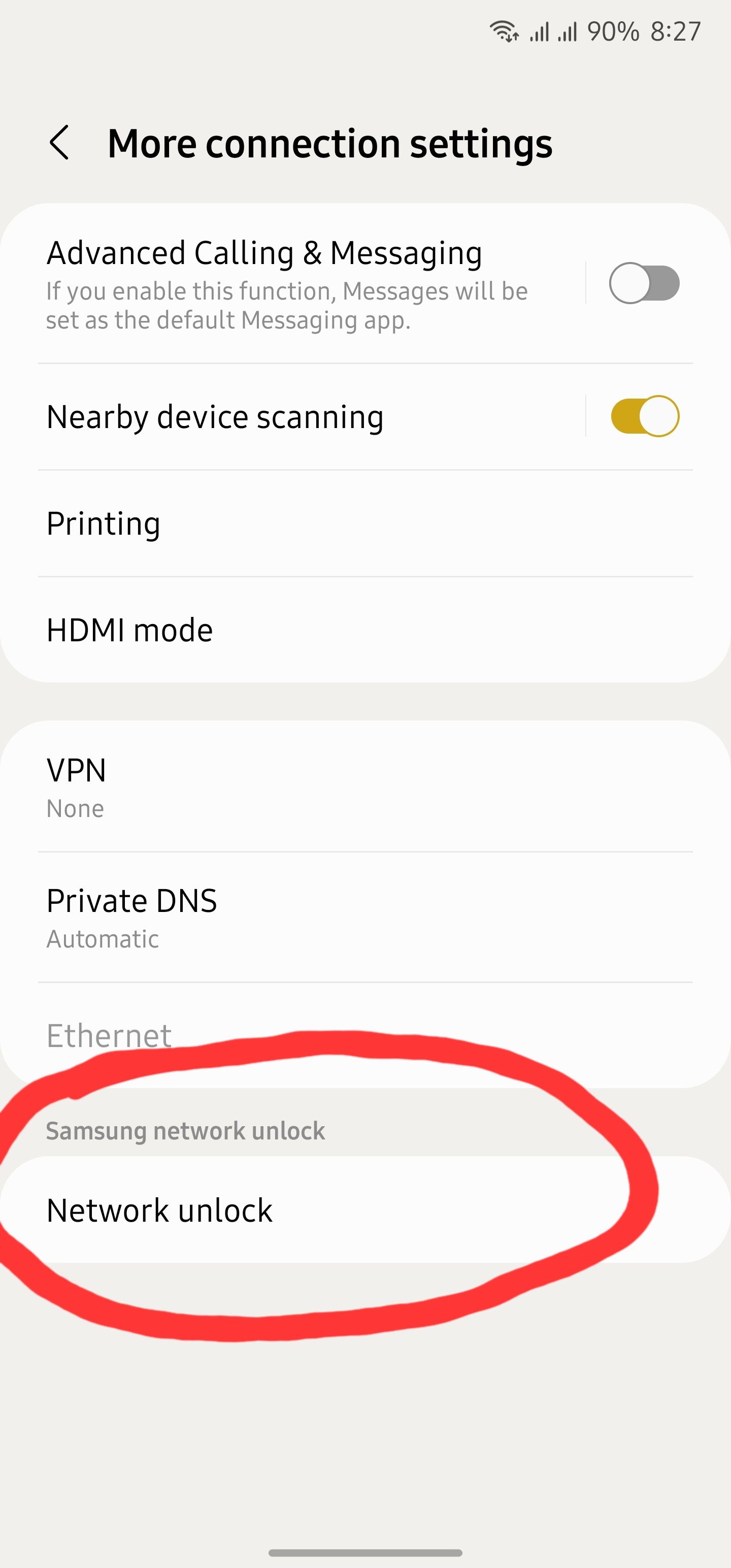 Samsung: Open the Settings application and tap Connections. Then go to the "More Connections" tab to open Network Unlock.
OnePlus: Enter Wi-Fi settings and open SIM and Network. Then access the Network unlock from the "Advanced" tab.
LG: Go to Mobile networks from the "Network and Internet" settings. Then click on Network unlock and then Continue.
T-Mobile REVVL: Open Mobile networks from the "Network and Internet" settings. Then click on Advanced > Network Unlock.
You'll need to choose the "Permanent Unlock" from the Network Unlock menu, regardless of your phone. When it finishes the unlock, restart your device, and you are done with the T-Mobile device unlock.
2. Contact T-Mobile to Process your Request (For iPhone)
While Android users can make life somewhat hard, opening an iPhone on a T-Mobile is straightforward. Moreover, most of them are already unlocked. Here are the steps to follow:
If your iPhone fulfills the conditions, contact T-Mobile, and they will naturally deal with your case.
If your iPhone shows as unlocked on My T-Mobile, you can insert your non-T-Mobile SIM and complete the process to unlock your phone.
Those without another SIM currently in their control should back up their iPhones. Then, at that point, reset the phone and restore your data from the backup. In truth, it's most likely more straightforward to ensure you have your new SIM ahead of time.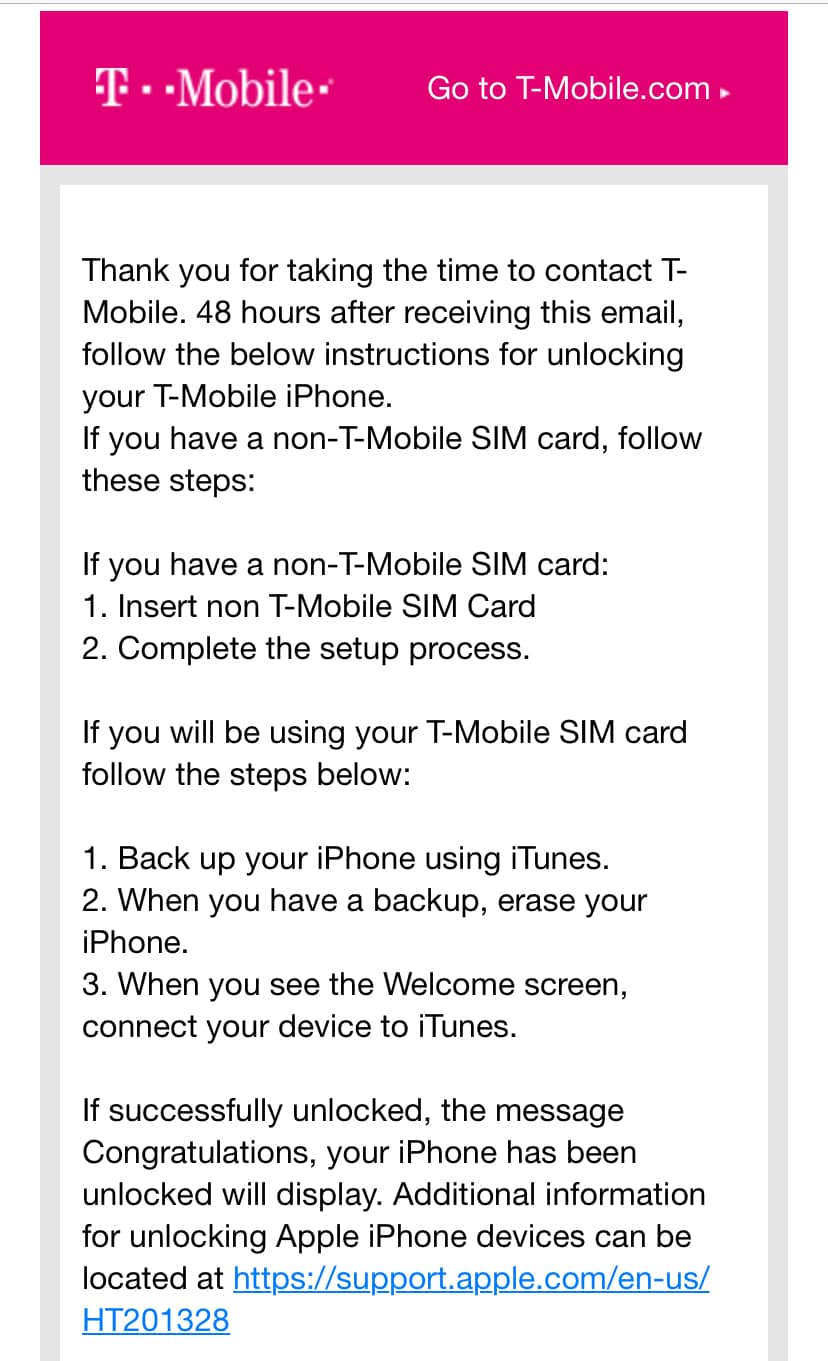 If you use an iPhone on a contract or purchased a second-hand iPhone with installment plans, your phone may be SIM-locked. The SIM lock exists because Apple lets T-Mobile lock your device to other networks. So, you will only be able to use a single network carrier.
Therefore, you are confused about how to unlock your iPhone to change to an alternate network. Relax! Dr.Fone has the best T-Mobile device unlock services for you. This guide will show you the whole procedure of how to unlock T-Mobile phone.
How to Eliminate SIM Lock?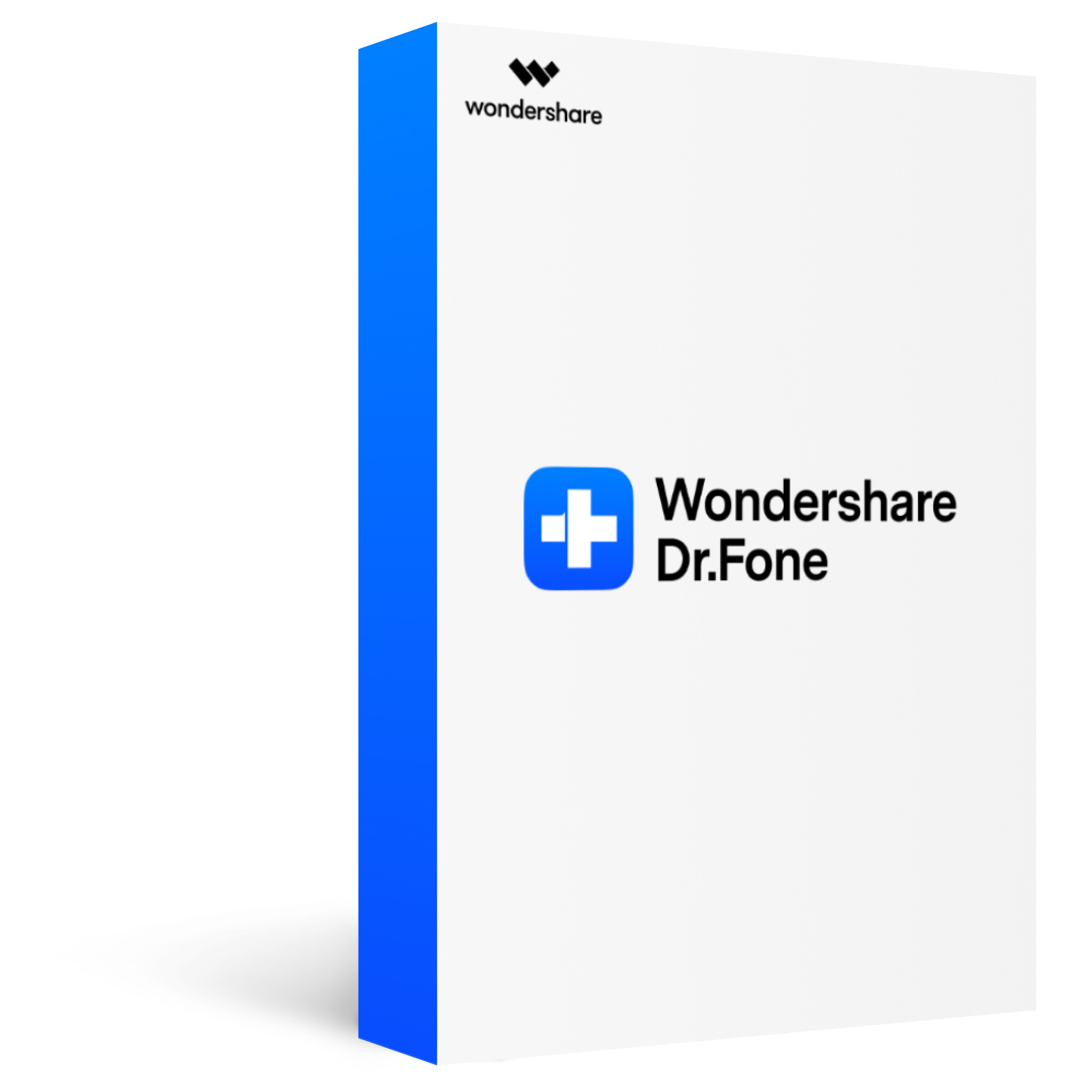 Dr.Fone - Screen Unlock (iOS)
Bypass/remove iCloud Activation lock on iPhone/iPad with simple steps
2,985,172 people have downloaded it
Remove iCloud Activation lock without password/Apple ID in any scenario anytime.
Bypass Activation lock in any scenarios anytime, such as forgot passcode, the device is disabled, second-hand device, unknown passcode, etc.
Unlock iCloud activation lock and iCloud account without iTunes.
Unlock all types of screen lock on iOS device within clicks, including iCloud Activate lock, MDM lock, 4-digit/6-digit passcode, Touch ID, Face ID, screen time passcode, etc.
Support to bypass activation lock for iOS from 12.0 and up to iOS 14.8.1. Compatible with iPhone 5S up to X.
Bypass iCloud Activation Lock with a 100% success rate.
Step 1.

Open Dr.Fone-Screen Unlock and tap on "Unlock SIM Lock."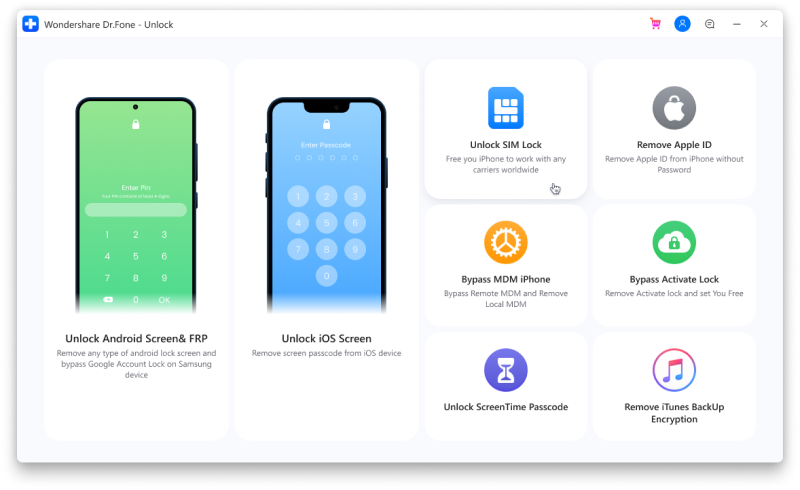 Step 2.

Tap on "Start" to confirm the authorization and click on "Confirmed" to proceed.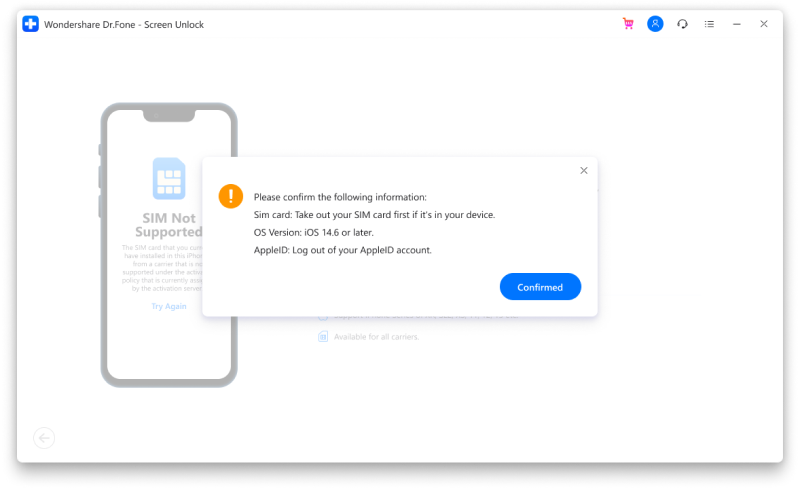 Step 3.

Dr.Fone will send the configuration profile to your phone.

Do make sure to follow the tips to unlock the screen. Select "Next" to proceed.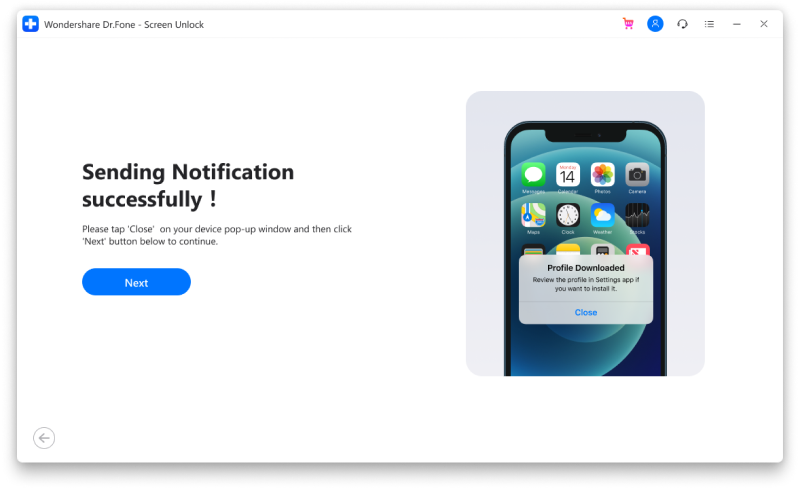 Step 4.

Install Configuration Profile.

Close the popup window and go to "Settings > Profile Downloaded." Then, at that point, click "Install" and enter your screen password.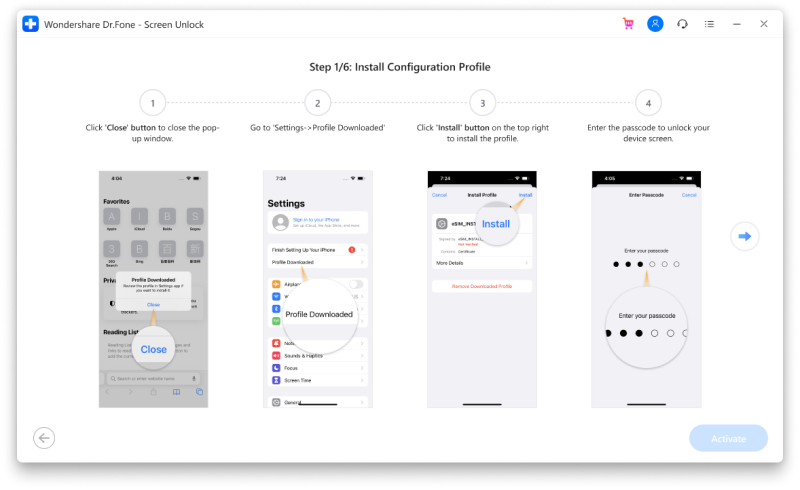 Select "Install" on the upper right, and afterward, click the button again at the base. After completing the installation, go to Settings > General.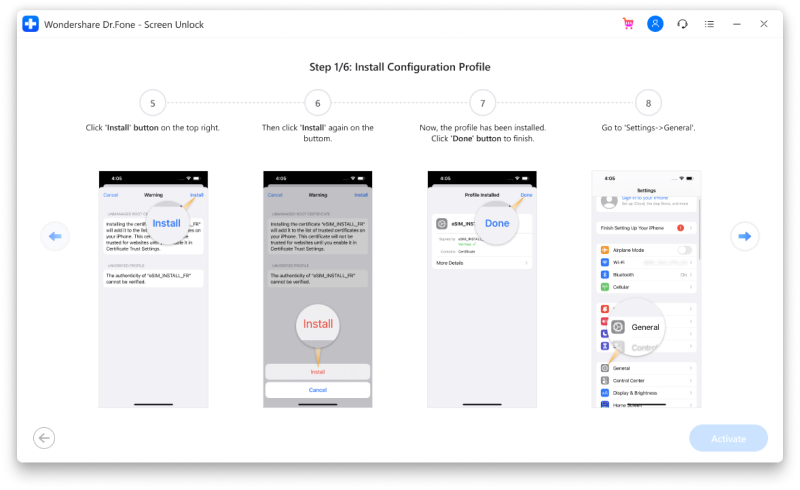 Part 3: FAQs
Q1. Does T-Mobile automatically unlock my phone?
A1: Yes! T-Mobile will automatically unlock your device only if it fulfills the unlocking conditions. If not, you can check the unlock status of your device from their official website.
Q2. How long will it take for unlock process?
A2: If your phone supports remote unlocking, it will only take T-Mobile 2 business days to unlock your phone. It shows how efficient T-Mobile is when it comes to customer care.
Q3. Can I unlock T-Mobile online by myself?
A3: Yes, you can unlock your T-Mobile phone from the Network unlock settings in the case of an Android. However, Apple users can go for Dr.Fone-Screen Unlock. Dr.Fone is efficient and works every time.
Conclusion
The T-Mobile device unlock is a necessary step for users who need to try other network carriers on their phones. Therefore, this guide explains how to unlock T-Mobile phone. Here we have discussed efficient ways for SIM to unlock your device. Moreover, we have a solution for you if you're a T-Mobile iPhone user. We recommend you download Dr.Fone-Screen Unlock immediately.