Summary:
Imagine your SD card being corrupt? What will happen to all the data that you have preserved for so long? Disaster strikes only when we think of the worst and that is the process of corrupted SD card recovery. If your SD card has suddenly stopped working and you are worrying thinking about the worse then we have the right solution for you to recover the damaged SD card.
Quick tips:
Before we start telling you the exact ways to sort out the SD card error recovery, first try to follow these simple tips and see if your card is genuinely corrupt or not.
Remove the SD card from your device and try to use it in another device.
Try to change the drive letter
Try reinstalling the drivers.
If your card doesn't work even after trying the above-mentioned tips, then you may be wondering about the ways you can recover the corrupted SD card without losing the data stored in it.
Part 1. The Best Way to Recover Data from Damaged SD Card, Recover It Using Recoverit Data recovery
So here's the deal, if you have somehow lost all the data from your windows computer or from the digital camera, then the first thing that you should do is download Recoverit Data recovery on your computer and other devices.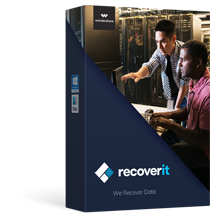 Why Recoverit (IS) Is The Best Solution:
It is compatible with both Windows and Mac operating system.
It supports a large number of storage device type including hard drives, USB flash drives, SD cards, etc.
All major types of files can be recovered including music, images, video, documents, emails, and archives.
It has a deep scan features for in-depth scanning of the hard drive for searching files to recover.
2,526,067 people have downloaded it
How to Recover Corrupted SD Card with Recoverit (IS):
First, download the trial version of Recoverit (IS)y and install it. After downloading it you will see a pop-up window on your computer screen click on next to proceed with SD card crash recovery.
Manual guide for deleted files recovery:
Step 1 Choose a location for scanning after selecting the recovery mode.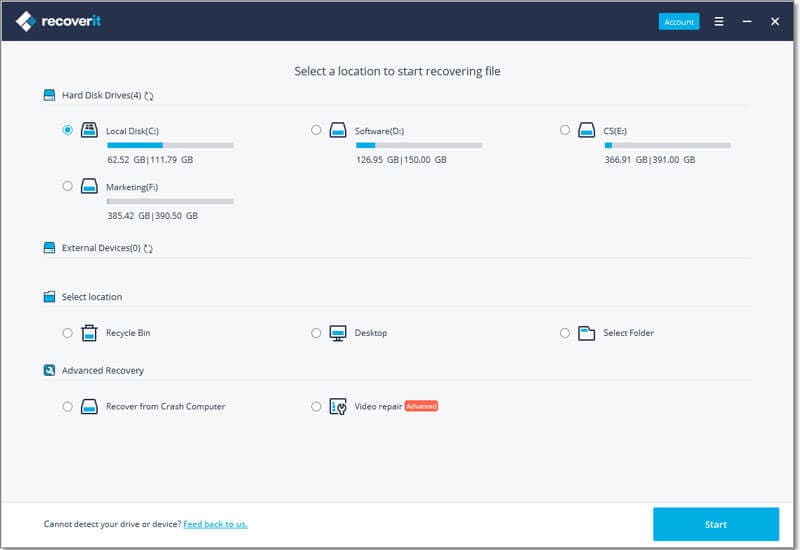 Step 2 The program will start scanning files on your selected disk and the process can be finished at seconds.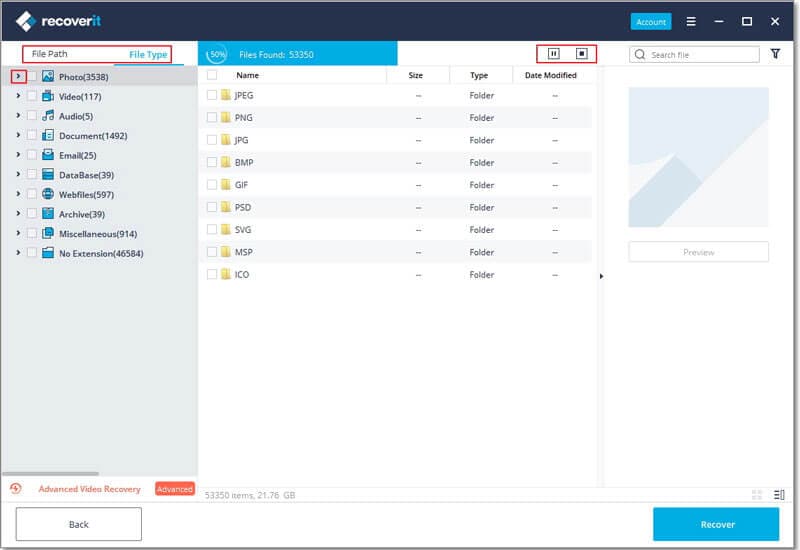 Step 3 Now locate the lost data and select them. Click Recover button and you are done.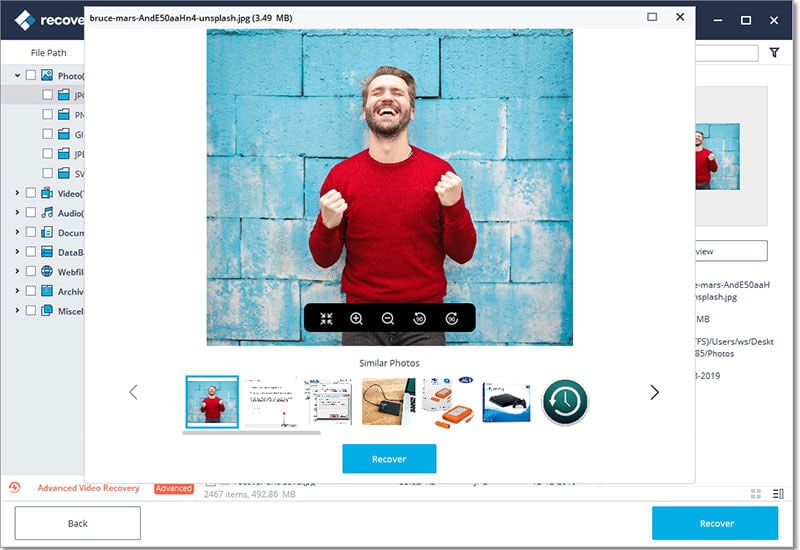 If this doesn't work then you should try the Deep Scan mode.
Don't forget to read the user guide to get all the information on various features. It tells you the step by step process to recover the lost data.
Part 2. Other Ways to Recover Data from Damaged SD Card
Other than that, there are a few more SD card error recovery tools available online which you can go through.
1. Recuva
Now, if you want a good and a reliable corrupted SD card recovery software which can recover files from corrupted memory cards, hard drives, external drives, and more then you can try Recuva. You can easily recover documents, photos, videos and audio files using Recuva.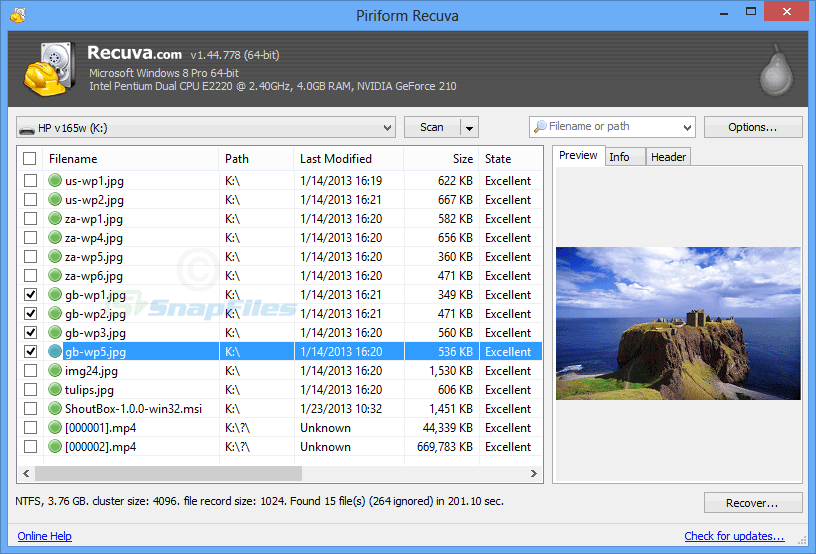 Pros:
Superior file recovery features
It can recover highly damaged or formatted files too
User-friendly interface
Free as well as affordable data recovery software
Works on Windows 10, 8, 8.1, Vista, XP, and other older Window versions.
Cons:
The free Recuva software doesn't deep scan all the disks
It takes a lot of time to scan
2. Stellar Data Recovery
You can also try Stellar Data Recovery to recover damaged SD card and other deleted files from your Mac and Windows PC. Stellar provides an array of data recovery tools for personal and business application.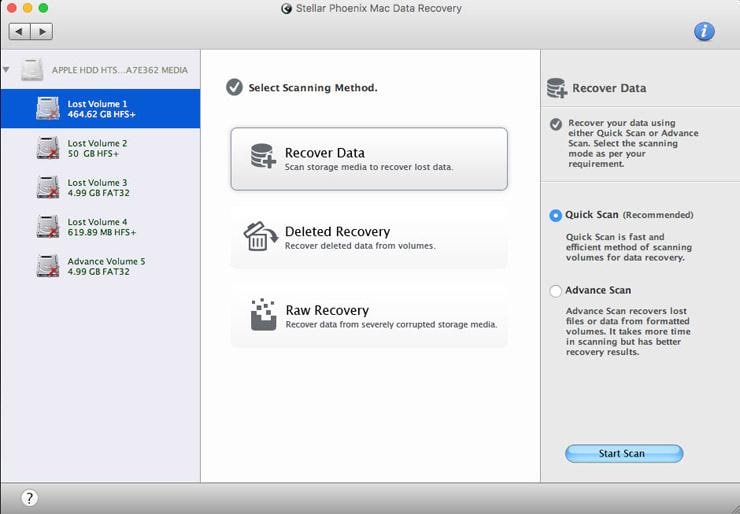 Pros:
Stellar Data Recovery is risk-free and scans all kinds of devices for data loss. Like SD cards, USB drives, smartphones and hard disks.
Extremely easy to use. You can download it, scan for lost files and recover them quickly.
Scans all the data fast.
The paid version comes with loaded features.
Good for beginners.
Cons:
The free version allows you to scan only 1GB of data
The paid version is little expensive
You can also try to download other free and paid data recovery apps for online data recovery from corrupted SD card and see how it works. Other than Stellar and Recuva, there are a few other rescuers in the market too, like Undelete 360, PhotoRec, and more, but the bottom line is Recoverit outsmarts all the other software by its various features. Hence, if you want to recover lost and corrupted SD card, download Recoverit.