Your Profesional And Reliable File Repair Expert
Perfectly repair corrupted Word, Excel, PowerPoint and PDF files in three simple steps.
Fix all types of Excel corruption errors, such as unreadable content, unrecognizable format, etc.
Quickly and safely repair multiple .xls/.xlsx files in a single process.
Compatible with Microsoft Excel 2019, 2016, 2013, 2010, 2007.
Repair all PowerPoint objects including tables, header and footer, charts and more.
Fix multiple corrupted PowerPoint files easily by providing a user-friendly option.
Support PowerPoint files of 2019, 2016, 2013, 2010 and 2007.
Fix corrupted word .doc/.docx files without modifying the original file easily.
Provide an easy fix option for text, images, hyperlinks, font, header, footer, etc.
Compatible with MS Word 2019, 2016, 2013, 2010, 2007, and earlier versions.
Extract and repair all components of the PDF file without modifying the original file.
Fix text, forms, hyperlinks, headers, graphs, watermark, footers, etc.
Support 1.2, 1.3, 1.4, 1.5, 1.6, and 1.7 versions of PDF files.
Fix Any Kind of File Corruption Easily
Perfectly repair corrupted Word, Excel, PowerPoint and PDF files in three simple steps.
Files cannot open
The document might not load even on compatible applications due to numerous logical errors or a corrupt file. Instead, it displays unwanted errors with dedicated codes.
File layout changed
The document's overall layout, appearance, or formatting can be changed or distorted unforeseeably, which can further affect the overall readability of the paper.
Unreadable files
The file has been corrupted or damaged, and its data isn't readable or accessible anymore. Even a compatible application can't parse the file completely, causing readability errors.
Garbled files
The information stored in the file is unclear, mixed, or distorted. A malware attack on the file, data corruption, or missing header can lead to these issues.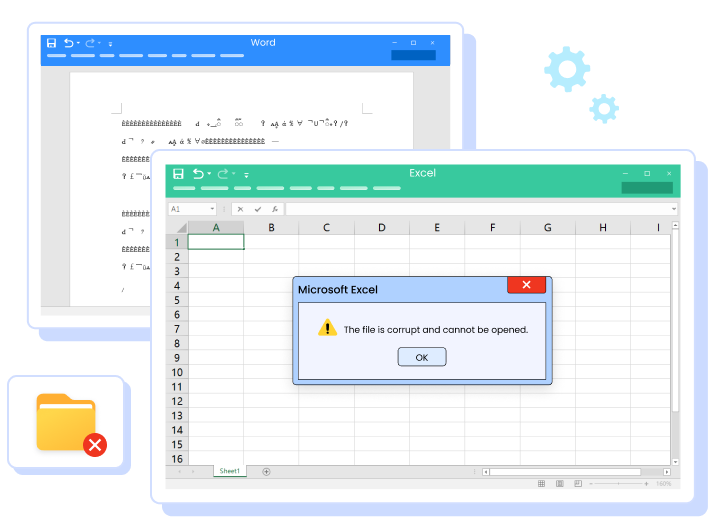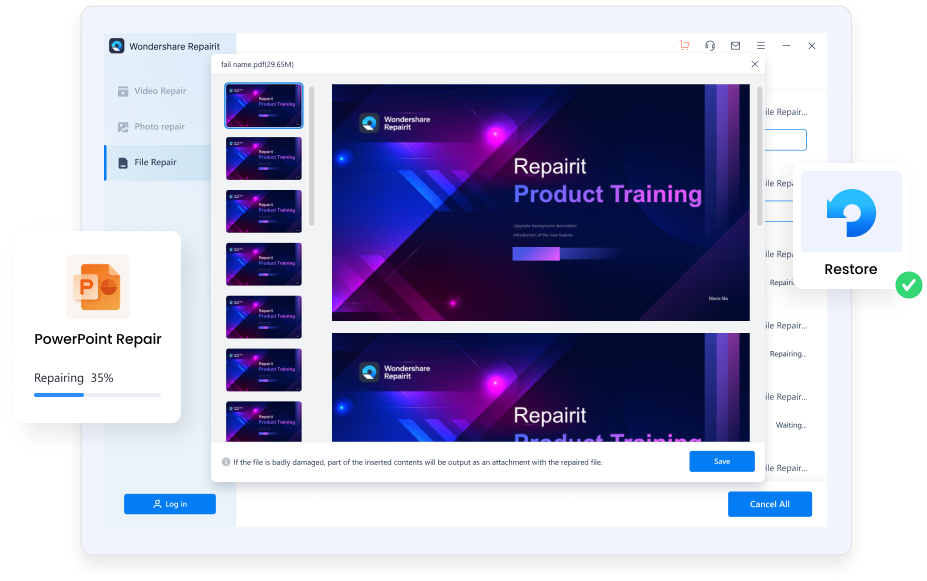 Explore The Highlights of Repairit!
Efficient and fast
Repairit runs a Quick Scan to repair the loaded files in an effective way.
Supports Almost all File Formats
All the major file formats like PDF, DOCX, XLXS, and PPTX are fully supported by Repairit.
Built in file preview
Repairit supports for a complete preview of the repaired files before saving it.
Repair Your Damaged Files in Three Steps!
Perfectly repair corrupted Word, Excel, PowerPoint and PDF files in three simple steps.
Add Files

Add the corrupt files with browse option or drag/drop function.

Repair Files

Add a sample file to repair severely damaged files.

Preview and Save

Preview the repaired files and save them to desired location.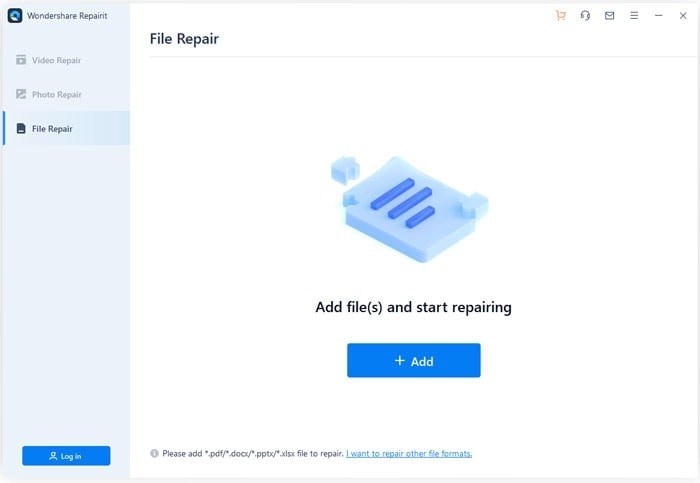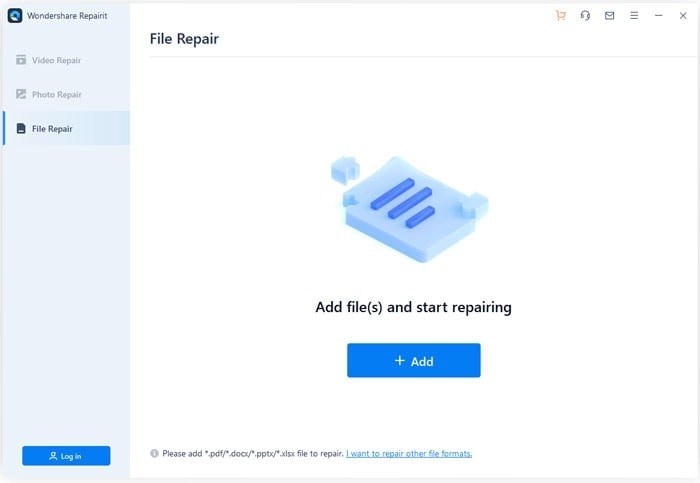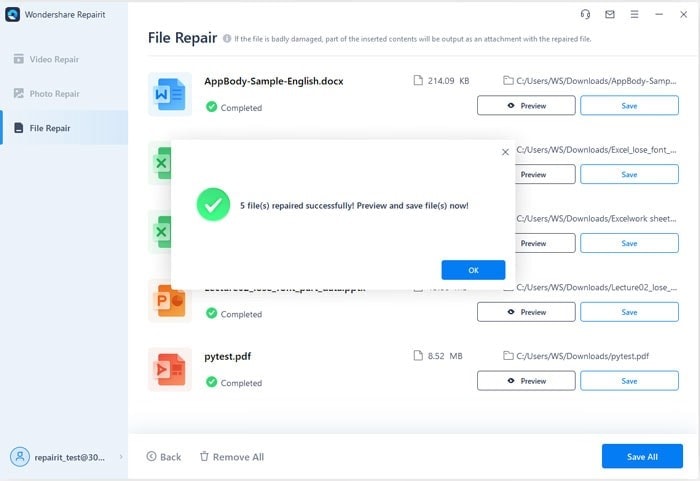 Recovery Experts
Since 2003
7- Day Money Back
Guarantee
100% Secure Virus-Free
Guarantee
24 x 7 Free
Tech Support
Frequently Asked Questions
?
Can the application repair my damaged file without modifying its original content?
Of course, Repairit is an effective tool that can repair corrupted documents without modifying their original content. It parses the data structures of the corrupt files carefully to repair any damaged segments. The repairing process would retain the formatting, attached media files, and all the other relevant content in the repairing process. The application supports all the leading document formats and features a fast repairing process to provide a complete file repairing experience.

?
What if some blank areas in the successfully repaired document are not repaired?
Ideally, if a file has been successfully parsed and repaired, it won't have missing fragments. Though, if a particular content is lost or overwritten, it can become unfixable and might be depicted by blank areas in the document. If a large part of the document is blank or the file has not been repaired, you can contact our Support Team to get further assistance.
?
What is the difference between free preview and paid preview?
Repairit has two preview modes – Free and Paid. The free or unlogged users can only preview the document's first page. Before accessing the rest of the content, Repairit will prompt them to save the file or buy a subscription. On the other hand, paid subscribers of Repairit can preview the entire repaired document on its interface. The preview window would have a navigation section for the paper on the sidebar and the content displayed on the main panel. Users can directly save their files to any preferred location from the preview window.
Tips & Tricks for File Repair
Repair broken media files now