Fix Any Level of Corruption
Repairit supports to fix almost all kinds of photo corruption issues, including pixelated photos, grey areas, wrong coloring, damaged colors,
photos can't be opened, grainy photos, brightness issues, saturation errors, missing or damaged header, mistorting errors and more.
Grey areas
A part of the photo cannot be displayed, but the data structure of the photo is still intact. Repairit photo repair can helps to restore the lost contents of photo to its full state immediately.
Pixelated photos
A pixelated photo shows on the screen, which may be caused by incomplete photo data. Repairit can recover the photo data completely and repair photo ideally.
Cannot be opened
The photo data structure is incomplete, thus cannot be opened. You can get the problem settled easily through Repairit advanced photo repair.
Repair Photos in Any Format
Repairit can help you repair pictures of JPEG, JPG, CR3, CR2, NEF, NRW, RAF, DNG, ARW, GPR formats. With Repairit, you are able to solve all image corruption issues in all aspects.
Repair Photos from Any Device
Repairit can repair broken, corrupted pictures from all Mac & Windows computer disks, phones, USB flash drives, SD cards, memory sticks, as well as digital camera.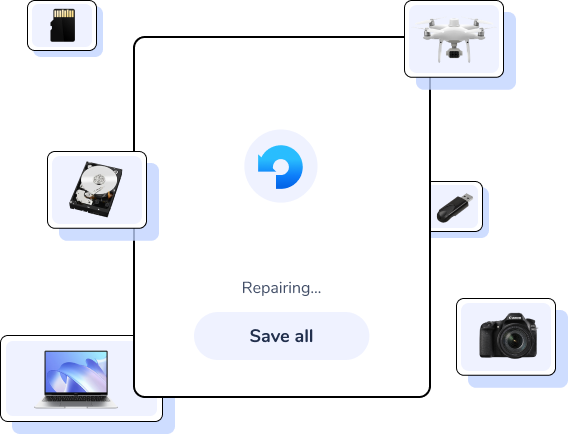 Explore Awesome Features
There are several excellent features embedded in Repairit Photo Repair, which make it a great choice.
Batch photos repair
With Repairit, you can add and drop multiple corrupted photos and get them repaired at one time easily with 1-click.
Repaired photos preview
Repairit provides a function to preview photos before you download it. You can preview a photo with different resolutions and choose the most satisfied one to save.
Thumbnails Extract
The user-friendly interface of Repairit can show the thumbnails of the loaded photos, which can help you check whether they are the damaged ones or not.
Advanced Repair
Repairit Advanced photo repair can fix seriously damaged photos through adding a photo template. And the restoration result will be more gorgeous.
Only 3 Steps to Relieve Your Photos
The Kernel Photo Repair tool is capable of repairing corrupt, broken, or damaged images. The repaired images can be saved at the desired system location. Here, are the quick steps to perform the repair on corrupt images by this tool:
Add Photos

Add one or multiple corrupted photo to Repairit.

Add Sample File

(Selectively, only for Advanced photos repair)

Add a sample photo file to repair severely damaged photos files.

Repair Photos

Click the Repair button to initiate the repairing process.

Preview and save

Preview the repaired photos to save a satisfied one.
Repair Experts
Since 2003
7- Day Money Back
Guarantee
100% Secure Virus-Free
Guarantee
24 x 7 Free
Tech Support
Frequently Asked Questions
?
What kinds of corrupt images can I repair with Repairit (IS)?
Repairit (IS) - Photo Repair can fix almost all kinds of corrupted image issues. You can efficiently repair broken, damaged, greyed-out, blurry, pixelated, grainy, missing bytes, color loss, blank, unreadable, and inaccessible photos giving various errors like error #50, error #51 etc.
?
When should I use the advanced photo repair function?
The "Advance Photo Repair" option is for severely corrupt JPEG/JPG images. If your JPEG/JPG image cannot be repaired through "Quick Photo Repair" process, the software automatically advises the option of "Advance Photo Repair". Through it, you can fix photos with severe corruption.
?
How to get corrupted GPR Image Restored with Repairit photo repair tool?
To repair RAW image formats of cameras, follow the below steps: Download, Install and Launch Repairit software.
Click on the option "Add" or drag your GPR photos.
All the selected GPR images will be listed in the screen.
Click "Repair" to start repair process.
Once repair process completes, you can see GPR photos in different resolutions.
You can preview the images in different resolution to confirm the satisfying one.
Click to save one or all.
Repair Broken Media Files Now