Dr.Fone - Android Unlock (Android)
Remove LG screen lock without passcode!
Are you tired of searching for the best way to unlock an LG smartphone with any carrier? We understand the Internet is replete with scammers eyeing your IMEI number they could use to clone your device and you want to be sure you are working with a trusted source. You've come to the right place. We will answer your queries with regards to SIM unlocking your LG Android phone and help you make the right decision for yourself so that you can unlock the device and use it with any provider safely.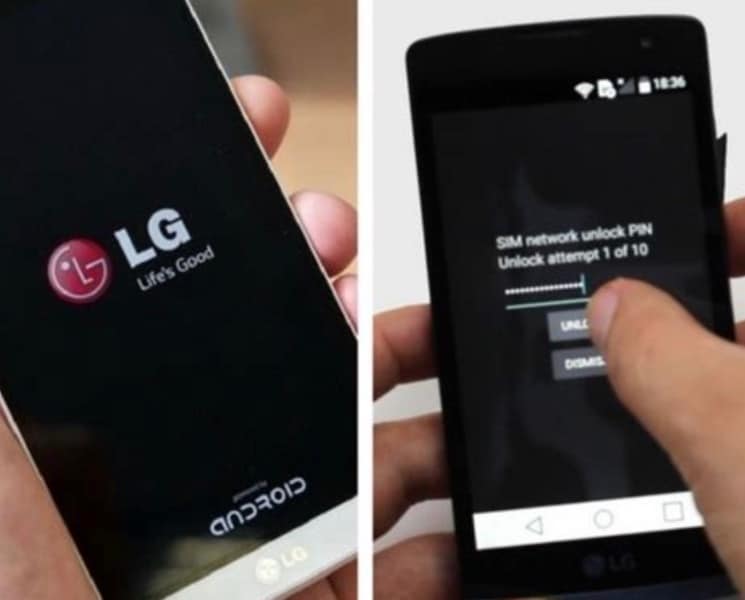 Part 1: Does Rooting An LG Phone Unlock The SIM?
A common confusion exists in the minds of people new to unlocking their SIM-locked phones, and that is the difference between rooting a device and SIM unlocking a device. This is because rooting an Android phone is very popular and nearly all have heard it at some point in time and is frequently used interchangeably as if they were the same. However, they are not the same at all.
Root An LG Phone
To root an LG phone is the process wherein you unlock administrative rights to the device and gain system-wide access to do things like installing custom ROMs and make changes to how the phone operates, for example, if you want your phone radio to latch on only to a lower (or higher) frequency because that frequency is the most feasible frequency for you at your location, rooting a device will allow you access to change the PRL settings and make changes to how the phone operates its radios. All warranty is void the moment you root your phone.
SIM Unlock an LG Phone
SIM unlock, on the other hand, is a process that frees you from the shackles of the operator your device is locked to, giving you the ability to use your phone on any network. You do not need to root your device for this purpose, and no warranty is voided if you do this legally, which is to request your network provider. SIM lock is put in place on devices bought under contract. The devices you purchase outright by paying the full amount at a store are regular unlocked devices.
Part 2: How To Tell If SIM Is Locked?
Maybe you know your phone is SIM locked. Maybe you don't. We are here to help you find out if your LG phone is SIM locked. There are a few ways you can check if your LG phone is SIM locked.
1. Insert A Different SIM
This one is obvious; inserting a different SIM in your LG phone will not work if you have a network-locked LG phone. The phone will not latch on to the network and might even display a popup asking for an unlock code. On some devices like the LG Stylo 6, you can see the status in your System Updates menu: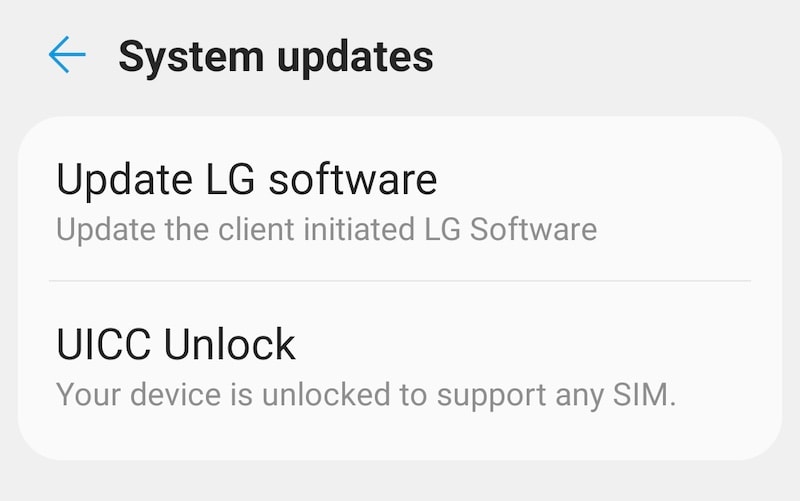 2. Using A Code To Check Lock Status
This may or may not work on your particular LG model. The idea here is that depending on the model number of your LG device, you dial a USSD code that shows you the lock status on your phone's display.
Step 1.

If you know your LG phone model number, proceed to step 2. Else, you can look your model up on the internet before proceeding.
Step 2.

Launch the Phone Dialer app and dial 2945#* followed by the model number of your LG phone and the # key again.

For Example, for an LG L322DL, the code will be 2945#*322#
Step 3.

If the phone is network locked, you will be asked to enter a code. Else, a menu will open with options.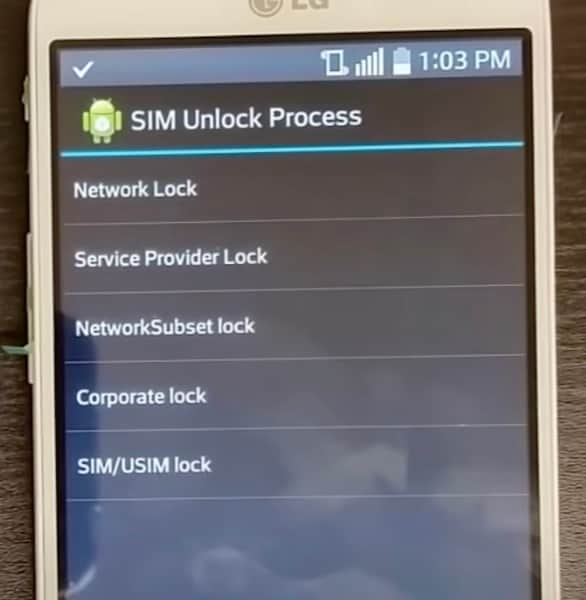 Step 4.

Open each of them and see which locks are enabled and which not.
Part 3: Unlock Android SIM Lock With Code
If you have a code obtained from either your network provider or from a website, they will usually come with instructions. In case they do not, the process goes like this:
Step 1.

You remove your old SIM and insert the new 'unauthorized' SIM in the LG phone.
Step 2.

The phone displays a message about an unrecognized/ unsupported SIM and asks for a code to unlock the device.
Step 3.

You enter the code you received from your network provider or a website here and enjoy an unlocked LG phone.
However, the process may also go this way:
Step 1.

You access the sim unlock menu using the 2945#*model number# option.
Step 2.

You tap Network Lock/ Service Provider Lock as per instructions.
Step 3.

If locked, you will be asked for the code which you enter and unlock your SIM lock.
Part 4: Unlock Android Screen Lock Without Code
There is no way to bypass Android Screen lock without the unlock code. However, if you have forgotten the passcode to your phone, there is a way to unlock your Android phone easily. A third-party tool called Dr.Fone – Screen Unlock not only helps you unlock your LG phone without a code but also helps you do much, much more.
Dr.Fone is a highly-regarded tool to perform a variety of tasks on your smartphone, such as taking backups, restoring deleted files, erasing data securely, repairing system issues, etc. The list is long. You can, of course, use Dr.Fone to unlock your Android phone without a code in case you forgot the passcode to the device.
Unlock all types of screen lock on iOS device within clicks, including Google FRP lock, phone password, fingerprint lock, PIN, pattern, etc.
Support to bypass Google Account verification on Android 6/7/8/9/10/11/12.
Bypass Android lock screen in any scenarios anytime, such as forgot password, too many wrong attempts, physical damaged, unknown password, etc.
It has an easy-to-use interface that even the most basic beginner can navigate.
No worry about data loss, Dr.Fone supports to remove Android locks screen without erasing any data on it.
Step 1.

Download Dr.Fone on your PC/Mac and click the Screen Unlock module.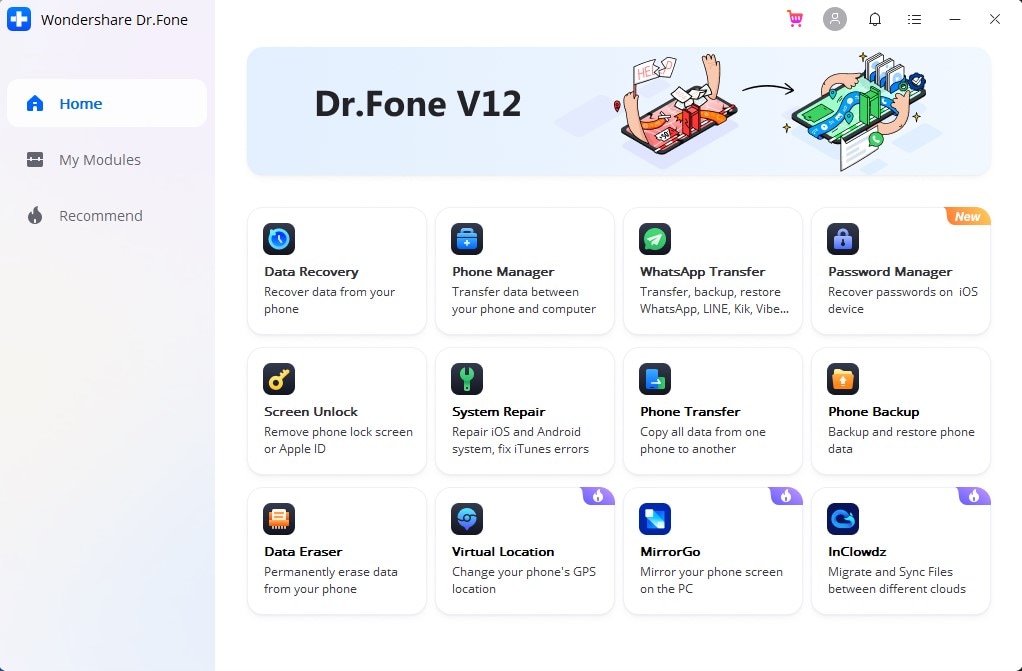 Step 2.

The next screen shows you three dropdown lists to pick your device from the database of supported devices.

This is a comprehensive list as Dr.Fone supports over 6000 Android devices. Carefully choose the brand of your device, the name and its model number as follows: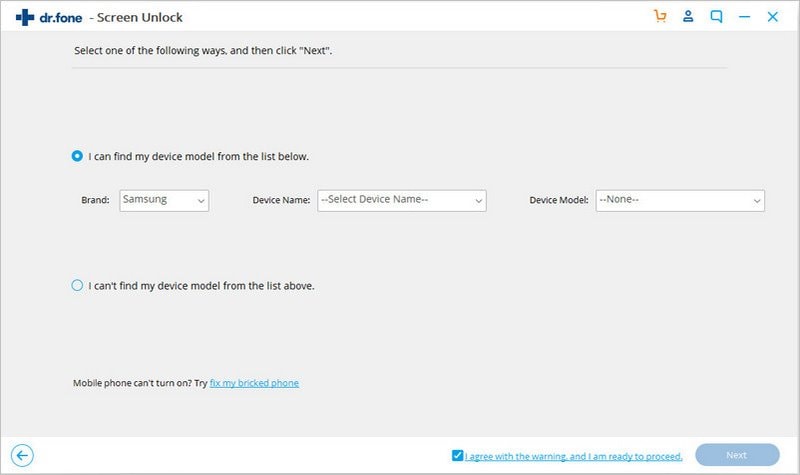 Step 3.

The software prompts for additional confirmation before moving ahead.

This is an added security measure, so you do not quickly end up with a bricked device and do not know how you managed to do that.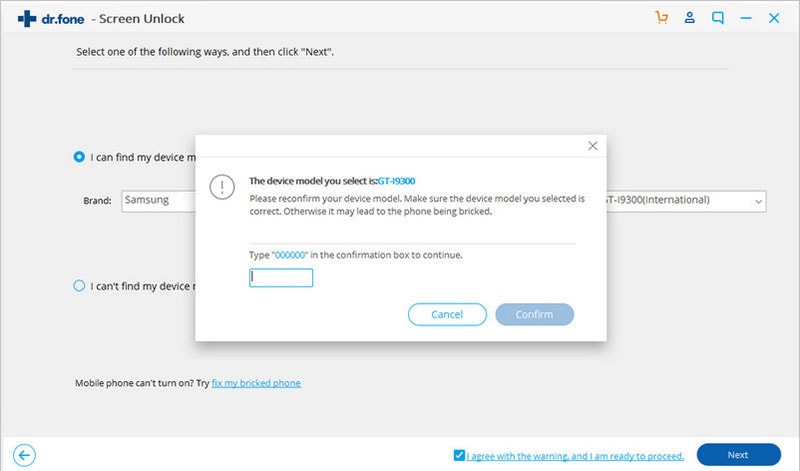 Step 4.

Instructions to put your phone in download mode follow: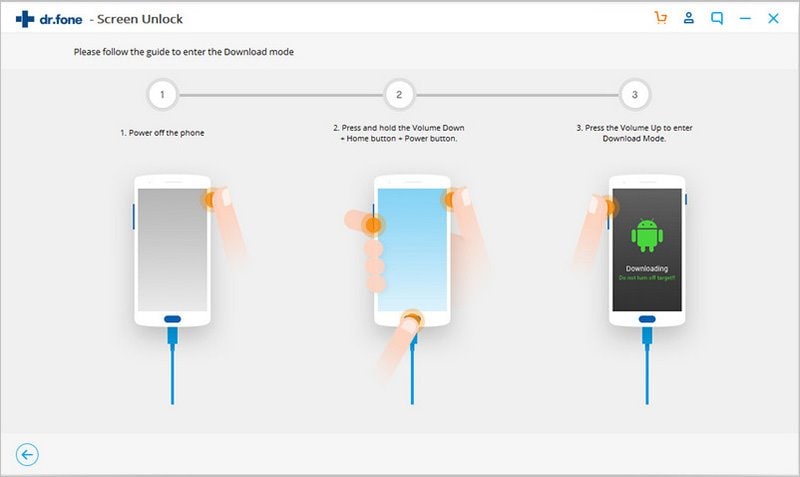 Step 5.

Click Remove Now when the download finishes starting the process: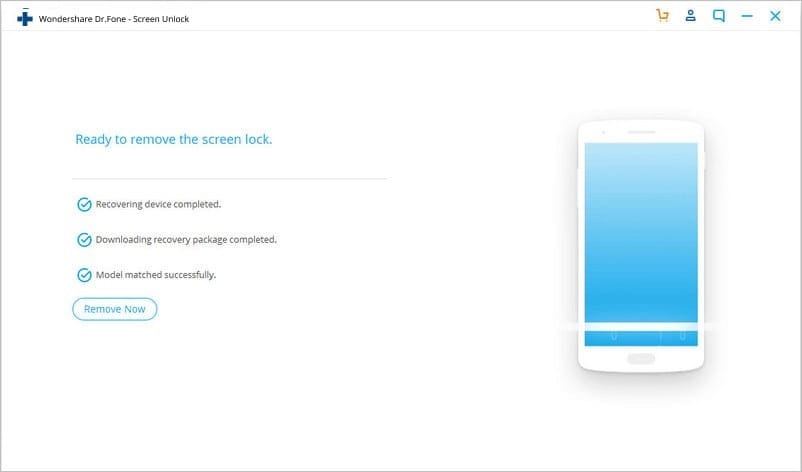 This process quickly unlocks your phone without a passcode and without any data loss.
Part 5: FAQs
Here are commonly asked questions about unlocking a SIM-locked LG phone.
Q1: What is the difference between rooting and unlocking?
A1: Rooting is a way to give you unconditional access to the whole Android operating system. Unlocking, on the other hand, could be anything from unlocking the screen without passcode to unlocking the SIM on the phone without the network code.
Q2: Where to get an LG phone SIM unlock code?
A2: We cannot vouch for any provider per se. This is something you will have to research on your own to make the best decision for yourself. However, Unlock River is a reasonably trusted resource for buying a SIM unlock code for your LG phone.
Q3: Why is my phone SIM-locked in the first place?
A3: Carriers place a SIM lock on phones they give out under subsidy instead of a long-term contract. This is supposed to be a win-win situation for everyone, where you do not have to pay upfront for the price of that latest smartphone and instead pay in small installments while also enjoying voice and data services from the network that gives you the phone. For the network, they get a customer for the contract period. They lock the SIM on the device so that you do not cheat and use another provider's SIM.
Conclusion
If your phone is locked because you forgot your passcode to the device, there is an excellent third-party tool Dr.Fone – Screen Unlock you can use to quickly unlock your LG phone without data loss.