Hard drive cloning creates a one-to-one copy of a hard drive or solid-state drive's content. The data is saved as a disk image file and can be transferred to storage devices. If your original hard drive crashes, you can install a clone quickly. It saves you from having to reinstall system software. Here we have handpicked a list of the top 5 disk cloning software.
Hard Drive Cloning Software Overview
Disk cloning software is a specialized PC software used to make an exact copy of a computer's hard drive and then transfer it to a secondary (often larger or faster) hard drive. Making an exact copy of the disk means copying the operating system, any installed applications, and all existing user data to the new hard drive.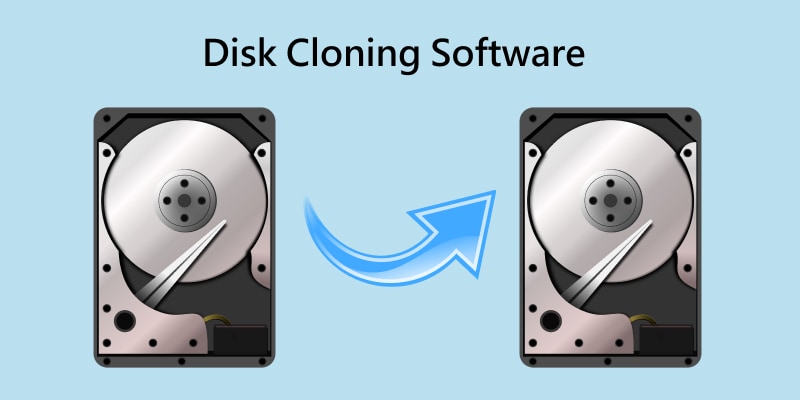 When adding extra hard disks to an existing PC, such disk cloning software is beneficial. For instance, when adding a larger or faster hard disk or SSD drive to an existing PC, the existing drive contents can be copied to the new drive exactly as they are. It means that the current system will continue to function exactly as it did on the old hard disk, but with more disk space or a faster SSD drive now in use.
Disk cloning software is an invaluable backup and recovery tool. The global recovery and data backup market is valued at over $10 billion. The market is anticipated to rise from $11.54 billion in 2021 to $11.59 billion in 2022, representing a 10.2% annual increase. One of the market drivers is a greater emphasis on data quality control and operational competence. (Data source: MARKETSANDMARKETS)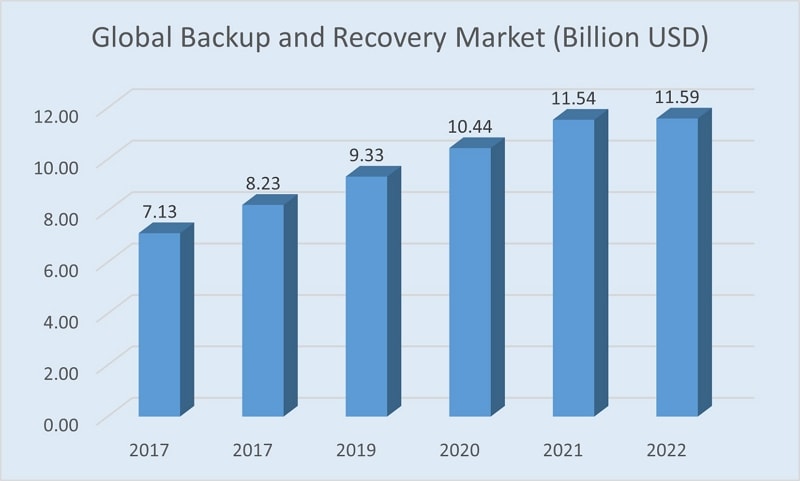 Overall, numerous scenarios may necessitate the use of disk cloning software, such as
Hard disk upgrade
Migration of an existing PC system to a new and faster SSD drive
Re-provisioning a PC with a clean install of Windows within a business environment
Returning a PC to its default state ready for resale.
There is so many hard drive cloning software available online that choosing one can take time and effort. So, to save you time, we searched the internet and selected the best disk cloning apps that provide excellent value for money.
The 5 Best Disk Cloning Software [2022]
With disk clone software, you can now accomplish the hours of fiddling with copy settings and worrying about whether you have a backup of all our important files with a few mouse clicks.
The best hard drive clone software creates a replica of a source drive that you can use immediately on another computer or after the original disk drive is replaced. Hard drive cloning software can also help to avoid data loss. We've compiled a list of the market's top 5 best disk cloning software with all these advantages in mind.
Comparison Chart of Disk Cloning Software
To help you pick the disk cloning software you need, below is the comparison chart of the top 5 best hard drive cloning software based on their features' strength, pricing, and overall usability and dependability.
 

AOMEI Backupper Standard

Wondershare Ubackit

Acronis Cyber Protect Home Office

Paragon Hard Disk Manager

Clonezilla

Operating System

Windows 10, 8.1/8, 7, Vista, and XP+

Windows 11/10/8.1/8/7

Windows 11/10/8.1/8/7/XP and Home Server 2011

Windows 11/10/8.1/8/7/XP

Windows 11/10/8.1/8/7

Key Features

-Intelligent Cloning
-Sector Clone
-File Restore

-Back up a variety of file types
-Back up partitions
-Back up entire disk
-Incremental backup
-Encrypt backup

-Mirror imaging and disk cloning
-Cloud backup administration
-Incremental Backup
-Blockchain validation
-AES-256 encryption

-File Transfer Wizard
-Backup Excludes
-Examine backup data credibility

-Cloning over multiple channels
-BitTorrent compatibility
-AES 256 encryption
-MBR and GPT partitions are supported.

Price

Free with limited functions, the Pro version starts at 39.99/year

1-month free trial, then $29.99/year

Starts at $49.99/year

$79.95

Free

Best Application

Ideal for household, individual, business, and non-commercial disc imaging and cloning.

A user-friendly solution best for individual and commercial use.

Best for personal use for imaging and cloning discs.

An excellent disk clone software good for personal and business uses.

Good disk cloning and imaging software for personal and commercial use.

Rating on G2

4.5/5
-Based on 15 reviews

4.2/5
-Based on 35 reviews

4.4/5
-Based on 59 reviews

4.6/5
-Based on 10 reviews

4.3/5
-Based on 15 reviews
1.    AOMEI Backupper Standard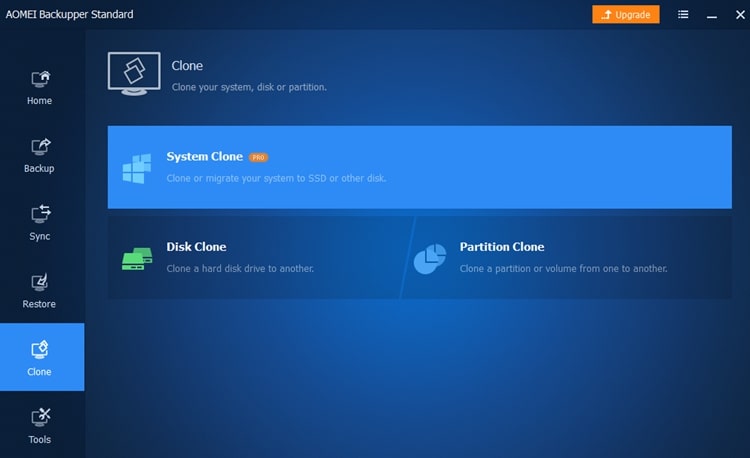 The AOMEI Backupper Standard satisfies all your requirements for the best disk cloning software. It is a secure and free disk clone software that provides excellent disk backup capabilities like the following:
Clone an entire disk, partitions, and files without disrupting work.
Customization of backup settings for regular or scheduled backups
Make differential and incremental backups and compress and split the backup.
Sync files and folders automatically to a local or external disk, network, or NAS.
To check AOMEI Backupper Standard's usability, let's check the users' different remarks.
| | |
| --- | --- |
| Users/Media | Remarks |
| | "Performed several data migrations and three OS migrations with AOMEI Backupper Server, easy operations and user-friendly interface. Worth to try." |
| | "A great tool to backup /sync your files" |
| | "I purchased AOMEI last week but thus far it has not been a pleasant experience. Is it possible to revoke my license and refund my money?" |
Reasons to Choose
It is free to use
SSD cloning
Makes boot copies
It has a user-friendly interface
Reasons to Avoid
2.    Wondershare Ubackit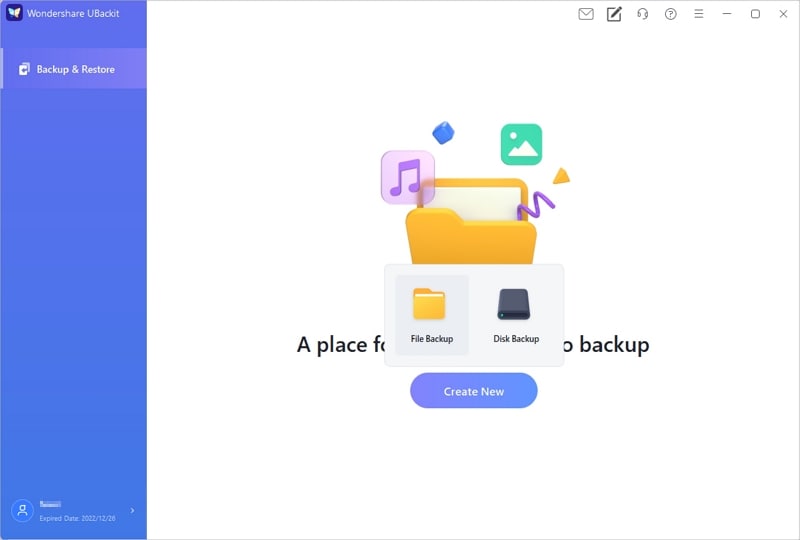 This amazing hard drive cloning tool can save your life by backing up files, partitions, and an entire hard disk to recover your essential data in the event of a disaster. You can schedule a daily, weekly, monthly, or even non-stop automatic backup to avoid forgetting to back up. Incremental backup is also available to back up only the changed or newly added files.
Here are the user reviews to see how reputable Wondershare UBackit is.
| | |
| --- | --- |
| Users/Media | Remarks |
| | "UBackit is becoming a favorite of mine. I needed to restore a file I deleted a few weeks ago, and it worked perfectly. It was easy to backup, and the interface looks so great and simple to use, so I didn't have to look at the manual and figure out what to do. Great product!" |
| | "I have successfully created a disk image t Wondershare UBackit. This backup copy symptomatic computer corruption and cr for the efficient backup tool. And recomm use the app." |
| | "Great product, but, alittle pricey…The price point, and the fact that its yearly. I'd wish it was a straghtforward purchase. I only need it rarely, and I don't often need to recover files - its more of an 'emergency' situation when it happens, and so I find I don't really use it regularly." |
Reasons to Choose
Support encrypt backup
Backup files, partitions, and disks
It has a simple user-interface
Affordable price
Reasons to Avoid
It doesn't support backup to the cloud
It doesn't support sync to the NAS server
3.    Acronis Cyber Protect Home Office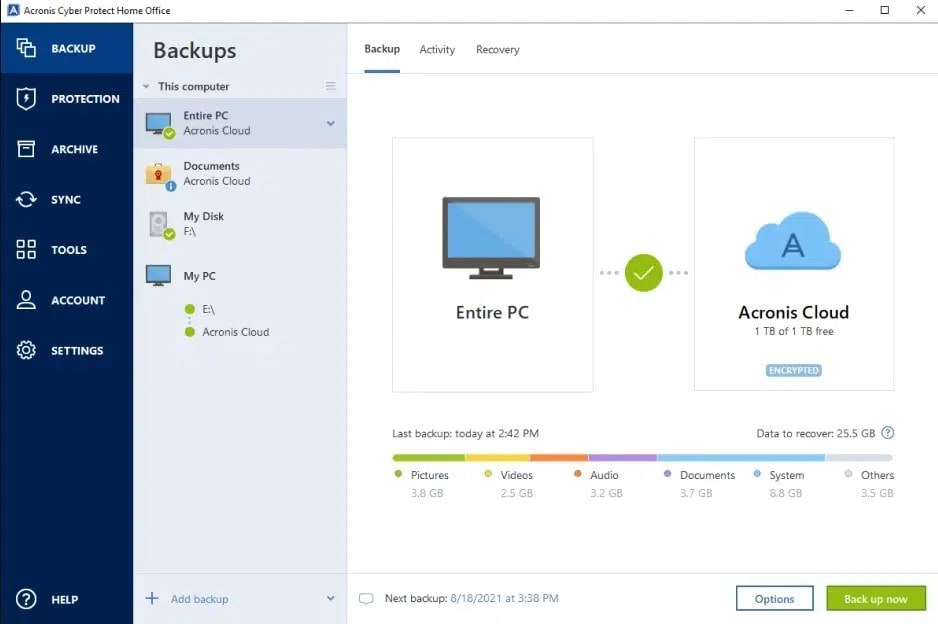 Acronis Cyber Protect Home Office is your best bet if you search for the best partition-cloning software that supports active disk cloning. It is useful in all situations, regardless of your goal, whether you want to create a backup, upgrade to a larger and faster hard drive, or move your operating system and files to a new computer. In addition, you can be confident that neither your device nor the backup will be harmed due to the security it offers.
Let's look at users' comments to see how reliable Acronis Cyber Protect Home Office is.
| | |
| --- | --- |
| Users/Media | Remarks |
| | "Lots of protection, reasonable price" |
| | "Feature rich backup utility" |
| | "Acronis used to be my favorite backup solution, but I feel it has gone downhill in recent years." |
Reasons to Choose
Anti-ransomware security
Make local and cloud backups.
Enables drive cloning
Reasons to Avoid
4.    Paragon Hard Disk Manager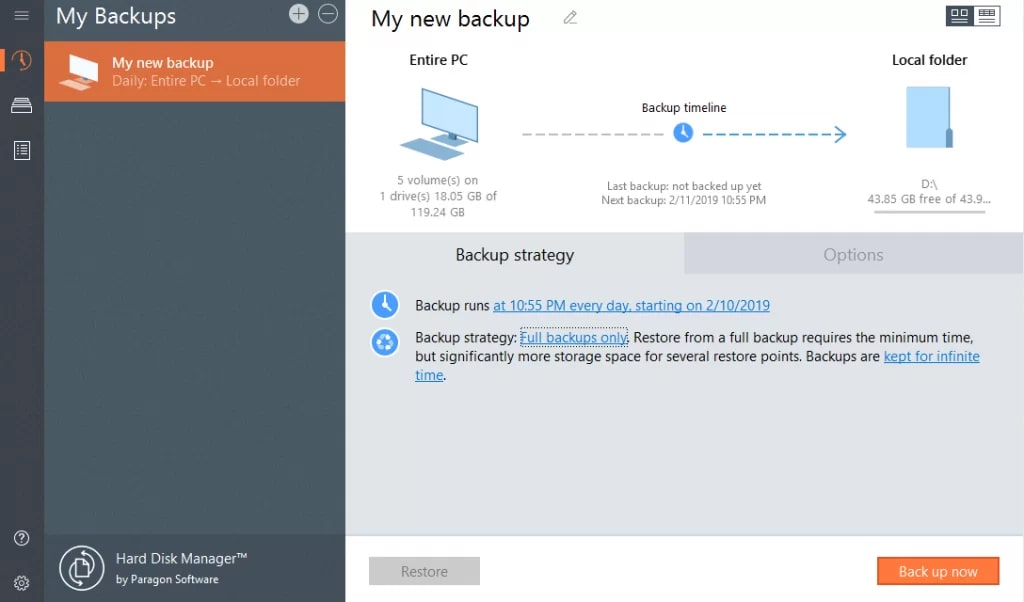 If you're looking for the best hard drive cloning software, give Paragon Hard Disk Manager a shot. You can configure automated backups of volumes, files, or entire disks, backup rules, and the automatic deletion of old backup images based on specific values.
If your system OS fails, you can restore it from the backup OS partitions, and to recover a corrupted or damaged operating system, boot the system from a bootable USB stick in a Windows Preinstallation Environment (WinPE).
To evaluate the reliability of Paragon Hard Disk Manager, let's assess user reviews.
| | |
| --- | --- |
| Users/Media | Remarks |
| | "High reliability. With Paragon Hard Disk Manager, we are confident regular backup jobs are executed as configured." |
| | "We work on a lot of different systems - laptops and desktop - with different types of operating systems and physical hard drive types. Paragon Hard Disk Manager made the process of clearing data and setting new partitions on these systems a dream! A great deal of time was saved through using this software." |
| | "...but only if you can figure out how to make it do what you want. Difficult to understand terms, cluttered GUI. Expensive, when there are other software options to do the same thing more or less, many of which are free." |
Reasons to Choose
Partitions can be resized
Clone to a USB drive virtually
Reasons to Avoid
5.    Clonezilla

Clonezilla is an open-source, free disk cloning software for imaging hard drives. This software can be used on drives with bad sectors and allows for the simultaneous cloning of up to 40 systems. In addition, this application enables system administrators to perform a bare backup of an entire system deployment.
Let's look at the various comments to evaluate Clonezilla's user experience.
| | |
| --- | --- |
| Users/Media | Remarks |
| | "A great tool for backup and hard disk cloning! It is easy to use to create or restore images or direct clones of partitions or whole disks: just boot from the CD or pen drive and follow the step-by-step wizard." |
| | "Interface can be unintuitive, especially when selecting a source disk as a repo." |
| | "GUI could look nicer, but I could care less. I would guess that most people using Clonezilla enjoy it how it is. I couldn't think of any other downsides." |
Reasons to Choose
Cloning over multiple channels
MBR and GPT partitioning is supported.
Reasons to Avoid
Some features are not available and have an unintuitive user interface.
Which Disk Cloning Software Is Best for You?
When deciding which disk cloning software to download and use, consider how difficult it will be to back up and recover the data. Not all will clone multiple partitions at the same time. Furthermore, free or low-cost software may have built-in limitations on how much data or files you can clone.
Gone are the days of spending too much time on the cloning process. You can now confidently and securely ensure that you have cloned, backup, and recovered your files with AOMEI Backupper Standard. It offers great features that distinguish it from the competition.
As well, check out Wondershare UBackit. It is the advanced file backup tool you need to create backup copies of your valuable data quickly, reliably, and securely. This application was designed from the ground up to meet the needs of novice and experienced PC users. It can handle not only backup duties for specific directories but also entire drives and partitions.
On the other hand, Acronis Cyber Protect Home Office is an antimalware and backup service package ideal for ransomware protection. The backup service includes repository cloud storage, allowing destroyed endpoints to be easily replaced and revived. Although this is intended for use with home offices, it is not limited to personal use. Businesses can also grow their home office thanks to this work-from-home solution.
Paragon Hard Disk Manager is an all-in-one solution if you need a tool that can back up and clone data, wipe disks, and manage partitions. It is a good option for those who have backup experience.
Note also that Clonezilla is the best of the few options available for free backup software that run on Linux. Clonezilla's interface is a little dated. However, its long service history indicates that all of the system's bugs have been ironed out. It is a solid and reliable backup service appropriate for companies of all sizes.
Disk Cloning software can be an effective backup plan if your computer fails. We have listed some of the top 5 hard drive cloning software to help you create an exact copy of your computer, so your productivity is maintained. Choose the best for you!
FAQs
Q1. Does Windows 10 have disk cloning software?
A1: Windows 10 has a System Image. However, system Image only works when cloning a hard drive to a larger hard drive; you cannot use it to clone hard drive partitions.
Q2. Does Windows 11 have disk cloning software?
A2: There is no software on Windows 11 that can perform disk cloning. You must find reputable cloning software that will assist you in transferring your data while maintaining your data.
Q3. How can I clone my hard drive for free?
A3: Macrium Reflect 7 is a backup, disk imaging, and cloning solution for commercial and personal use. It clones disks directly and is a secure method of storing data.
Q4. What are the uses of Cloning Software?
A4: Cloning software is used to create a backup of a future system restores or as a temporary step before replacing an old drive. It copies all data on the disk.
Q5. Can I clone a hard drive with bad sectors?
A5: Yes. Some cloning software supports cloning a disk with bad sectors. You should look at the features to see if the available software allows you to clone damaged disks.
Q6. Is it better to clone or image a hard drive?
A6: You can use both methods to back up files or upgrade a drive. However, cloning is the best option for a quick recovery, whereas imaging is the best backup option.
Final Words
Disk Cloning software can be an effective backup plan if your computer fails. We hope our review of the top 5 hard disk cloning software will help you to decide on the best cloning software for your device. To choose the best cloning software, consider your needs and budget.