Google Photos is among the safest and most intuitive platforms for storing your photos. One of the most significant advantages of this application is its compatibility across all platforms and devices. But what happens when you accidentally delete some photos and want them back?
So how to recover permanently deleted photos from Google photos after losing important photos? This article introduces a full guide for Google Photos, have a look!
Part 1. How to Recover Deleted Photos from Google Photos on Mobile?
If you want to get back Google photos recently deleted on your smartphone, please check out the below-proven solutions to get your hands on the lost photos within 30 days of accidental deletion.
1. Recover Google Photos on iPhone
Step 1.

First, launch Google Photos and tap Menu from the upper-left corner.
Step 2.

Then, go to "Trash" and select the photos you want to recover.
Step 3.

Finally, hit "Restore" to get them back.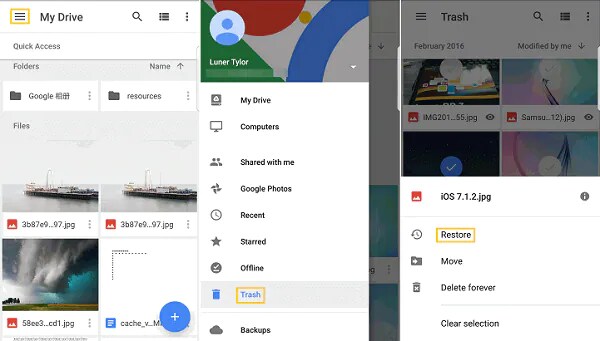 2. Recover Google Photos from Android phone
Step 1.

First, tap the "Google Photos" app to open it.
Step 2.

Now, tap "Menu" on the top-left corner and go to "Trash".
Step 3.

Next, click on the deleted photos to select them.
Step 4.

Then, just hit "Restore" to retrieve them to your Google Photos account.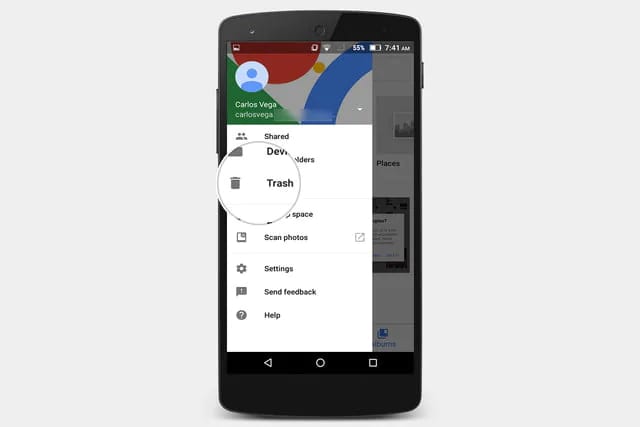 Again, remember that you can use this solution within 30 days of accidental deletion. If not, please read the "Part 3" for permanently deleted photos recovery.
Part 2. How to Recover Deleted Google Photos from Google Drive?
Recovering your deleted photos from Google Drive is as easy as possible. Here's a simple guide to do that on any device:
Step 1.

Firstly, open the Google Drive app on your device.
Step 2.

Next, navigate to the "Trash" folder under My Drive.
Step 3.

Right-click the deleted file. You'll see two options, "Restore" and "Delete Forever".
Step 4.

Hit "Restore" to return the file to its original location.

Part 3. How to Recover Permanently Deleted Google Photos on Computer?
All the three methods mentioned above work within 30 days of photos deletion. But the real problem occurs if you haven't recovered the deleted photos during this 30-day window as Google deletes them permanently.
So, if you're wondering how to recover permanently deleted photos from Google Photos anytime, we have two perfect solutions for you. Let us discuss both of them:
Recoverit is an ideal choice for both professionals and beginners to recover deleted photos from Google Photos. It has a staggering 95%+ recovery rate that offers a golden chance to anyone looking to retrieve permanently lost photos, all you need to ensure that the lost photos were once downloaded on your PC/Mac or any external storage.
Recover over 1000 types of data types, like photos, videos, emails, audio, etc.
Recover data from numerous scenarios. Be it due to files being overwritten, a system crash, accidental formatting or virus attack, Recoverit is able to do a total recovery.
Recover from any storage device, such as Hard Drive, Desktop, USB Drive, SSD, SD card, recycle bin, etc.
Ensure 100% data safe and easy operations.
Step 1.

Launch Recoverit after downloading it on your PC/MAC, open it, and choose a location where you have once saved the lost Google photos.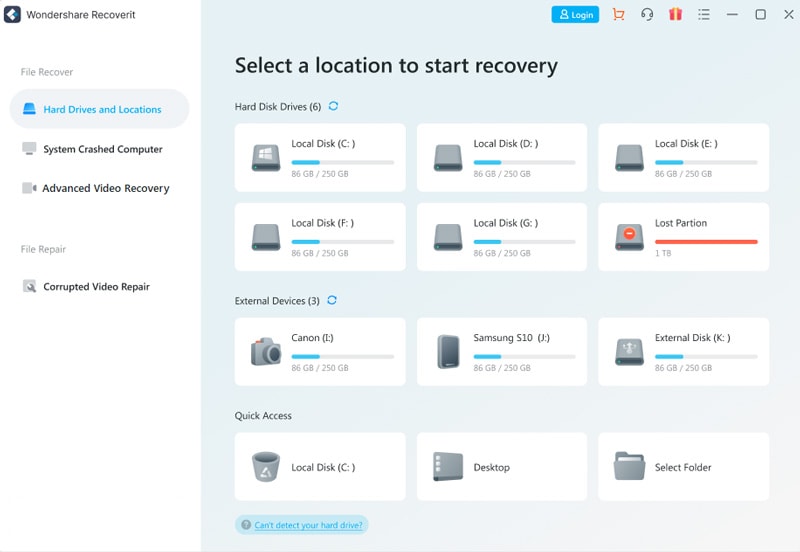 Step 2.

Scan the lost Google photos.

Recoverit will perform a thorough scan for lost photos in the selected drive and show the progress bar.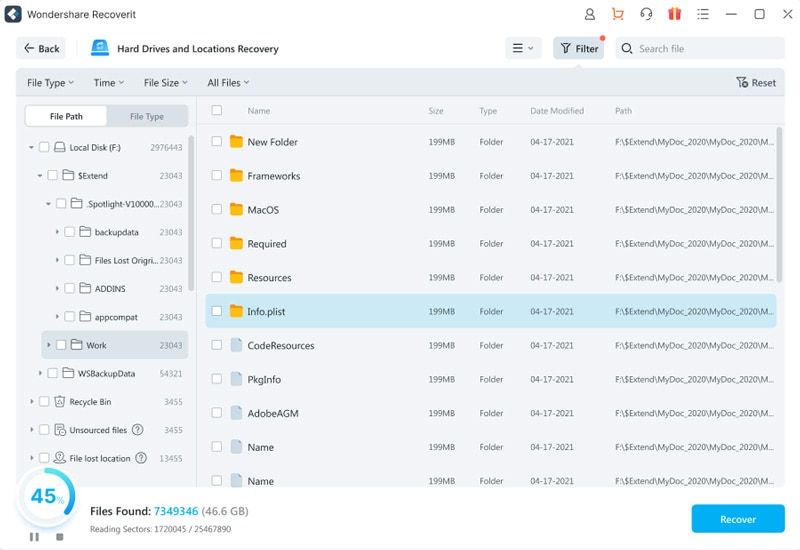 Step 3.

Preview and save the recovered files.

After the lost Google photos come back, you'll see the list of all the recovered photos. Click on any photo to preview it and hit "Recover" it to download it on your device.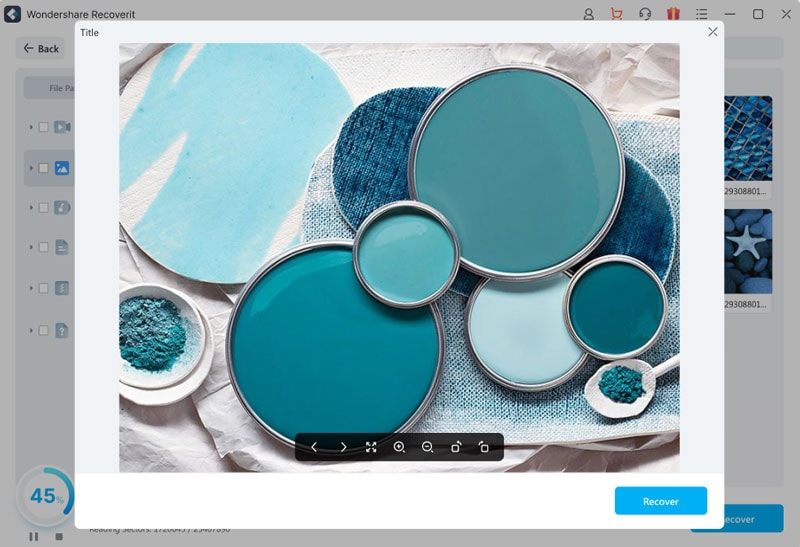 2. Contact Google Support
If you don't want to use any third-party Google Photos recovery tool, consider reaching out to official Google Support.
Based on Google's updated policy, anyone can contact Google customer service and ask to restore the permanently lost photos from the Trash folder. But it shouldn't be any later than 21 days of permanent deletion.
You need to convince Google with a genuine request after submitting the request. However, Google has absolute authority to decline your request on any ground. This method often takes a lot of time, ranging from a few hours to even days, to get back your deleted photos.
Step 1.

Launch Google Drive and navigate to "Help Page".
Step 2.

Find and click on the "Missing or deleted files" option.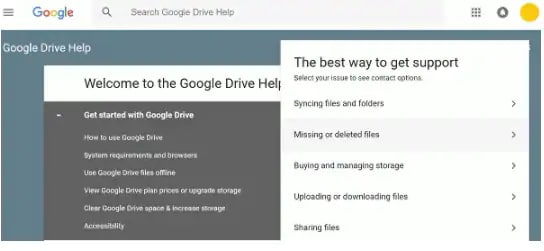 Step 3.

Select the mode of Google Support. For example, you can choose "Email Support" or "Request Chat".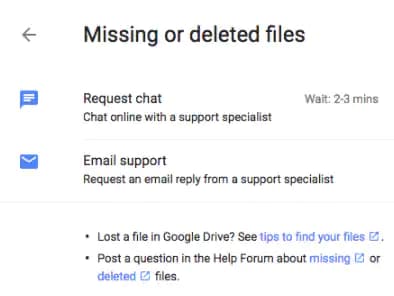 Step 4.

Once you contact them, explain your reasons to convince them to restore your photos.
Bonus Tips: Backup Photos in Advance to Prevent Loss
Now you know how frustrating and time-consuming it can be recover photos from Google account. To avoid facing this situation in the future, you must backup your important photos on other cloud devices.
Some popular cloud services available for free include Google Drive, Dropbox, and OneDrive. Backing up your photos in another platform adds an extra layer of security to your important files. If things go south, you can easily restore all your photos with just one click.
Conclusion
And that brings us to the end of this informative guide. We have taught you how to recover permanently deleted photos from Google Photos on Android, iPhone, and PC.
If you cannot get Google Photos back with free methods, Recoverit can help you recover permanently lost photos with a very high success ratio.