Xiaomi is one of the leading smartphone makers in the world, with most of their recent devices based on Android. While their smartphones are pretty reliable, there are times when users end up losing their stored data due to different reasons. In this case, they often look for ways to perform Xiaomi data recovery. Fortunately, there are tons of solutions to get back Xiaomi deleted photos, videos, documents, and other files. In this post, we will teach you how to recover deleted photos from Xiaomi phones in not one, but three different ways.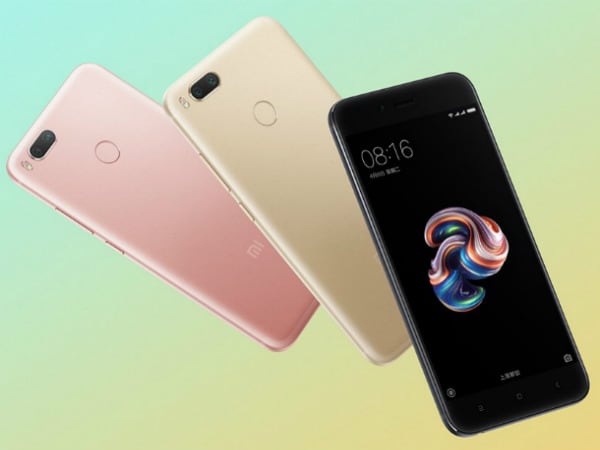 Part 1: About Xiaomi Phones
Founded in 2010, Xiaomi is currently one of the largest smartphone makers in the world. Being the biggest smartphone brand in both China and India, it also has a substantial presence in Indonesia, South Africa, Malaysia, Singapore, and other countries. Recently, the company has been listed as the fourth most valued tech startup in the world. Apart from its range of smart products like TV, bands, speakers, etc. it is majorly known for its smartphones. Based on Android, some of its leading series are RedMi, Note, Mi, A, and so on. Most of the smartphone has an MIUI interface layer over Android to provide a seamless user experience.
Part 2: How to Recover Deleted Photos from Xiaomi Phone
In case if you have suffered from an unexpected data loss on your Xiaomi phone, then you are in the right place. Ideally, it would depend if you have an existing backup on its cloud or Google. If a backup is already there, then you can just recover deleted files on Xiaomi pretty easily. Otherwise, a dedicated Xiaomi data recovery tool would be used for this.
Method 1: Restore Backup from Mi Cloud
Just like every other major smartphone manufacturer, Xiaomi also lets its users save their data on the cloud. To do this, the brand has come up with its native cloud service – Mi Cloud, which gives a 5 GB of free space to its users. If you have already maintained a backup of your phone on the cloud, then you can easily recover deleted files on Xiaomi by following these steps.
Step 1 Before you proceed, make sure that you have already taken a backup of your data on Mi Cloud. To do this, you can go to its Settings > Mi Account > Backup up Device and enable the Mi Cloud Backup feature. There is also an option to do an automatic backup here.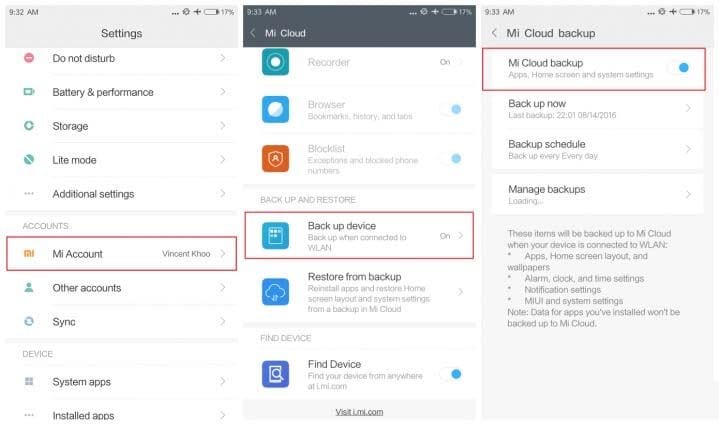 Step 2 Afterward, turn on your device and log-in to the same Mi account where the previous backup is stored.
Step 3 Later, go to its Settings > Mi Account > Mi Cloud and tap on the "Restore from Backup" button.
Step 4 Simply select the backup file you wish to restore and confirm your choice. Maintain a stable internet connection as your backup content would be extracted.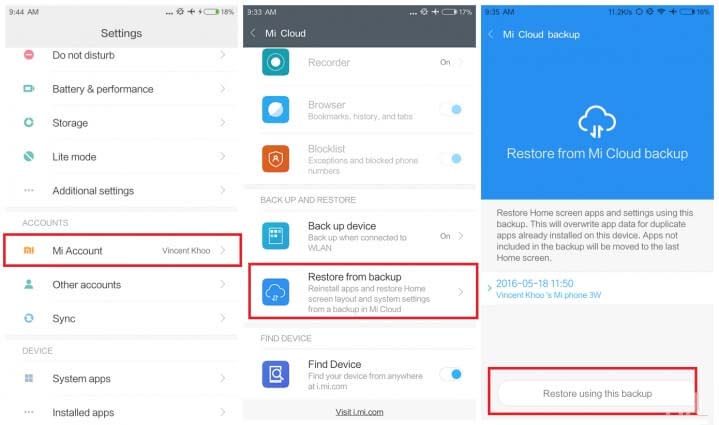 ---
Method 2: Restore Backup from Google Drive
As you know, Android devices are already linked to a Google account to access all the native features on it. One of them is the backup feature that we can take on Google Drive. Apart from that, you can also sync your data with your Google account as well. In case if you suffer from unwanted data loss, then you can do Xiaomi data recovery from the Google backup.
Step 1 In advance, be sure that the backup of your device is present on Google. To do this, go to Google Drive, tap on the "Backup" button, and select the type of data you wish to save.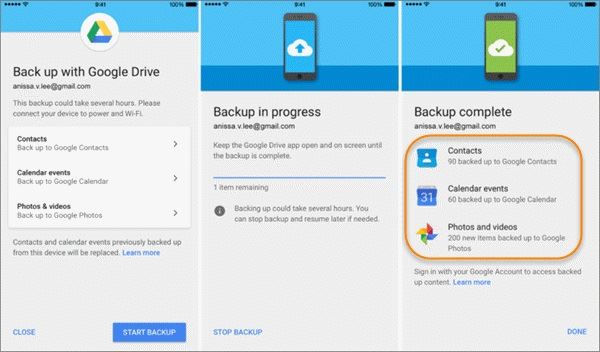 Step 2 Later, use the same Google account while setting up the device. It will automatically detect the existing backup. Alternatively, you can go to the Google Drive app and select any existing backup to restore.
Step 3 Choose the type of data you wish to get back and maintain a stable internet connection to restore the backup content on your phone.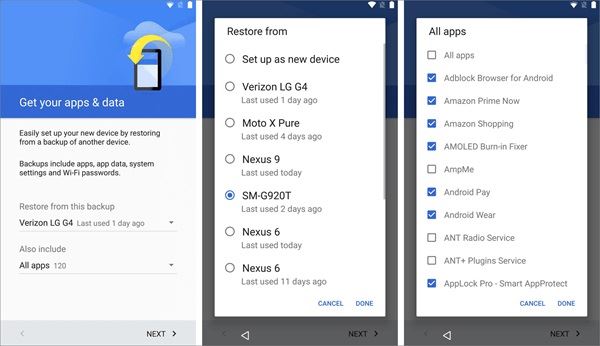 Step 4 Alternatively, you can also go to your account settings > Google and turn on the sync for different fields. This will sync the lost data back from the Google account to your Xiaomi phone.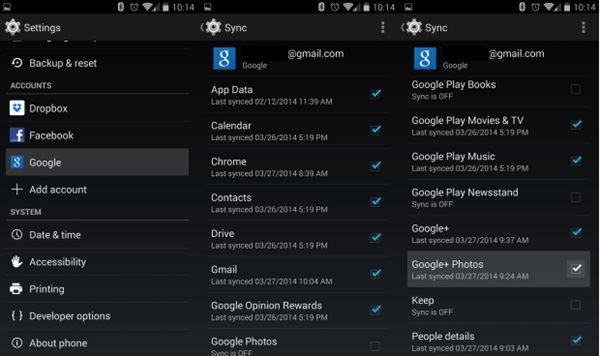 ---
Method 3: Restore Data using a Xiaomi Data Recovery Tool
If you haven't maintained a prior backup of your data, then the above-listed methods won't work. In this case, you need to use a dedicated Xiaomi data recovery tool to restore your lost and deleted content. To do this, you can take the assistance of Recoverit (IS). It supports every kind of memory card that you could have used on your Xiaomi device. Therefore, you can just unmount the SD card from your phone and extract all sorts of inaccessible content from it.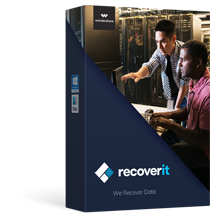 A Life Saver to Solve Your Data Loss Problems!
It is compatible with both Windows and Mac operating system.
It supports a large number of storage device type including hard drives, USB flash drives, SD cards, etc.
All major types of files can be recovered including music, images, video, documents, emails, and archives.
It has a deep scan features for in-depth scanning of the hard drive for searching files to recover.

3,165,867 people have downloaded it
The application supports every major format of photos like JPG, PNG, BMP, TIFF, GIF, etc. It will also let you preview your data before saving it to a desired location. Here's how you can recover Xiaomi Redmi 3, Note 4, A2, or any other device's SD card data.
Step 1

Connect your SD card

Firstly, unmount your SD card from your Xiaomi device and connect it to your computer instead. Once it is detected, launch the Recoverit (IS) application. On its home, you can view the connected SD card under the external device option. Simply select it and click on the "Start" button to do Xiaomi data recovery.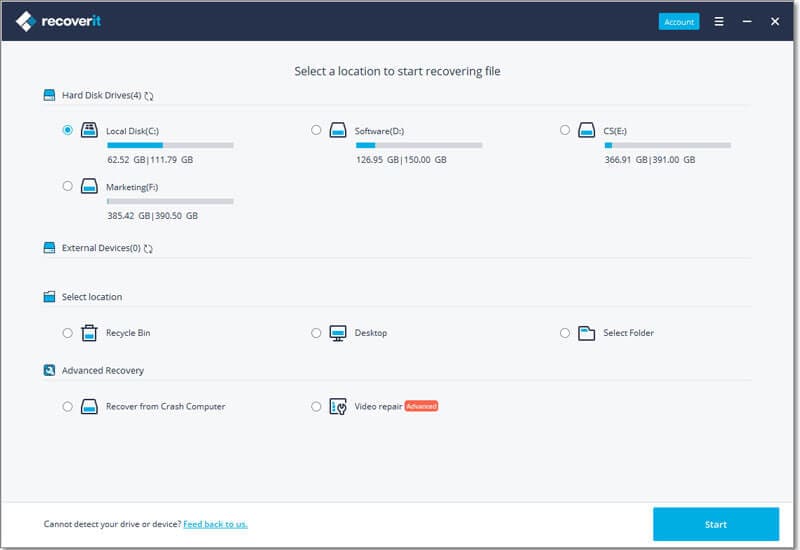 Step 2

Scan the SD card

Kindly be patient as the Xiaomi data recovery tool would scan the SD card and will try to extract all sorts of information from it. A progress bar on the screen will let you know how much data has been retrieved.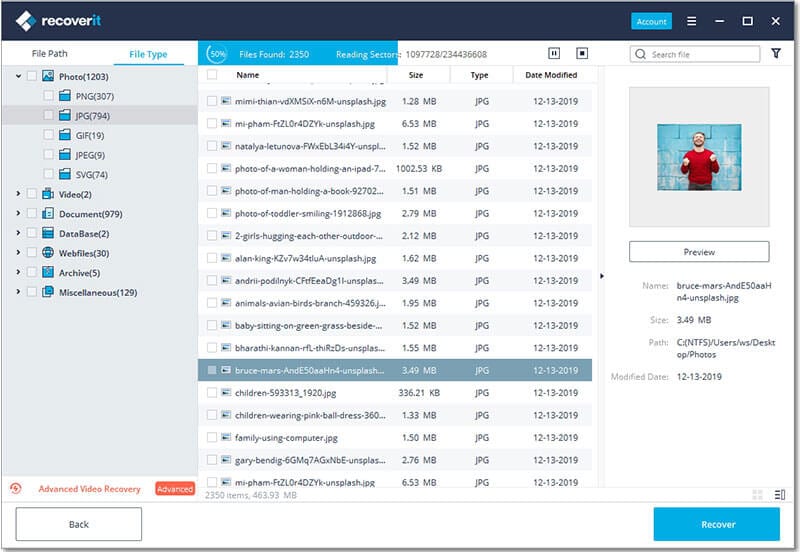 Step 3

Recover your data

In the end, all the extracted files would be listed on the interface for you to preview. You can view your photos/videos and mark the files you wish to get back. Click on the "Recover" button to launch a browser window from where you can select a safe location to restore your photos.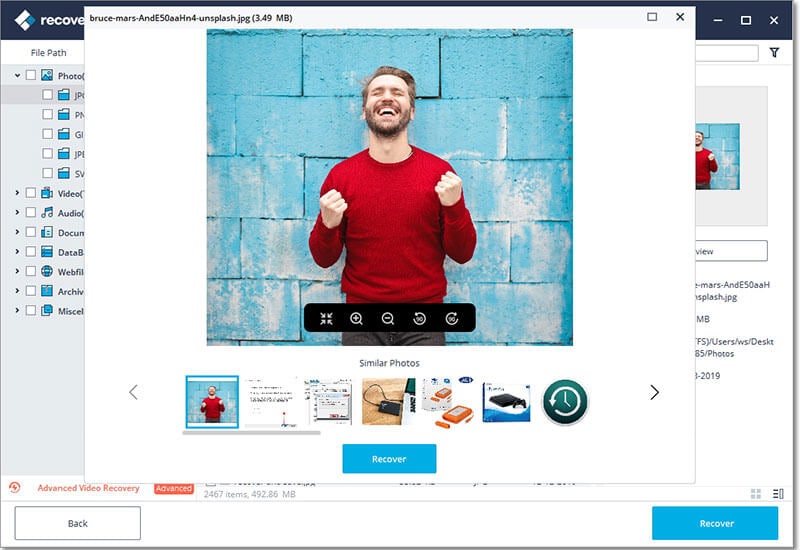 Part 3: How to Avoid Data Loss in Future?
If you don't want to suffer from an unexpected loss of data again in the future, then consider the following tips.
Always maintain a backup of your data so that you can easily recover your lost files from it.


Consider syncing your contacts, photos, messages, etc. with your Google account so that you would never lose them again.


Avoid connecting your device to a public computer or public WiFi network as they can easily corrupt it.


Be careful while downloading any app or granting it permissions. Check the review of any new app and avoid installing apps from places other than Play Store.


Keep your device's storage protected by installing an anti-malware application and enable its real-time scanning feature.


Avoid using your SD card on multiple devices and maintain a dedicated memory card solely for your device.
Conclusion:
I'm sure that this guide on Xiaomi data recovery would have certainly helped you. Since we all can end up losing our important data under different scenarios, it is better to be safe than sorry. Consider using a reliable data recovery tool like Recoverit (IS) and keep it installed on your system for any emergency situation. The best thing is that the tool's basic version is available for free, so that you don't have to spend anything to give it a try. Feel free to use this Xiaomi data recovery tool or share this guide with others to teach them how to recover deleted photos from Xiaomi as well.