With cloud services, there has been a rise in the amount of password-protected PDF files, mainly due to the recent increase in cyberattacks. No matter how good you are at securing your documents, it's always possible to make some slip-ups, such as forgetting the password. Therefore, you might look for the best PDF password remover to help you with the job.
In this blog post, we'll explore three top PDF password remover online tools to help you quickly unlock your file in case you have forgotten the password or just don't need to secure the document anymore.
Part 1. 3 Top PDF Password Remover Online
When it comes to securing your PDF documents, adding a password is one of the best things you can do. This will help to ensure that only those who are authorized to view the files will be able to access them.
However, sometimes you have to unlock PDF password and may need to use a PDF password remover online tool.
Although, there are a lot of PDF password unlockers online that can help you decrypt PDF files without any app. But which one is the best and will work perfectly for you? Let's find out.
SmallPDF - PDF Password Remover
SmallPDF is an excellent password remover online because it is free, easy to use, and does not require downloads. With this online tool, you can be sure that your files are protected and secure as your data is deleted with the session after 1 hour.
To remove password protection from PDF documents using SmallPDF, do the following steps in sequence:
Step 1.

Head to a browser on your computer and visit the SmallPDF website.
Step 2.

Drag and drop your PDF file or click "Choose File," select your document, and click "Open" to upload the file.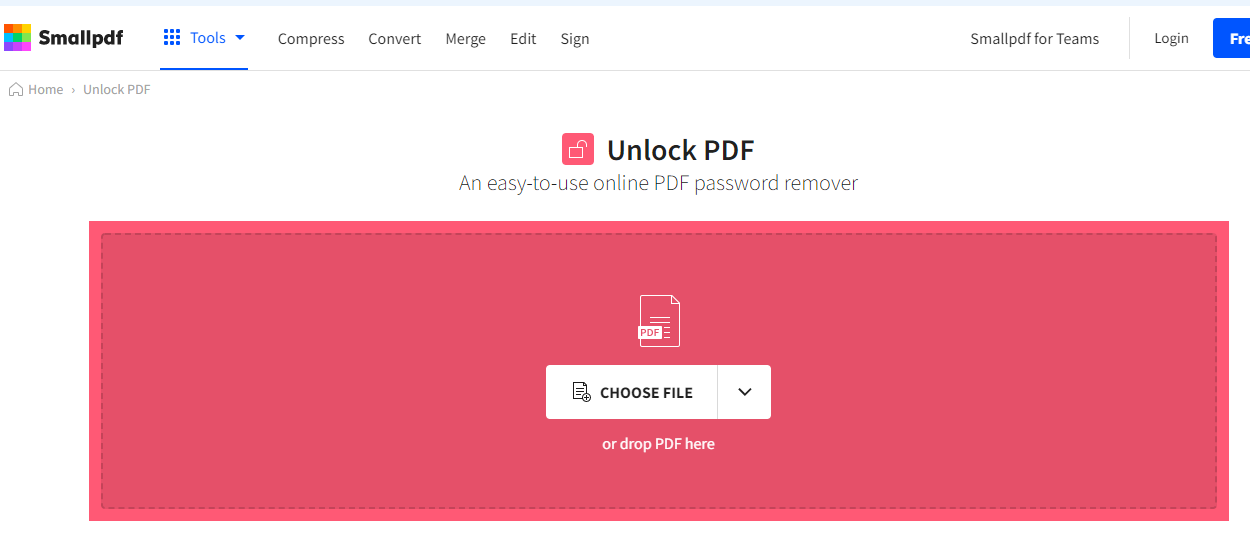 Step 3.

Confirm that you own the file and have the right to edit it. Click "Unlock PDF".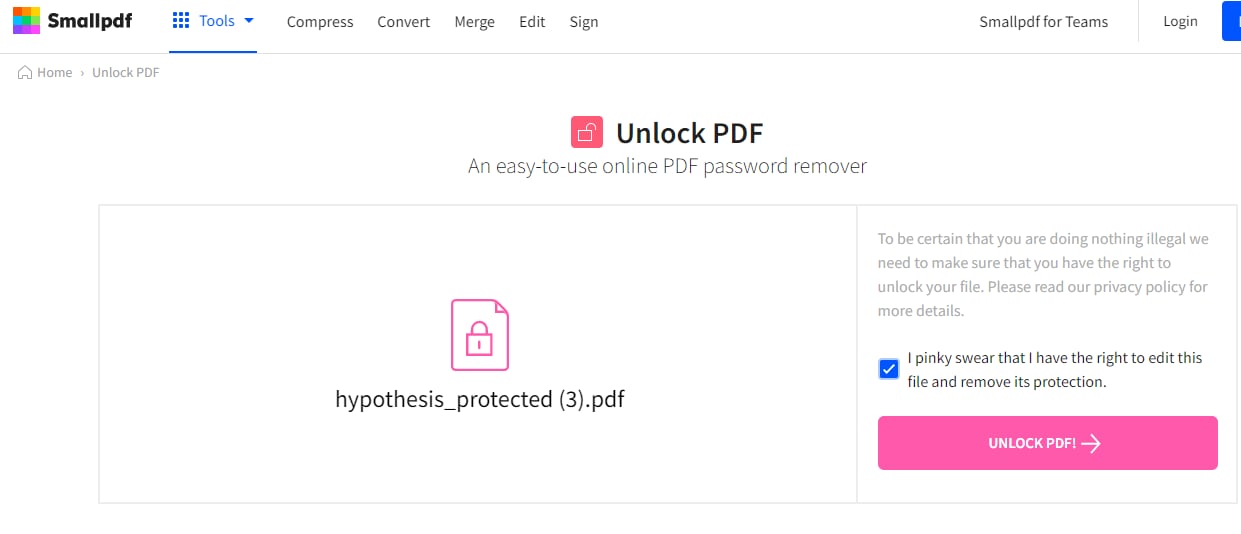 Step 4.

The tool will automatically remove the password if the password is weak.

Otherwise, SmallPDF will ask you to enter the password. Type it and click "Really Unlock".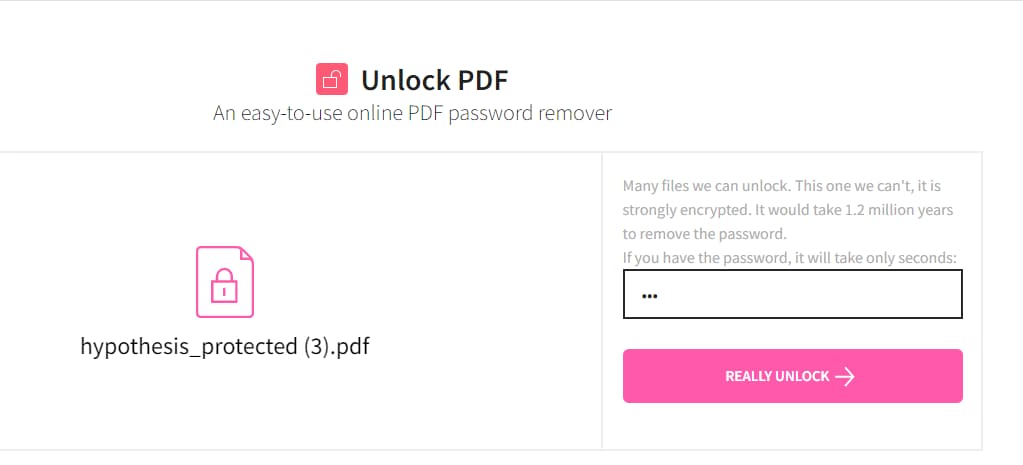 Step 5.

Click the Download button and from the drop-down menu, select the location to download the decrypted PDF file.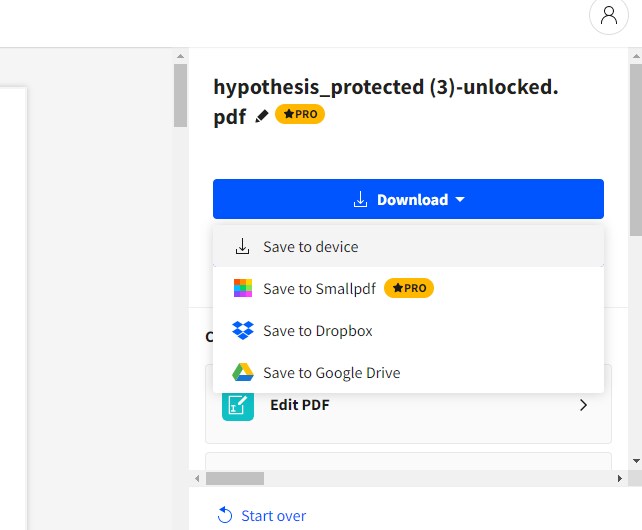 Note: You can also click "Export As" and get the file in Word, Excel, PowerPoint, or Image format.
Soda PDF Online
Soda PDF Online is a sophisticated tool that can help you unlock PDF online free. The tool also offers encryption of your documents and a few additional features; for instance, you can change permission after decryption of the file.
Here's how to unlock PDF password online using the Soda PDF tool:
Drag and drop the encrypted PDF file or click "Choose File". Select the file from your system and click "Open" to upload the document.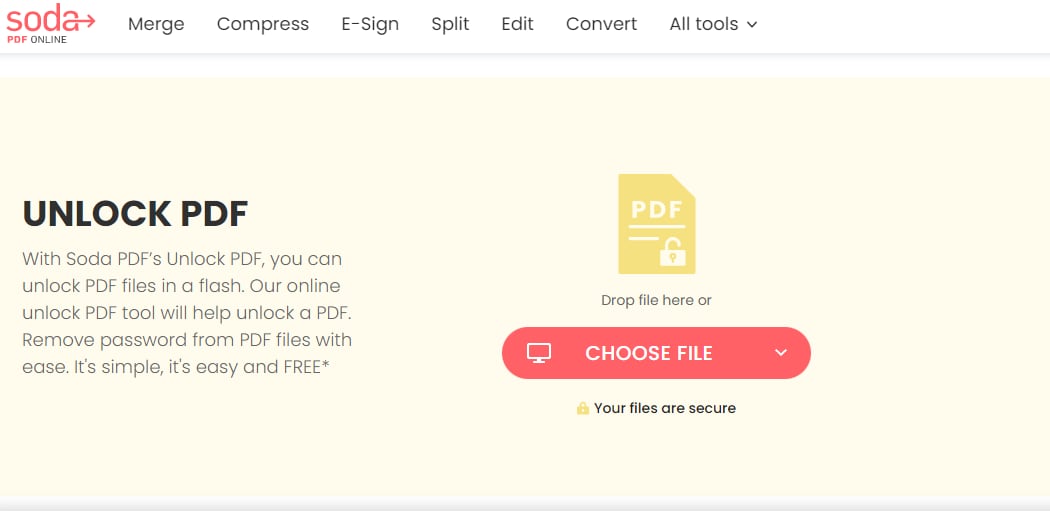 Step 2.

After the file upload, type the password in the required field and click "Unlock".

Step 3.

Once the file is ready, click "Download File," and your decrypted PDF file will be downloaded to your PC.

LostMyPass - PDF Password Cracker
Are you looking for a tool to crack PDF password online? LostMyPass is the perfect solution. With its free version, this tool ensures a 22% success rate for recovering weak passwords.
However, for advanced unlock PDF online features, you need to get the paid version that searches through 2 billion records and ensures a 61% probability rate. With this tool, you can also unlock PDF without password.
To unlock PDF online with LostMyPass, follow these instructions.
Step 1.

Go to the LostMyPass website and drop your PDF document.

You can also click the "Click Here" button to select your document from your computer and upload it.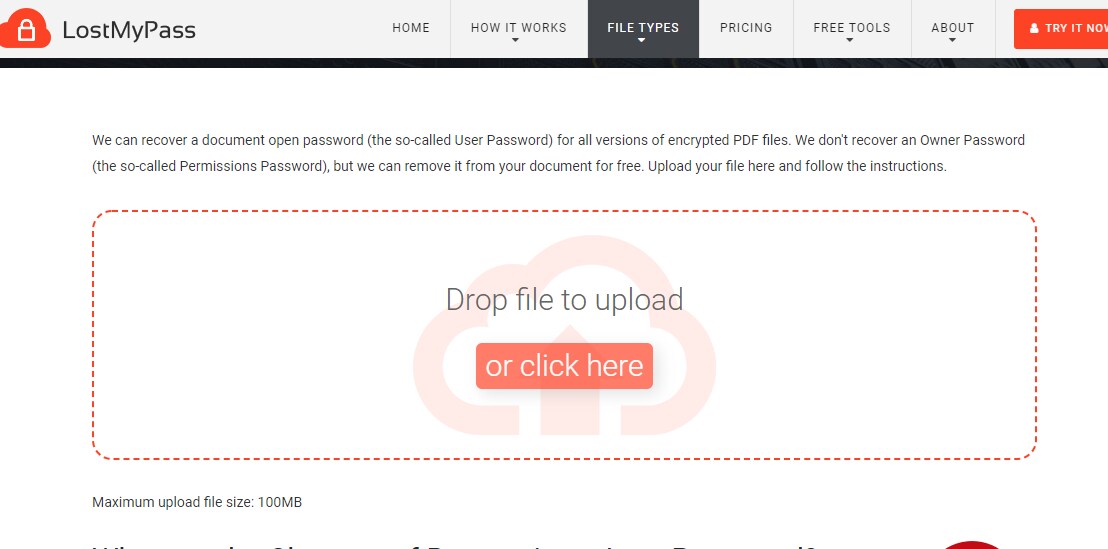 Step 2.

LostMyPass will start scanning your PDF document and recover your password in a few seconds/minutes, depending on the password.

Afterward, click the "Copy" icon next to your password to save it for later.
Step 3.

Click "Download Unlocked File" to get your PDF unlock without password.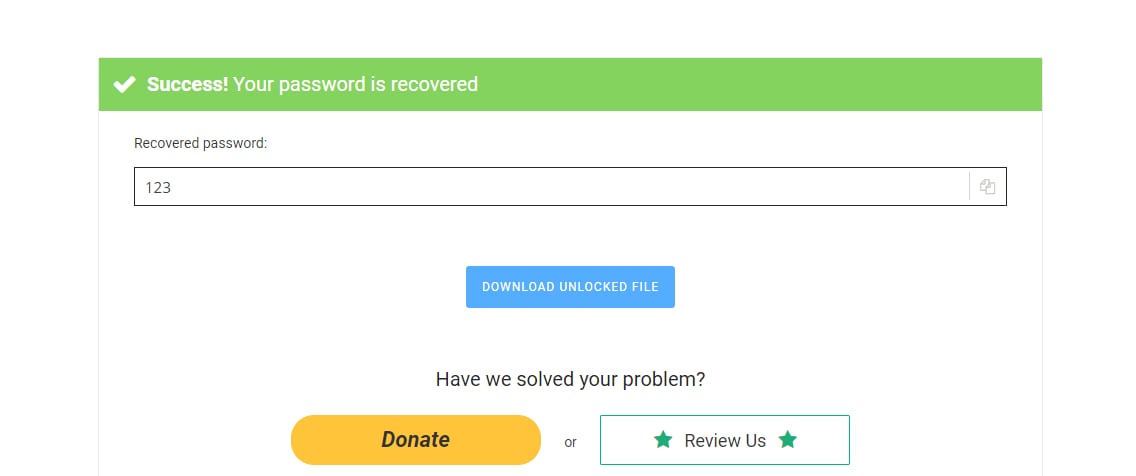 FAQs
Q1. Can I Open A Password Protected PDF Without Password?
A1: If you have an encrypted PDF that you need to open without the password, there are a few ways to go about it. You can use PDF password cracker programs online such as IFindPass or LostMyPass, which will attempt to guess the password for you, or PDF password recovery tools, which will use brute force to find the password.
Furthermore, you can use a hex editor, which may allow you to see the file's contents without the password.
Q2. How Do I Remove Password From PDF In Chrome?
A2: To decrypt a PDF file in Chrome, install and launch the latest browser version. Open the encrypted PDF file in Chrome and enter the password. Click the Print option from the top Toolbar or press CTRL + P on Windows.
Select Save as PDF from the drop-down menu next to the "Destination" option on the pop-up screen. Click "Save," select the location on your system, and click "Save" again. Open the file, and it will be decrypted.
The Bottom Line
We know it can be annoying when you have to enter a password every time you try to open your PDF file or fail to access your document after typing in the wrong password.
This article explored the three top online PDF password remover tools to help you decrypt your PDF files in no time. While using these online tools, you can be sure that your file data is secure and protected. Moreover, depending on the password strength, they help remove or crack the password within seconds or minutes.
Hopefully, you have found the perfect PDF password remover online tool and face no further issues while decrypting your documents.