Samsung account is important because some of your device integrated services like the Samsung Hub, WatchON and Samsung Link will require you to have a Samsung account. That means with just a single sign on, you will be having access to a lot of Samsung services on your device. Also, you can backup your vital information and restore them to any supported device if you have a Samsung account.
Part 1: Step-by-step Guide For How to Create a Samsung Account
You can create a Samsung account from your Samsung device or from your computer. However, whichever way you want to use, it is easy to create by following these steps. Creating a Samsung account through your device, follow these steps.
Note: It is important to note that only one Samsung account per email address is allowed.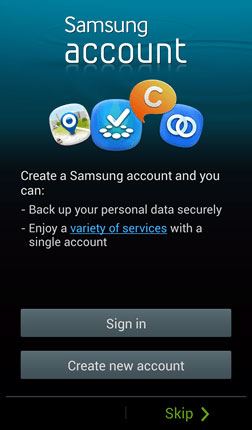 Step 1. From the Home screen, touch Menu > Settings> Accounts > Add Accounts > Select "Samsung Account" from the list > Touch "Create New Account" to start creating a new Samsung account.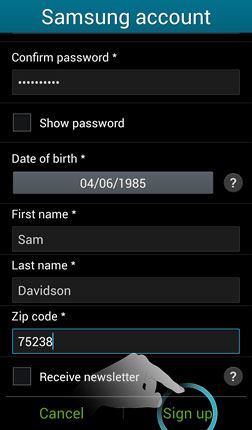 Step 2. A new Samsung account screen will come up, fill in the required information. The required information includes Email, Password, Date of Birth, First name, Last name and Zip code. You can check the box for the "Receive newsletter" if you will like to get regular updates on new features, contents and services available through Samsung services. Then touch "Sign In" to continue.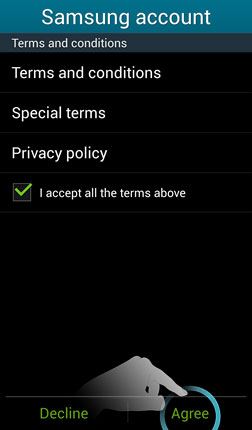 Step 3. Next on display is the Samsung terms and Condition Screen. It displays the terms and condition of each Samsung Service as well as the Samsung privacy policy. You will have to review the terms and condition, policies and then tick the " I accept all the terms above" checkbox. Then touch "Agree" to continue or touch "Decline" if you do not agree with the terms and conditions.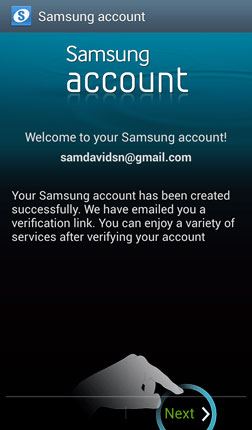 Step 4. Touch "Check for verification email" in order to access your email and find the verification email. Note that a Samsung account will not be fully activated until the verification step is followed. Touch "Next" to continue.
Step 5. When your Samsung account is activated, an information screen will appear. Touch "Confirm" to finish up the process and return to the account screen.
Part 2: How to Change Samsung Account Email
You can change your Samsung account email by editing your Samsung account from your device or computer web browser. If you choose to use a web browser follow these steps.
Step 1. Go to Samsung Website to log into your account.
Step 2. Log in with your Samsung account with your login and password.
Step 3. Click "My Account Info".
Step 4. You can edit the information. That means you can change your Samsung account email. Scroll down and click "Submit" to save the changes.
Part 3: Backup Selected Important Files from Samsung Galaxy Devices
If you have a Samsung account, you will be able to gain some features on your phone, compatible TV's and computers'. For example, Find My Mobile will let you register your phone and locate it if it gets misplaced. When you are tracking your lost phone, you have the option of remotely locking it, making the phone ring. But if you think the phone will not get back to you, then you have the choice of wiping the phone to remove any sensitive data or even private information. This can be done remotely.
Samsung Hub is a digital data entertainment store which gives you access to music, movies and games. There is always a selection of good content that are found in the hub.
Not all files can be backed up Samsung account and that is why you need to try dr.fone - Phone Backup (Android) to backup the files from your Samsung Device to computer incase of data loss.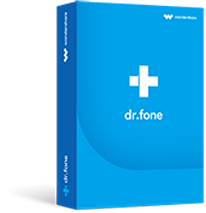 Key features of dr.fone - Phone Backup (Android)
Supported by a good number of file types which include images, audio files, video files, document files etc.
It has the capability of backing up and restoring all types of files and data on your Android device.
It is quick, risk free and also efficient and you will also have the option of previewing the files to select what you need instead of wasting time search files that are not needed

2,965,271 people have downloaded it
Step by Step guide for how to use dr.fone Android Backup & Restore to save Files from Samsung Phones or tablets.
Step 1. Install dr.fone Android Backup & Restore
Download dr.fone on your computer if you do not have it. Run it and Plug in your Samsung phones or tablet to your computer with a digital cable and launch the dr.fone on your computer. Make sure to enable the "USB Debugging" feature to make your phone recognized. Here, choose "Backup & Restore". A wizard window will guide you through this process.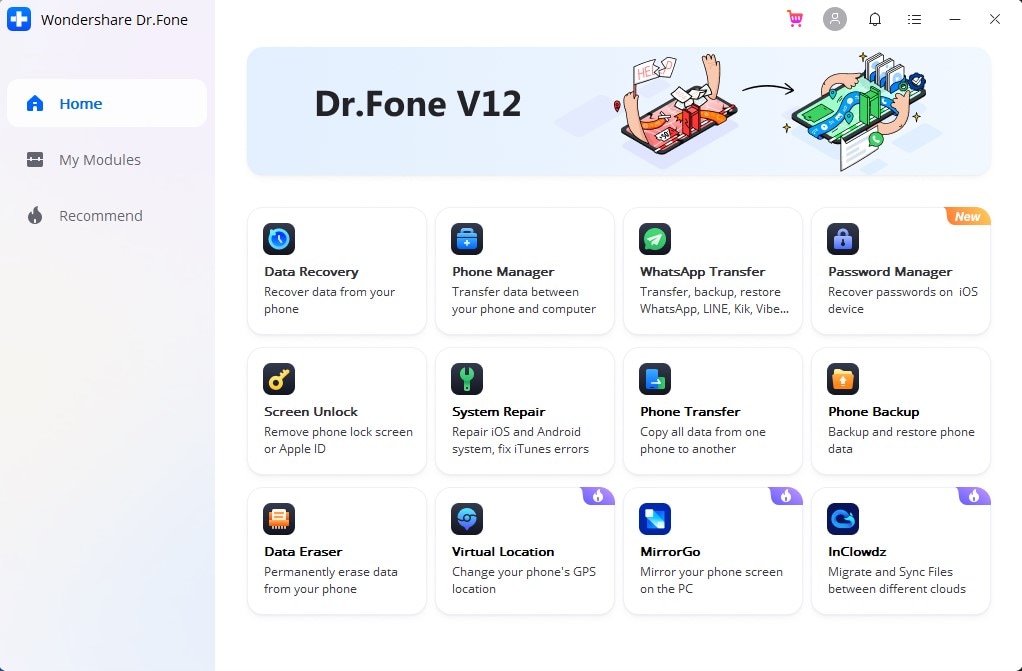 Step 2. Detecting Your Samsung Device.
Here choose "Backup & Restore". The dr.fone will start scanning all the backup files saved on your device once your phone gets detected by the program. However, you must grant the permission, press the "Next" button on the screen to begin scanning of data. Note that users of rooted phones must press "Allow" button to permit authorization. Then click on "Restore" on your PC to begin scanning.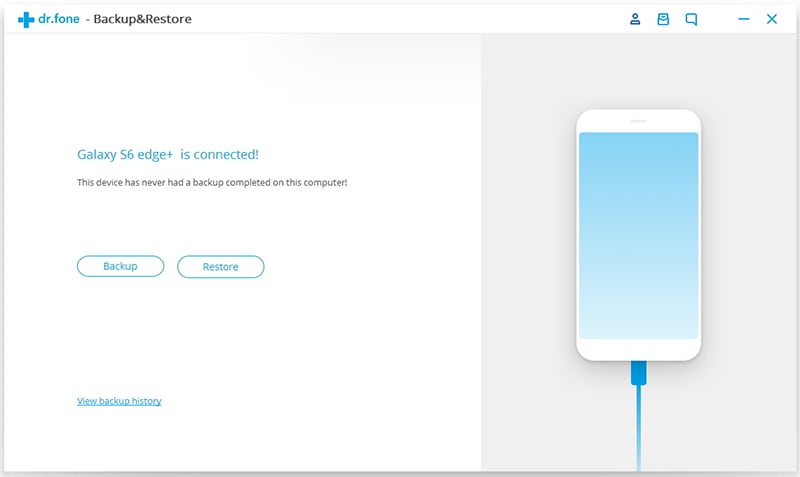 Step 3. Select the Right File Type to Restore.
After you click on "Restore", the program will display the latest backup files of your device in default. If you want to save all files, select all. But if you desire to save some selected files, then you must select the files by selecting their respective boxes. After rechecking the files to be restored on your phone, click on the "Restore" button at the lower right corner.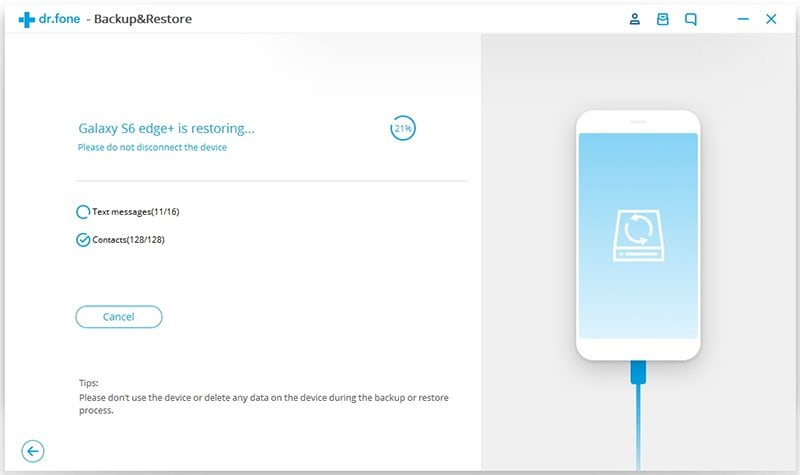 Step 4. Save Files from Samasung Device's Backup.
You are also allowed to restore the backup files and transfer them to another Android device with dr.fone – Android Backup & Restore. The dr.fone software will save the files you will like to restore from your Samsung device's backup files . When the process is done, click on each of the file to preview all that have been retrieved.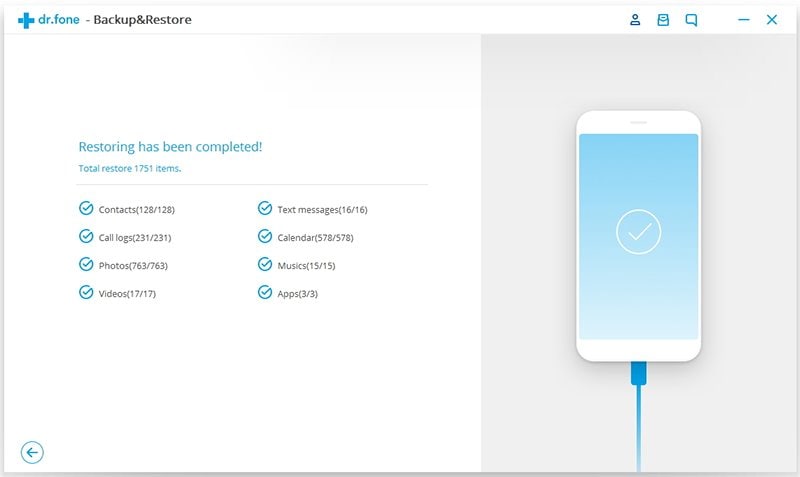 Conclusion
The post gives a clear guide on how you can have a Samsung account belonging to you and change it, so that you have the capability of backing up the important data on your device. However, sometimes you fail to successfully save them because of some uncontrolable factors, so we recommend a full-featured program dr.fone - Phone Backup (Android) to help retrieve them back.