Repairit - Fix all levels of file corruption and all formats of files easily.
An easy-to-use file repair software for beginners and professionals.
The word "PST" is a short form of Personal Storage Table. It is stored on the hard drive of your system. It carries important Outlook stuff, including but not limited to notes, emails, calendars, reminders, and contacts. Do you know what makes a PST file credible? Well, the ability to be accessed without an internet connection makes it stand out.
The problem with a PST file is; it gets corrupted many times due to several reasons (as discussed below). Are you experiencing the same issues? A reliable Outlook repair tool will be useful to repair PST files and reduce your headache. This guide presents reasons for PST file corruption and reliable tools to perform a trusted PST repair.
Part 1. Overview of Outlook PST File
PST file is a data file of Microsoft Outlook (2010 version), but it is highly compatible with all the latest versions of Outlook. This file usually contains mail folders and other stuff, e.g., attachments, notes, journals, messages, and much more. It comes with the ability to store your data for web-based, IMAP, or POP3 accounts. In short, a PST file is not only an efficient but an effective way to store your valuable data in different trusted formats.
A Unicode format was introduced with some decent technological advancements to store a PST file in Microsoft Outlook 2007 version. Later on, Microsoft Outlook 2010 version came with a file storage capacity of up to 50GB. In this version, PST files were stored by default.
You are now well familiar with the Outlook PST files. Do you know that these files often get corrupted? Let's get into the specifics of the reasons behind PST file corruption.
Part 2. The Reasons Why Outlook PST Files Get Corrupted?
Your PST file usually gets corrupted for two major reasons, as listed below.
1. Hardware Issues
A PST file is stored on your hard drive. If your storage device undergoes a technical problem and gets corrupted, it can damage your PST file as well. Similarly, if your system gets shut down all of a sudden due to power failure, this immediate Outlook exit will corrupt your PST file. In addition, once you are done storing your file on the network and a network link gets damaged, it will also result in PST file corruption.
2. Software Challenges
Oversizing is one of the biggest challenges that corrupt PST data files. Furthermore, if your system gets improperly shut down, you will face PST file corruption issues. Similarly, virus attacks can damage these data files as well.
Part 3. How to Repair Corrupted PST Files in Outlook?
Are you a regular Microsoft Outlook user? Do your PST files often get corrupted? Worried about losing your valuable stuff? Just Relax! This section presents two top-tier Outlook repair tools for a perfect PST repair. Let's take a look at them.
1. ScanPST Tool
Are you unable to access data from your PST? Well, it may be broken or damaged. In such a scenario, ScanPST Tool will be your helping hand. Let's see how it works.
Step 1.

Start with finding the location of the ScanPST repair tool on your PC or laptop. If you don't know how to locate it, follow the instructions below.

Are you using Outlook 2007? Follow the path "C:\Program Files (x86)\Microsoft Office\Office12".

For Outlook 2010, locate your tool by following the path "C:\Program Files (x86)\Microsoft Office\Office14".

You can go to "C:\Program Files (x86)\Microsoft Office\Office15" to find the ScanPST repair tool in Microsoft Outlook 2013.

For the Outlook 2016 version, the path to locate your software is "C:\Program Files (x86)\Microsoft Office\root\Office16".

Similarly, in 2019 Outlook, go to "C:\Program Files\Microsoft Office\root\Office16\".
Step 2.

Double click on the "ScanPST.exe" file to kick start your PST repair.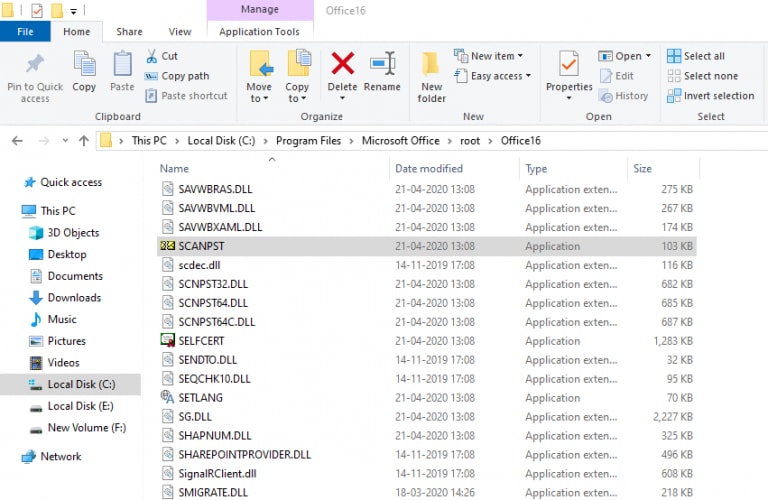 Step 3.

Now, tap on the "Browse" button and find the damaged PST file.
Step 4.

Once you select the file to be repaired, hit the "Start" button. It will automatically start finding the damaged material inside your PST file.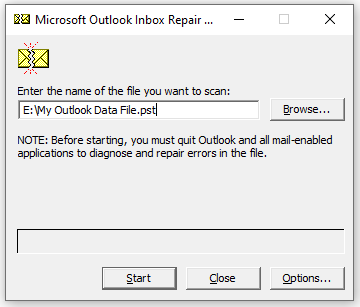 Step 5.

As soon as this tool finds the corrupted material in your PST file, tap on "Make a backup of the scanned file before repairing". It is pretty useful in creating a backup of the damaged file.
Step 6.

It is time to hit "Repair," and the ScanPST Repair Tool will start fixing your corrupted PST file.
2. Stellar Outlook PST Repair Tool
This software uses the latest technology that offers premium-quality and trusted Outlook PST repair solutions. Let's look at how you can benefit from this credible PST repair tool.
Step 1.

Download and install Stellar Outlook PST Repair Tool.
Step 2.

Tap on "Find Outlook File" to locate the corrupted PST data file in your system.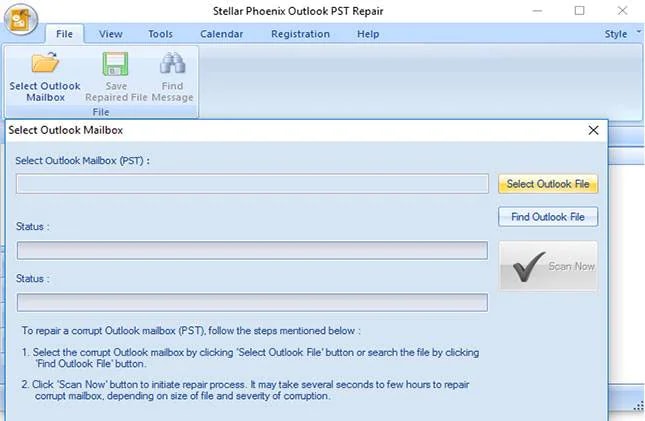 Step 3.

Now, choose the desired file and hit the "Start" button.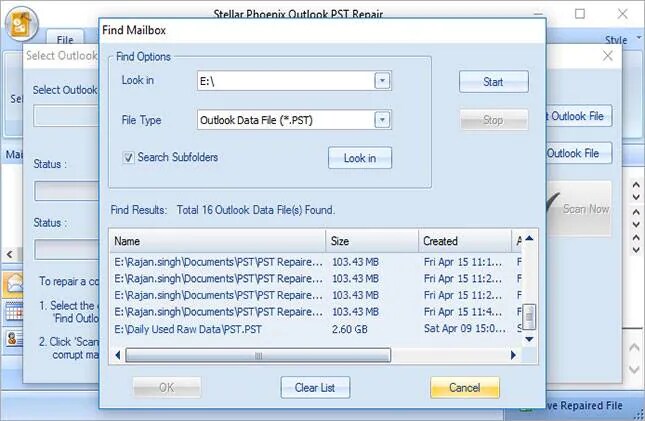 Step 4.

Tap on "Scan Now" to start a PST repair.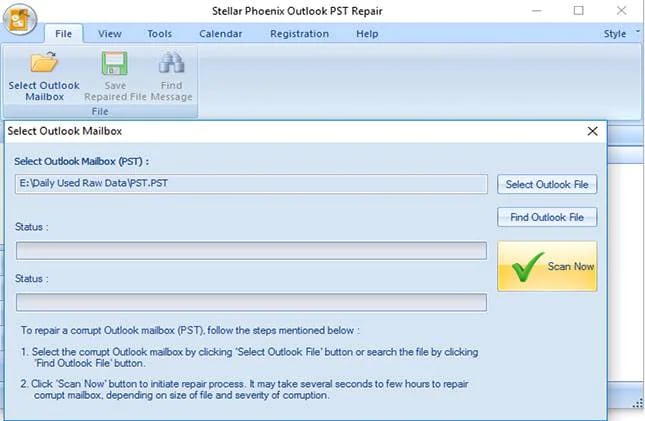 Step 5.

As soon as the scanning process is completed, you will see all the corrupted or damaged stuff on the left side of the main screen, as shown below.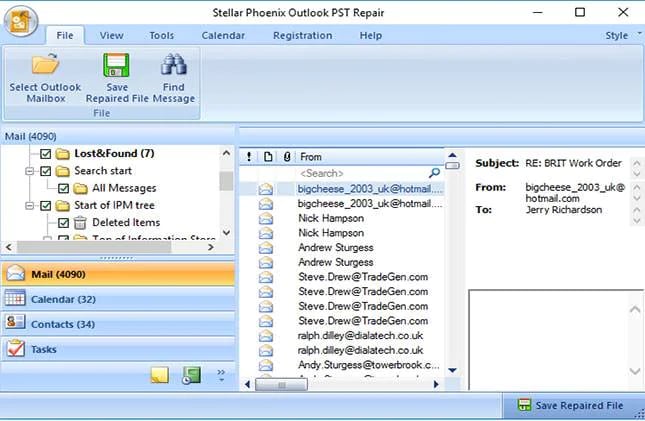 Step 6.

Now, you are free to choose the specific content you want to get back into your system.
Step 7.

Choose PST as an output format and click on the "OK" button to get a repaired or damaged PST data file.
If you encounter other types of file corruption, such as Excel, PDF, Powerpoint, please try Repairit -File Repair to fix various file corruption issues.
Repair almost all levels of file corruption issues, including Files cannot open, File layout changed, Unreadable files, Garbled files, etc.
Repair corrupted/unplayable/unaccessible files of various types, such as Excel, PDF, Word, Powerpoint, and repair files with all major formats.
Repair all components of the Excel files without modifying the original file.
Support for a complete preview of the repaired files before saving it.
Conclusion
Are you concerned about losing your data? Does your PST data file frequently get corrupted? Not a problem! This guide has presented the top 2 Outlook repair tools to help you avoid such challenges and repair PST files. Give them a try and swim your worries away.