With the overwhelming amount of music all up for grabs, a music organizer is now necessary to maintain the order and have a systematic way of file storing. You want to have all your music in one device like a smartphone, so you can listen to music anywhere you are. Luckily for Android users, there are several Android music manager applications that can help you sort your way through the chaos of file transfer.
Here are the top five music manager for Android:
DoubleTwist application is available for download for both Windows and Mac computers. In order for you to maximize its beauty, you must have the app on your computer and download it on your mobile device. It is not actually necessary, as music syncing can still be done over wireless network, but having both apps on both of your devices can give you more confidence that you have control over your music.
To do this, you just have to open the app on your computer and import your playlists. Pair your selected device, select the items you want to sync, and then you can start importing.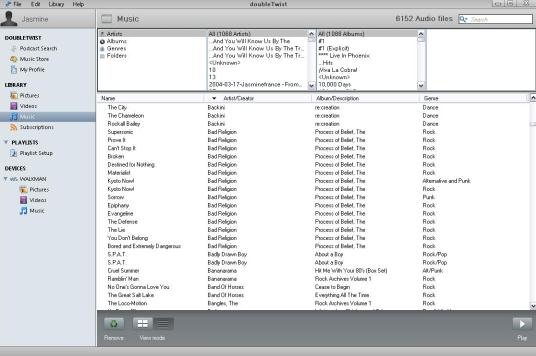 2. dr.fone - Phone Transfer (iOS&Android)
dr.fone - Phone Transfer (iOS&Android) is an application perfect for those who are hesitant to buy a new phone in the fear of having their files go to waste because they have to start over again for the brand new phone. Nobody has to worry about that anymore because dr.fone - Phone Transfer (iOS&Android) gives android users the helping hand in this kind of tech predicament.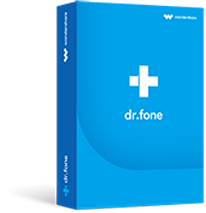 Best tool to Sync Music on Android
100% safe backup your phone to Mac.
Restore your phone data in 1 click.
If you want, you can simply select the type of data that you want to transfer. For instance, you can only move contacts from iCloud to Android.
Support for 3,500+ Phones and Different Networks.
The quality of the data won't be compromised in the process. Also, your data won't be saved anywhere in between. This provides a 100% secure and reliable transfer of content.
3,990,885
people have downloaded it
How to transfer music data with dr.fone
Step 1. Download and install dr.fone
Download and install dr.fone - Phone Transfer on your computer. Then launch the program from your desktop or launch button. Connect the two devices to the computer using the USB cables that came in the boxes and wait for them to be recognized. Now click on "Switch" to start the process of transferring the SMS messages.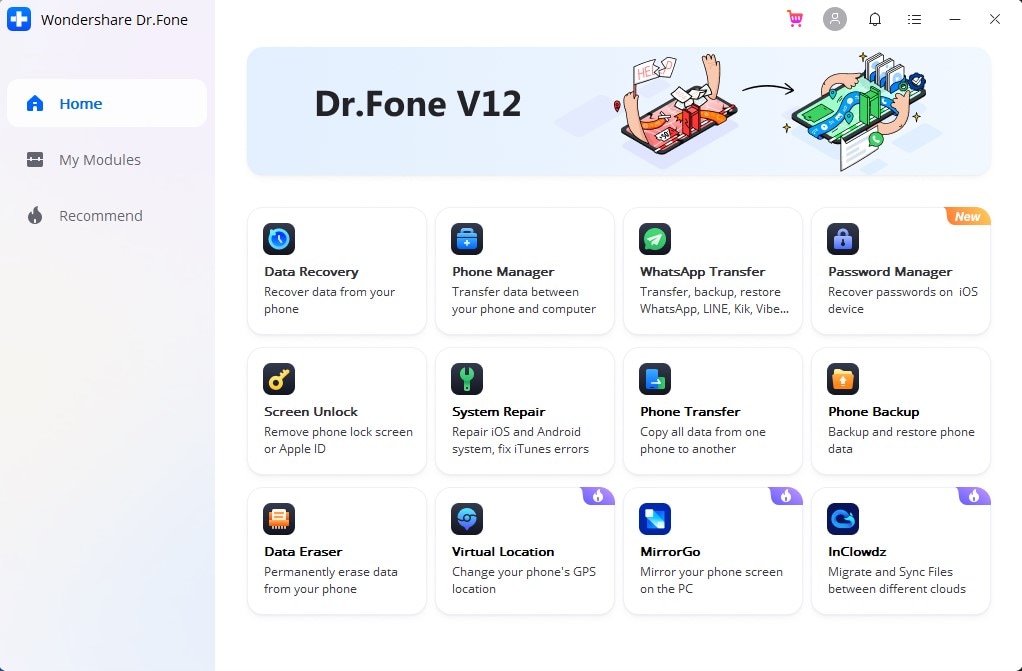 Step 2. Select the target device
Just tap on "Flip" on the screen to select the target device and then click on "Next".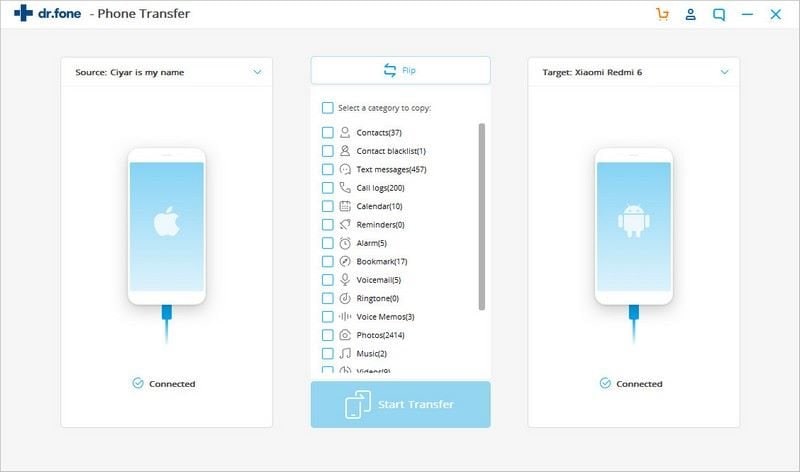 Step 3. Transfer the messages to the target device
All data on the source device will be selected by default. Uncheck all other categories and only leave the Messages category selected. Now click on "Start Transfer" and all messages on the source device will be sent to the target device. You should make sure that the devices remain connected to the computer at all times so as to avoid corruption of the messages being transferred. When the transfer is compete, click on "OK" to finalize the process.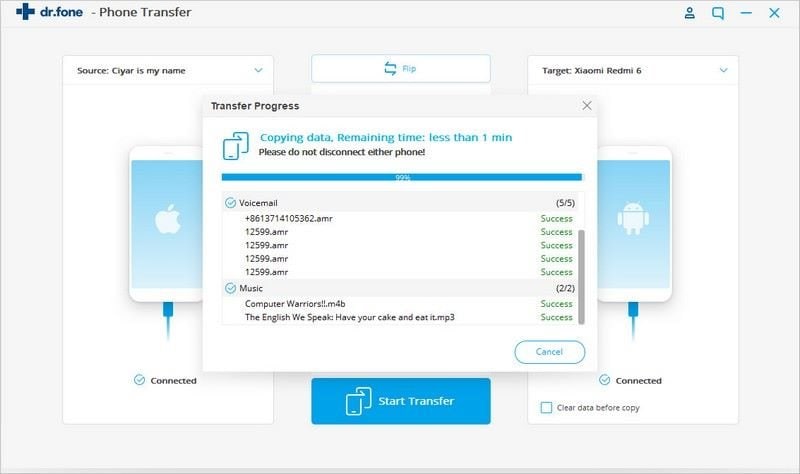 Winamp is one of the most popular music managers because of its easy and user-friendly interface and a range of other services. With Winamp, you can play, manage, and sync your media files. It is basically a hub for music management solution. Other services include free wireless syncing, free music, and access to over 50,000 internet radio stations.
Once the app is downloaded and is now running, add your music files or media files to winapp. Then sync media over the wifi network and enable it for pairing.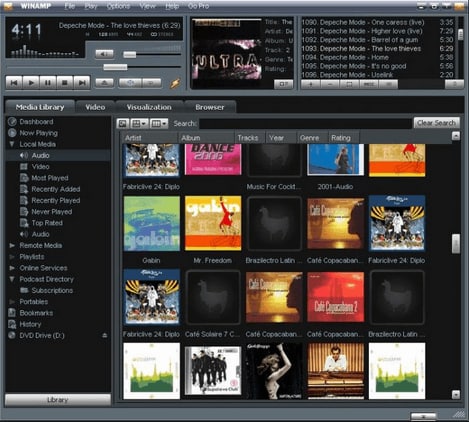 Who says android and iTunes don't mix? If you have an android device, but it is having a separation anxiety to iTunes' sophisticated features, then your prayers are answered. If you have a Windows pc with iTunes app, you can sync your music to your music through iSyncr.
iSyncr allows you to have the comfort of retaining your iTunes files and sync with it with an android phone without the worries of having to buy an apple device just to make it work.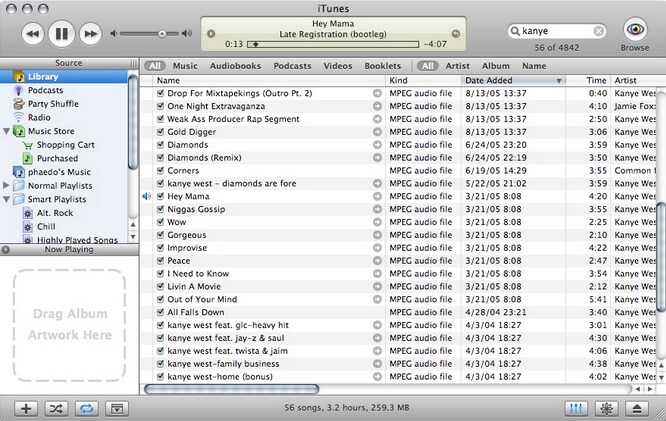 Airmore is another application that makes it possible for you to transfer music between your PC and mobile device. No need for cables; this is a slick wireless only syncing process. Airmore can be your best choice. It runs on tiny memory and allows you to manage your phone on any computer browser, and again I say, no cables, no tangles.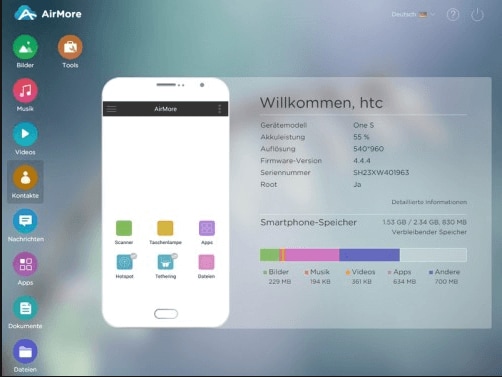 Write in the End
Our need to be connected is manifested in all the little things. We stay connected with our loved ones through instant messaging apps, or simply by sending text messages or calling each other. We stay in touch with our old friends and colleagues through social media. We store our most prized photographs and memorabilia online for safekeeping. We sync our music so we can have it whether at our desktop or at our mobile devices. We try to connect with the ones we value, all the time. Music is something valuable to everyone, and it is your right to have it kept secured.
Get your music always on your pocket when it's go time for some tunes. Manage your music the way you want it. The advantage of being on Android is: if one app doesn't seem to make the cut for you, you can always change to another. Happy listening!