Offices have observed a change in the dynamics of idea representation over the years. With the progress in technology, various methods of efficient presentations have been introduced and adopted in offices throughout the world. People have considered consuming Microsoft PowerPoint as an official and professional approach in presenting the projects and ideas among the whole team.
However, these ideas and projects usually undertake confidentiality and secrecy, which is more likely to avoid illegal access to ideas.
For this, PowerPoint presented the utility to add password protection to their files. In such scenarios, people usually report forgetting the password and access to the file. This article provides unique and efficient methods that can be adapted to perform PowerPoint password recovery.
Part 1. Microsoft PowerPoint Password Protection
Setting up password protection for your PowerPoint slides is an important feature that enhances the accessibility options among users. It allows you to manage the accessibility window and share the password with specific personnel to allow them access to the file. Adding a password in a file has its own reasons, which can be referred to as two basic and significant causes of adding a password into a PowerPoint presentation.
There can be explicit confidential content present within the presentation that need not be shared. Thus, it gets important to add a password for safety.


It's safer to share files among users. Passwords can be forwarded to specific users who are to be provided with access.
If you are looking forward to setting up password protection over a certain PowerPoint file, you need to follow the steps provided, allowing you to modify and open files with the password.
Step 1 You need to open the specific file and access the "File" tab present on the top-left of the window. Select the option of "Save As" from the left panel in the new window.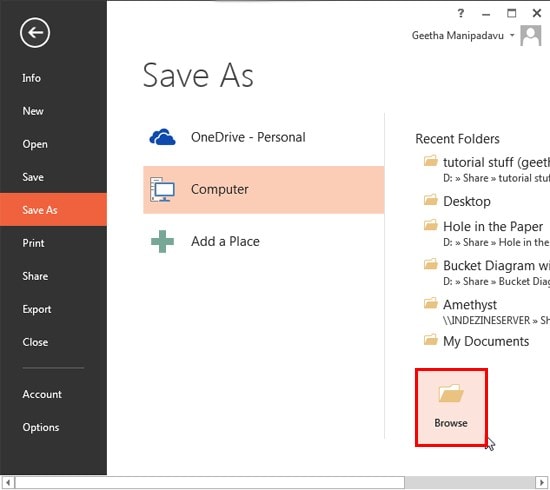 Step 2 Tap on the "Browse" button that emerges on the screen. This opens a dialog box for saving the file.
Step 3 In the dialog box, tap on "Tools" and select "General Options" in the drop-down menu. Another dialog box opens.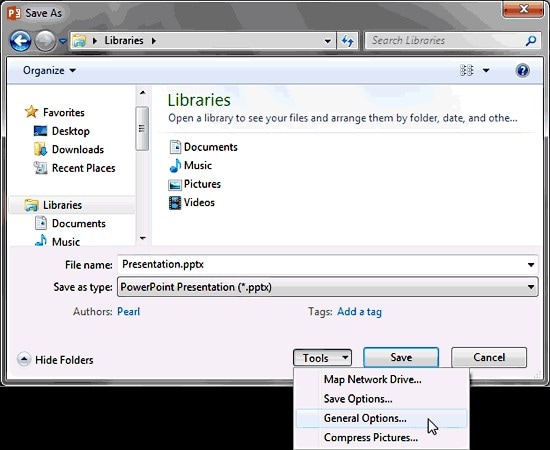 Step 4 You are provided with two different options in setting up a password for the file. You can either consume the option of "Password to Open" for asking password over a prompt every time a user opens up the file for edit or select the option of "Password to Modify" that would set up the file as readable and visible over the password, but not editable.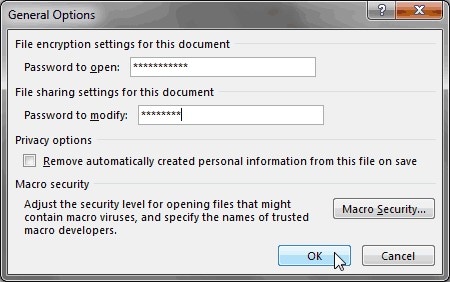 Step 5 Tap "Ok" and re-enter passwords for confirmation. Save the file in an appropriate location and conclude the process.
Part 2. Recoverit - Best Password Recovery Tool You Shouldn't Miss
As we understand the method that is associated with setting up a password over a certain PowerPoint file, it is important to recognize the problem that is associated with setting a protective layer across your file. There are instances where you accidentally set up or forget the password to the file. In such cases, you can utilize dedicated recovery tools to cater to such problems.
This article introduces you to a very effective platform under the name of Recoverit that offers a unique system and a proficient environment to recover PowerPoint password. There are several specifications that make Recoverit your best choice as a recovery tool, which are stated as follows: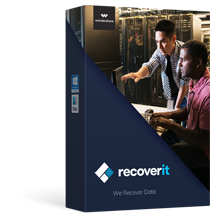 A Life Saver to Restore Deleted or Losted PDF Files!
This platform is a very easy-to-use software that offers an intuitive platform with effective results in short periods of time.
You can specify the file formats that are to be scanned over a drive to save time.
It allows you to save the information that has been scanned for future consumption.
It provides a distinguished list of valid and invalid files before recovering it over the desktop.

3,165,867 people have downloaded it
To understand the simple step-by-step guidelines on how to recover PowerPoint password efficiently, follow the steps declared as follows.
Step 1 Launch and Select an Option
Download and launch the platform over the desktop and proceed by selecting the option of "Document" from the six different options on the main screen. Tap "Next" to lead to the next window.
Step 2 Select an Appropriate Drive
The application provides you the complete list of all partitions and drives that are present on the desktop. It even shows the external storage devices that are attached to the desktop. Select an appropriate drive and tap "Start" to initiate.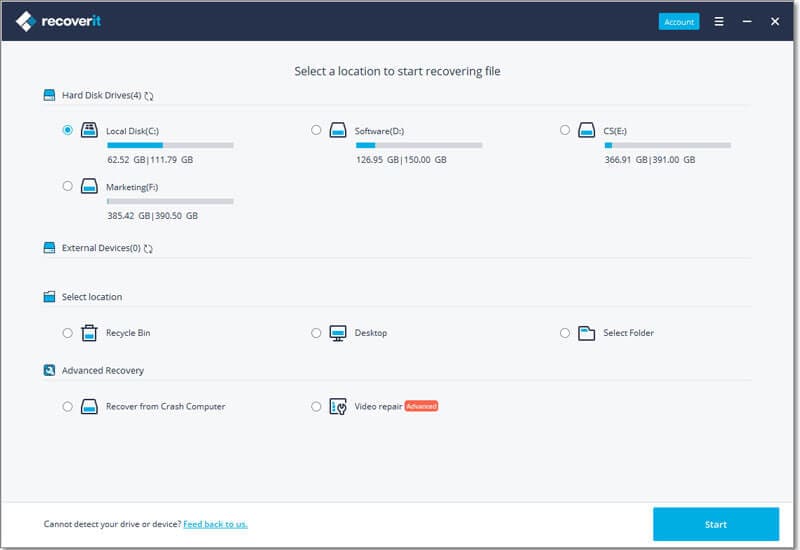 Step 3 Recover
The deleted and lost files are displayed and distributed in folders. You can access the folders and select the specific file you wish to recover. After selecting, tap ''Recover" to save the file.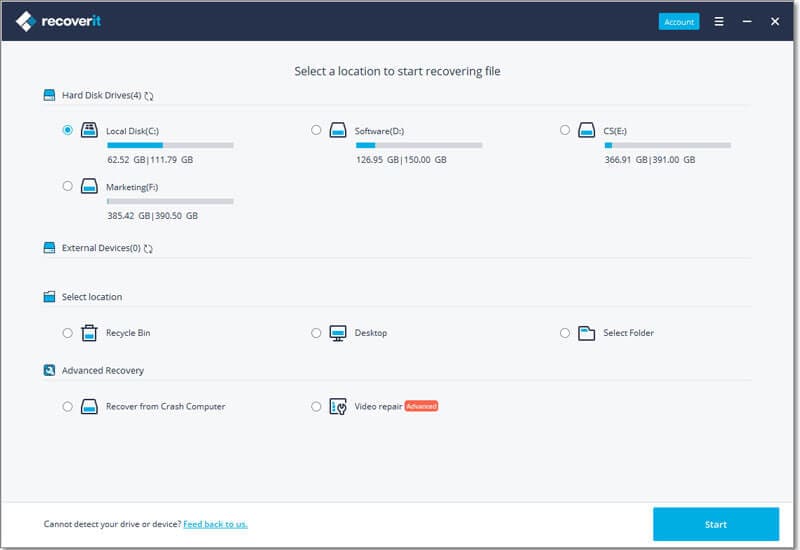 Part 3: Other Softwares that Gets PowerPoint Password Recovery Crack
1. OnlineFile.Repair
Online platforms are readily available on the Internet; however, most of them fail to provide effective services in recovering PowerPoint password. This free PowerPoint password recovery tool offers you an environment that would help you recover a damaged PPT or PPTX file easily. With an automatic system, it offers to keep a very dynamic approach in repairing password-protected files.
Pros:
It helps fix the older versions, followed by recovering the newer versions of PowerPoint.
Attenuates AI algorithms for recovering files.
Reconstructs and Recovers deleted content and removes major errors.
Cons:
There are chances that the data within a slide might be lost.
Images or animations in the PPT might get removed or corrupted.
---
2. PPT Repair Tool
This platform offers you an absolute solution in dealing with damaged PPTs. With a swift response time, it restores various contents of your PowerPoint slides easily.
Pros:
Adds up different recovery mechanisms to help recover damaged or password-protected files easily.
It saves the media files in separate files to make an efficient recovery.
Fixes major errors in a short period of time.
Cons:
May leave out data while recovering, leading to an incomplete recovery with data loss.
There is a chance that the images and other media files might get corrupted in the process.
---
3. Online File Repair Service
This platform a unique and detailed method of recovering the PowerPoint slides. This PowerPoint password recovery platform offers you to keep work over the contents of the slides and recover them in a progressive fashion. This can be a very proficient choice in recovering your damaged PPT files.
Pros:
It provides a very enhanced experience in recovering the files and their assorted errors.
Ensures that no data has been lost during the recovery process.
Performs automatic functions and recovers the damaged files easily.
Cons:
This service fails to offer a resolution for password-protected files.
It does not look over the blocks of data that are not protected through a password.
Conclusion
This article has led towards discussing the importance of adding password protection among PowerPoint slides and provided different mechanisms that can be adapted to feature an efficient PowerPoint password recovery. You need to look over this article to get a detailed understanding of the processes and mechanisms that are involved in the system.