Did you lose important PDF files and want to recover them? Worry not as this article will walk you through several proven methods for retrieving PDF files from a crashed PC/Mac.
PDF is one of the most popular electronic formats to store and share documents. However, nothing is more frustrating than losing important PDF files due to the unexpected crashing of a computer as there's little you can do to prevent it. Luckily, retrieving the lost PDF files is not a difficult feat as long as you're using the right methods. We have scoured the internet and wounded up the proven workarounds to recover unsaved PDF files without any data loss.
Part 1: Possible Reasons Caused Computer/Mac Crashed
Diagnosing the exact cause of a crashed Windows/Mac is not easy until the issue is checked and resolved by a professional. However, the experts believe the below reasons could be the culprit of a random computer crash.
Reasons for Windows PC
1. Malicious Malware
Mostly, a malicious bug is released into the computer through a fake email, unprotected websites, or an unverified third-part tool that wreaks havoc on your PC. Using a competent antivirus or scanning software can help you avoid this issue beforehand.
2. Corrupt Registry in System
Another major reason for PC crashes is a corrupted registry on a Windows system. Every Windows has a database or registry files that are necessary to run its operations. With time, these files could be misplaced, corrupt, or lost, which crashes your Windows PC.
3. Overheating
This reason is common for low-end PCs and happens mostly when your computer has a wore down or inefficient fan. Overheating is also caused by blocked airflow due to the accumulation of dust or debris and the inability of fans to blow this dust away.
Reasons for Mac
1. Low on Memory
Using memory-intensive programs on a computer for longer periods especially with little memory available can also result in frequent crashes. Try to free up some space or use storage-hogging apps on your Mac to fix this issue.
2. Over-Usage of CPU
Some software like Adobe or other designing apps consumes lots of CPU resources. If your Mac's fans are working loudly, it's indicative of high CPU usage which is often followed by a sudden crash.
3. Incompatibility with an App
Another possible reason for the Mac crash is the incompatibility of an app with the current MacOS version. Either the app or MacOS is outdated and this puts a lot of pressure on the system, thereby crashing it
Part 2: Recover Unsaved PDF Files from Crashed Computer/Mac Effectively
When it comes to the best and most efficient tool to get back the lost PDF documents, Recoverit stands apart.
Recoverit comes with an innovative interface that works in tandem with its stellar retrieving features to recover your PDF files. It performs a deep scan of the computer and recovers up to 1000 types of file formats including PDF. Its retrieving capabilities impress even professional users.
Recoverit allows you to recover the lost file in a better and professional way. Without going through any tech-savvy procedure, you can restore your important documents with just a few clicks.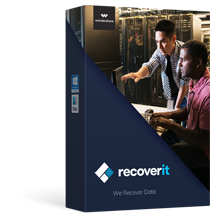 Recover Unsaved/Deleted Excel Files from A Crashed PC at Ease
It helps you to recover 1000+ types of data across any storage device.
Covers all internal and external devices in data recovery.
Previews data to select from before aiming for recovery.
Supports all forms of data that has been removed due to sudden deletion, device format, lost partition, virus attack, or system crash.

3,165,867 people have downloaded it
Step-by-step guide to recover PDF files on a crashed Windows PC/Mac.
Step 1.

Download Recoverit on your PC/Mac and choose System Crashed Computer, then click the Start button.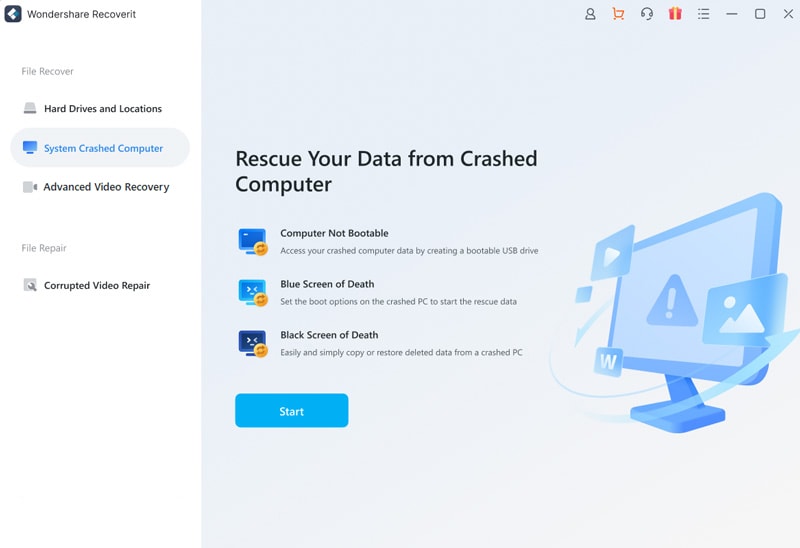 Step 2.

Connect a USB device to the computer and follow the on-screen instructions to create bootable media, then click Start.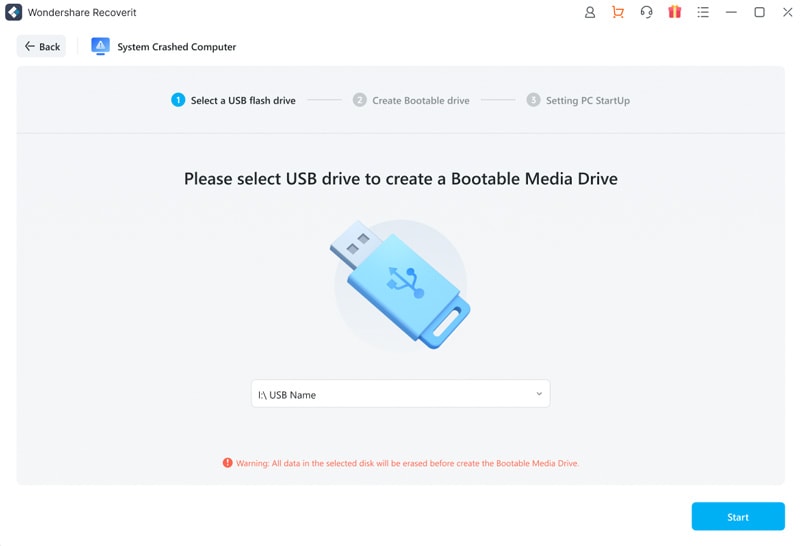 After clicking Start, two processes need to be done:you need to format the USB drive and create a bootable drive, please click Format on the below screen.

Then you need to create a USB bootable drive or create CD/DVD bootable drive in order to make data recovery.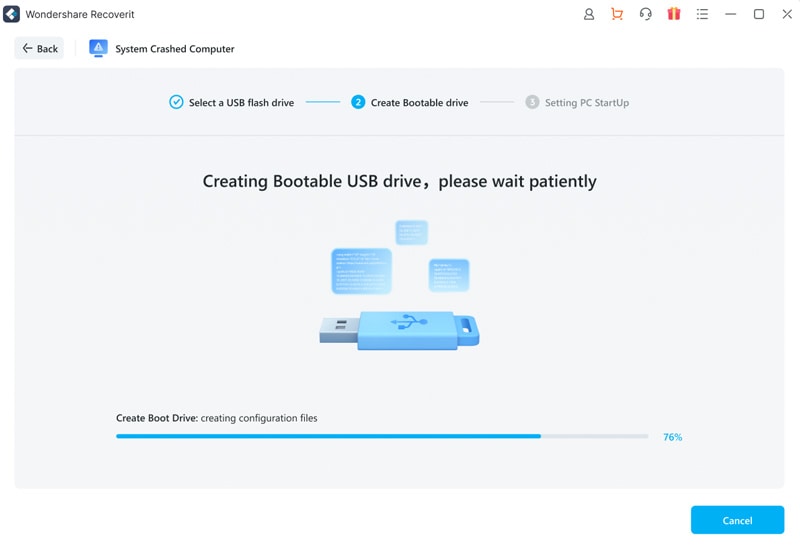 Step 3.

After the bootable drive is created, please follow the instructions given on the below screen and you will get unsaved PDF back after restarting the computer/Mac.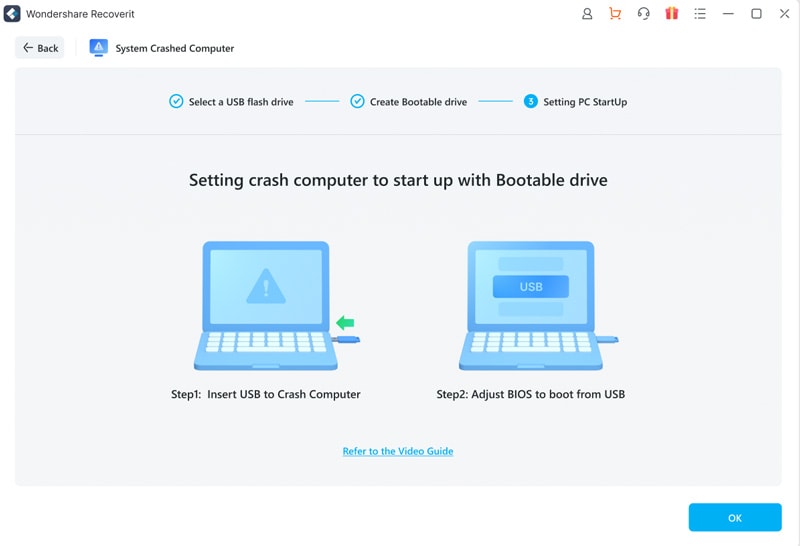 Part 3: Other Possible Ways to Recover Unsaved PDF Files on PC/Mac
Below is a list of several tested and tried methods to retrieve the PDF files regardless of the reason why your computer is crashed.
1. Restore Previous Versions Using File History On Windows
File History is amongst the ingenious features of Microsoft that allow users to back up only their personal files. It backs up the data in the Documents, Music, Pictures, Videos, and Desktop folder.
This PDF recovery free method is viable only if you have made a backup prior to crashing and the PDF files were present in the backed-up folders. If these conditions are met, all you need to do is restore the data from a folder or drive and that takes hardly a few minutes.
Step 1.

After the bootable drive is created, please follow the instructions given on the below screen and you will get unsaved PDF back after restarting the computer/Mac.
Step 2.

Hit on the Restore Previous Versions option. A pop-up window will show the previous backups made.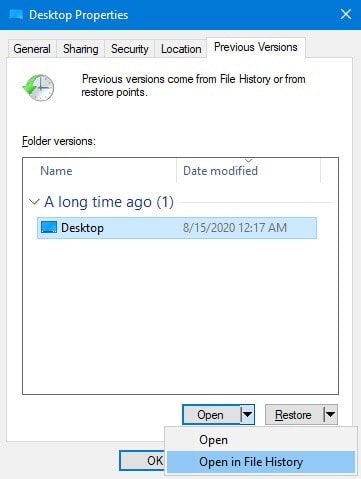 Step 3.

Select the most recent backup and then, select the "Open in File History" to preview the backup files.
Step 4.

Now, choose the PDF files you want to recover and drop and drag them to any desired location. And bang, you have just recovered the lost PDF files.

Needless to say, this workaround has a low success ratio as not many people make a backup on File History on regular basis. Additionally, it's complicated to repair the crashed Windows. That's why using a third-party software like Recoverit seems the most preferable choice for Windows users.
2. Recover Unsaved PDF Files on Mac with Auto-Save Function
Auto-Save is one of the most useful Mac features that saves your files automatically during unexpected events like system crashing or power outages.
Step 1.

First of all, you need to ensure is that the auto-save feature is enabled in the Apple Menu > System Preferences > General > and check the "Keep Changes" box.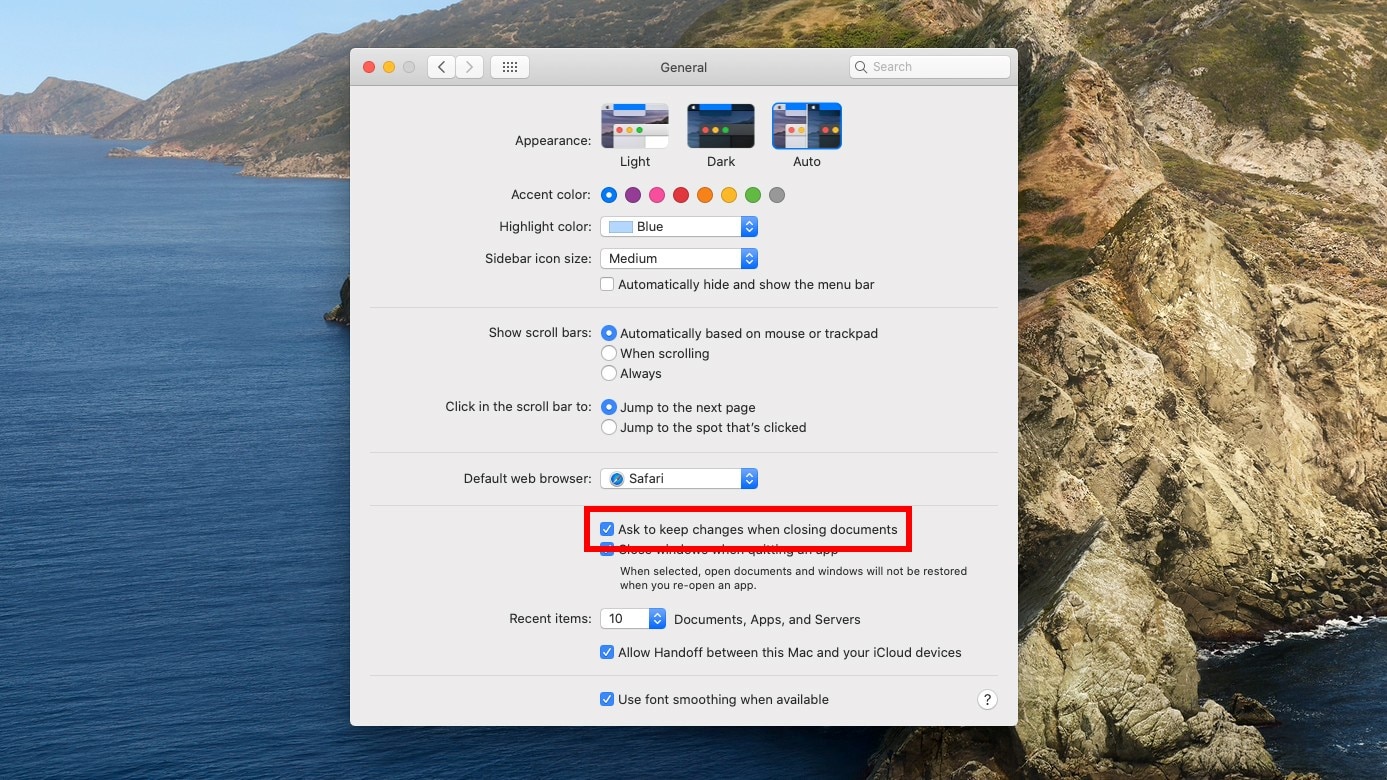 Step 2.

Go to Preview > File > Open Recent, and check if the lost PDF files are in the list.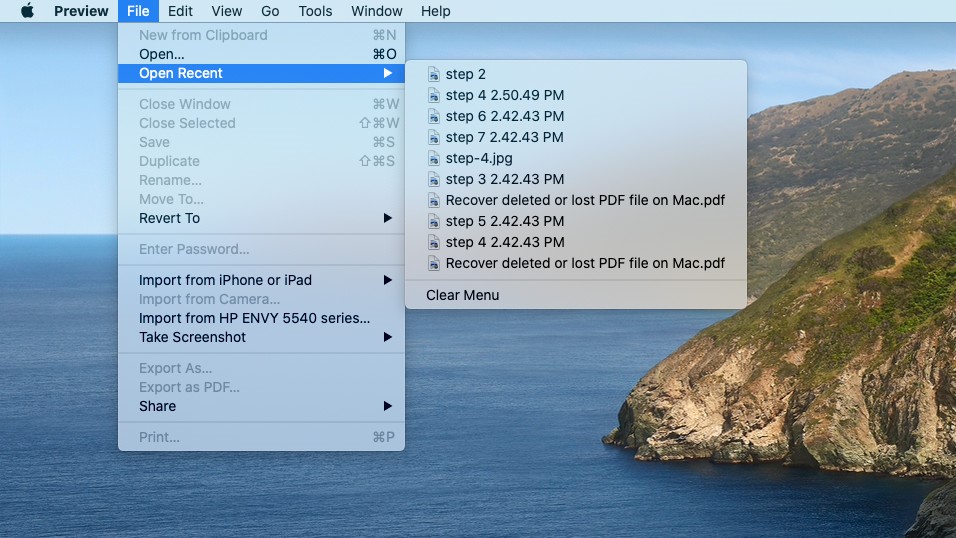 You're lucky if you could find the unsaved PDF files.
3. Use Time Machine
Mac has a free, built-in tool called Time Machine that lets users back up files to an external hard drive. If you have enabled Time Machine, you may be able to restore the lost PDF files quite easily.
Step 1.

Firstly, connect the external device where the backup is stored and navigate to the folder where PDF files were present on your Mac.
Step 2.

Head to Finder > Applications and launch Time Machine. It will display all the backups. Toggle the previous backups using the arrows.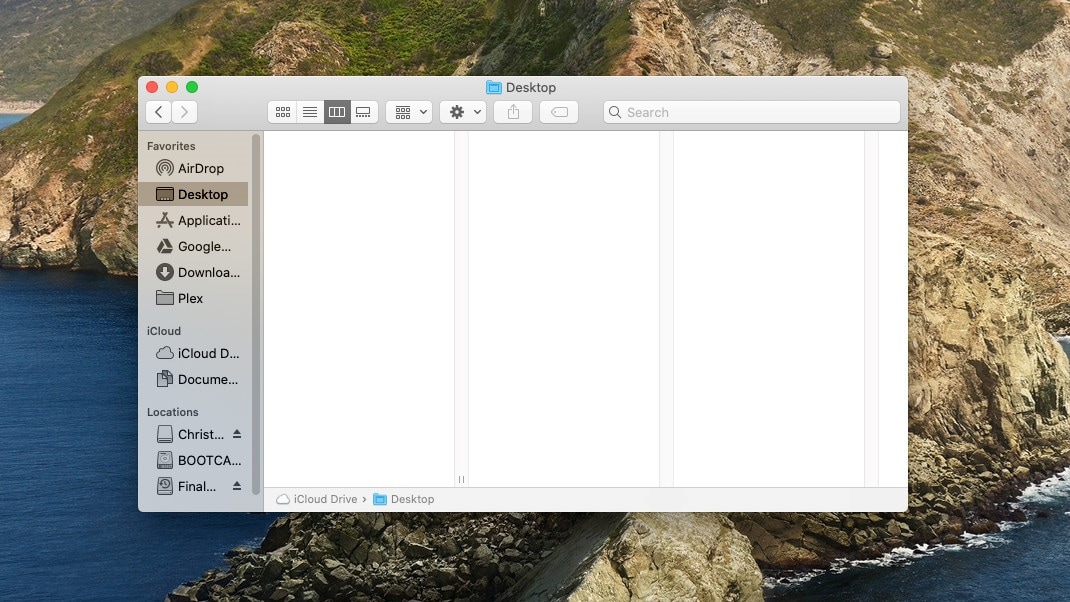 Step 3.

Head to Finder > Applications and launch Time Machine. It will display all the backups. Toggle the previous backups using the arrows.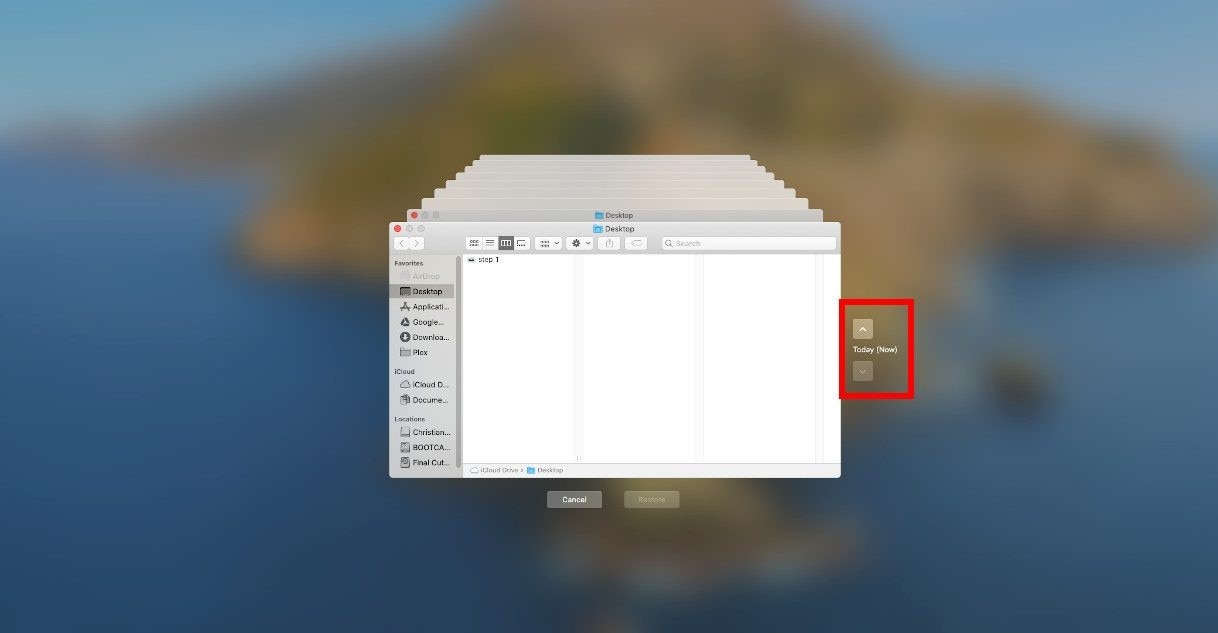 Step 4.

Check the timeline to find the PDF files backup, preview (use space bar) and choose the files, and hit Restore to recover them.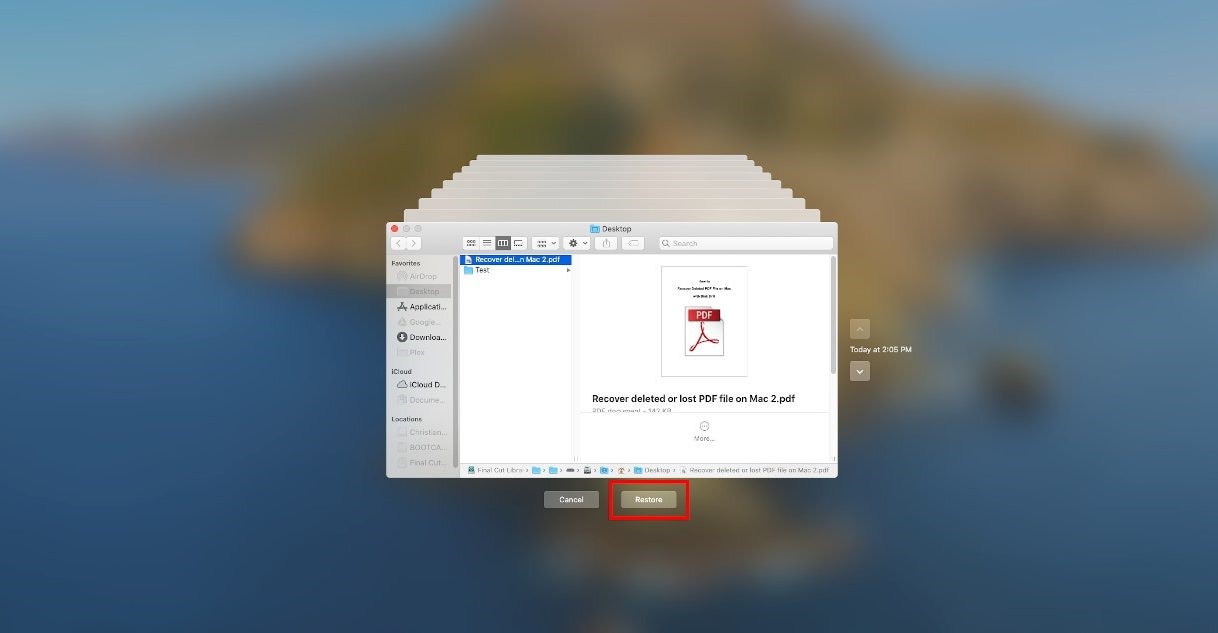 Part 4: How to Avoid Computer/Mac from Crashing?
Now that you know how difficult it is to recover unsaved PDF files from a crashed computer, let us discuss a few tips and tricks to avoid your PC from crashing frequently.
Tips for Windows PC
Run a Windows registry cleaning program regularly
Update all hardware and software programs regularly
Run a Windows registry cleaning program regularly
Install a professional, up-to-date antivirus software
Have regular maintenance to clean the accumulated dust or debris
Tips for Mac
Force restart the incompatible or unresponsive app to reduce the pressure on its CPU
Make sure you always have enough free hard drive. Either free up space by deleting unnecessary files or upgrade the memory.
Run the Apple Diagnostic to figure the hardware issues on your Mac. Disconnect all external devices, restart the device, and long-press the D key to begin diagnosing.
Conclusion
To sum up, this article shows that there're a myriad of ways to recover unsaved PDF files from a crashed Windows/Mac. The aforementioned method can help you get back the lost documents but not all of them have a satisfactory success ratio.
We recommend users to rely on Recoverit to recover PDF files on Mac and Windows to the greatest extent. Additionally, try to backup your data regularly to be able to recover it without any technical hassle.