How to reover deleted videos from Samsung Galaxy S3 internal memory?
Samsung Galaxy Android smartphones have made it very easy to click high quality videos and pictures using the sophisticated camera on the phone. With the release of Samsung Galaxy S8, an increasing number of people are using them to record videos for fun, memories and even for professional purposes.
Many times, we accidentally end up deleting our precious videos and lose them forever. It may be something valuable for our memories or an important documentation of an event that you cannot afford to get deleted. To end your worries, there are few programs using which you can recover deleted videos and other data. It doesn't matter whether you are looking to recover data or apps or media, you can restore everything in your phone, that you had deleted earlier through a software tool.
dr.fone - Data Recovery (Android) for Samsung Galaxy S3 and S4
Out of the third party programs available, dr.fone - Data Recovery (Android) is best when it comes to recovering deleted videos. It is a powerful tool to get back many types of data including videos, photos, messages, contacts, call history, Whatsapp messages and documents. The interface is simple and uses clearcut step by step easy instructions to recover the files. You just need to assist the program through 3 easy stages to successfully recover your lost videos from Samsung Galaxy phones.
Unique features of dr.fone - Data Recovery (Android):
dr.fone - Data Recovery (Android) works for every kind of data loss without any restriction. It does not matter if you accidentally deleted your videos or the phone software malfunctioned - the program will fetch back your videos even if they are corrupted or attacked by a virus. iSkysoft also works for data damaged due to physical reasons like mishandling the phone or wrongful operation.
Multiple recovery modes: iSkysoft gives you many options to recover the lost videos. You can selectively search for deleted files or go for complete scanning of your data. The Advance Mode lets you find deleted files tjat cannot be easily tracked.
Preview before recovery: It give you a preview of your scanned videos before you start to recover them. Using the preview option, it is possible to individually get a glimpse of each file so that you can save time by recovering only the videos you require. It also makes things easy and simple.
From 2 Ways to Recover: You are allowed to recover any deleted files from Samsung Galaxy S3 or other phones' internal memory or SD card. Either way, you can have a full and complete recovery result.
Unlimited number of supported devices: It works well for Samsung Galaxy S3 or S4, but it is equally effective over 6000 different types of Android platforms including tablets, smartphones, etc from famous and even less known brands. It also supports many file types other than videos that may be essential for recovery like contacts, messages and call logs.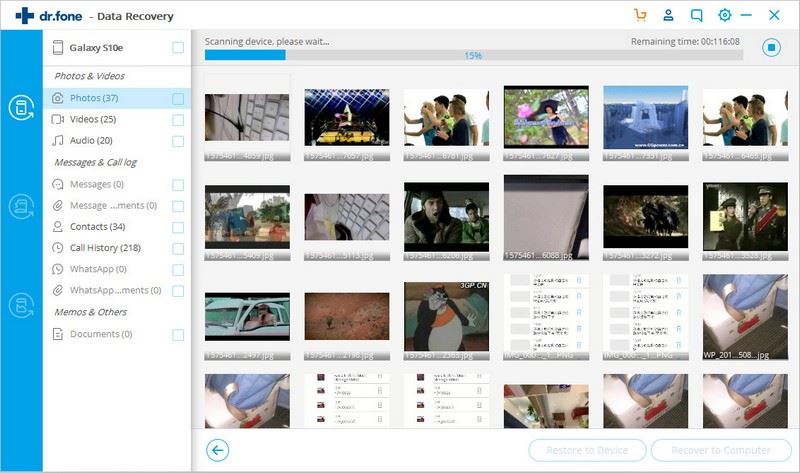 Guide to recover deleted videos from Samsung Galaxy using dr.fone - Data Recovery (Android)
So, you've bought a Galaxy phone and have got stuck with missing data? It doesn't matter whether you have deleted the data accidentally or willingly, you will be able to retrieve it easily. These simple tips will help ensure that you are able to recover lost data with Recoverit (IS).
Step 1: Connecting your phone
Install dr.fone - Data Recovery (Android) on your computer and open it. Please select the "Data Recovery" option. Then use the USB cable that came with your Samsung S3 or S4 to connect the phone with the computer. Once connected, you will be given instructions to activate USB Debugging mode. It is important that you carry them out exactly as they are mentioned in the guide.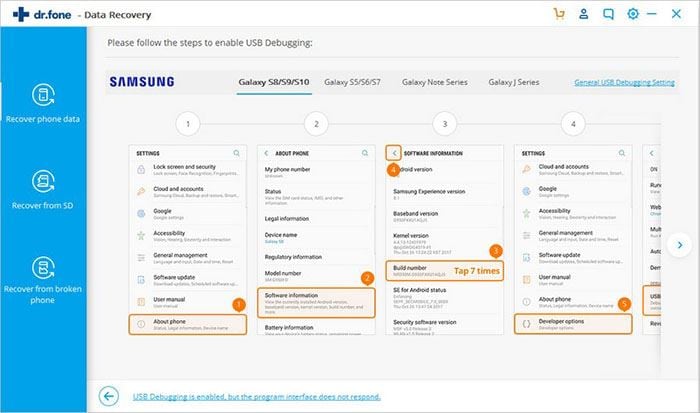 Step 2: Selection of file types and scan method
It may take up several minutes if you have a large amount of content on your phone. So if you just need to recover the lost videos from your Samsung phone, directly check the box beside "Videos" by clicking on it. Now press the Next button to proceed with the scanning.
The next screen will give you options to select the mode of scanning – Standard Mode and Advanced Mode. The Standard Mode lets you scan for all files or just the deleted ones. You can select the Advanced Mode for scanning if the Standard Mode fails in finding the missing files.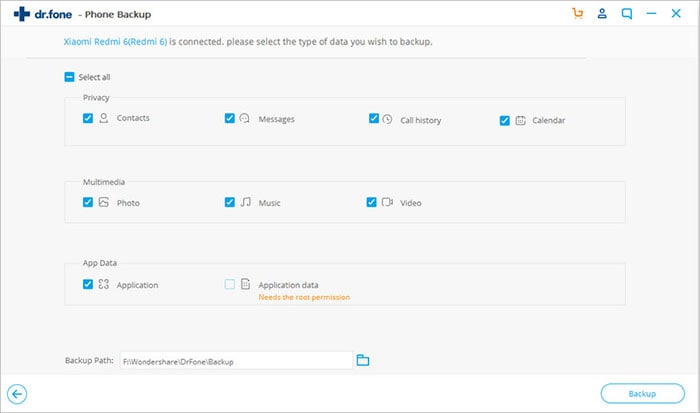 Step 3: Previewing videos before recovering
You will get to see the thumbnails of the videos that dr.fone - Data Recovery (Android) finds while scanning. If you just want to restore a particular video, you can pause the scanning and proceed directly to recover it. You can preview the scanned videos that you selected and then click on Recover at the bottom of the screen.
The program will prompt for a location on your desktop to save the videos. Just choose a folder by browsing or use the save path on the pop up message to set it. Click on Recover and get ready to get the deleted video restored.