Repairit - Fix all levels of video corruption and all formats of video easily.
An easy-to-use video repair software for beginners and professionals.
Matroska, commonly known as MKV, is one of the popular multimedia formats that can carry subtitles, audio tracks, and videos combined. As far as the MKV format data storage is concerned, experts utilize different encoding techniques depending upon their skill set, interests, or preferences.
It is comparatively easy to do when it comes to downloading MKV seasons and movies with audio and appropriate subtitles from the internet. But, some people have reported that when they play MKV multimedia files on their PC, laptops, or mobile phones, it gives no sound. Has this been something that happened to you in the near past? Looking for some credible solutions to fix MKV file no sound challenges? This guide is for you.
Part 1. Do MKV Files Have Audio?
Whenever people face an "MKV file no audio problem, they start wondering whether or not these files contain audio. Are you the one with the same concern? Well, as mentioned earlier, an MKV file is a combination of three different multimedia - subtitles, audio, and video - in a single place. Therefore, if you see an MKV file with no sound, it means that there is something technically wrong with the file.
It was difficult to play these files in the past because a separate 3rd party player was required to play them. But, the scenario has changed these days. The upgraded windows media player launched by Windows 10 has made everything not only easy but convenient for you. You can play MKV files directly without even installing any third-party media tool. It is indeed a great advancement, but still, the issue of MKV no sound exists. Let's have a look at some common reasons behind this problem.
Part 2. Common Reasons for "MKV No Sound"
1. MKV Codec Issues
A codec is a tool or program responsible for either encoding or decoding the digital data present in the multimedia files. Once you play your MKV file, codecs are usually processed autonomously. But, if there is something wrong with the codec, your MKV file will not be played perfectly, and you may face "no sound" or any other similar issue.
2. Damaged MKV Files
A damaged or corrupted file is another leading reason for MKV file no audio problem. This may happen due to a couple of reasons, as mentioned below.
If the file is improperly downloaded.
If you have downloaded MKV files from unverified sources.
Transferring or converting this file to Android compatible versions.
3. Media Player Issues
MKV, without a doubt, is a popular file format. But, it is not being used as the industry's standard one. A number of platforms and media players are unable to play MKV files. If you are a Windows user, you must be aware that only Windows 10 offers native support for these files. Any earlier operating system doesn't have such permission.
Important Note: If your media player cannot play the MKV file, try opening another MKV file or video to check whether or not your player is performing well. It will help you understand if something is wrong with your file or media player.
4. MKV Conversion Issue
Hundreds of online tools are inevitably available to convert your videos into MKV formats. But, not every tool needs to be feasible for perfect conversion. As a result, your file may get damaged or corrupted while converting, causing MKV no sound issues. But, sometimes, it could be a human error, like when you don't know how to properly operate a particular conversion tool.
Part 3. Proven Ways to Fix "MKV File No Sound" Issue
Now, you are familiar with how an MKV no sound problem occurs. It is time to search for different ways to fix this problem. This section presents six easy ways to fix MKV files with no sound.
1. Check the Media Player
Well, checking the performance of your media player is the simplest yet most important way to fix "no sound" problems with your MKV files. If you have tried to play a file and your media player cannot play it appropriately, try playing some other non-MKV or MKV files to check if your player can play them.
Suppose the media player is playing other files perfectly. In that case, it means the file you checked earlier was either damaged or corrupted due to any of the reasons mentioned in the previous section. Similarly, you can also use different media players to check if the file is corrupted.
2. Convert MKV Files to MP4
Sometimes, your system may not have enough sources to play MKV videos. It may happen due to codec damage and some other issues. If you are going through a similar condition, you can convert your MKV files to MP4 - an easily playable format on multiple devices. This approach will help you deal with your headache and fix all "MKV file no sound" concerns.
3. Use the Windows Troubleshooter
Windows 10 has introduced a stunning built-in troubleshooter that supports a couple of common problems. The best feature of this tool is; it automatically generates a unique process and resolves your audio-related issues in a matter of minutes. Try it out and see the miracles happen.
4. Repair MKV Codec Problems
Codec is a program in your system designed to encode or decode a multimedia media file. Generally, video files come in larger sizes, but you can conveniently reduce their sizes using compressing tools and then decode them through codecs while playing. A successful playback would never be possible without codecs. It is why the corrupted or absence of codecs results in playback prevention. So, codec repairing can solve the MKV file no audio issue.
5. Check the Audio Driver
Audio drivers bridge different programs and audio devices, e.g., headphones and speakers. Keep a close eye on the performance of your audio drivers, and they must be up-to-date. If you find that your drivers are not updated, immediately update them because they could be the major reason why the MKV file has no audio.
Part 4. Fix "MKV File No Sound" Issue with Video Repair Tool Effectively
Repairit - Video Repair is an incredible tool to eliminate all the challenges associated with MKV file no audio.
What Makes This Tool Credible?
Repair almost all levels of video corruption issues, including video blurry, flicker, choppy, no sound, sluggish display, display stuck, etc.
Repair corrupted/unplayable/unaccessible videos of various formats, such as MOV, MP4, M2TS, MKV, MTS, 3GP, AVI, FLV, MXF, and M4V. It even supports the latest INSV video format.
Support to repair videos shot and recorded on the mainstream video devices, including all leading camera brands such as Canon, Nikon, Sony, GoPro, DJI,etc. or mobile phone.
The "Advanced Repair" function can repair seriously damaged videos with high success rate.
Repair HD, 4K, and 8K videos with a very high success rate.
Step 1.

Download Repairit on your PC/MAC, then choose "Video Repair".

Click on the "Add" button (shown below) and choose the damaged video to fix its MKV no sound problem. Interestingly, you can drag and drop your file on the main interface.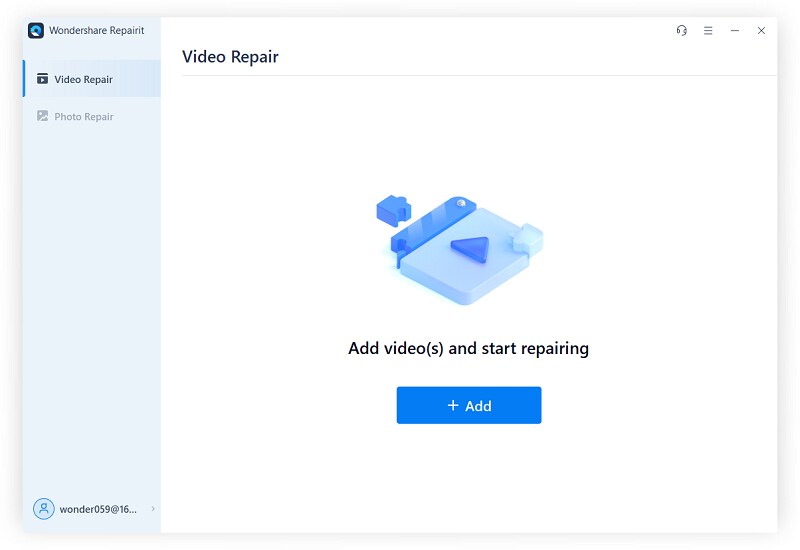 After add the damaged videos, Repairit will check their information and you can see the details on the below interface.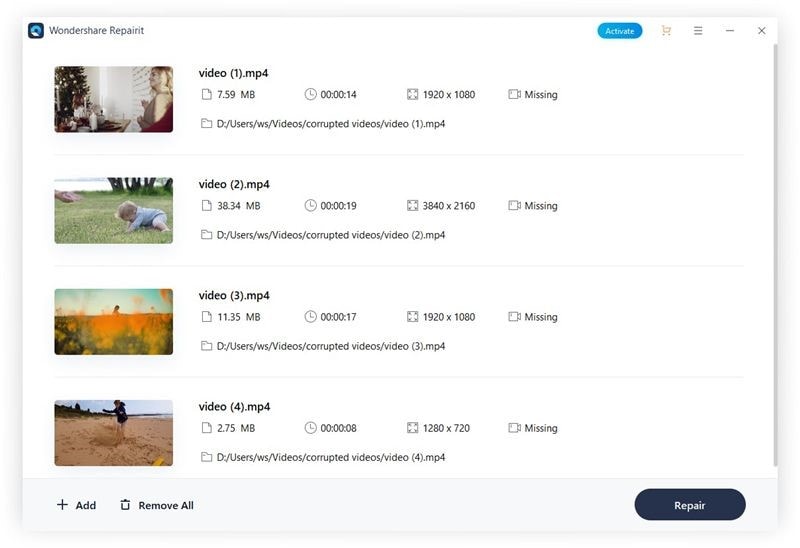 Step 2.

Have you successfully uploaded the damaged video file? Now, press the "Repair" button to get it fixed.

By clicking the "Repair" button, Repairit will start the video repairing process, when the process finishes, Repairit will tell you the result.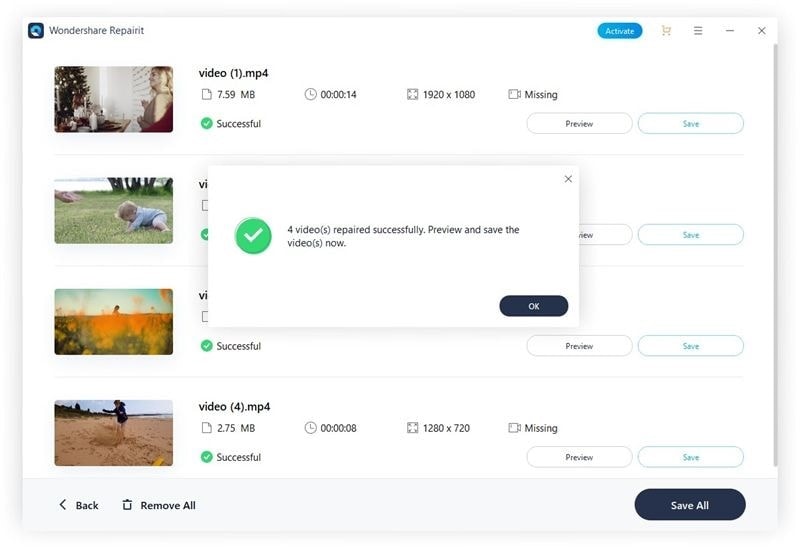 Step 3.

Preview and save the repaired videos.

If you want to watch the repaired video before saving it, click on the "Preview" button in front of every video shown in the image above. The preview version of a video is shown below.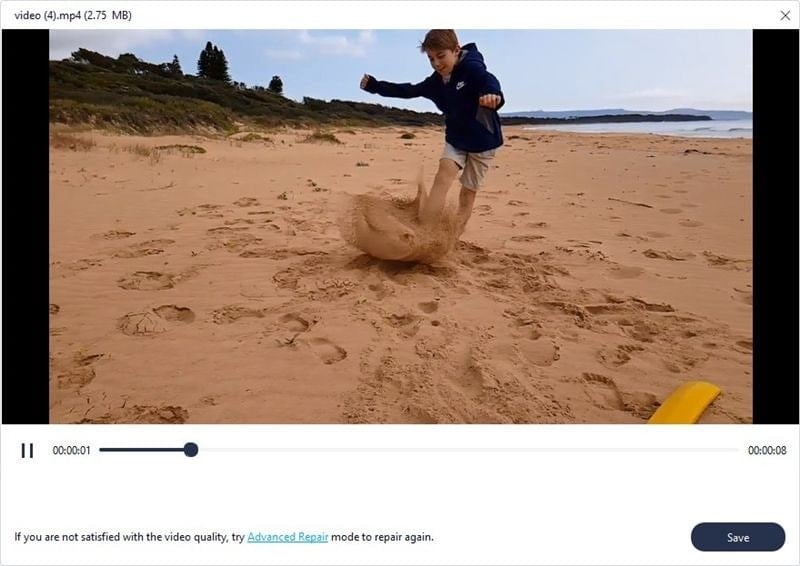 However, if the video is severely damaged or you are not satisfied with the quality of the repaired video, please choose "Advanced Repair" to make a higher level of video repairing. For those seriously damaged video that cannot be repaired by the above steps, please check the guide for "Advanced Video Repair" to make a more professional video repairing process.
Part 5. Tips to Prevent Video from Corruption
Are you struggling with preventing your videos from corruption? Just follow the valuable tips listed below to swim your worries away.
You must ensure that your PC or laptop is safe from voltage spikes, and a surge protector can help you do that.
Never turn off your system abruptly when it is in operation.
Keep your antivirus tool updated and turned on to scan every unusual activity.
Keep on backing up your data regularly. In case something gets corrupted, you'll be able to restore it.
Try keeping your backup in external devices, e.g., a hard drive.
Conclusion
This comprehensive guide has familiarized you with the major reasons behind MKV no sound challenges and presented valuable ways to eliminate these problems effectively. If you face similar issues, carefully follow the abovementioned steps to get fruitful results.