We always try to fix issues without resets since this will cause complex problems later. One of the most feared ways of resets is factory reset which thoroughly clears out the data you have in your device. All your data will disappear after factory reset, like contacts, photographs, recordings, etc.
But it's easy to know how to factory reset iPhone when locked. For example, you may want to delete an iPhone before selling it. Or, maybe you forgot the password and needed to reset it to open it. Whichever the cause, this article will show you strategies on how to factory reset locked iPhone. We will tell you the best way to fix your iPhone.
Part 1: Factory Resetting Locked iPhone
1. "Erase iPhone" option
It is the most precise technique for how to factory reset locked iPhone. Since iOS 15.2, Apple introduced an "Erase iPhone" decision from the lock screen window. This window shows up after you enter the wrong code several times. The steps underneath work if your iPhone is running iOS 15.2 or later:
Step 1.

When you don't know the lock screen PIN, enter the wrong passcode a few times.

That will give you caution. Continue until you see the Erase iPhone option on the screen.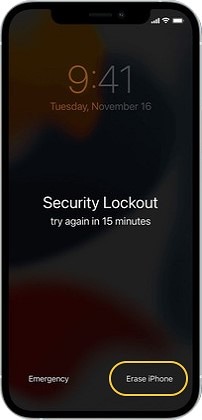 Step 2.

Tap this option and then click again to affirm your activity.
Step 3.

Enter your Apple account details to sign out of your Apple ID on the iPhone.
Step 4.

Tap Erase iPhone back to delete every one of your records and settings.
Step 5.

After the device restarts, agree with the on-screen steps.

Once more, set your iPhone, and restore your data and settings from a backup.
For iPhone Running iOS 15.1 or Prior:
Step 1.

Put your iPhone into DFU mode.
Step 2.

Then, at that point, connect it to a Mac or PC through a USB connector.
Step 3.

Tap your iPhone in the Finder sidebar on Mac or iTunes on the PC.
Step 4.

Pick Restore when you see the choice to Restore.

Let the download finish, and your device leaves the recovery mode screen. Then again, switch off your iPhone and start.
Step 5.

Disconnect your iDevice, then turn it on and set it up. That is all you should do.
2. Factory Reset via iCloud.
Your lock screen can save your data if you don't erase the device. No one can open the screen except if they enter the correct password. After a large number of wrong passcodes, your iPhone will be locked. So, it's not possible for anyone to then touch your data. However, Apple licenses clients to delete iPhone data remotely.
If you have turned on the "Find My" option before locking out of your iPhone, there is a chance for you to get over the lock. That is to utilize iCloud.
Requirements:
The locked device should have the Find My feature turned on.
The iPhone should have your iCloud ID.
It must be connected to the internet, data or Wi-Fi.
You must recall your Apple ID details.
Steps to open iPhone through iCloud:
Step 1.

Visit the iCloud.com page and open your Apple ID there.
Step 2.

Click the "Find iPhone" option.
Step 3.

Click "All Devices" and pick the one you need to erase.
Step 4.

Select the "Erase iPhone" choice.

As such, set up the iPhone and another lock screen passcode. With iCloud, you can open your iDevice without reaching your device.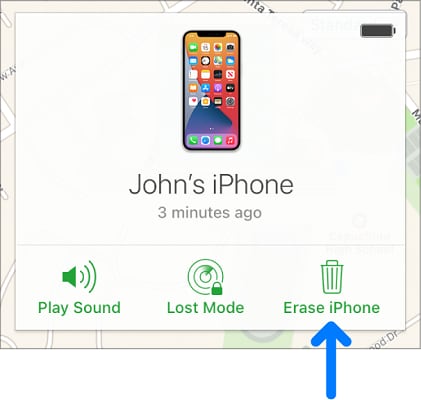 3. Enter Recovery Mode to Erase data
These days iTunes added the 'Restore' choice that can help clients open their iPhones when they forget their password.
Regardless, one must realize that there are better options than iTunes since it has various tech bugs. Thus, iTunes can take a ton of time, making it a monotonous process.
Requirements:
For iTunes unlocked device, your PC should have Windows 8 or above and the latest iTunes variant.
A USB connector.
Steps (For Windows)
Step 1.

Connect it to the Computer.

Connect your iPhone and your PC through a USB connector and open iTunes on your PC.
Step 2.

Go to recovery mode.

You need to find a mix of buttons to press on your iPhone to enter recovery mode. Doing such, you will find out the recovery mode screen on your iPhone. Here's how:
iPhone 8 or above: Press and release the volume (+) and the volume (-) buttons. Hold the power/side button until seeing the recovery mode on your screen.
iPhone 7 and 7P: Press the top (or side) and volume down buttons until the recovery screen appears.
iPhone SE and iPhone 6S: Hold the home button and the power/side button simultaneously until you see the required screen.
Note: Switch off your iPhone and repeat the steps if you see the passcode screen.
Step 3.

Restore your iPhone.

As the recovery Mode screen appears on the iPhone, you will find your iPhone on the iTunes screen. It will ask you to update or restore your device. So, click the Restore button.
Step 4.

It then, at that point, requests that you affirm whether you are sure you want to do so.

It does so because your media and data will be gone. Click on Restore and Update.

Step 5.

Then, at that point, "iPhone Software Update" may show up.

Click Next, and a short time later, click Agree. iTunes will start downloading the software and restore your iPhone when the download is done.

After the download, iTunes will show that it will delete your iPhone and restore it to iOS 15.4.1. Click Restore.
Step 6.

Your iPhone will display the restore progress bar via the white apple logo.

The length of this process depends on how much data there is. When done, your iPhone will restart normally. Besides, after your iPhone restarts, you can reset it and make a new passcode.
Part 2: Easy App to Factory Reset Your iPhone
If you are looking for a shortcut technique for how to factory reset iPhone when locked, go for Dr.Fone-Scren Unlock. Dr.Fone - Screen Unlock is an expert tool that erases your phone to unlock its passcode. So, if you forgot the code, don't worry! Just download Dr.Fone for a quick recovery.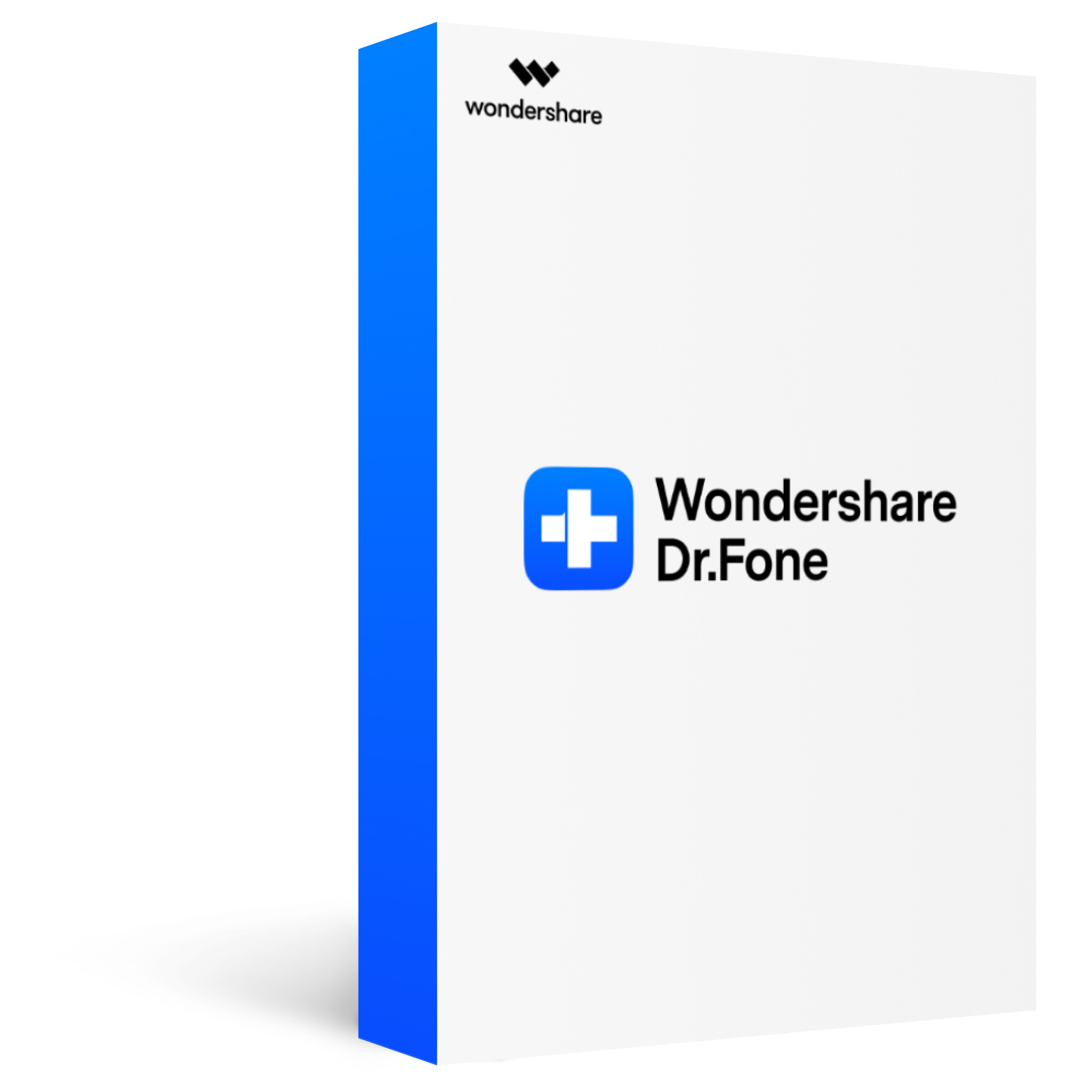 Dr.Fone - Screen Unlock (iOS)
Remove all types of screen locks on iOS devices
2,985,172 people have downloaded it
Unlock all types of screen lock on iOS device within clicks, including iCloud Activate lock, MDM lock, 4-digit/6-digit passcode, Apple ID, Touch ID, Face ID, screen time passcode, etc.
Remove the screen lock in any scenarios anytime, such as forgot passcode, the device is disabled, second-hand device, unknown passcode, etc.
Unlock iCloud activation lock without jailbreak.
Remove MDM profile & bypass MDM lock without data loss.
No technical knowledge required.
Step 1.

Connect it to your Computer.

Open the Dr.Fone software and click the 'Unlock' option on the main screen.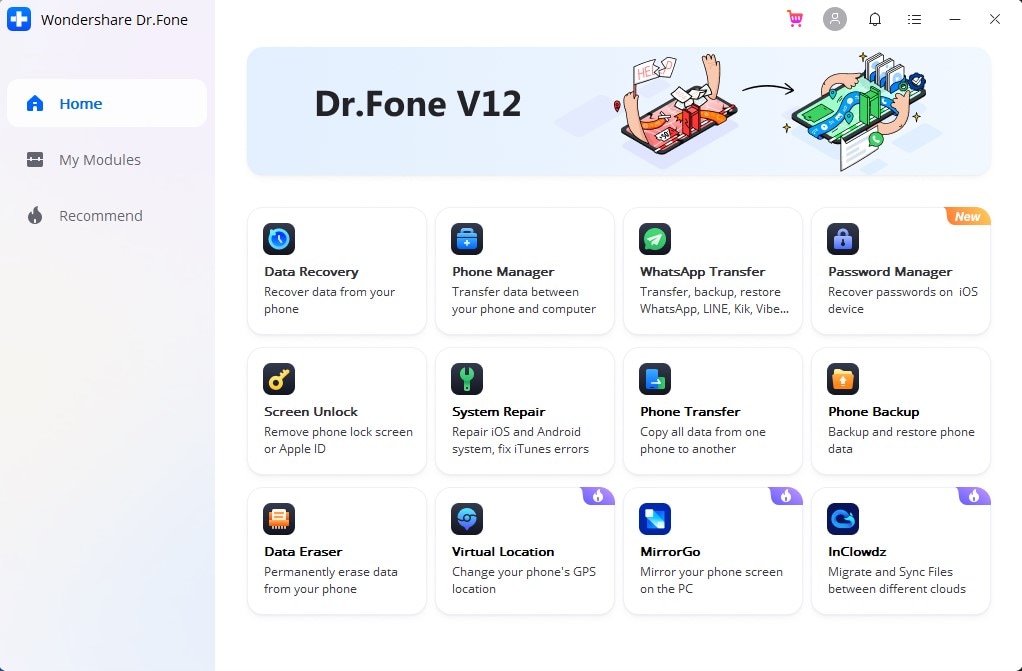 Connect your iOS device to your PC through a USB cable and click Start.
Step 2.

Boot into DFU mode.

Before beginning, you must place your iPhone into DFU Mode. Adhere to the steps given in the image below: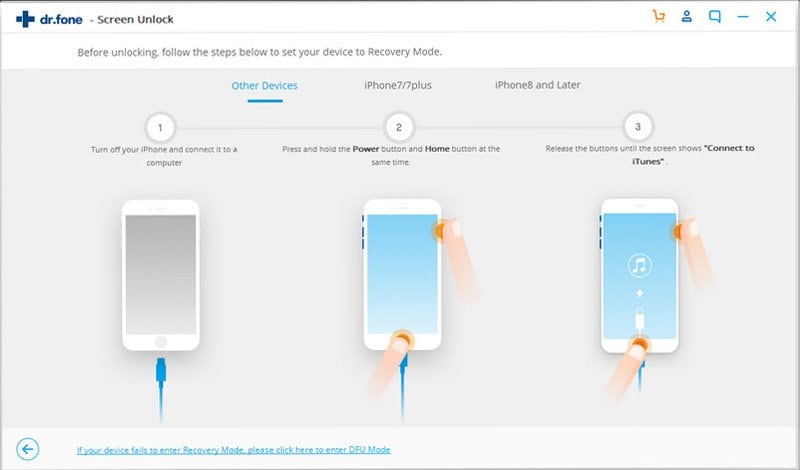 Step 3.

Affirm your iPhone Model.

After your device enters DFU Mode, look at the details and correct them if they are wrong. Then, click the Download button after the affirmation.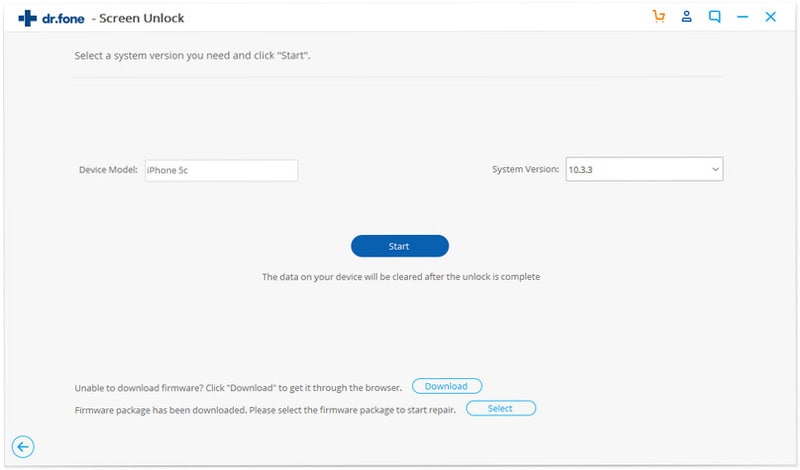 Step 4.

Begin Unlocking your Device.

After downloading, the program will show the following. Click "Unlock Now" to move ahead.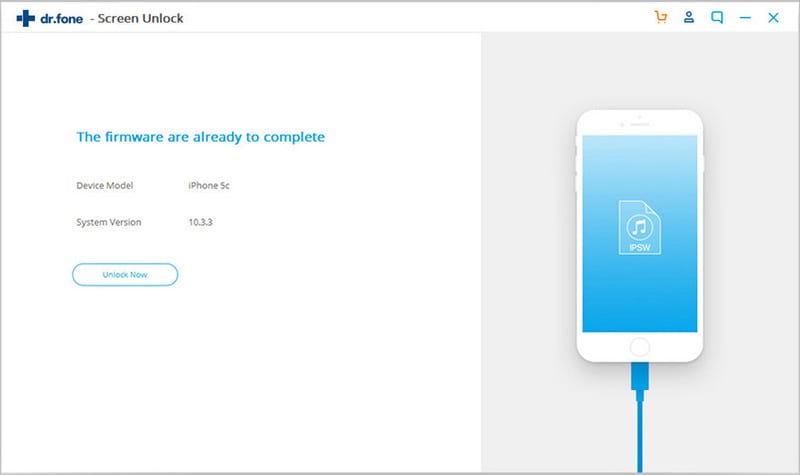 Enter "000000" and click "Unlock" to finish the process.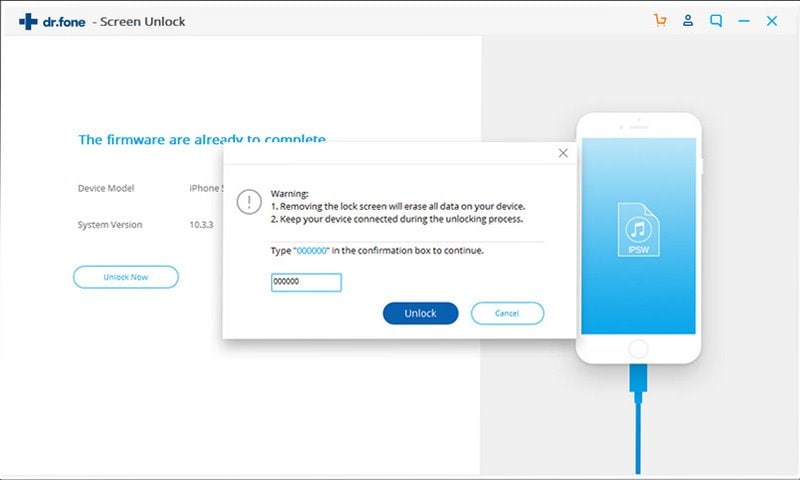 Step 5.

Unlocking Successful.

When the system is done, your iPhone will reboot, and the screen lock on your iPhone/iPad will be eliminated effectively.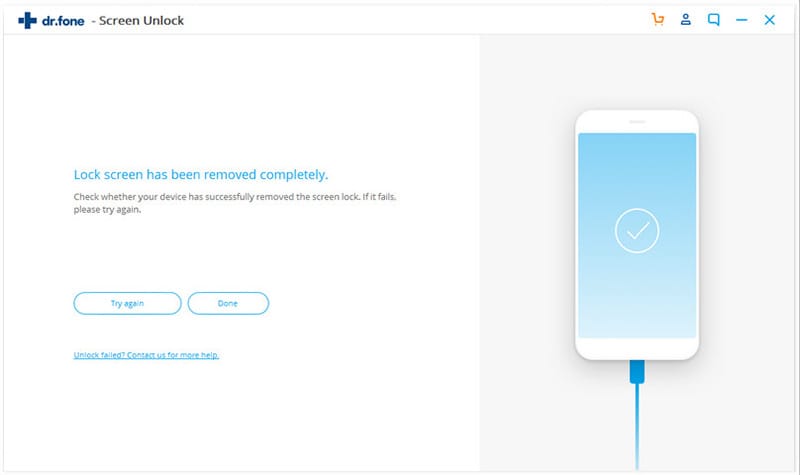 Part 3: FAQs
Q1. How to factory reset iPhone via "Settings."
A1:
Step 1.

Open your iDevice Settings app and go to the General tab. Click the "Transfer or Reset iPhone" option.
Do one of these:
Move your content and settings to another iPhone: Tap Start, then, at that point, adhere to the on-screen directions. In the end, when you finish, return to Settings and go to the General tab. You must click Transfer or Reset iPhone > Delete All Content and Settings.
Delete each of your data from your iPhone: Tap Erase All Data and Settings.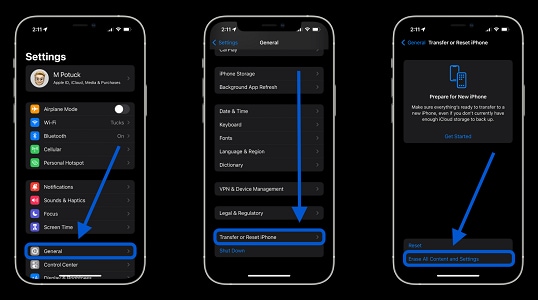 Q2. Can I factory reset the locked iPhone without data loss?
A2: No, you cannot factory reset a device without data loss since factory reset brings a phone to its factory default state. Doing a factory reset will delete all your files and saved settings.
Q3. Is there a simple app to erase my iPhone?
A3: In such a fast-growing world, safeguarding your data is one of security's main aspects. Dr.Fone – Data Erase (iOS) offers you a protected and effective way to deal with erasing all of the data and settings on your iPhone.
Furthermore, Dr.Fone guarantees they can never be recovered using any means. With such an experience in this market, we think Dr.Fone - Data Eraser is the right choice for how to factory reset locked iPhone.
The Bottom Line
If you plan to sell an old iPhone, you must know how to reset a locked iPhone. Therefore, we have discussed several techniques to help you factory reset your device without a password. Moreover, if you want neat data erasure, we suggest you use Dr.Fone - Data Eraser. Dr.Fone is an expert in solving all your iPhone needs and knows how to factory reset iPhone when locked.