Many iPhone consumers are bothered by the iCloud Activation Lock iPhone issue (After iOS 15, Apple changed the display screen, which is iPhone Locked To the Owner). Exists a location where I can provide you with a suitable solution? The methods recommended by Apple, yes.
However, using that method necessitates meeting a fundamental need, namely, remembering your Apple ID and password. Well, for users of used goods, it appears to be useless.
You may deactivate the iPhone if activation is locked without a password by following the instructions in this article. The methods we will discuss here are the most efficient for speedily unlocking a locked device so that you can start using it. The best option will be used first.
Part 1:5 Methods to Remove iPhone Activation Lock
1. Ask the previous owner for Apple ID and password
You can use the iPhone's passcode rather than the Apple ID and password to unlock the iPhone is activation locked if the iPhone is running iOS 11 or later and the device's owner utilized the Two-factor authentication function with iCloud.
Ask them to input the device passcode by tapping "Unlock with Passcode?" on the Activation screen. The two-factor authentication code Apple gives the prior owner may also be required.
2. Ask the previous owner to remove it from iCloud
You can ask the former owner to delete their smartphone from iCloud if you have their contact information and they are not close to you. These easy steps may be used to do it remotely:
Step 1.

To get onto the iCloud website, users must provide their Apple ID and passcode.
Step 2.

Select the device from the "All Devices" option after clicking the "Find My" button.
Step 3.

To delete all of the data and settings on the device, select "Erase Device" from the menu that appears and then follow the on-screen instructions.
Step 4.

Then select "Remove from Account."

Once you've finished configuring the gadget, you should be able to use it usually going forward.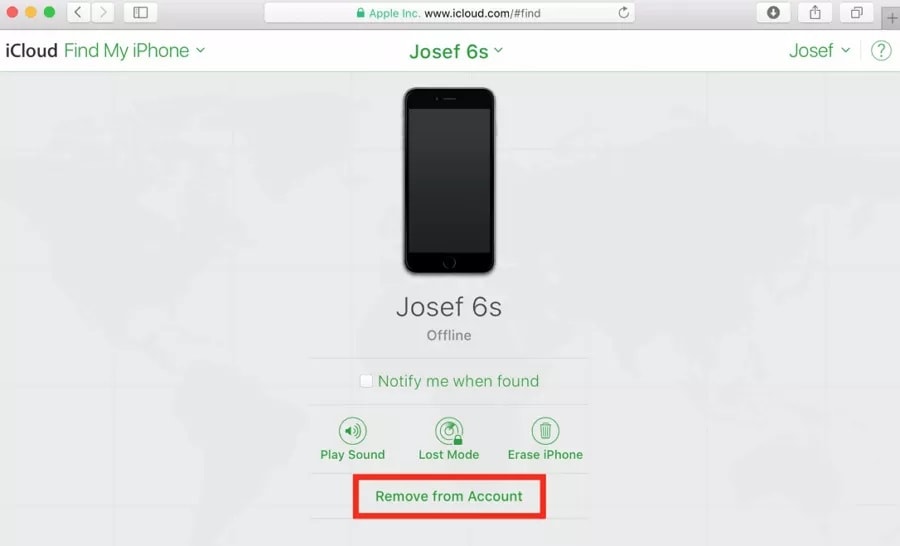 3. Remove via DNS Bypass
The DNS technique works like a charm that essentially attempts to disable the device's iCloud Activation Lock iPhone using an internet server or HTML. It is worth a shot when you have no other choice, even if it might fail sometimes.
Step 1.

Please be careful that this method will work on the last versions of iOS, like iOS 10 or later.
Step 2.

Restart the gadget when it's on.
Step 3.

Do the setup steps until you arrive at the "Choose Wi-Fi network" page.
Step 4.

Click the "I" button next to the Wi-Fi network, then choose "More Wi-Fi Settings."
Step 5.

Select "Manual" after tapping "Configure DNS."
Step 6.

When finished, provide the server address to locate you after tapping "+Add Server."

The server addresses to utilize are like this:

USA: 104.154.51.7

Europe: 104.155.28.90

Asia: 104.155.220.58

Africa, Australia, and other locations: 78.109.17.60
Step 7.

To select "Ask to Join Networks," select "Save" and then "Back."
Step 8.

If you enter the network password, please select "Join."
Step 9.

Tap the back button when your iPhone starts to activate, and then continue the standard setup procedures.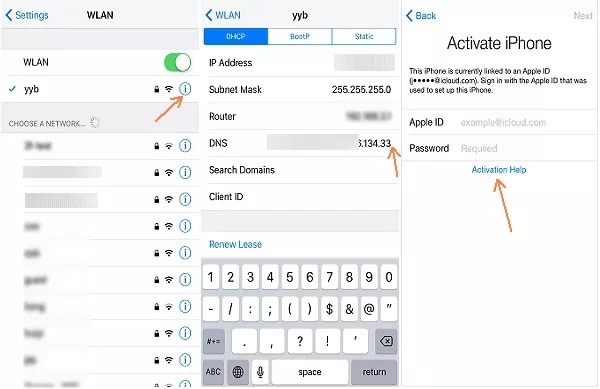 4. Apple iPhone Unlock(website)
You may ask Apple support to assist you in unlocking your handset if you cannot make contact with the iPhone's former owner for whatever reason. Even though it might not be a simple process, if you have the necessary paperwork (for those who have evidence of purchase from the prior owner), the staff will be able to assist you.
Presenting proof of purchase to the Apple support team is one approach to unlocking your iPhone's iCloud activation lock without the previous owner.
When you offer Apple this paperwork, they may confirm that you are the phone's original owner and then assist you with unlocking the gadget. They could also ask you for other papers, such as one of your identity cards and proof of purchase.
Your second option to unlock the phone if you purchased it from a deceased person or a family is to provide Apple documentation of their passing. After then, Apple will check the information and might be able to help you unlock the phone.
In either scenario, it is entirely up to Apple to choose if they are pleased with the documentation you have provided and whether they want to unlock the phone.
We strongly advise using a professional and efficient technique to remove the Activation Lock iPhone without a prior owner if you cannot unlock your iPhone. With Wondershare Dr. Fone-Screen Unlock, an all-inclusive iOS unlocking tool, you can easily and quickly remove the passcode of the iPhone screen and clear the iCloud Activation Lock.
You may promptly remove the iCloud activation lock using its proper function without the assistance of the previous owner or Apple.
Additionally, this tool can assist you if you need to locate your Apple ID email, check the status of your iCloud Activation Lock, or find out information on other pieces of equipment.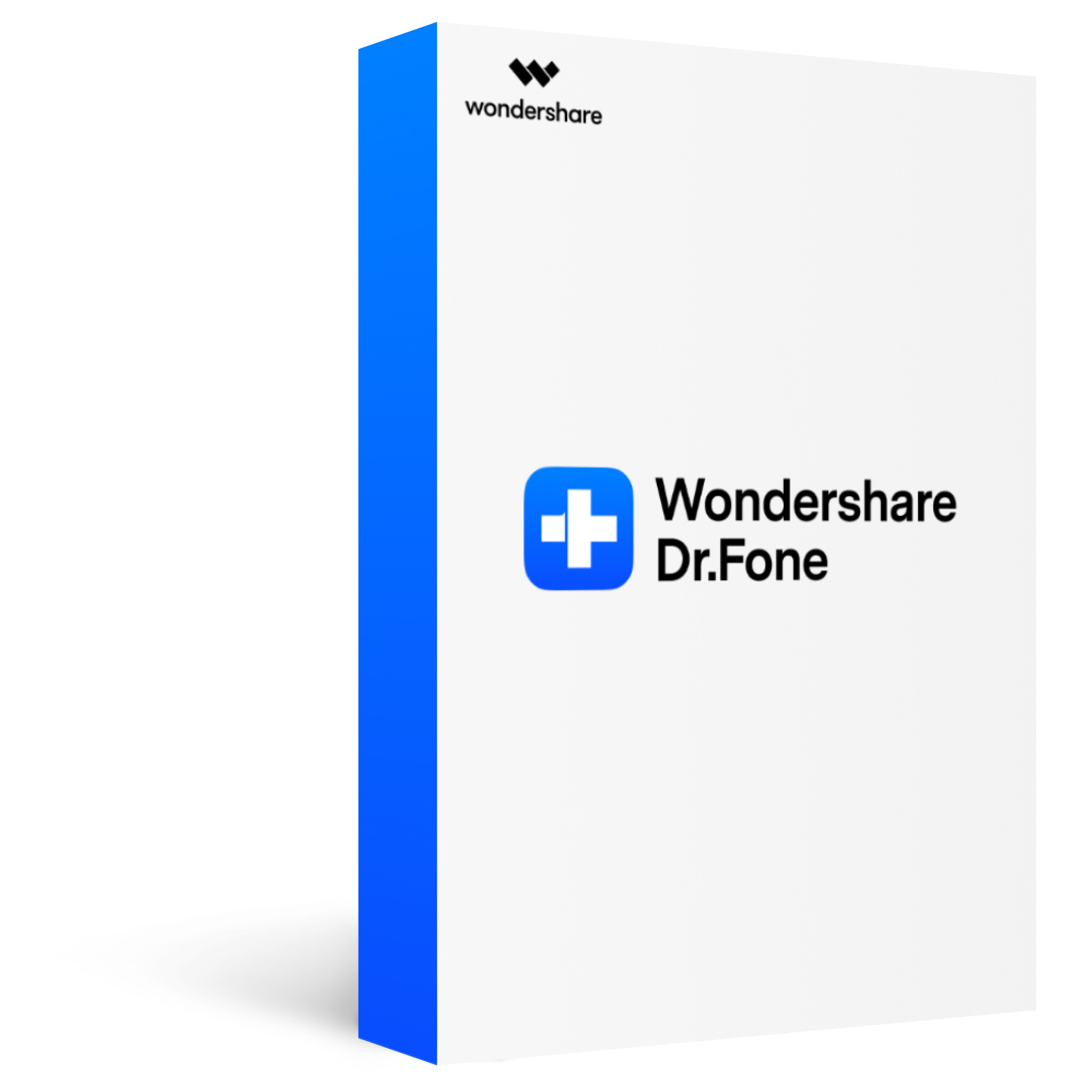 Dr.Fone - Screen Unlock (iOS)
Bypass/remove iCloud Activation lock on iPhone/iPad with simple steps
2,985,172 people have downloaded it
Remove iCloud Activation lock without password/Apple ID in any scenario anytime.
Bypass Activation lock in any scenarios anytime, such as forgot passcode, the device is disabled, second-hand device, unknown passcode, etc.
Unlock iCloud activation lock and iCloud account without iTunes.
Unlock all types of screen lock on iOS device within clicks, including iCloud Activate lock, MDM lock, 4-digit/6-digit passcode, Touch ID, Face ID, screen time passcode, etc.
Support to bypass activation lock for iOS from 12.0 and up to iOS 14.8.1. Compatible with iPhone 5S up to X.
Bypass iCloud Activation Lock with a 100% success rate.
Step 1.

Connect the phone, choose "Screen Unlock" from the main Dr. Fone interface, then select "Unlock Apple ID."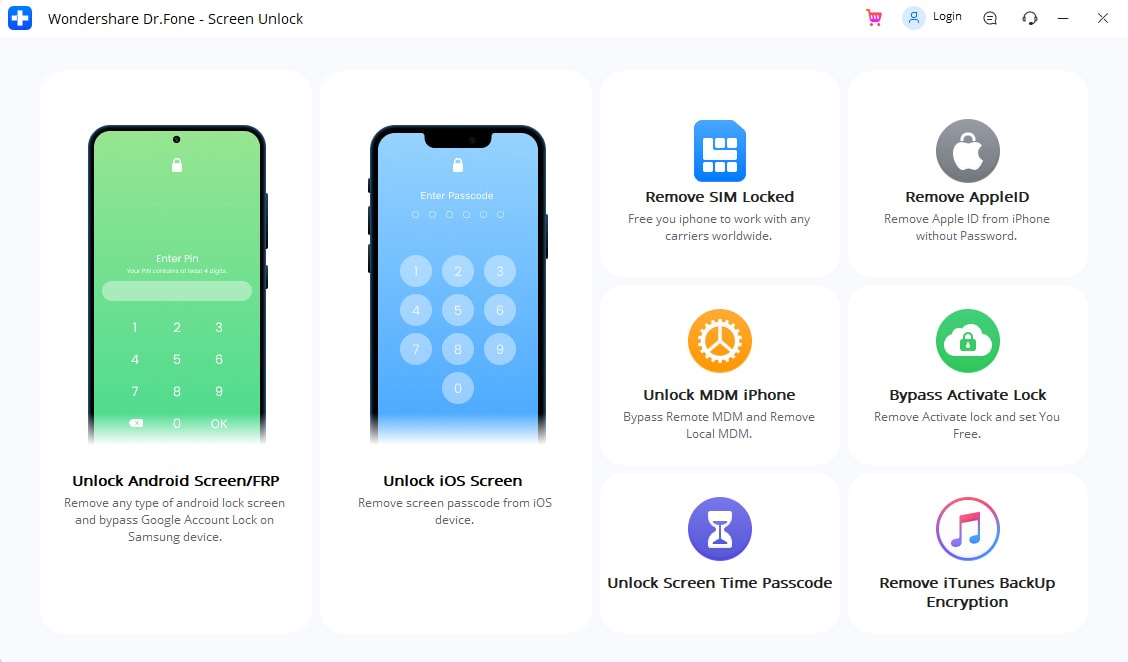 Step 2.

Click "Get Start," then "Remove Active Lock."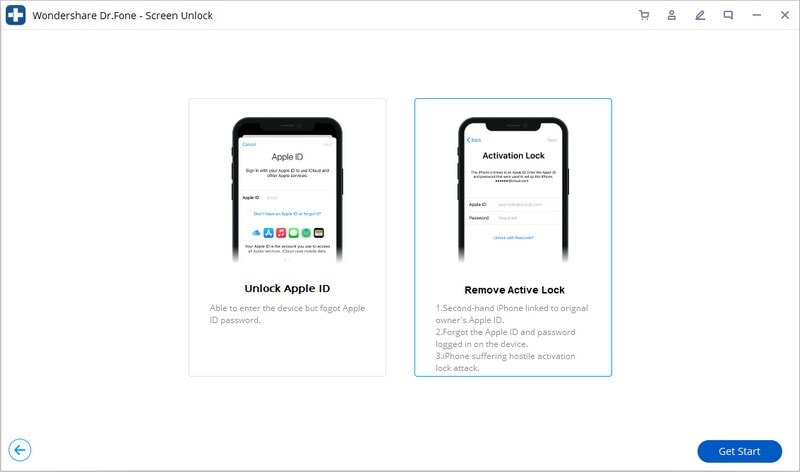 Step 3.

Jailbreak your iPhone.

Jailbreaking your iPhone is necessary before getting around the iCloud lock. If doing so won't cause too many problems, click "Jailbreak Guide" and follow the comprehensive instructions.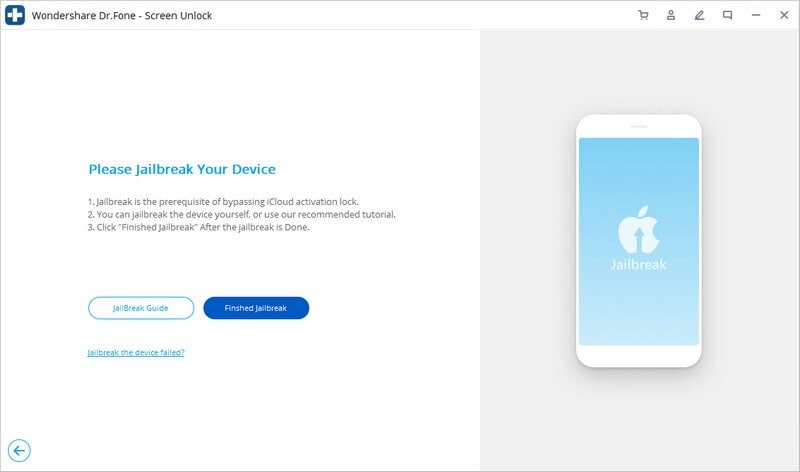 Step 4.

Confirm the Information of Jailbreaked iDevice.

After jailbreaking your iPhone:

Read the following terms and conditions.

Accept them.

Click the "Next" button to proceed for the unlocking process.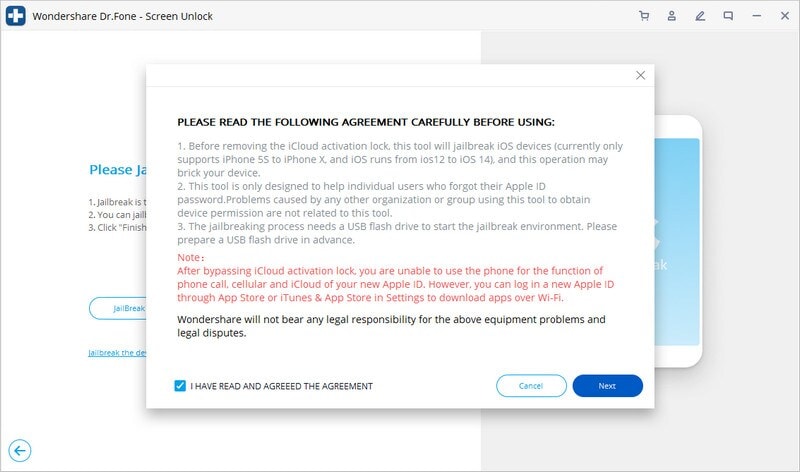 After that, confirm the data on your iPhone and select "Start Unlock."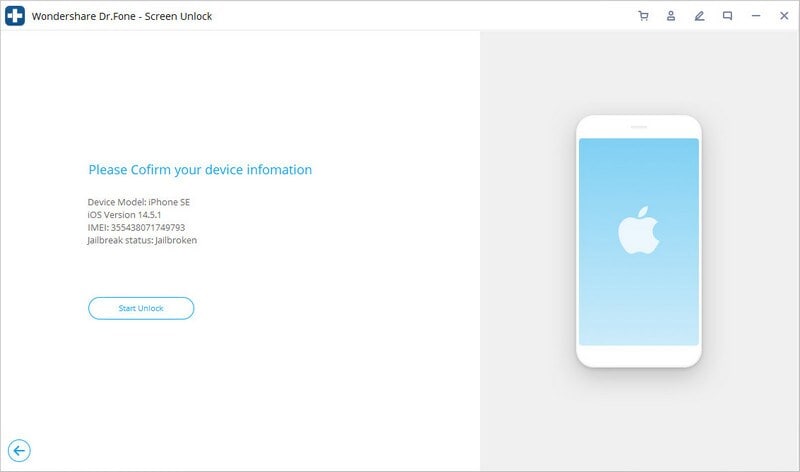 Step 5.

Begin to Remove the iCloud Activation Lock.

After you click "Start Unlock," Dr Fone will get around your iOS 15's iCloud activation lock.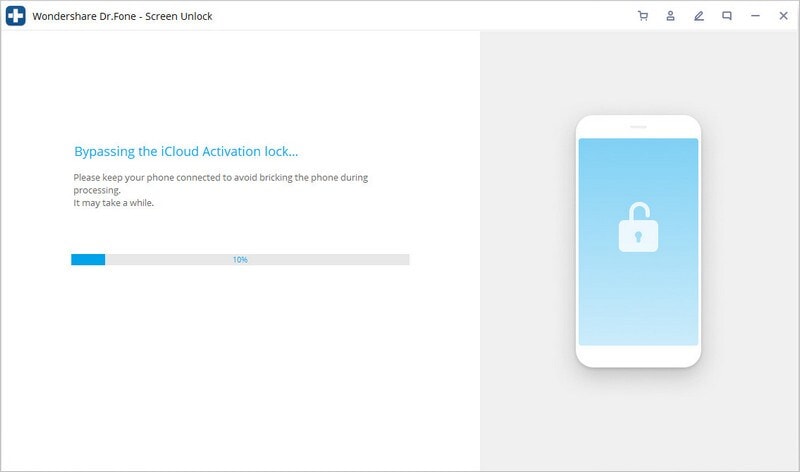 Step 6.

Removed Successfully.

The iCloud Activation Lock iPhone will be removed quickly, thanks to Dr. Fone!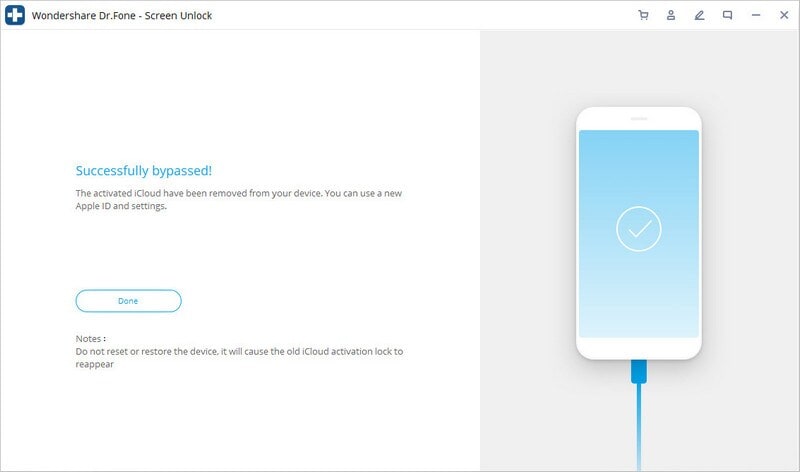 Part 2: FAQs
Q1. Why not buy iPhone with an activation lock?
A1: Give the vendor your smartphone back and request that they input their password. When logging onto icloud.com/find, the prior owner can delete the device from their account even if they are not present. Any used iPhone, iPad, or iPod Touch should not be claimed as your own until the prior owner's account has been closed.
Q2. Can I remove the activation lock by erasing data?
A2: iPhone activation lock can prevent someone from reactivating your device without your consent, even after you remotely wipe it.
Q3. Can Apple support help me to remove the activation lock?
A3: You may open an iPhone is activation locked support request if you require assistance removing the lock and have proof of purchase documents.
The Bottom Line
As you can see, there are several prerequisites for the free methods to remove the iCloud Activation Lock. However, you may use Wondershare Dr. Fone-Screen Unlock to delete the Apple ID and password to unlock the iCloud Activation Lock. It also supports the most recent iOS versions. I hope this information might assist you in finding a solution!