The iCloud activation lock is a way to secure your iOS devices, including Mac, iPod Contact, iPod, Apple Watch, or iPhone. It safeguards your data if your Apple device is taken or lost. For instance, it keeps a stolen iPhone from being set up until you enter the owner's Apple account details. With these security features, iPhone can't be utilized by anybody but the first user.
However, when you buy a used phone, the owner might forget to remove the iCloud lock. Simply put, they may not disable the Find My feature, which will keep you from opening your device. Therefore, you will need an iCloud unlock service to bypass the lock. So, in this iCloud bypass guide, we will show you the best ways to remove this lock from your iPhone.
Part 1: 5 Easy and Useful Tools to Bypass iCloud Activation Lock
While discussing a practical tool for iCloud unlock, leaving Dr.Fone - Screen Unlock (iOS) is unfair as it is the most trusted and unique tool. So, when your iPhone gets locked to the owner, you need an expert bypass tool for your device.
Therefore, you must consider Dr.Fone - Screen Unlock. As an iOS unlocker, it can assist you with unlocking different locks on your iPhone or iPad. One of its notable features is bypassing the activation lock without the Apple ID details.
Accessible for Windows and Mac, it offers a straightforward process for iCloud unlock. Wondershare has consistently figured out how to upkeep the security and trust of the users and does what it says.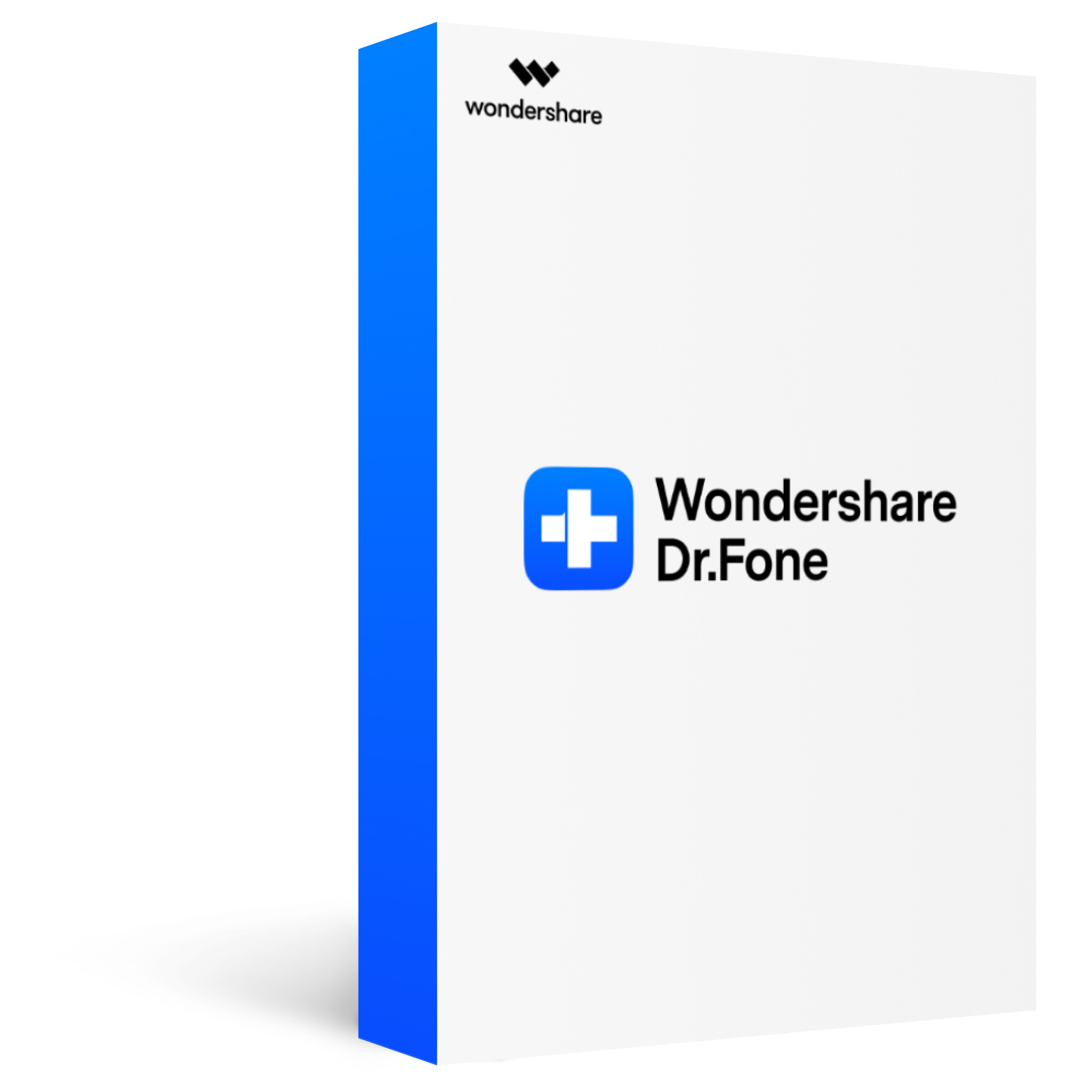 Dr.Fone - Screen Unlock (iOS)
Bypass/remove iCloud Activation lock on iPhone/iPad with simple steps
2,985,172 people have downloaded it
Remove iCloud Activation lock without password/Apple ID in any scenario anytime.
Bypass Activation lock in any scenarios anytime, such as forgot passcode, the device is disabled, second-hand device, unknown passcode, etc.
Unlock iCloud activation lock and iCloud account without iTunes.
Unlock all types of screen lock on iOS device within clicks, including iCloud Activate lock, MDM lock, 4-digit/6-digit passcode, Touch ID, Face ID, screen time passcode, etc.
Support to bypass activation lock for iOS from 12.0 and up to iOS 14.8.1. Compatible with iPhone 5S up to X.
Bypass iCloud Activation Lock with a 100% success rate.
The following section will explain the steps to use Dr.Fone for iCloud bypass.
Step 1.

Select "Screen Unlock" on Dr.Fone's interface, connect the device, and pick "Unlock Apple ID."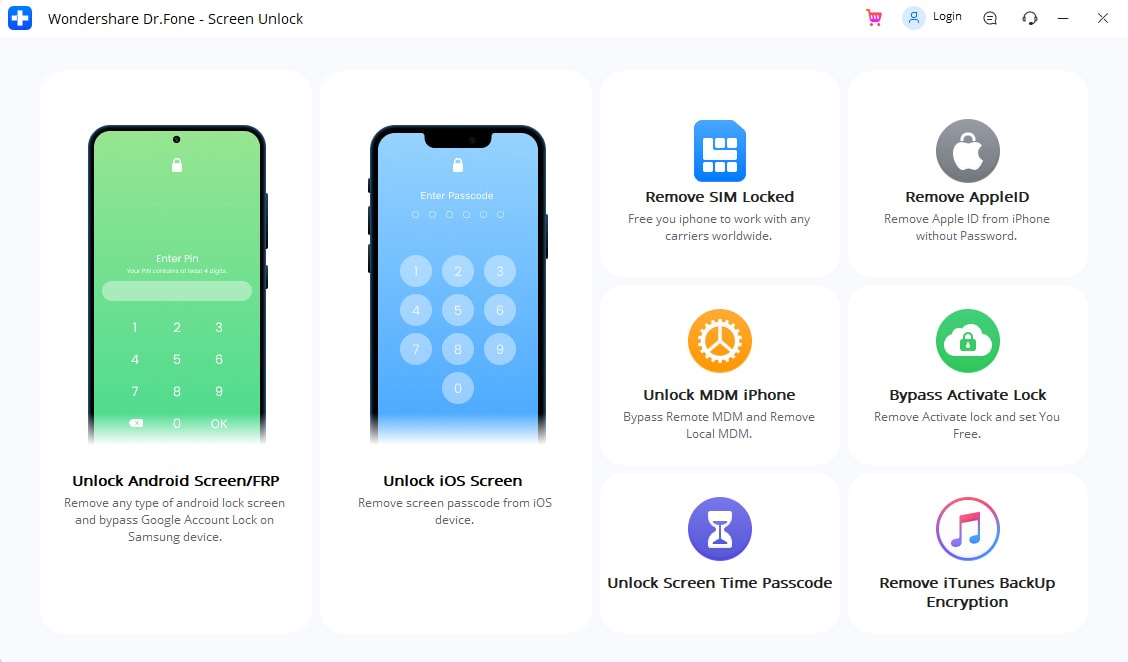 Step 2.

Select "Remove Active Lock," then, at that point, tap "Get Start."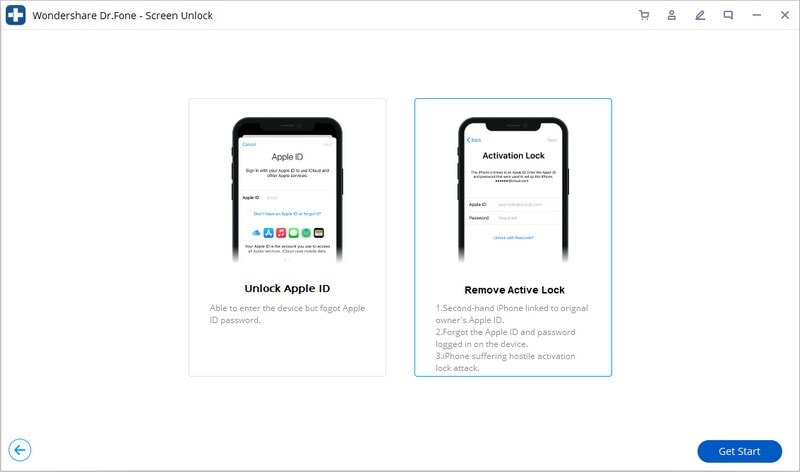 Step 3.

Jailbreak your iDevice.

Before bypassing the iCloud lock, it is vital to jailbreak your iPhone. Kindly snap the "Jailbreak Guide" and do it by following the detailed guide.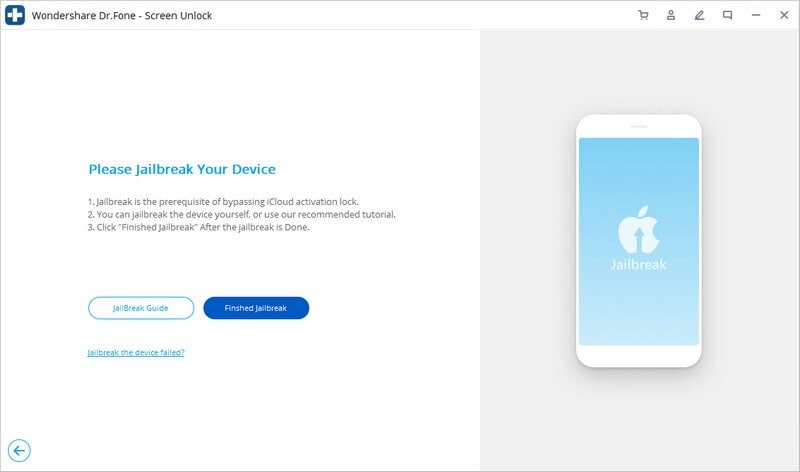 Step 4.

Confirm the Information of Jailbreaked iPhone.

After jailbreaking your iPhone, read and follow the conditions beneath and click "Next" to continue the unlocking process.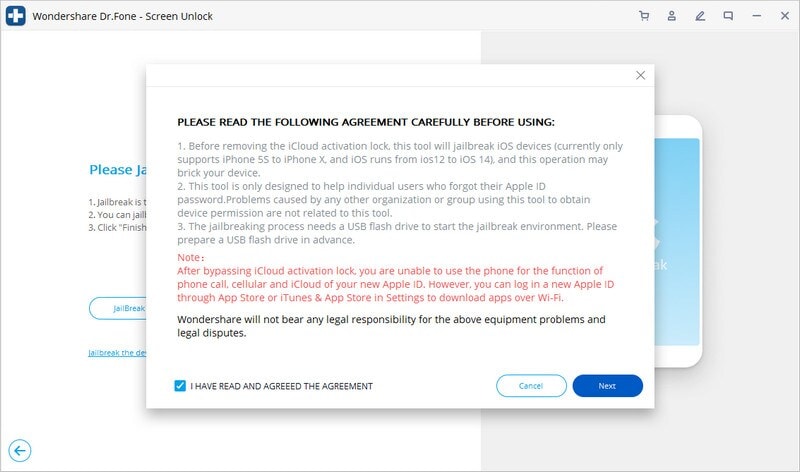 Then affirm the information of your iPhone and click "Start Unlock."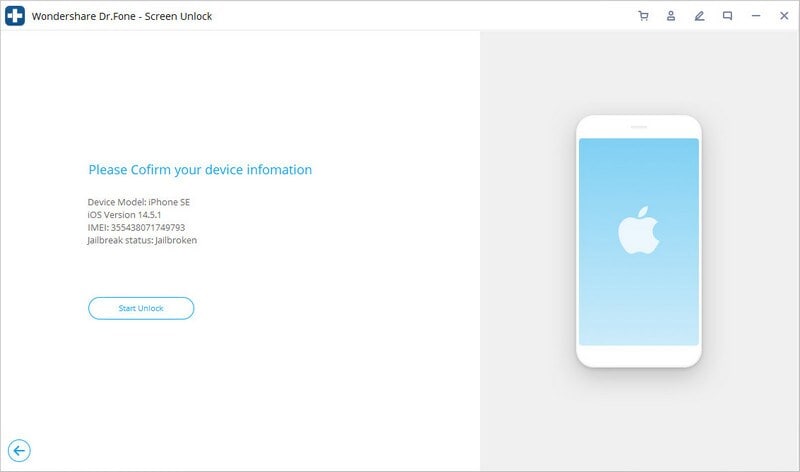 Step 5.

Start to Remove the iCloud lock.

After tapping the "Start Unlock" button, Dr.Fone will finish the iCloud bypass.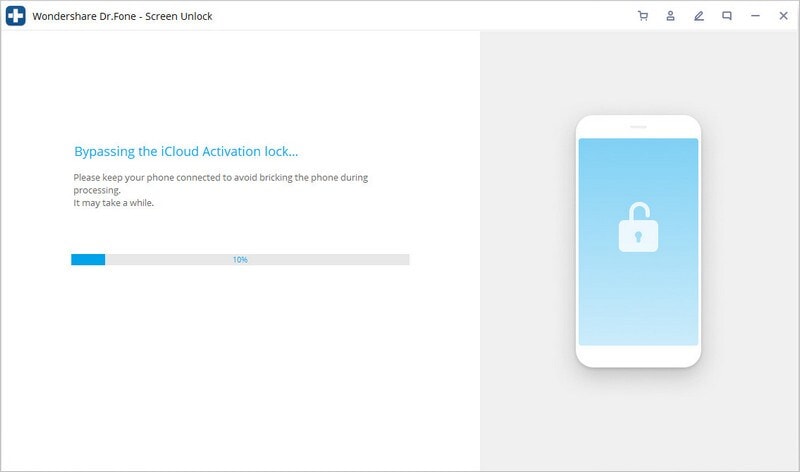 Step 6.

Removed effectively.

Dr.Fone will bypass the iCloud activation lock in practically no time!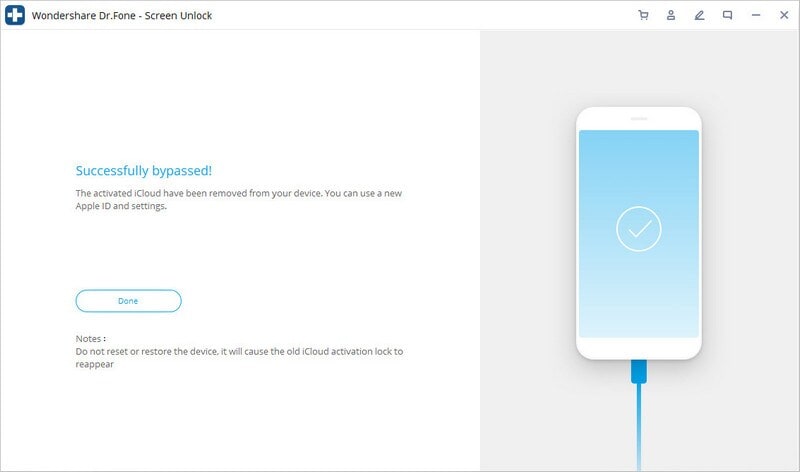 Presently your iPhone will start with no activation lock. You can now use it without any trouble.
2. Apple iPhone Unlock
A tool that has the force to remove the iCloud activation lock through an Apple-supported technique, Apple iPhone Unlock could never have given a more "genuine" approach to the process.
However, other tools allow you to unlock your iOS device with IMEI. The reason this tool is mentioned in this article shows how well it functions like clockwork. The steps to remove the activation lock with iPhone IMEI are straightforward.
First, enter your IMEI number for the tool to recognize your iDevice model. It then erases the iCloud account, which is locked, and prompts you to make another one. You'll have a new iCloud account and an open IOS device without voiding your AppleCare warranty when you do these three basic steps.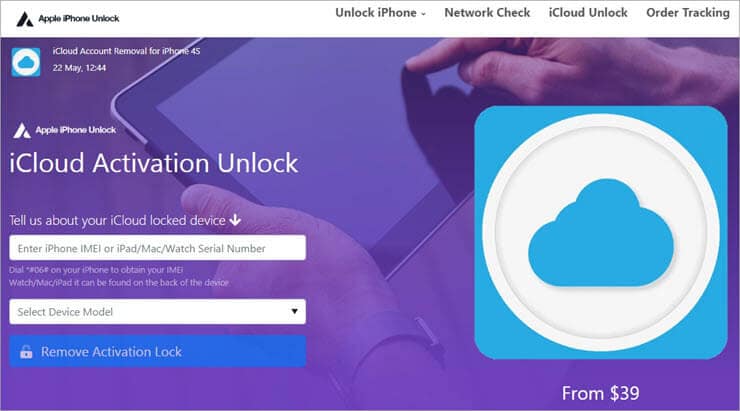 Note: You must have your iDevice's IMEI and serial number to use this tool for iCloud bypass. You can find your IMEI through a code, settings application, on the box, or by simply looking at the back of your device.
3. IMEI Unlock SIM
IMEIUnlockSIM is a web-based tool with the choice to bypass the activation lock from all Apple devices. On the site, you get to pick your device model, present your IMEI number, and, a while later, make the payment. Unfortunately, it is boring because the time you must wait is, to some degree, longer than the above methods.
Using this tool could unlock the iCloud activation lock on any iDevice. Before opening, check whether your IMEI number is safe by iCloud in the Apple system. This approach is for any IMEI number blocked in the iCloud lock screen.
Their unlocking method is very effective. In addition, IMEIUnlockSIM gives ensured factory unlocking services. So, if you don't know about your iCloud details, found a lost phone, or purchased a second hand from someplace, you could utilize this iCloud bypass tool.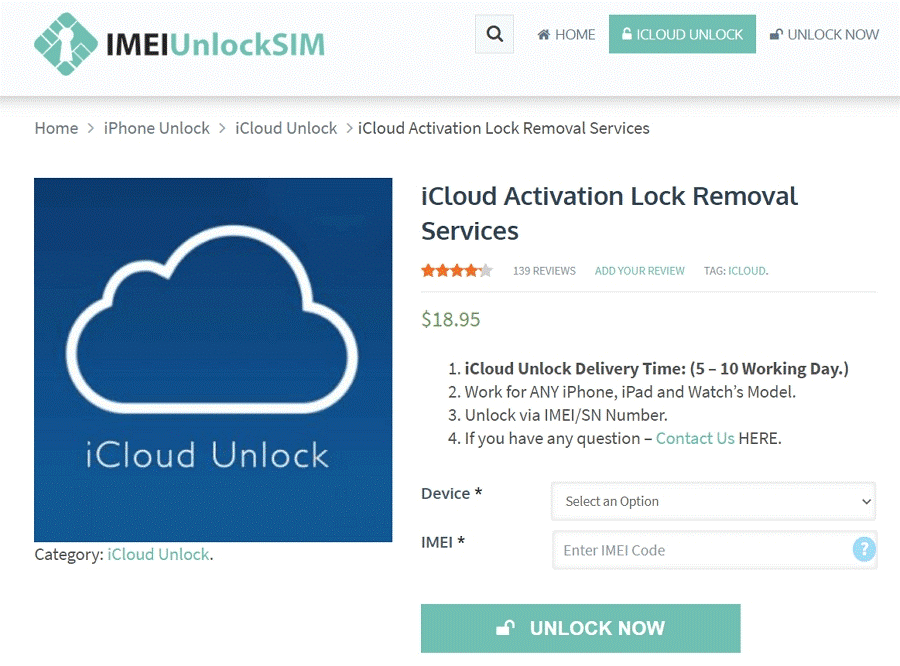 4. Checkra1n
Checkra1n jailbreak is in beta and accessible for download, yet you ought to be cautioned that it could crash your iPhone and block it. So never utilize this tool unnecessarily on the phone for such things. Indeed, even if you intend to do it, make a backup of your data first.
Checkra1n works for iOS 12.3 and higher iOS versions but is semi-tethered. So you must connect it to your PC or Macintosh to re-jailbreak it whenever you turn it on. The process is somewhat complex when you're new to jailbreaking. Ideally, ycheckra1n will give you the directions and get your iPhone jailbroken.
To bypass the iCloud Activation lock on iDevices, the initial step is to jailbreak the device to grant root authorization. From that point forward, follow a bunch of commands to bypass the iCloud lock with the assistance of checkra1n. However, before diving into the steps, read FAQs about the tool so that you are fully prepared.
5. iCloud DNS Bypass
You can bypass iCloud Activation Lock and recover some use of your iPhone by utilizing this DNS server strategy. This method uses your WiFi to get around the Apple security system. So you won't require a SIM card in that frame of mind to get this to work. You will not be utilizing your iPhone's iOS. Instead, you use a server to use every one of the features like Facebook and Instagram.
After you bypass iCloud activation utilizing this DNS method, you can watch videos, browse sites, and perform all the features you want. Of course, it's not ideal as the DNS technique doesn't unlock the lock, yet you get some valuable features. Furthermore, looking at the other option - a blocked iPhone - it is better to have something than nothing.
The steps in DNS Bypass iCloud Activation are easy; here are the steps.
Step 1.

When you switch on your device, pick your LANGUAGE and COUNTRY from the menu.
Step 2.

Click "Continue" to enter the WiFi settings page.

Whenever requested to connect with WiFi, search for the "I" icon near the WiFi tab.
Step 3.

Presently, disconnect the WiFi, go to "Connection Settings," and snap "Forget this Network."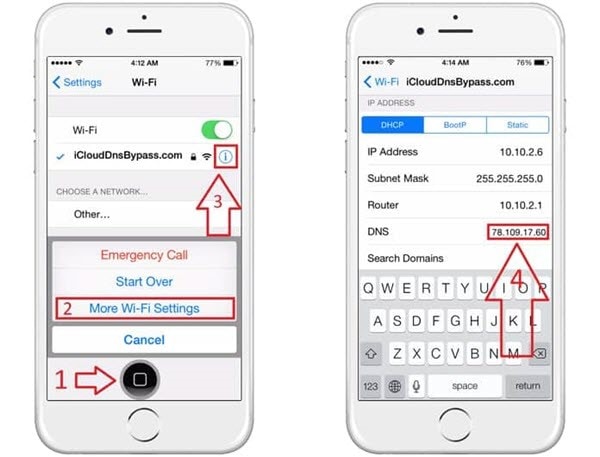 Step 4.

Click the "I" icon and enter a DNS server IP address to bypass the iCloud activation lock.

You can see all the IP addresses as per your area:

USA: 104.154.51.7

South America: 35.199.88.219

Europe: 104.155.28.90

Asia: 104.155.220.58

Australia and Oceania: 35.189.47.23

Others: 78.100.17.60
Step 5.

Click the "Back" choice at the left half of your screen, and turn on WiFi.

Then select your from the rundown, and enter your password.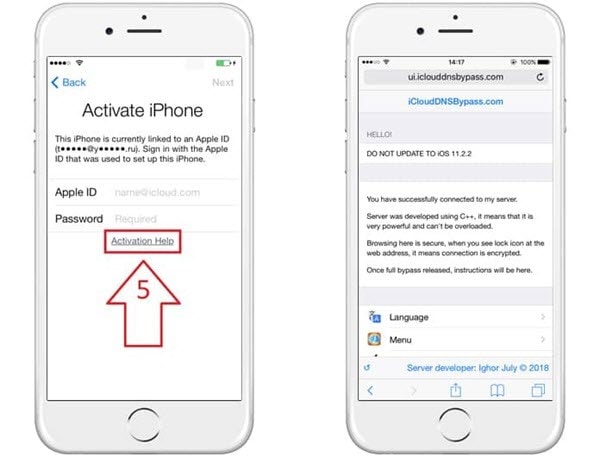 Step 6.

Click "Next Page" and snap "Back" to enter the iCloud bypass screen.
Step 7.

You can now set up your app and work on your device.
Part 2: FAQs
Q1. Can I remove the iCloud activation lock remotely?
A1: If you can't connect with the past user for unknown reasons, say they have migrated to another place, you can't unlock the lock. So your wisest option is to use the internet-based iCloud site and get the first owner to remove the phone from their account. Then, they only need to sign into their iCloud account from that site and remove their phone.
Q2. How to turn off the activation lock with a password?
A2: When you are on the activation lock screen, you will have the choice of Apple ID and Apple ID passcode, which is there with the first owner of the device. Open the login details screen and get the past owner to fill in the expected fields. You will see the home screen on your iPhone or iPad device whenever they are finished. This method will ensure that you never get the activation lock screen again.
Q3. Does a factory reset remove the activation lock?
A3: No, a factory reset doesn't remove the activation lock from your iDevice. If the activation lock is enabled, you need your iCloud ID details to factory reset your phone. Therefore, if the owner isn't there with you, it is not possible to reset the device for iCloud bypass.
The Bottom Line
iCloud bypass is easy if you have the correct tool. With the best success rate iCloud unlock, Dr.Fone-Screen Unlock is the thing you are searching for. We believe the above strategies will assist you with bypassing the iCloud activation lock. However, if you are looking for the best iCloud unlock service, look no further than Dr.Fone.