Apple is renowned for its trustworthy data security measures. It is difficult for someone to unlock your iPhone without your passcode, whether you use Touch ID, Face ID, or a passcode. That might be an excellent way to prevent hackers from accessing your iOS device. However, it also implies that you will be locked out of your iPhone if you forget your passcode.
You might try to guess the passcode, but if you repeatedly input the wrong one, your iPhone will be disabled, and you won't be able to try again.
As a result, you're trying to figure out how to unlock your iPhone when you lose the passcode or Face ID. You are now in the proper location. This post will demonstrate when you don't have the passcode or face id and how to unlock your iPhone.
Part 1: Best Ways to Unlock iPhone without Passcode or Face ID
1. Unlock it via Find My
Users can remotely delete everything from the iPhone, including the passcode, using Apple's Find My iPhone feature. It might be the simplest way to unlock a locked iPhone. But to employ this technique, you must ensure the following:
You still recall your Apple ID to sign into the locked iPhone.
The device's Find You turn on my iPhone feature.
The iPhone has a connection to the Internet.
In that case, adhere to these instructions to unlock your iPhone without a passcode:
Step 1.

Open your computer and go to iCloud.com.
Step 2.

Use the Apple ID and password to access the locked iPhone to log in to the iCloud website.
Step 3.

To view every device connected to your Apple ID, select "Find My" and "All Devices."
Step 4.

Pick the iOS device that is locked.
Step 5.

Then, a menu with several choices, including "Play Sound," will appear. "Lock," "Erase iPhone," and.
Step 6.

To wipe the iPhone, click the "Erase iPhone" button.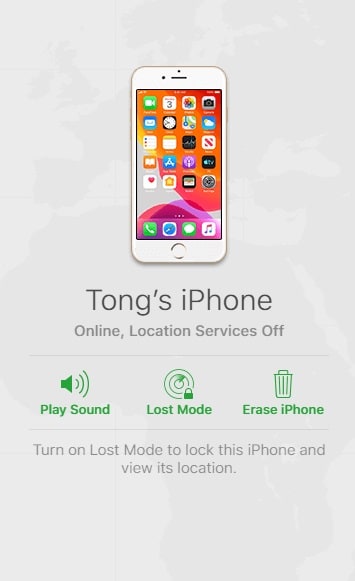 2. Via iTunes
Using iTunes to restore your iPhone is another way to unlock it without a passcode or Face ID. It's necessary to connect your iPhone to your computer to complete this. Take these actions on how to unlock iPhone without having passcode or face id 2022.
Step 1.

Look over to see if the most recent version of iTunes is installed by logging into your computer. Close iTunes if it's already open.
Step 2.

Put your locked iPhone in recovery mode and connect it to your computer using a Lightning USB cord.

Tip: If Find My is on, iTunes may not identify a locked iPhone, and even if it does, it won't be able to restore your iPhone. iTunes can easily recognize and fix your locked iPhone by putting the iPhone in recovery mode.
Step 3.

Launching iTunes will instantly recognize your iPhone and provide a dialogue box with options to update or restore it.
Step 4.

Choose the Restore option and adhere to the on-screen steps to unlock your iPhone if you forget the passcode.
Step 5.

You're done when the iTunes page says, "Success, your iPhone has been unlocked."

But, unfortunately, your iPhone has no Face ID or password, making it feel like a brand-new device. To enter, you only need to reset it.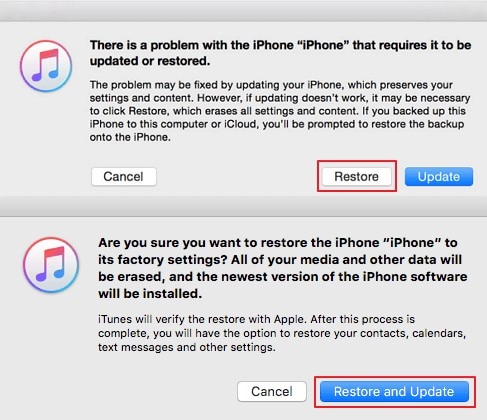 3. DNS server
How to unlock the iPhone without passcode or face id in 2022? It is possible to unlock an iPhone by creating a DNS through HTML or an online server, albeit this method may be challenging. While it might not always be successful, it is a risk worth taking. Unfortunately, only iOS 10 and later versions support this strategy.
Step 1.

If your iPhone has already been powered on, turn it back on or restart it.
Step 2.

Navigate to the iPhone's settings.

Navigate to "Choose Wi-Fi Network" by tapping Wi-Fi.
Step 3.

"More Wi-Fi Settings" should be chosen.

Next, select the "I" icon next to the visible Wi-Fi network.
Step 4.

Decide on "Configure DNS." Choose "Manual."
Step 5.

Choose "Add Server."

Enter the IP address that is local to you. Then, use the server IP addresses listed below.
European continent: 104.155.28.90
America: 104.154.51.7
Africa, Australia, and any other locations: 78.109.17.60
Asia: 104.155.220.58
Step 6.

Choose "Save."

Then select "Ask to Join Networks" by pressing the back arrow button.
Step 7.

Enter the network password and select "Join."
Step 8.

Select the back arrow button to return to the setup screen whenever your iPhone tries to activate.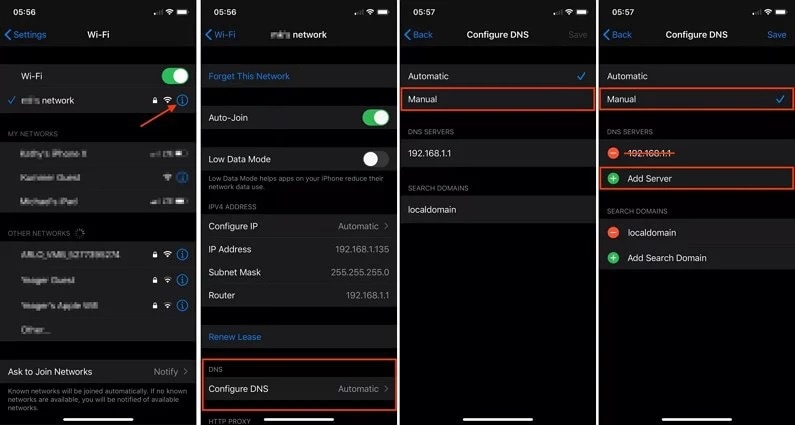 One of the simplest ways to unlock an iPhone without a passcode or Face ID is to use a specialized tool like Dr.Fone - Screen Unlock. The program offers a rapid, one-click process for swiftly unlocking iOS devices. As a result, you can open an iPhone, regardless of whether the device was locked due to multiple unsuccessful attempts or you just forgot the passcode.
Additionally, you may delete Apple ID from iOS devices, get around the iCloud activation lock, and more with this tool. It is straightforward to handle. You can use this program to open an iPhone without a passcode, Face ID, etc., even if you have no technical expertise. Also supported by Dr.Fone - Screen Unlock are the most recent iPhone models and iOS upgrades.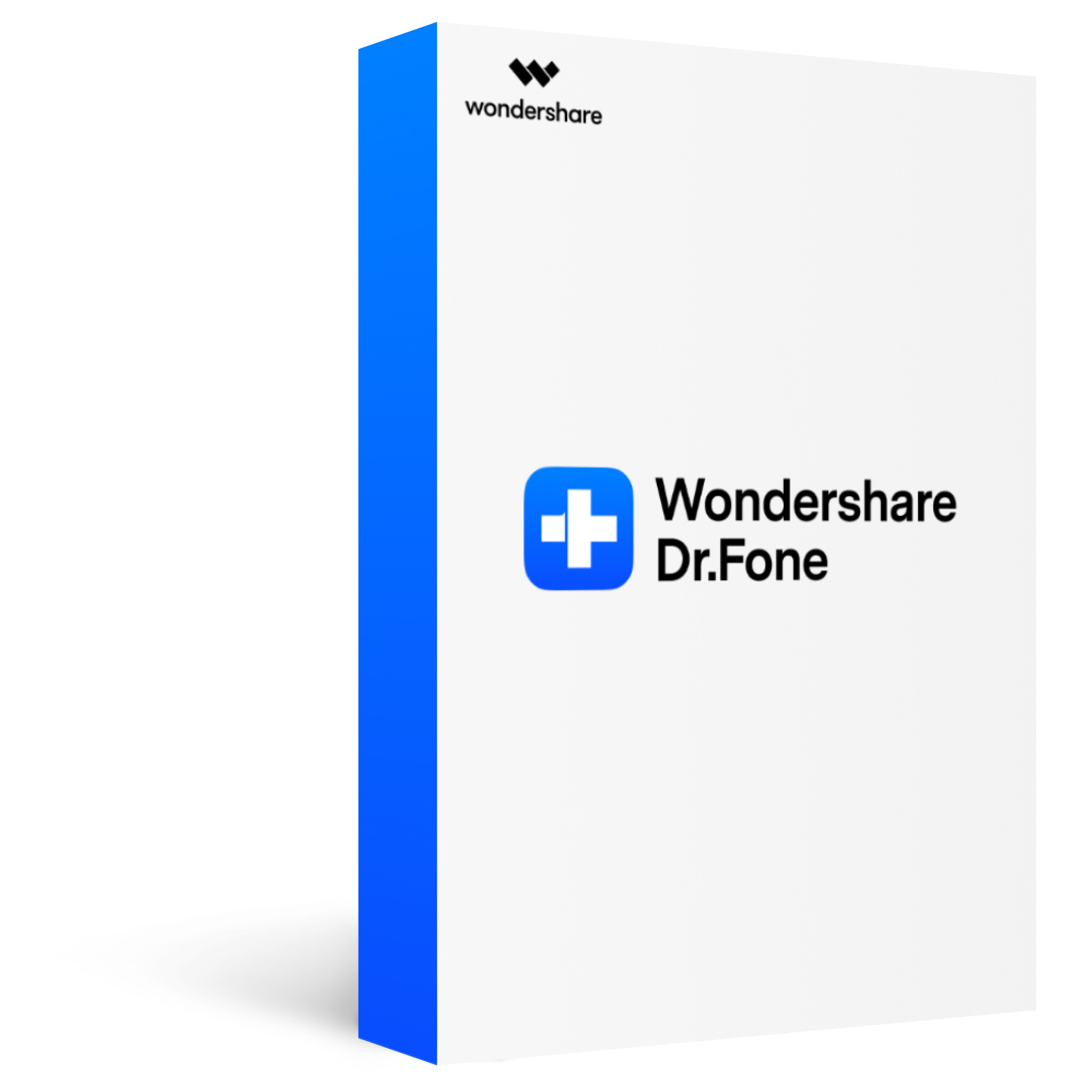 Dr.Fone - Screen Unlock (iOS)
Remove all types of screen locks on iOS devices
2,985,172 people have downloaded it
Unlock all types of screen lock on iOS device within clicks, including iCloud Activate lock, MDM lock, 4-digit/6-digit passcode, Apple ID, Touch ID, Face ID, screen time passcode, etc.
Remove the screen lock in any scenarios anytime, such as forgot passcode, the device is disabled, second-hand device, unknown passcode, etc.
Unlock iCloud activation lock without jailbreak.
Remove MDM profile & bypass MDM lock without data loss.
No technical knowledge required.
Check out the specific steps listed below to unlock your iPhone 14/13 without a passcode right away:
Step 1.

Connect your iPhone/iPad to your computer.

Open Dr.Fone and you will see this interface, please find out "Screen Unlock" and click it.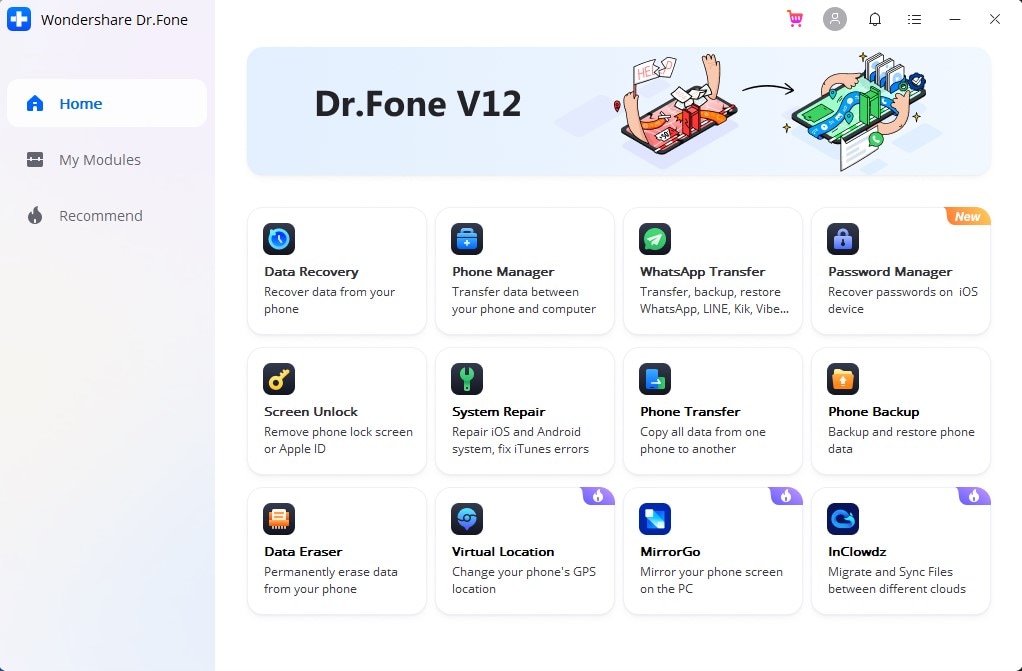 Step 2.

Boot your iOS device into DFU mode.

DFU Mode is the key step to unlocking your iPhone. Then, follow the instructions in the light of your device's make and model. If you have an iPad or an iPhone 6, for example, you should:
After selecting the first panel, "Other Devices," click the Start button.
Hold the Power and Home buttons simultaneously until step 3 flashes.
When your iPad enters DFU Mode, press and hold the Power and Home buttons simultaneously.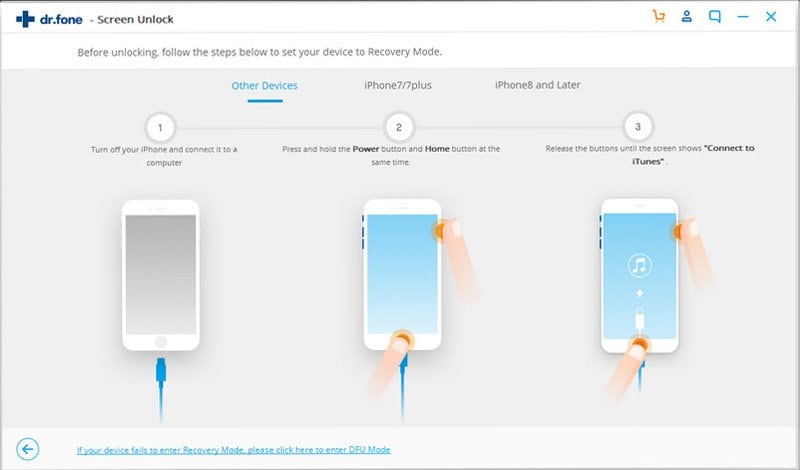 Step 3.

Confirm your iPhone/iPad information.

Dr.Fone will show all device details for you to confirm whether this is the correct device.

After you've given your approval, click the Download button. It won't take a long time to download the firmware online. When the download is over, scan the folder by clicking the Select option at the bottom.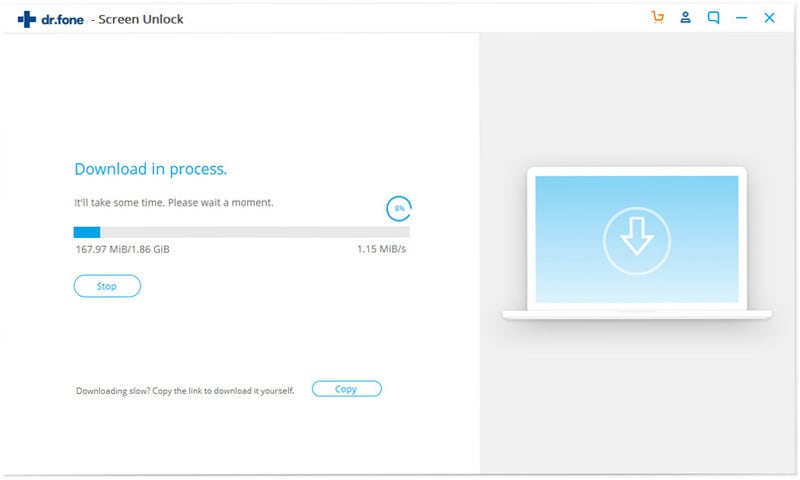 Step 4.

Start to unlock.

Now you can tap "Unlock Now" to keep your unlock process.

To begin the removal operation, type "000000" again to confirm the unlocking and click "Unlock."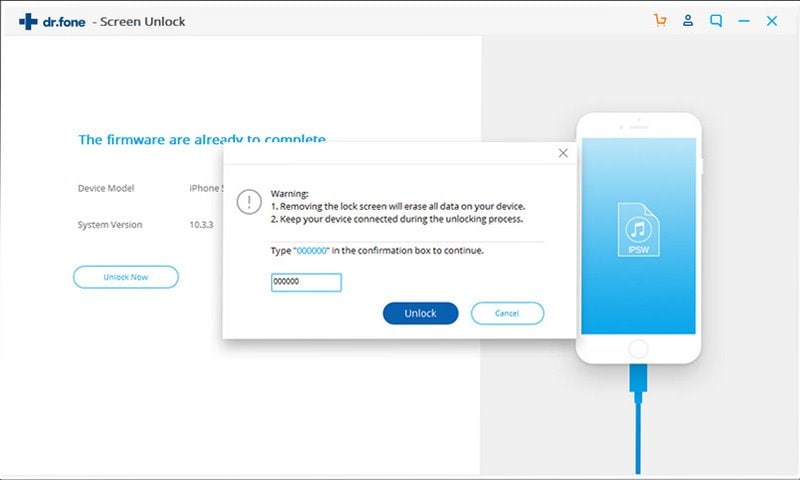 Step 5.

Unlocking process completed.

After completing the unlocking method, your phone will reboot, and the screen lock on your iPhone or iPad will be effectively erased.

It would be best if you were warned that the unlocking process would wipe out your iPhone or iPad's contents, but you will be able to use it again.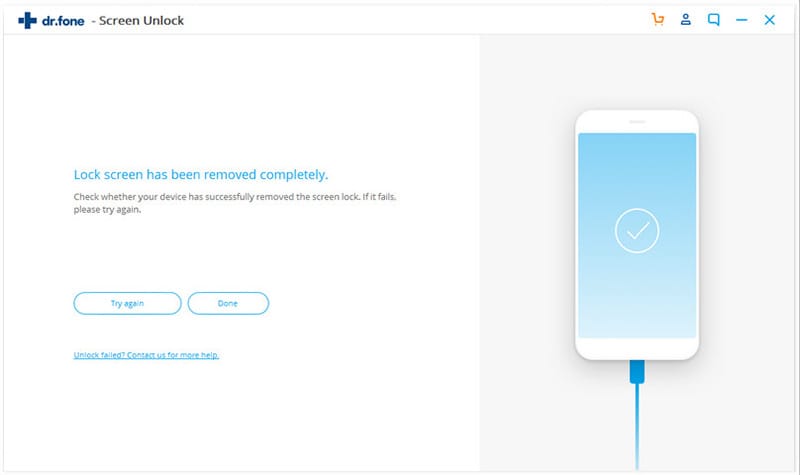 Part 2: How to Turn Off Passcode or Face ID on My Device?
The Settings app is where Face ID may be disabled in the most obvious way. You can turn off Face ID using the following instructions for Apple, iTunes, the App Store, and password autofill. After disabling Face ID, you'll need to unlock your iPhone with the passcode.
Follow these steps to turn off Face ID in the Settings app totally:
Step 1.

First, get your iPhone's Settings app open.
Step 2.

Find your Face ID & Passcode, then, when requested, enter your passcode.
Step 3.

You must now toggle the switches under the Use Face ID for section to turn off Face ID.
Step 4.

Then, if you wish to reset your Face ID, tap Reset Face ID.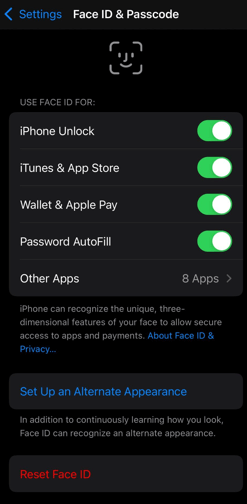 Part 3: Can I bypass my iPhone Face ID with the picture?
According to Apple, the short answer for how to unlock the iPhone without face id or passcode is NO.
Face ID employs a unique chip to scan the face with millions of dots to produce a 3D map of the face. This technology works in bright and dim light at night and requires that your eyes be open. With Touch ID, there is a chance of randomly unlocking an iPhone of 1 in 50,000; with Face ID, it is 1 in 1 million.
The Bottom Line
You cannot unlock your iPhone because you need to remember your passcode, and either your Face ID is broken, or you still need to set one up. Just remain calm. The lock on your iPhone won't last forever. You can resolve complaints about locked iPhones to their owner by using the techniques covered above in this article.
How to unlock iPhone without face id or passcode? You have the most incredible iCloud Activation Lock Bypass Solution with Dr.Fone - Screen Unlock to help resolve all activation locks. You can also fix iCloud activation or iCloud lock issues with your iPhone and other Apple devices. Get Dr.Fone - Screen Unlock immediately to remove the activation lock from your iDevice.