"Some of my important presentations are lost and I can't seem to perform PowerPoint recovery on Windows. Can someone please tell me about a working PowerPoint recovery tool?"
- a question from Quora
This is one of the recent queries from a Windows user about PowerPoint document recovery. A lot of people also suffer from an unexpected loss of data on their systems due to different reasons. Although, if you follow some suggested methods, then you can easily get back lost or deleted PowerPoint files. In this post, I have handpicked the 10 best PowerPoint data recovery solutions and have provided a stepwise solution to use them as well. Let's get to know about these best PPT and PPTx recovery solutions in detail.
Part 1: Recover Lost PowerPoint Files with Inbuilt Microsoft Solutions
One of the best things about Microsoft Office is that it provides numerous ways to recover our data. For instance, you can perform MS PowerPoint recovery via the temp or auto-recover files. Although these are freely available solutions, they are often not that successful. Nevertheless, you can consider giving them a try to do data recovery of PPT files.
Method 1: Recover PowerPoint Files from Recycle Bin
When a file is deleted from Windows, the operating system doesn't get rid of it right away. It is just moved to Recycle Bin and stays there for a while for us to recover. Therefore, if you are lucky, then you can easily do data recovery of your PPT presentation by visiting your system's Recycle Bin.
Step 1 Firstly, find the Recycle Bin icon on the desktop and double-click it to open it.
Step 2 Here, you can view all the recently deleted files on your system. Simply find the PowerPoint presentation you wish to recover and select it.
Step 3 Right-click and choose to "Restore" your presentation back to its original location.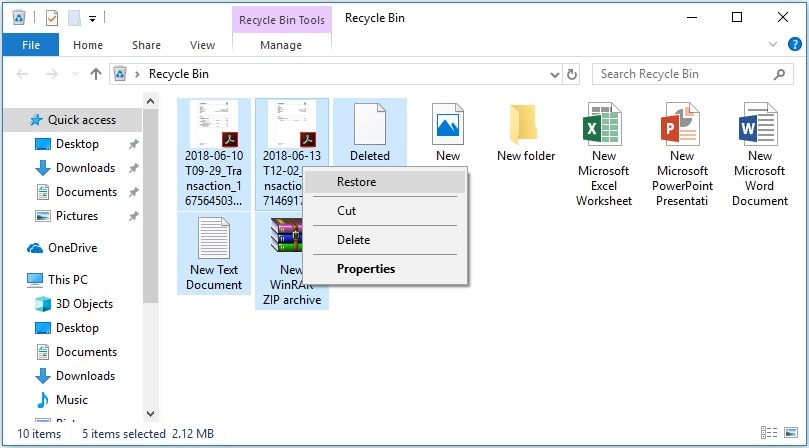 ---
Method 2: Recover PowerPoint Files from AutoRecover Files
AutoRecover is probably one of the best features of Microsoft Office. It works similarly in all the Office applications to help us recover our unsaved or deleted documents. Ideally, your system would automatically save PowerPoint presentations in the background. Therefore, after an unwanted data loss, you can easily do file recovery on PowerPoint by visiting the AutoRecover folder. To perform auto recovery on PowerPoint 2010 or 2007, follow these steps:
Step 1 Firstly, you need to make sure that the auto-save option is enabled on your computer. For that, open PowerPoint on your system and go to its Menu > File > Info.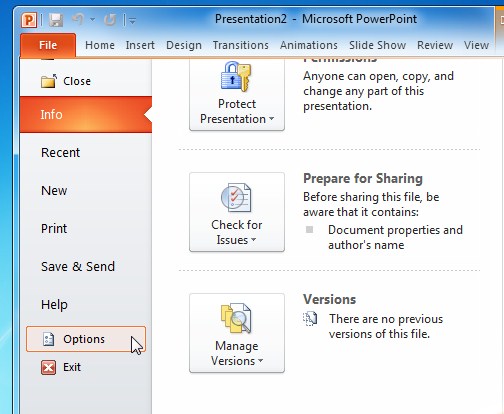 Step 2 As the PowerPoint Options window will open, visit the "Save" tab and turn on the auto-recovery feature. You can also adjust its frequency from here.

Step 3 Right after it, there is an option for "AutoRecover File Location". Simply note the location for the auto recovery PowerPoint 2007 or 2010 folder here.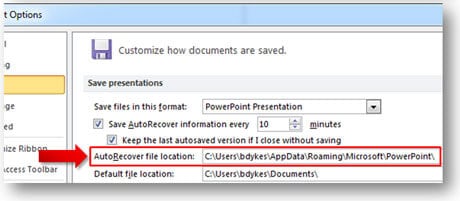 Step 4 Whenever you wish to recover PowerPoint files, go to the AutoRecover location on your Windows.
Step 5 From here, you can view the auto-saved document and try opening it with PowerPoint to access the retrieved data.

---
Method 3: Recover PowerPoint Files from Temporary Files
When we work with a PowerPoint document on Windows, it automatically creates a temporary file in the background. Ideally, it fastens the processing of the document by storing the data in the primary folder during its access. Though, if your PowerPoint file has been deleted or can't be accessed, then you can visit the temporary folder. Chances are that some of the content from the lost file would be recovered from it. Here's how you can do recovery of MS PowerPoint content from temp files.
Step 1 Firstly, you need to locate the Temporary folder in Windows. In most of the cases, it is C: > Windows > Temp. Please note, there "C" is the drive where Windows is installed, which might vary in your case.
Step 2 If you can't locate the document, then simply open the Explorer and go to the expected location. Now, click on the search bar and type "ppt*.tmp".
Step 3 This will let Windows search for all files starting with "ppt" and having a "tmp" extension. This is because PowerPoint temp files are like PPTxxx.tmp where xxxx could be any 4-digit code.
Step 4 From the searched results, you can browse and find the relevant temp files. Once you find it, rename its extension from "tmp" to "ppt".
Step 5 In the end, try to open it with PowerPoint and check if the PowerPoint temp file recovery would yield any positive result.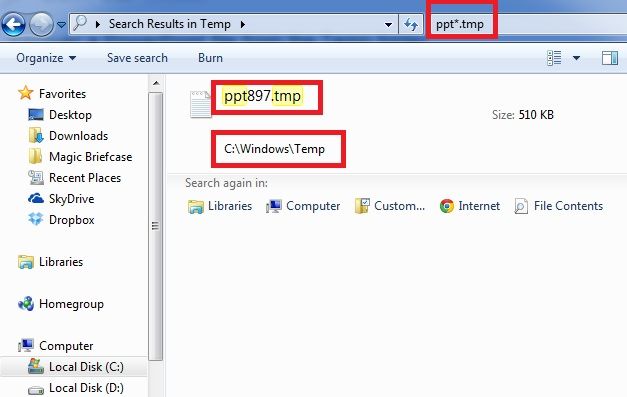 ---
Method 4: Recover PowerPoint Files from OneDrive Backup
OneDrive is a popular cloud service offered by Microsoft. If you want, you can take a backup of your important data on its website or by maintaining a separate folder on your system. In this way, when you suffer from data loss, you can easily do online PowerPoint recovery from OneDrive.
Step 1 Firstly, make sure that OneDrive is active. You can install it on your Windows and sign-in to your account.
Step 2 Once it is done, go to OneDrive backup settings and mark the folders that you wish to save. You can also just drag and drop a file to OneDrive's folder to save it.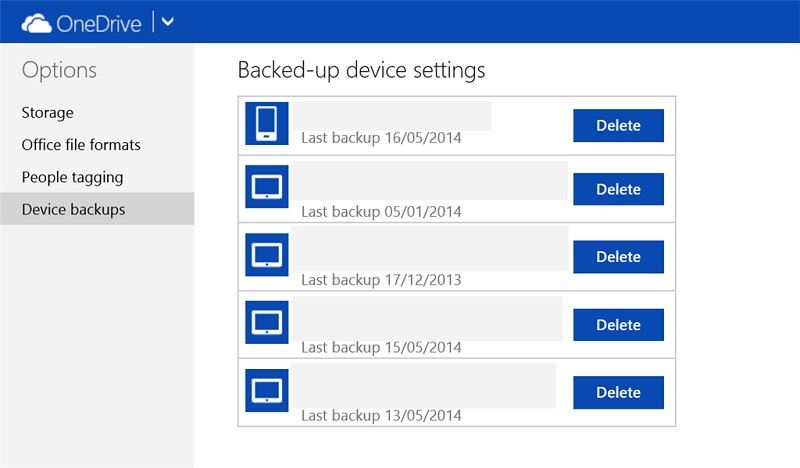 Step 3 Whenever you suffer from data loss, just visit the folder of OneDrive on your system and find the lost presentation. Copy and paste it to the local storage on your system to do PowerPoint data recovery.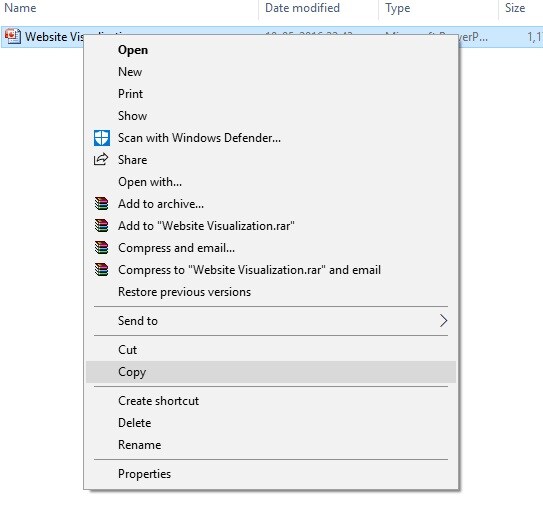 ---
Method 5: Recover PowerPoint Files from a Previous Version
If you have overwritten a PowerPoint presentation with a new version, then you can follow this approach. Too often, we do this by mistake and end up losing the data on the existing file. Though, the previous version might just be present in a temporary file on the same location. Here's a quick solution to do PowerPoint document recovery from its previous version.
Step 1 Firstly, open Windows Explorer on your system and go to the View folder from the toolbar. Under the Show/Hide option, disable the "Hide items" option.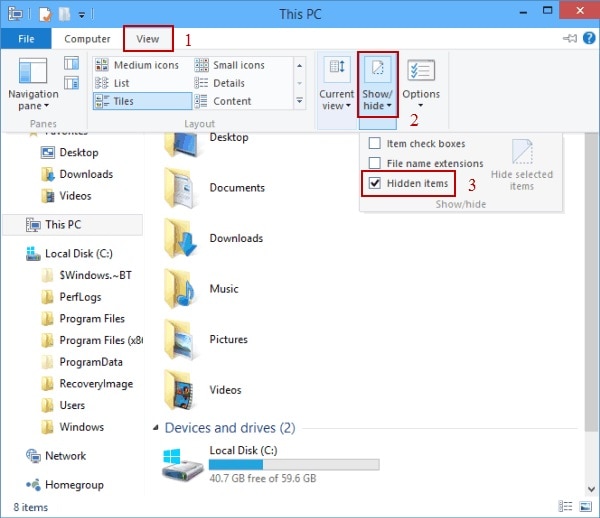 Step 2 The option to view hidden files and folders might be available in Tools in some Windows version.
Step 3 Later, you can go to the exact location from where you have lost a file and view the hidden versions of the document.
Step 4 Simply find a relevant version, change its extension to "ppt", and try opening it with PowerPoint.
Part 2: Recover Lost PowerPoint Files with Document Recovery Software
Although the above-mentioned methods to do PowerPoint recovery are free, they have certain limitations. For instance, they are not that user-friendly and have extremely low data recovery rate. If your PowerPoint file has been deleted for a while, then the inbuilt methods might not work. If you really wish to retrieve your lost presentations, then consider using a PowerPoint recovery software instead.
Method 6: Recoverit (IS)
[most user-friendly and powerful]
If you want to get back your lost, deleted, or inaccessible PowerPoint documents, then try Recoverit (IS). Available for every leading Windows version, it provides a user-friendly and extremely efficient way to get back deleted content. This includes PowerPoint files and other documents of all kinds. The tool has one of the highest data recovery rates and features different scanning methods.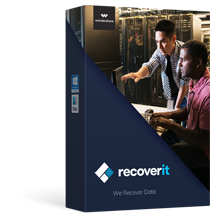 A Life Saver to Solve Your Data Loss Problems!
The PowerPoint recovery software supports the retrieval of PPT, PPTx, PPTm, and other formats.
Apart from PowerPoint document recovery, it can also retrieve Word, Excel, PDF, and other files. It also supports photos, videos, audios, and more.
You can perform PowerPoint data recovery on an internal drive or any other connected source like pen drive, SD card, external hard disk, etc.
It yields exceptional results in all kinds of scenarios like accidental deletion, Recycle Bin data recovery, external device recovery, virus attack deletion, and more.
A preview of the recovered data is provided on its intuitive interface. Since the application is so easy to use, no prior technical knowledge is needed to perform data recovery.

3,165,867 people have downloaded it
You can simply install Recoverit (IS) on your computer whenever you wish to use the PowerPoint recovery tool. Once it is done, follow these basic steps to recover your lost PowerPoint presentation.
Step 1

Select a data recovery mode

After launching the Recoverit (IS) application, you can select a mode to scan. For instance, it can be Recycle Bin recovery, deleted files recovery, external device recovery, etc. In case of an external device recovery, make sure that the source is connected beforehand.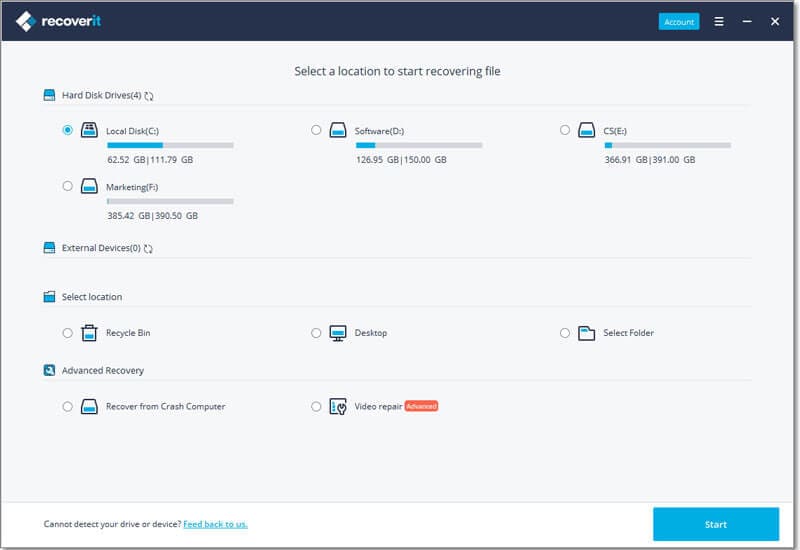 Step 2

Choose a location to scan

The interface will display a list of the available partitions and devices to scan. Simply select a location of your choice and start PowerPoint recovery.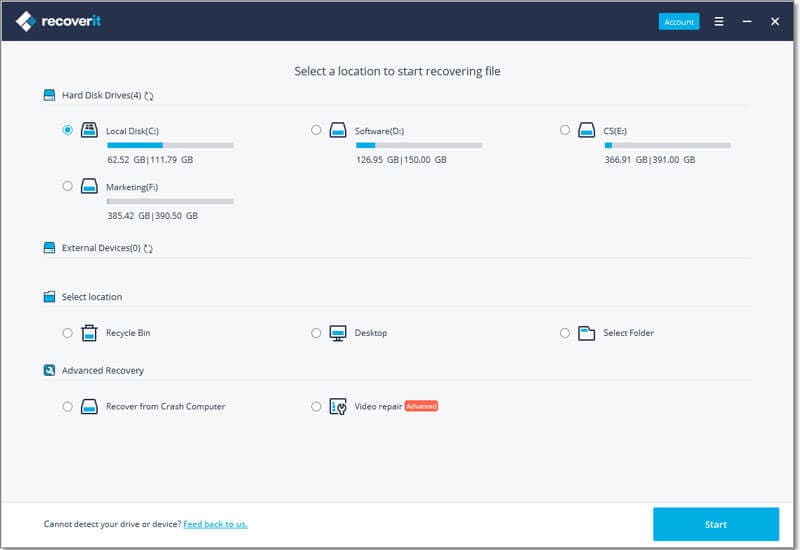 Step 3

Recover your presentations

As the scan would proceed, you can just wait for a while for the process to be completed. Since it might take a while, you are expected not to close the application in between.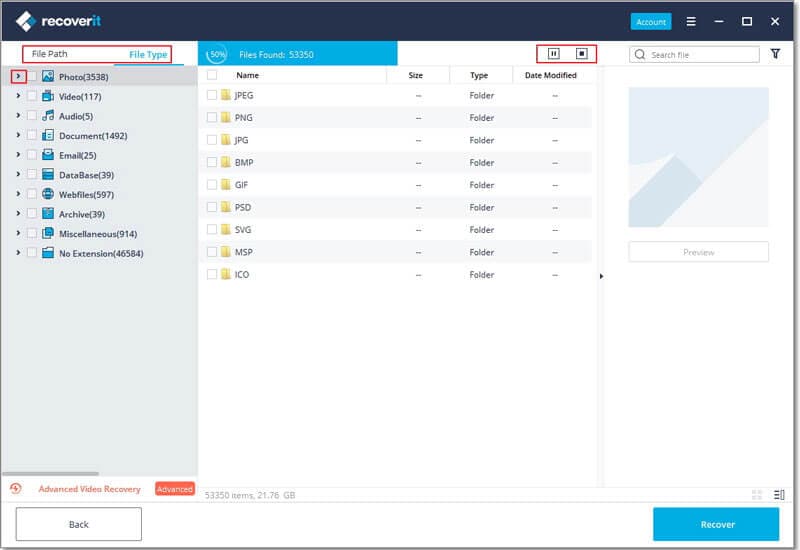 Later, you can preview the recovered data and select it. Click on the "Recover" button and save your files to a secure location.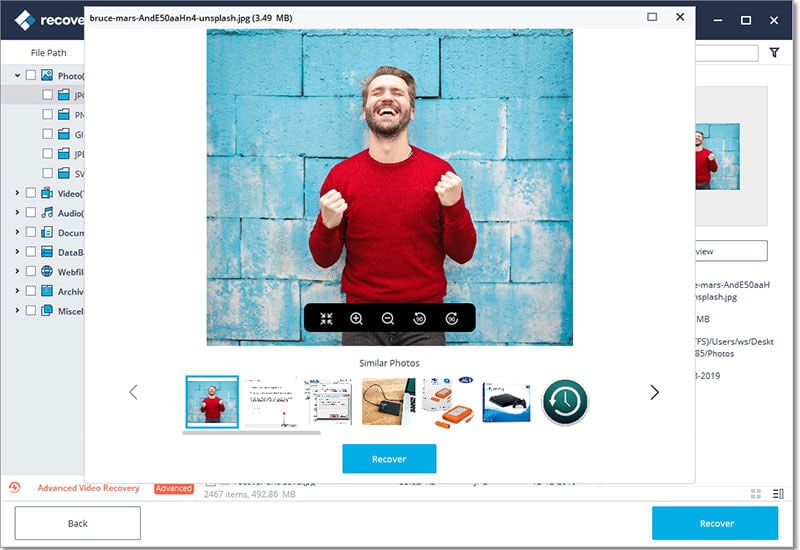 ---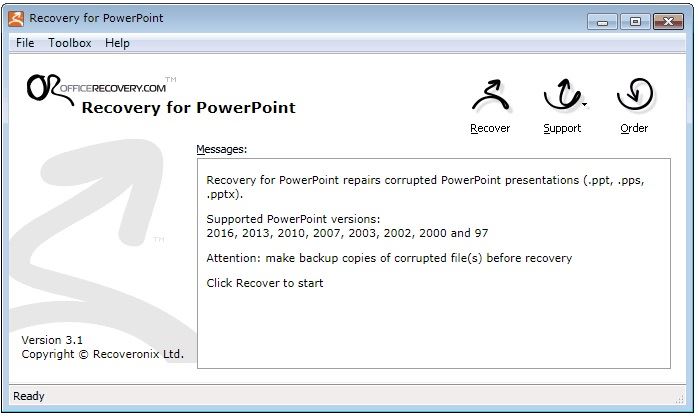 Office Recovery provides dedicated online and offline data recovery solution for MS Office files. The PowerPoint recovery tool can help you get back all kinds of presentations in different formats. It even features an online PowerPoint recovery solution for our convenience.
It is a lightweight PowerPoint recovery software that is available for leading Windows version.
It supports all kinds of PowerPoint versions, from 97 to 2016.
It provides the recovery of PPT, PPTx, and PPS files.
You can back up the recovered content to any other location of your choice.
Pros:
Affordable
Easy to use
Extensive support
Cons:
Low recovery rate
Only supports PowerPoint recovery
---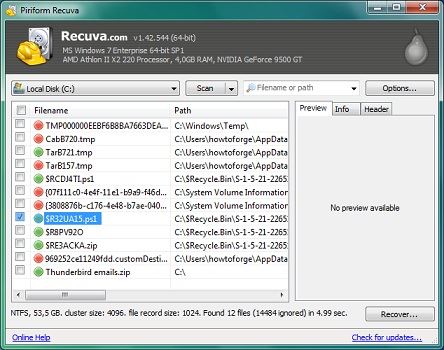 Recuva by CCleaner is another popular solution that you can try to do PowerPoint data recovery. It supports all the major file formats, letting you get back all kinds of Word, Excel, and other documents. It also displays the health of the recovered content as well.
Recuva is an easy-to-use PowerPoint recovery tool that supports all the major files.
It displays the health of the recovered data, letting us know if it can be retrieved or not.
It can also perform MS PowerPoint recovery from an external device as well.
Advanced solutions like virtual disk, Recycle Bin recovery, and more
Pros:
Easy to use
Preview of data available
Cons:
---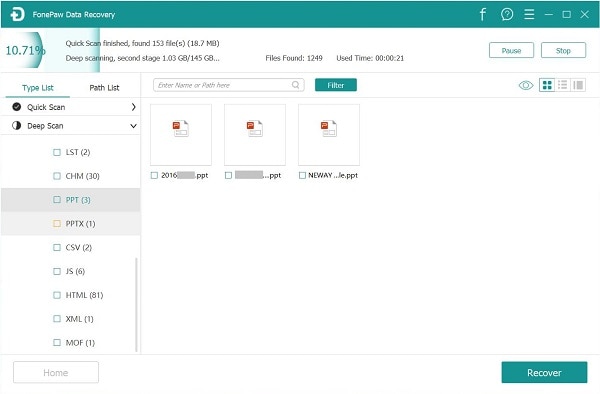 If you are looking for another quick and user-friendly PowerPoint file recovery software, then you can also try FonePaw. It is a complete data recovery tool that runs on Windows and Mac.
The PowerPoint data recovery application supports different data recovery modes.
It can retrieve data from an SD card or USB drive as well.
You can select the data you wish to recover and save it to a location of your choice.
The application is extremely secure and won't leak your data
Pros:
Easy to use
Window and Mac versions available
Cons:
Low recovery rate
Limited customer support
---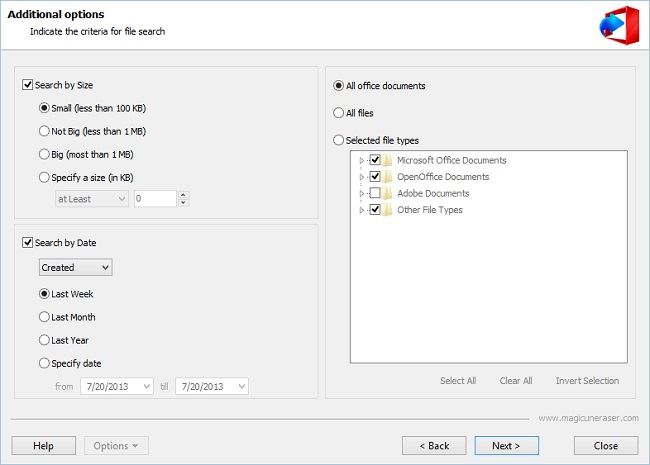 While Magic Office Recovery is not as advanced as the above-listed PowerPoint recovery software, it is worth giving a try. The data recovery tool supports all kinds of MS Office documents and will perform a comprehensive scan on the selected location.
Users can look for a lost content by size, location, type, and more.
It runs on every major version of Windows.
The tool performs an extensive scan and supports all kinds of Office and other documents.
Apart from Windows partitions, you can also perform PowerPoint recovery on SD cards and USB drives as well.
Pros:
High recovery rate
Supports all Office documents
Cons:
Not available for Mac
A bit complicated to use
Part 3: How to Choose the Best PowerPoint File Recovery Method?
As you can see, there are numerous ways to do PowerPoint document recovery under different scenarios. If you want to pick the best PPT document recover
Recovery rate: This is the most important thing to look for in a PowerPoint recovery tool. The higher the data recovery rate, the better the tool would be.


Data support: Needless to say, it should support all kinds of PowerPoint documents and formats.


Ease of use: The method should be easy to use, so that even people with no technical experience can use it.


Security: If you are using a PowerPoint recovery software, then make sure it would keep your data secure and protected.


Other factors: Apart from that, look for other factors like customer support, application availability for Mac/Windows, feedback from its users, and so on.
Part 4: How to Prevent Data Loss of PowerPoint Files?
Although you can use a PowerPoint file recovery tool to get back your lost and deleted content, it is important to take some preventive measures. Follow these suggestions to prevent an unexpected loss of data on your system.
Always maintain a backup of your PowerPoint files, so that you can retrieve a lost file from its second copy.


Install an anti-virus tool on your system and keep it active to prevent it from a malware attack.


Only use an authentic MS Office application that won't corrupt your documents.


Don't save identical documents in the same location to prevent the overwriting of data.


Try not to Shift + Delete the file so that it would first go to Recycle Bin from where you can easily retrieve it.


Avoid connecting your USB drives or SD cards to public computers for unexpected data loss.
Now when you know ten different ways to perform PowerPoint recovery, you can easily get back your lost PPT documents. The guide has included inbuilt Windows as well as PowerPoint recovery software that you can try. Since the inbuilt solutions might not be that effective, it is recommended to go with a reliable PowerPoint recovery tool like Recoverit (IS). It is one of the best data recovery tools that will certainly help you get back your lost content under different scenarios. Feel free to give it a try and keep the tool handy to overcome any unwanted data loss.