"I was working on an important PowerPoint presentation a while back and forgot to save it afterward. Can someone please tell me how to recover PowerPoint not saved?"
- a question from Quora
If you are also going through a similar situation that can't seem to find your unsaved PowerPoint documents, then don't worry. There are not one but numerous ways to recover PowerPoint file not saved issue. A while back, I was going through a similar situation and couldn't recover unsaved PowerPoint in 2007. Though, by using a data recovery tool, I could easily overcome this problem. Since there are tons of native and third-party solutions to recover unsaved PowerPoint, you can also get your inaccessible presentations back. Read on and learn how to recover unsaved PowerPoint right away.
Solution 1: Recover Unsaved PowerPoint File with the "Recover Unsaved Presentations" Option
To start with, let's discuss the inbuilt option in PowerPoint that automatically saves a document in the background. In case you are not able to save your PowerPoint document, then you can visit the "Unsaved folder" in Windows. If you are lucky, then you can easily recover PowerPoint file not saved by following this approach. To learn how to retrieve unsaved PowerPoint, the following steps can be taken.
Step 1 Choose to recover unsaved presentations
Firstly, launch Microsoft Office PowerPoint on your system and open any new presentation. Afterward, go to its Menu and visit the Info tab. Under the "Manage Versions" option, you can choose to recover unsaved presentations.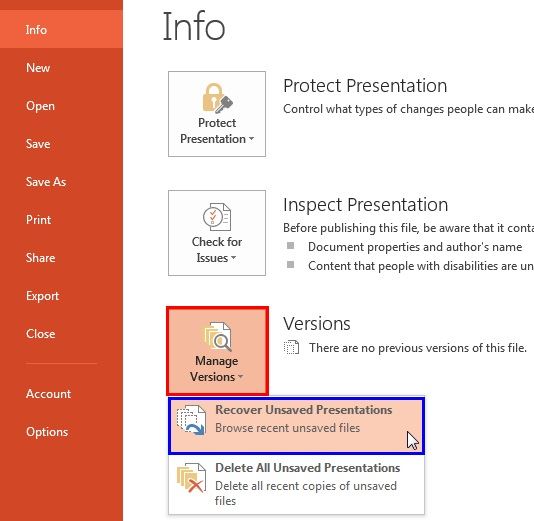 The feature can also be explored even without opening a new presentation beforehand. You can simply launch the PowerPoint application and go to its Menu > Files > Open tab. On the right, you can view an option for "Recover Unsaved Presentations". Simply click on it to recover unsaved PowerPoint 2007, 2010, 2013, etc.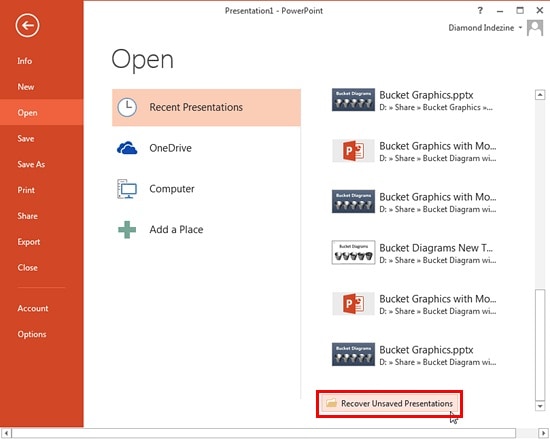 Step 2 Select an unsaved document
Once you choose to load unsaved presentations, the interface will display a browser window. It will automatically be located to the "Unsaved" folder of Microsoft Office. You can simply select the unsaved document from the list and open it.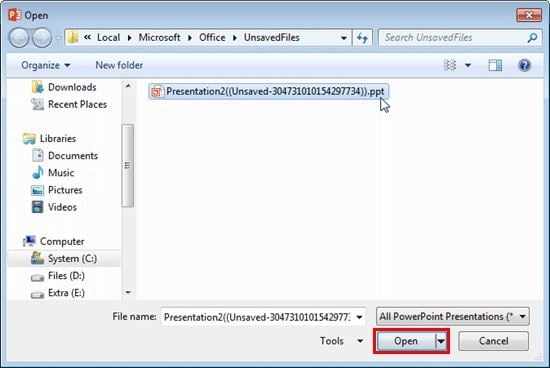 Step 3 Recover your presentation
In no time, PowerPoint would recover unsaved file and will display its content on the interface. You can check the loaded data and click on the "Save As" button to save it in a secure location.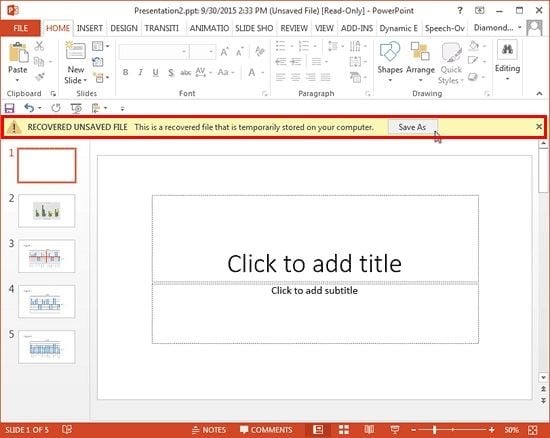 Solution 2: How to Recover PowerPoint Unsaved Using the AutoRecover Function
AutoRecover is probably one of the most useful features in Microsoft Office, which is present in every leading version of the software. You might already know that by default, all the Office applications (including PowerPoint) keep saving the documents in the background. Therefore, if the document is not saved by the user or has been closed unexpectedly, then it can be retrieved from the auto-saved version. If you want, you can also recover unsaved PPT file by exploring the AutoRecover feature of the application in the following manner.
Step 1 Turn on the AutoRecover feature
This is something you need to take care of beforehand. Firstly, launch the PowerPoint application on your computer and go to Menu > File > Options.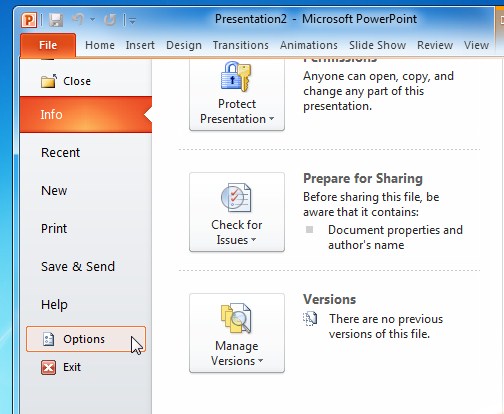 This will open the PowerPoint Options window on the screen. Go to the "Save" category from the left panel to explore the features. Here, you need to turn on the "Save AutoRecover Information" option. If you want, you can change the AutoRecover frequency from here as well. Ideally, it can be anywhere between 5 to 10 minutes.

Step 2 Note the AutoRecover location
From the PowerPoint Options window, you can also see the "AutoRecover File Location" tab. Here, you can change the location where you wish to save the AutoRecover files or can copy it as well.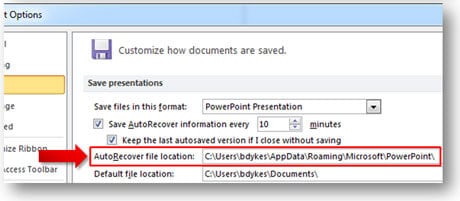 Step 3 Explore the AutoRecover files
Whenever you wish to recover PowerPoint unsaved documents, simply visit the AutoRecover location. Mostly, it is User > App Data > Roaming > Microsoft > PowerPoint > AutoRecover. Just open the auto-recovered files in PowerPoint and try to restore your presentation.

Solution 3: How to Recover Unsaved PowerPoint from Temp Files
This is another native solution on how to recover PowerPoint unsaved documents in Windows. Whenever we are working on any PowerPoint document, Windows automatically creates some temporary files to store intermediate data. Usually, these files are transferred to the cache so that we can easily access the recent file. Therefore, if you have lost a PowerPoint document or forgot to save it, then you can try to look for its temporary file and later open it with PowerPoint.
Step 1 Look for the Temp File
It is one of the most time-consuming things to look for temporary files on Windows. Ideally, PowerPoint temporary files are stored in the PPTxxxx.tmp format. Here, "xxxx" could be any random 4 digit generated by the application to uniquely identify the temporary file. To look for a temporary PowerPoint file, go to the TEMP folder in your Windows drive. In most of the cases, it is C: > Windows > Temp.
Now, click on the search bar on the top-right corner and type "ppt*.tmp". This means that we are looking for any file that would start with "ppt" and has a ".tmp" extensive. Once you start the search, Windows will look for all the PowerPoint temp files saved in the specific location.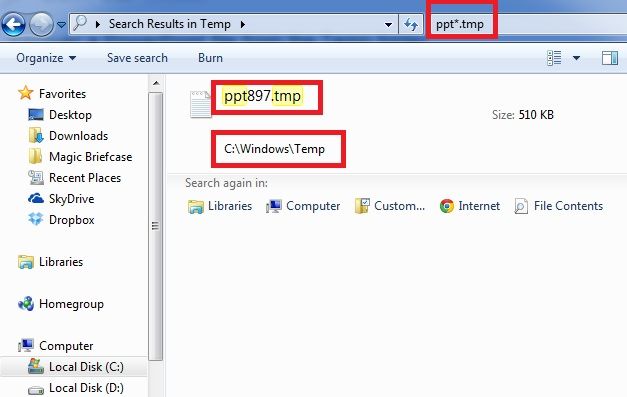 Step 2 Rename and open the file
Wait for a while as Windows would display a list of the available PowerPoint temporary files. From the list, you can explore the options and look for a temporary file you wish to extract. Select the relevant file, right-click, and choose to rename it. Forcefully change its extension from ".tmp" to ".ppt" and open it with PowerPoint. If you are lucky, you would be able to recover unsaved PowerPoint this way.
Solution 4: Recover Unsaved PowerPoint Files Using Recoverit (IS)
[Recommend]
While the above-listed native Windows or PowerPoint solutions might be free, chances are that they might not meet your requirements. Most of them rely on the auto-save or auto-recover feature of Windows, which isn't the best way to recover unsaved PowerPoint files. If you really want to learn how to recover a PowerPoint that was not saved, then consider using Recoverit (IS). It is a dedicated data recovery tool and is a part of the dr.fone that will help you get back all kinds of lost or deleted content.
It doesn't matter what the situation is or what kind of data you have lost, the application will certainly come handy to you on different occasions. It can recover all kinds of PowerPoint documents, including PPT as well as PPTx files. Besides that, it can recover all the other types of data files, documents, compressed folders, photos, videos, audios, and what not.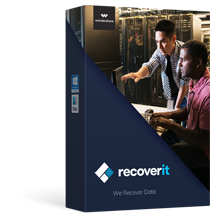 A Life Saver to Solve Your Data Loss Problems!
The application is extremely easy to use and will let you recover unsaved PPT even without any prior technical experience.
It supports all kinds of PowerPoint and Windows versions. Therefore, you can run it on Windows XP, Vista, 7, 8, or 10 to recover unsaved PowerPoint 2007, 2000, 2010, 2013, and numerous other PPT files.
Apart from PowerPoint, you can also recover other important documents, emails, media files, compressed folders, etc.
It is known for its high data recovery rate that supports all the common scenarios like a crashed system, accidental deletion, formatted disk, virus attack, lost partition, and so on.
You can recover PowerPoint file not saved from your system's internal partition or any other connected device like SD card, USB drive, external hard disk, etc.

2,965,271 people have downloaded it
Using Recoverit (IS) tool to recover unsaved PowerPoint documents is extremely easy. You can visit its website to download it on your Windows and Mac, as per your choice. Once it is done, follow these steps to learn how to recover unsaved PowerPoint using Recoverit (IS).
Step 1 Select a Recovery Location
Firstly, launch the Recoverit on your computer and pick a recovery partition where your data lost from its home.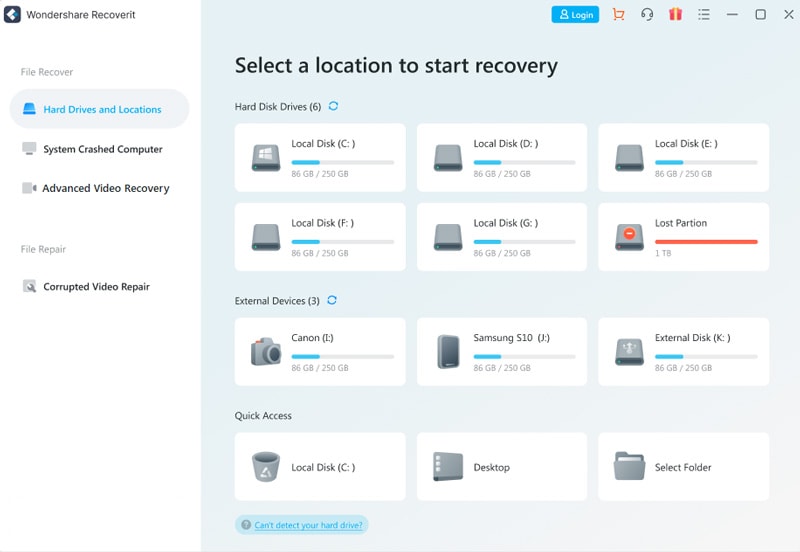 Step 2 Start to scan.
After selecting a location, please click "Scan" button, the application would commence the data recovery process and will try to extract your file. Sit back and wait for the recovery process to be completed.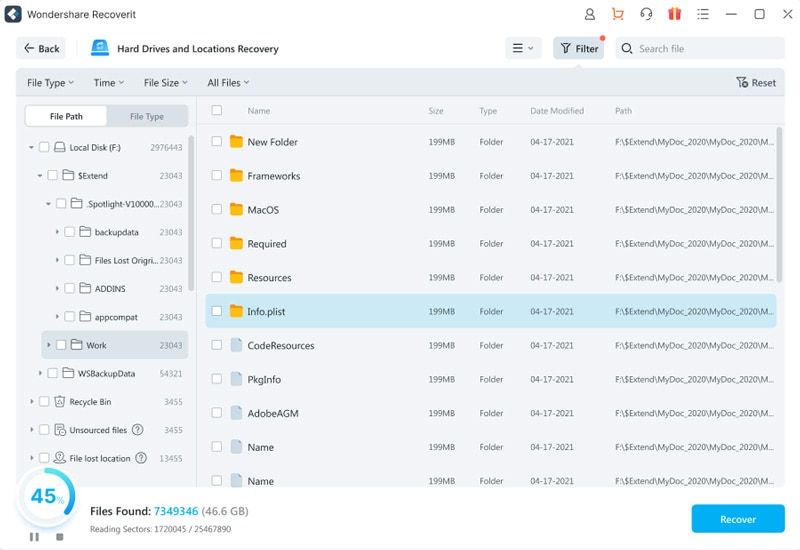 Step 3 Preview and restore your PowerPoint files
In the end, you can view the extracted content on the interface and even preview your data. Select the retrieved PowerPoint document and click on the "Recover" button to get it back.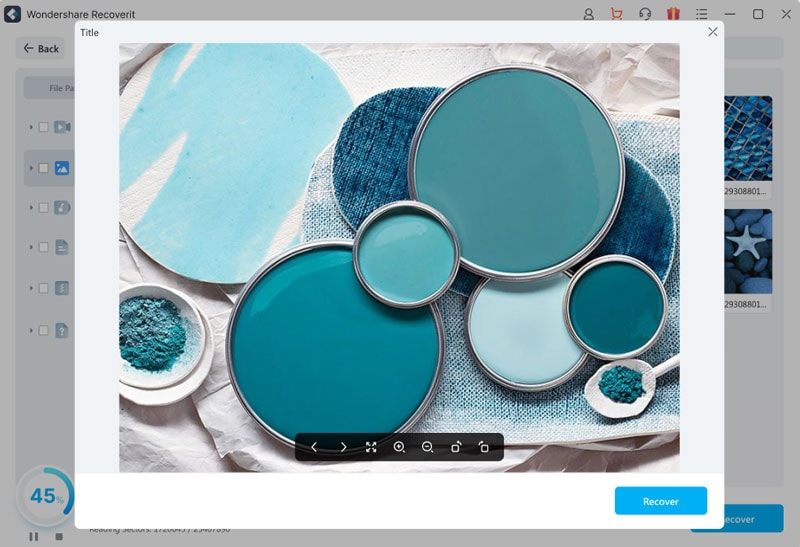 See also: Full Guide on How to Recover Deleted/Unsaved/Overwritten PowerPoint Files.
Conclusion
That's it! By following this simple 3-step process, you can easily recover unsaved PowerPoint document from your system. Though, the application also supports a deep scan (All-around recovery) that you can perform if you aren't satisfied with the initial results. The best part about Recoverit (IS) is that the basic version is available for free.
Thus, anyone can try the data recovery application for free and later get its premium version, according to their needs. Go ahead and try Recoverit (IS) to recover unsaved PowerPoint files and never face any unwanted situation like this again.