You might have saved a PowerPoint presentation, but upon trying to access it next time, you find that the file has gone corrupt. Obviously, it is impossible for you to recreate it again, especially you might need to use it urgently. Thus, is it anyway to recover a corrupted PowerPoint file without data losing? Absolutely, the answer is YES. But how?
The facts have proven that there are ways to recover corrupt PowerPoint file and repair it as well. But lots of users might not know it. So in this article, we'd like to guide you repair corrupted PowerPoint presentations and get them back in different ways. You can compare them and pick up the best one to restore your corrupted PowerPoint file as you like.
Part 1. Move PowerPoint to Another Location
Firstly, you need to check the PowerPoint stored location. You can easily find it in another location.
Open the folder using Windows Explorer where the presentation file is stored. Then, copy the file and move it to another place for storage.
When the presentation is on a hard drive, move it to USB; in case it is on a USB, try to move it to the hard drive.
Once the file has been moved to a new location, try to run it. If the file is running from the moved location, it indicates that the original file or folder location is corrupt.
In order to run a scan for errors and fix the same, you can visit My PC section in Windows and right click on the disk where the issues are found. Select "Properties" from the Tools tab and then click on "Check Now" option. This will check a start repair if required.
In case of Mac PCs, visit the "Utilities" folder where Disk Utility is present, open disk where the problem is found and click "First Aid" option.
Part 2. Insert Slides to A New PowerPoint Presentation
PowerPoint files, when corrupt, can be recovered by trying to insert the slides onto a new presentation file. The steps to follow are:
Open a PowerPoint presentation and create a new blank one, then click on "Reuse Slides > New Slide".
Upon clicking the "Browse" button to select the files that have corrupted, highlight and click on "Open".
Right click on any slide that you find on the preview and select the option to Reuse All.
You can then check on the imported slides by opening the new presentation file and accessing the slides one by one. Press "Ctrl+S" to save it on your PC.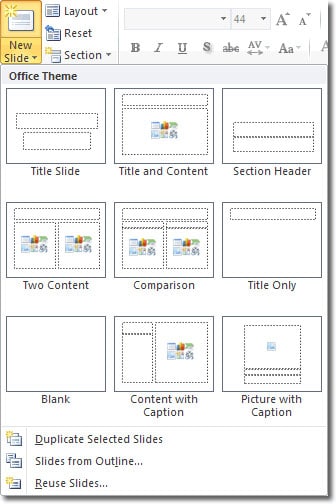 Note:
If the access is not allowed, you can import the corrupted files onto Theme template by clicking on "File" tab on the menu, and follow the below steps to continue restore corrupted PowerPoint presentation:
Click on "Design > More" option under the "Themes".
Select the corrupted or damaged file and click "Apply". This will prompt slide master to load and restore theme on the damaged file.
Save the presentation by clicking "Ctrl + S".
Part 3. Open PowerPoint in the Safe Mode
If a PowerPoint presentation file is corrupt, you could try to open the same in Safe Mode. The file might not showcase all the formatting, but you would be able to edit as well as format the slides. Steps to follow are: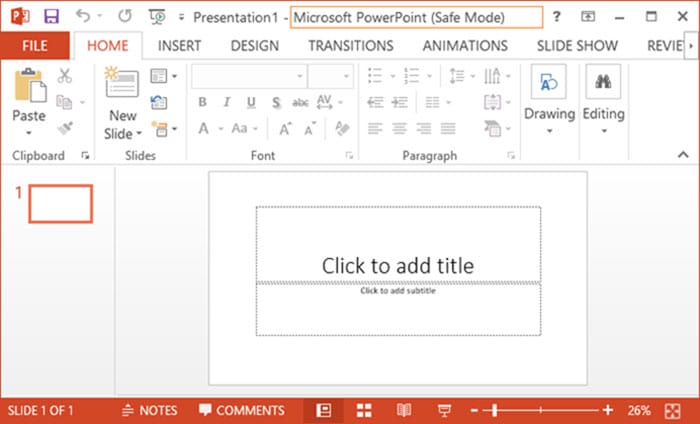 Click on "Start" menu and type in "PowerPoint/safe", then press "Enter".
The PowerPoint file will be launched with new blank presentation, and please make sure the "Safe Mode" appears with the file name.
Click on the "File" menu and select to open the corrupt file. Now, you can check if the file be opened in the Safe Mode.
In case this process fails, you would be required to get the application reinstalled.
Part 4. Open PowerPoint Presentation in PowerPoint Viewer
PowerPoint Viewer is a program offered for free along with the Office suite by Microsoft. In case you have a presentation file that is corrupted, you would want to open it in Windows using this application. The process to follow here is:
Double click on PowerPoint Viewer file to start installer.
Select the default settings in this installation and follow prompts as given.
After installation is completed, it will starts the Viewer by visiting the Office section on the Start Menu of your PC.
When the program is opened, navigate through to select the corrupt presentation.
Once it is opened in Viewer mode, you could check to see if you are being able to view all the slides.
Part 5. Best Tool to Recover Corrupted PowerPoint
[Must Read]
When you have tried all solutions above, you might have regained your PowerPoint presentation, right? If they are not useful for you, you can also take a free trial on the best Recoverit (IS) for Mac or Recoverit (IS) for Windows.
They can help you conduct a deeply scanning on your Mac or Windows computer, and display all types of files for your reference, including the temp, hidden or deleted files. So you might find temp files or previous versions for your corrupted PowerPoint presentation, and restore them to your computer easily. It can be the best PowerPoint corrupted file recovery tool.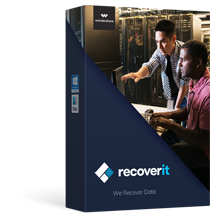 A Life Saver to Solve Your Data Loss Problems!
It is compatible with both Windows and Mac operating system.
It supports a large number of storage device type including hard drives, USB flash drives, SD cards, etc.
All major types of files can be recovered including Office document, music, images, video, documents, emails, and archives.
It has a deep scan features for in-depth scanning of the hard drive for searching files to recover.

3,065,271 people have downloaded it
Now, Let's follow this step-by-step guide to learn how to use this amazing tool to help us recover corrupted PowerPoint fils in one-click.
Step 1 Select a Recovery Mode
Launch the Recoverit (IS) on your computer and choose a recovery mode from its home. If you wish to recover data from any other device, then connect it, and pick the external device recovery option.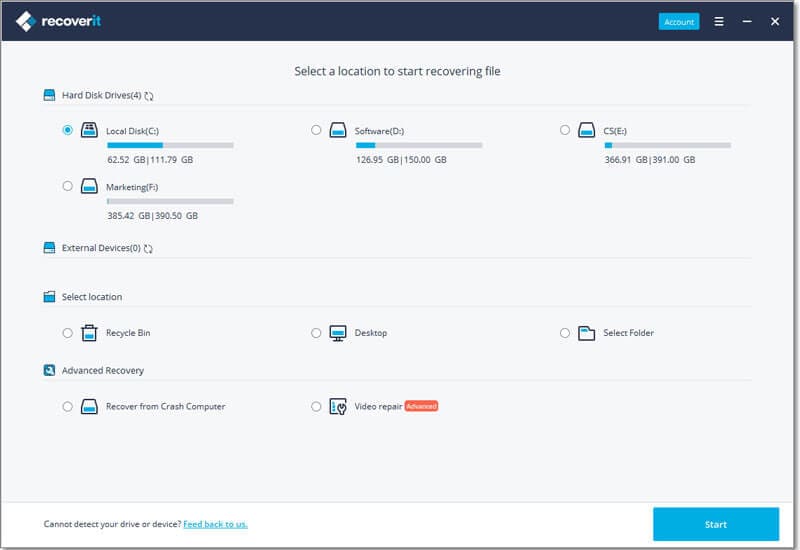 Step 2 Select the location to scan
In order to proceed, you need to select a location to scan all the files. It can be an internal partition of your computer or a connected source.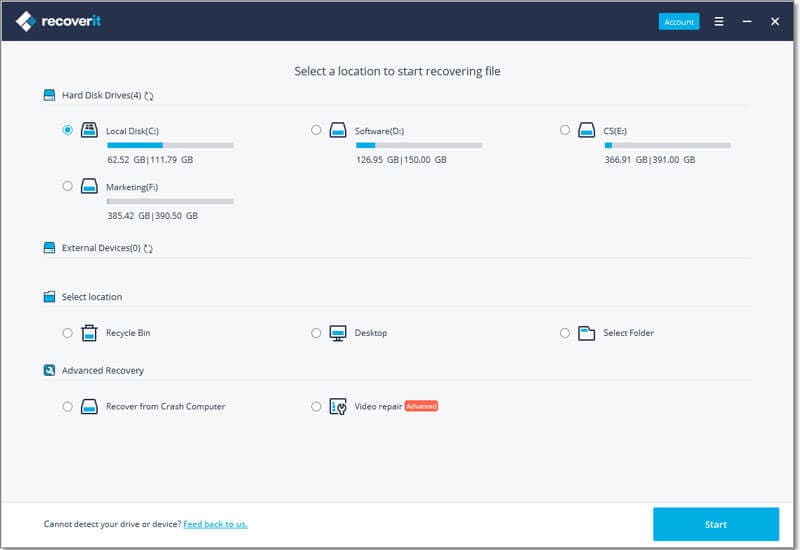 Step 3 Restore your PowerPoint files
Once you click on the "Start" button, the application would commence the data recovery process and will try to extract your file. Sit back and wait for the recovery process to be completed.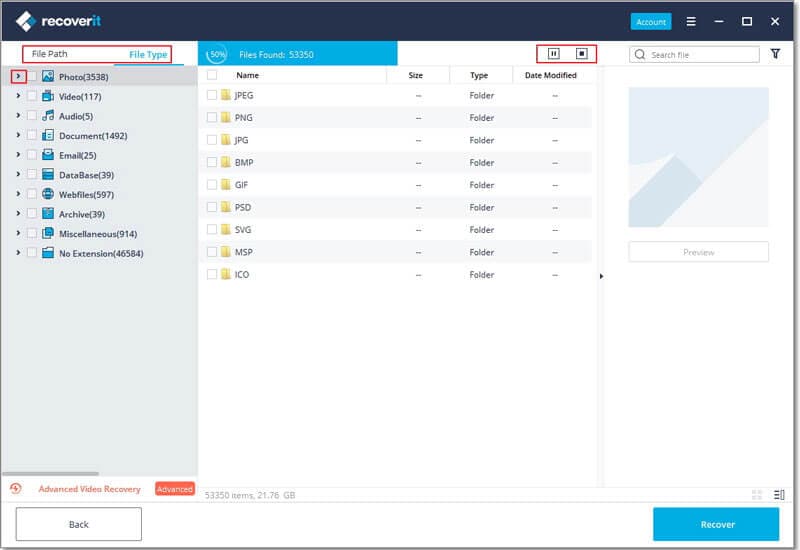 In the end, you can view the extracted content on the interface and even preview your data. Select the retrieved PowerPoint document and click on the "Recover" button to get it back.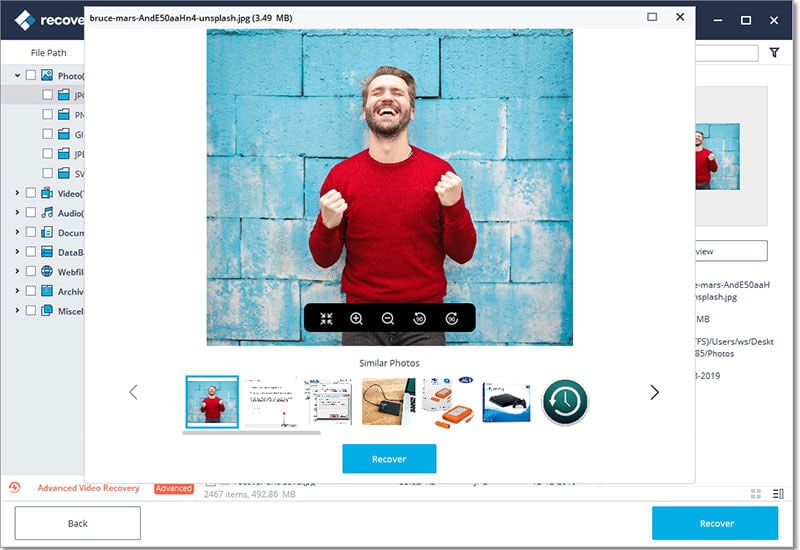 Conclusion
By reading this article, we listed several methods to retrieve deleted PowerPoint. I hope it can help you fixing your corrupted PowerPoint files in the future. If you find this article helps you solve this problem, please go to our website to check more!