There are a number of Android wireless file transfer apps available today in Google Play market. Here are some of the most popular ones including Android WiFi File Transfer, WifiDroid, Web PC Suit and Wifi File Explorer Pro. Read on to learn more about how to wirelessly tansfer Android files.
Part 1: WiFi File Transfer
WiFi File Transfer is a very popular android app and allows you to upload and download various files from and to your phone over Wi-Fi. It has a user-friendly web interface. Android WiFi File Transfer has both a free version and a paid version. The only downside of free version is that you cannot transfer files over 4 MB in size. One of the biggest benefits of this app is that it allows you to upload or download a number of files simultaneously. It also has an inbuilt file manager which allows you to copy, rename, delete, zip as well as unzip various files. Android WiFi File Transfer comes with password authentication (completely optional) which means that you can also use this for transfer of files using public Wi-Fi networks.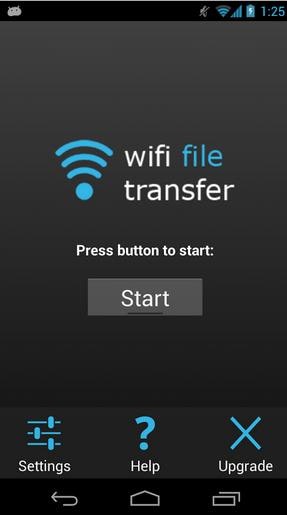 Pros:
Allows you to upload entire folders using Google Chrome.
Runs as a background service and does not annoy you while transferring files.
Offers shortcuts to music, video and photo directories.
Allows you to view the uploaded photos directly on the Web browser as it comes with an integrated thumbnail gallery.
Comes with an optional feature of auto starting the service when you are connected to your home network.
Cons:
Your android phone and your computer need to be in the same local network to use this app.
The password setting is optional and some people may not use it properly thus making the device vulnerable over public Wi-Fi networks.
You may not be able to use other server apps while using this app unless you change the port number.
---
Part 2: Wifi Droid
Wifi Droid is another popular app. It is a lightweight app that allows you to transfer all the files including videos, music and images from your android device to the computer. There are no restrictions on viewing various files and photos in a tabular format. The app is completely free. This app allows you to stream your videos and music from the android device to the PC browser. And you can upload multiple files simultaneously.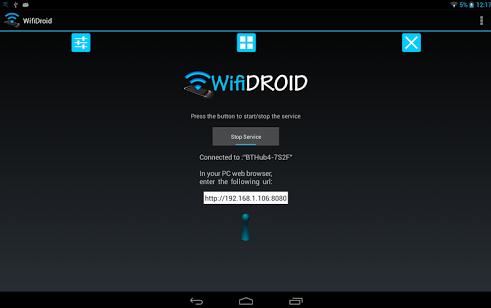 Pros:
Offers a free viewer that allows you to view a preview of the image without clicking.
It also offers security with password protection.
It also includes an audio player and a media player in the app that allows you to view all the media in the same window.
Cons:
You won't be able to use other server apps if this app uses the same port number. However, you may easily change the port number through the settings in this app.
The password protection feature is optional and you need to remember to use it while using public Wi-Fi networks.
---
Part 3: Web PC Suit
Web PC Suit from Geeksoft is another popular and free file transfer app for android users. It is a lightweight app but extremely practical and allows you to manage all the android content on your PC wirelessly. It is extremely fast and very useful. Web PC Suit supports all the major browsers including Chrome, Internet Explorer, Firefox, Opera and Safari. You just need to scan a QR code for login. It also supports remote connection. It means that users can transfer the files even if they are unable to find any Wi-Fi connection. It uses mobile data traffic in this mode.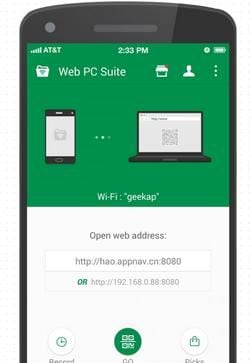 Pros:
Supports secure transfer using HTTPS.
Transfer multiple files between various devices including your iPad and android.
It supports batch operation including copy, upload, cut and paste.
Cons:
The devices need to be in the same network for the app to work.
It is a simple app meant just for file transfer whereas other apps in this field of many additional features.
---
Part 4: WiFi File Explorer Pro
WiFi File Explorer Pro is one of the most popular paid file transfer android apps available today. Usually, people do not like to pay for file Explorer or file transfer apps but the features available in this app have forced many people to pay for it. It allows users to download the entire folder structure and backup the entire SD card or just individual directories with just a single click. With WiFi File Explorer Pro, you can upload and download multiple batches of files while transferring files from android to PC or vice versa.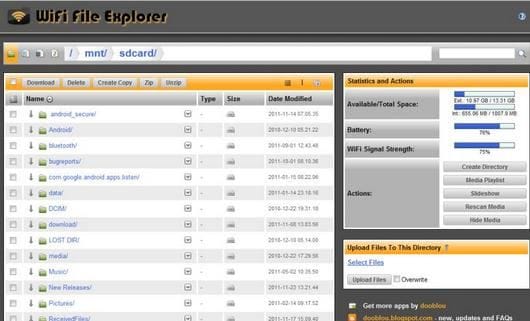 Pros:
Allows users to stream all the media files in a particular directory on your PC.
It also has a built-in file manager that allows the user to rename, delete, zip and unzip all the files.
It also has a search function that allows the user to find any file on the android device.
It also offers security in the form of password protection for preventing any undesired access.
Cons:
The upload ability is limited to just 500 files whereas some other apps do not have any restriction.
It does not allow users to upload multiple files without having to zip them first.
---
Part 5: dr.fone - Phone Manager (Android)
dr.fone - Phone Manager (Android) is a great Android file transfer and allows you to transfer various files including music, contacts, SMS text messages, video, photos, apps and calendar between android, iOS, Symbian OS and BlackBerry with a single click. You can upgrade your phone as many times as you want and you can always have 100% of the original phone data with the help of this solution. It is not just a transfer tool but it also acts as a backup tool. In simple terms, it allows you to back up the phone data. You can restore backups to the new phone with just a single click. It can erase all the existing data on your phone in a secure manner to ensure that nobody can access any data on your old phone.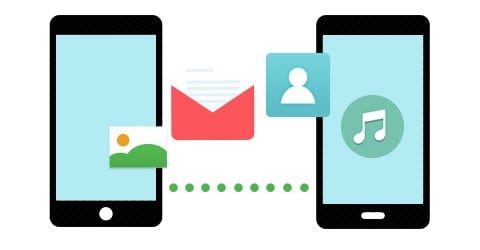 Pros:
It supports for over 3500 different phones and various networks.
It also allows the user to retrieve the data from iCloud backup including photos, messages, calendar, videos, contacts and music to your phone.
---