Whenever you decide to switch from one device to another, it is often necessary to bring all of your data with you. Under ideal circumstances, this is often a quick and easy procedure. But only if you have the right tools or are familiar with the right processes. Exporting data such as music, photos, videos and other media files can be easy.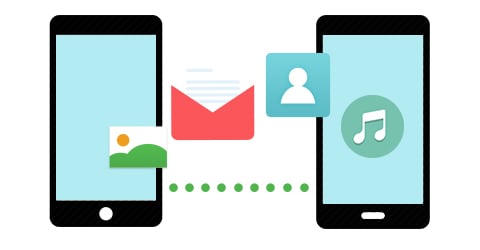 Most of the time it would just be a matter of signing into the backup cloud service you use and the media files will be transferred to your device. But exporting other types of data such as calendar entries can be a little bit tricky. If you have ever tried to transfer your calendar to another device or a storage service for that matter, you no doubt understand the complexity of the process.
Despite its complexity, the process is necessary when you're switching devices or if you want to export Samsung calendar to keep them safe in case of data loss.
Fortunately, we have come up with 4 effective ways to export your Samsung (including Samsung Galaxy Note7) calendar. Each of these methods has its own strengths and drawbacks. You are advised to pick the one that best suits your needs.
Part 1: How to Export Samsung Calendar to Mac or PC in One Click
One of the best ways to export your Samsung Calendar to your PC or Mac is dr.fone - Phone Backup (Android). One of the major reasons why it is the best is simply because it is so easy to use and it saves you the headache of having to figure out a complicated proccess.
When you include the fact that it is also very effective. Its many features make it an ideal solution that will have you exporting your Calendar entries to your computer for safe keeping. Especially for Samsung Galaxy Note7 users, because of the Samsung battery problems, before you ask for refund or exchange for a different model, it is necessary to export Samsung Galaxy Note7 calendar to Mac to backup them.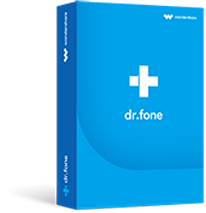 Key Features of dr.fone - Phone Backup (Android):
100% safe. Unlike other similar software in the market, you don't have to worry about losing some of the data on your device.
Export various type of files, include photos, music, contacts, documents, videos, call logs and even messages and more.
It's a great tool when you're switching data from one device to another.
It can create a full backup of your device and restore this backup or a backup from other sources such as iTunes and iCloud.

2,965,271 people have downloaded it
Follow the step-by-step guide below and start learning how to use dr.fone to backup your Samsung device.
Step 1. Download and install dr.fone Phone Transfer for Mac to your Mac computer. Launch the program and you should see the following primary window.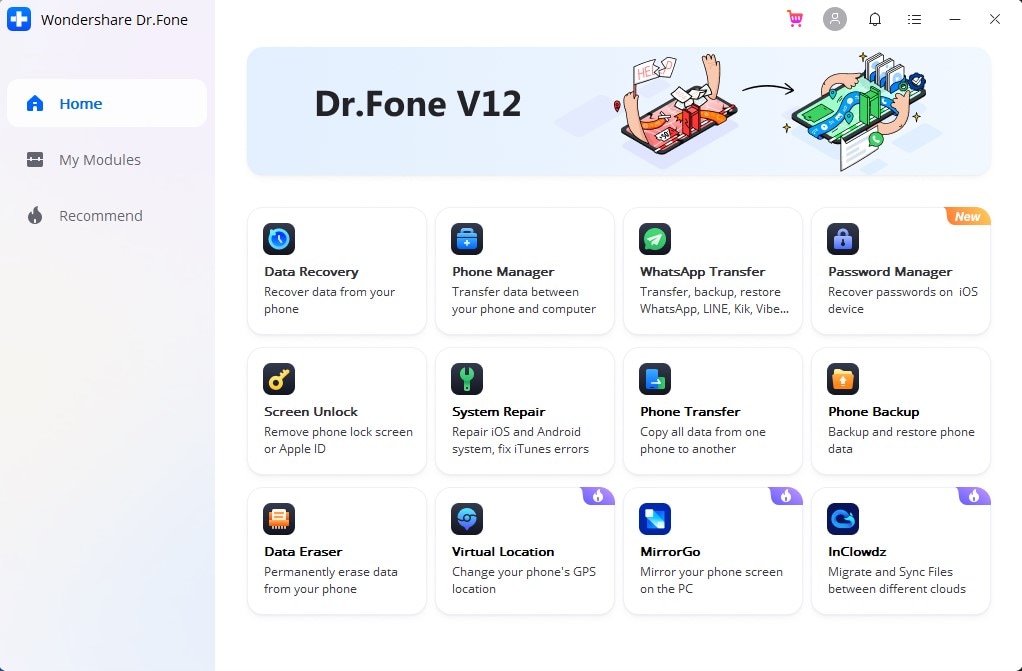 Step 2. From the options presented on the window above, click on "Backup" button to launch the backup window.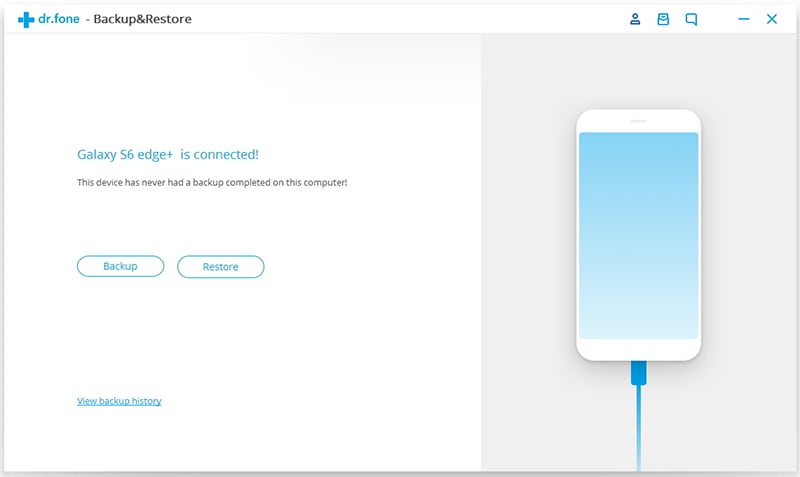 Step 3. Connect your Samsung to your computer using USB cables. The program will recognize the device and you will see the data on the phone displayed in the middle panel of the resultant window.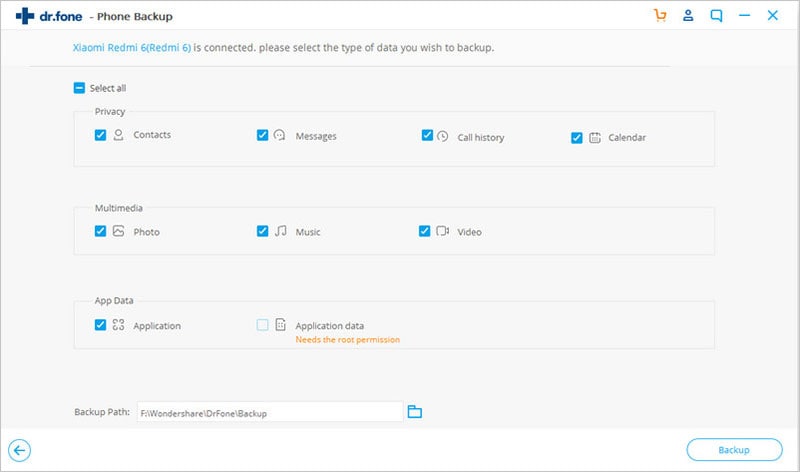 Step 4. From this data, select Calendar and then click on "Backup" to export the calendar entries to the Mac.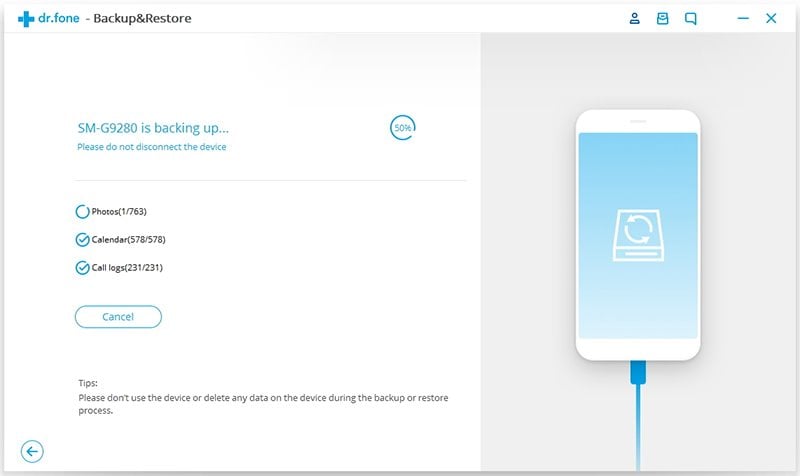 In a few minutes, dr.fone - Phone Transfer for Mac will export all of your calendar entries to your Mac. You can then use the same program to restore them if you need to.
Part 2: How to Export Samsung Calendar via Google Account
Another great way to keep your calendar entries safe is to export them to your Google account. This way, you can easily import them to a new device or restore them to your current device at a later date.
To do this effectively, you will need to employ the services of a third-part app. Keep in mind that we assume you are using the Samsung S Planner. One of the best apps to help you do this iCal import/export. So before we begin, go to the Google Play Store on your device and install the app.
Once the app is successfully installed on your device, follow these very simple steps to export the Samsung Calendar to Google.
Step 1. Launch iCal import/export on your device and tap "Export" from the main menu.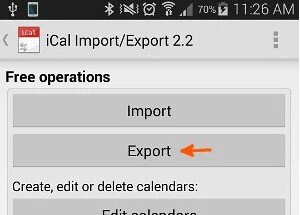 Step 2. Tap the "Email" drop down menu to select how you want to receive the .ics file.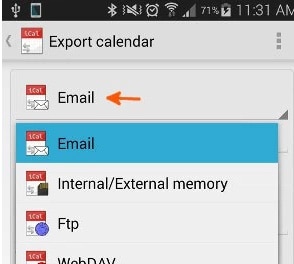 Step 3. Enter a file name and then tap "Start Export".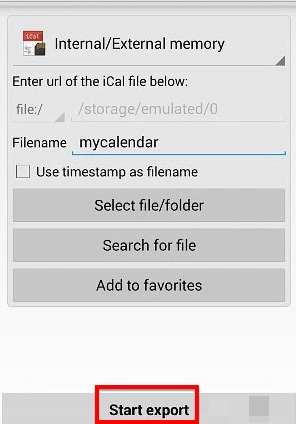 Step 4. You will receive confirmation that the exporting process has been completed; also, the Calendar entries that have been saved.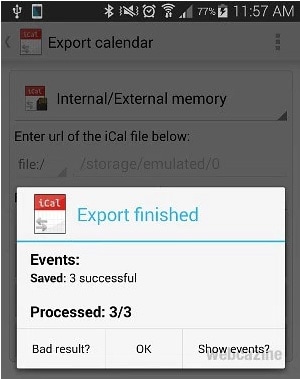 Now we import this fie to your Google account. To begin with, transfer the file to your PC either using USB cables or any other means. Once you have a copy of the .ics file on your computer, follow these steps to get into your Google account.
Step 1. Sign your Google account, tap on the drop down arrow next to "Other Calendars" and then select "Import Calendar" from the options presented.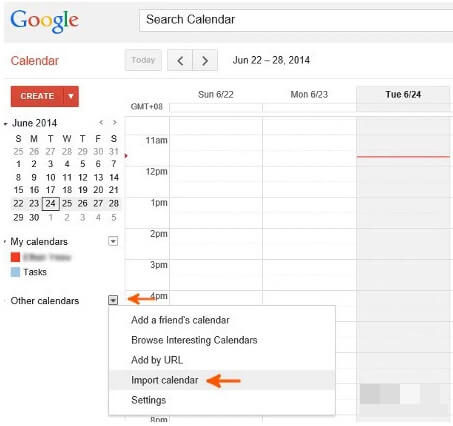 Step 2. On the "Import Calendar" window that opens, select the .ics file on your computer and then click "Import".
Once the file has been imported to your Google Calendar you can then just sign in to any Android device and you will be able to sync these entries to the device.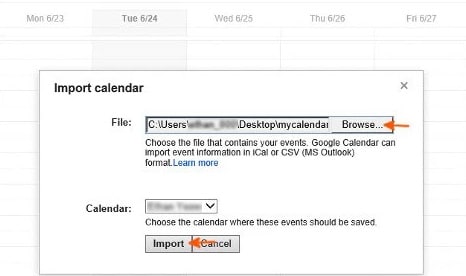 Part 3: 2 Methods to Transfer Calendar from Samsung to Samsung
If you are switching from one device to another, you might be looking for a way to directly transfer your Calendar entries to the new device. The following are two of the most effective ways to transfer calendar from one Samsung device to another.
1. Using dr.fone - Phone Transfer
As we have already seen, dr.fone - Phone Transfer (iOS&Android) can be a reliable way to export the calendar from your Samsung device to your Mac. It is also a great way to transfer data between devices and if you are looking to transfer your Calendar to another Samsung device, follow these simple steps.
Step 1. Assuming that you have installed dr.fone - Phone Transfer (iOS&Android) on your computer. Connect both devices to your PC using USB cables. You may need to authorize computer on either device when connecting.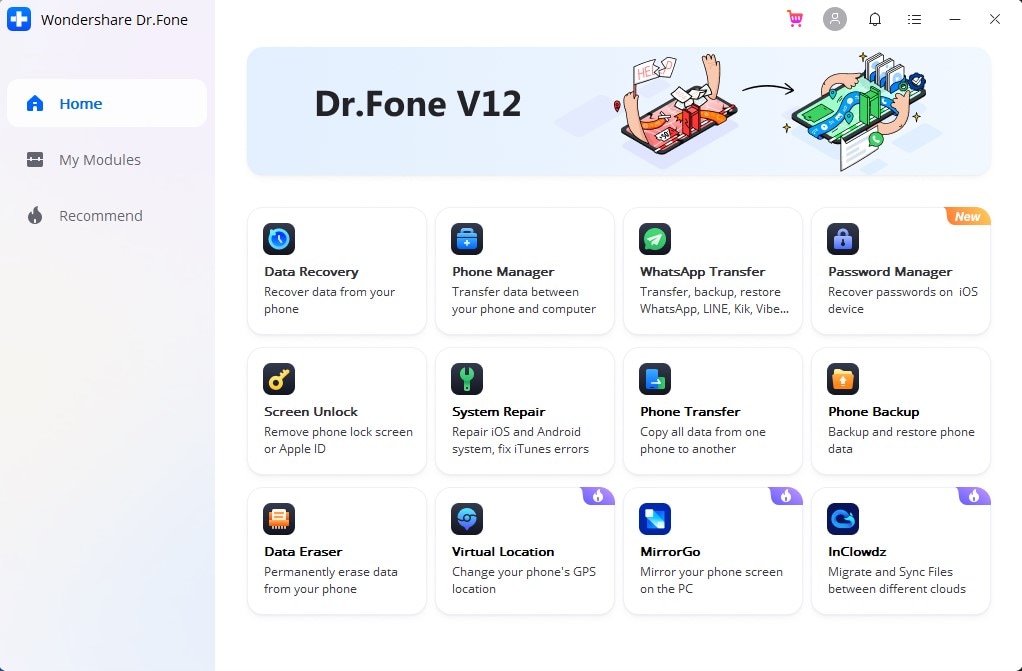 Step 2. Once the devices are connected correctly, click "Start Transfer" tab to open the transfer window. You should see both of the Samsung devices with the source device data displayed in the middle panel. In this window, you should also make sure that the source device is the one that contains the calendars you want to transfer. If this is not the case, click on "Flip" to re-order the devices.
Step 3. Select the data you want to transfer, in this case Calendars and then click "Start Transfer". The entire process will take just a few minutes and once the transfer is complete, you should be able to see the "Calendars" in the destination device.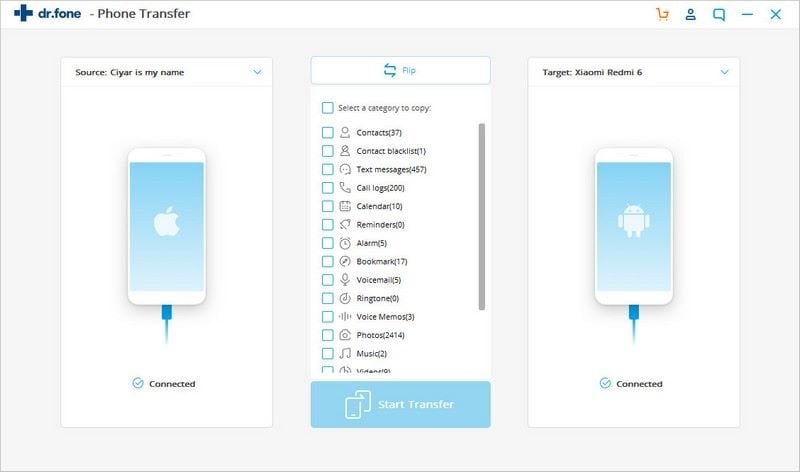 To ensure that the process is not interrupted, keep both devices connected to the computer during the entire transfer process.
2. Using Samsung Smart Switch
Samsung offers a dedicated app that is designed to make it easier for you to transfer data between Samsung devices or from a Samsung device to another Android device. The app is available for download on the Google Play store but it also comes pre-installed on the Galaxy S6 an S6 edge.
Step 1. Go to the Google Play Store and download the Samsung Smart Switch app on both devices if it isn't already on any of the devices.
Step 2. Launch the Smart Switch app on both of devices. On your Source device (the one we will be transferring calendars from) select the "sending option." On the Receiving device (the one we want to transfer the calendars to) select the "Receiving option".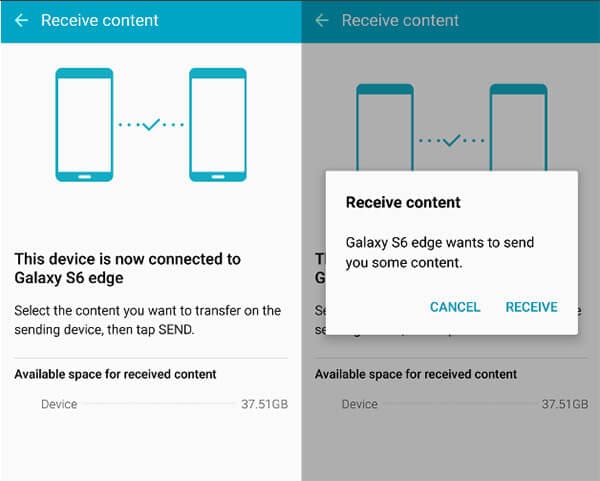 Step 3. Press the connect button on both devices and once they are connected successfully, you see a list of the data that you can transfer on the "Sending device".
Step 4. Select the data you want to transfer, in this case calendars and then tap "Transfer". To start the process.
Note: In order to ensure successful transfer, ensure that the devices are within close proximity of one another. This ensures that the devices are able to communicate with one another effectively and also that the process will not be interrupted during transfer.