While working with an Android device and Mac at the same time, syncing data between them seems to be a challenging task if you don't know how. Well, today's topic covers the same. Through this article, we are going to enlighten you with some ways that are surely going to be helpful for you if you want to export data from Android to Mac. Be sure to read the article carefully and follow the steps as mentioned. You will surely be out of every dilemma.
Part 1. dr.fone – Transfer (Android)
Say hi to dr.fone – Transfer (Android) when you can't find a noteworthy way to copy data from Android to Mac. It is designed by a highly skilled team of iSkysoft to make the transfer between different platforms easier than ever. One can easily manage to transfer various data types with this tool. Here are some of its amazing features.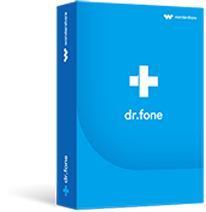 Features of dr.fone – Transfer (Android)
With dr.fone, one can smoothly and securely transfer a wide range of data types between Android and computer.
Be it photos, videos, contacts or messages, this tool is easily able to transfer any of the data types.
It can be used for other purposes as well as making ringtones and rebuilding the iTunes Library smoothly.
With this, one can stay worry-free when it comes to security as it is the securest way of transferring data.
It favorably works with Windows and Mac computers.

2,965,271 people have downloaded it
How to move data from Android to Mac via dr.fone – Transfer (Android)
Step 1

Get the Tool Downloading

To get started, one needs to download dr.fone – Transfer (Android) on their Mac and install it later. post proper installation, launch it on your Mac and go for the "Transfer" module from the main screen.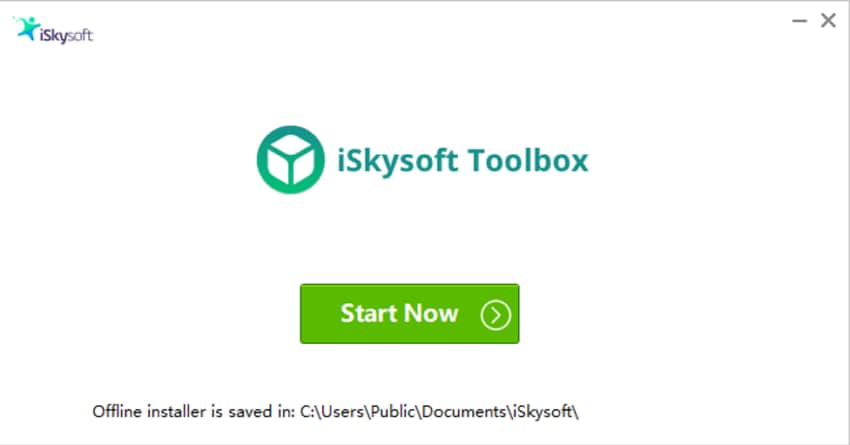 Step 2

Connect Device with Mac

It's time to get the authentic USB cable and connect your Android device with the Mac. Make sure to enable the USB Debugging on your device for better detection by the program. Once the program detects your Android device, proceed with the next step.
Step 3

Choose Data Type

In this step, you need to select the data type that you want to transfer. You can choose this from the navigation bar given on the screen. Look for the option of the data type that you need like "Photos", "Music" etc.
Step 4

Get Data from Android to Macbook

As soon as you choose the data type, you will get the details of that particular data. You can simply select all by pressing "Ctrl + A" or choose selectively which file has to be transferred. Once selected, look for the destination folder and click "OK". Lastly, wait for the process to get over and click "OK". Yayy! You transferred data successfully!
Part 2. Android File Transfer
Another convenient way through which one can make copy data between Android device and Mac is Android File Transfer. This software provides an effortless way when one has to work with Mac and Android device simultaneously.
Step 1 Initiate with downloading Android File Transfer on your Mac. Once done, open the ndroidfiletransfer.dmg.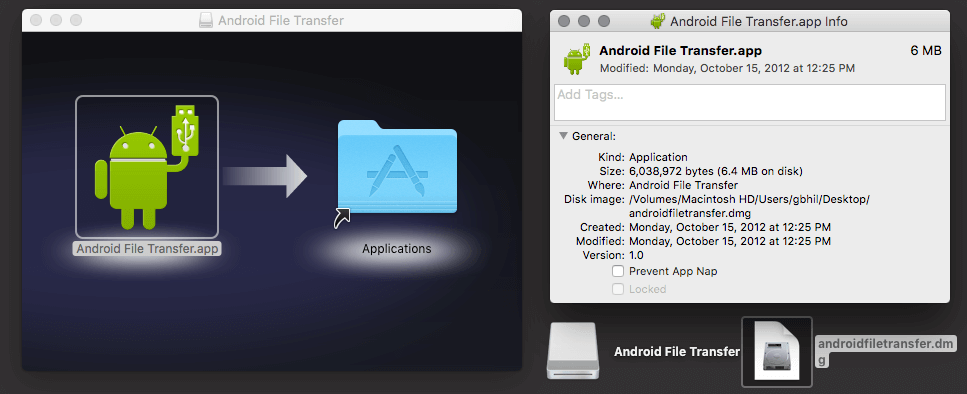 Step 2 Next, start dragging the Android File Transfer to the Applications.
Step 3 Plug your Android device to the computer now using the cord.
Step 4 Launch Android File Transfer and look for the files that you want to transfer to the Mac. Copy the data and just move it on your Mac.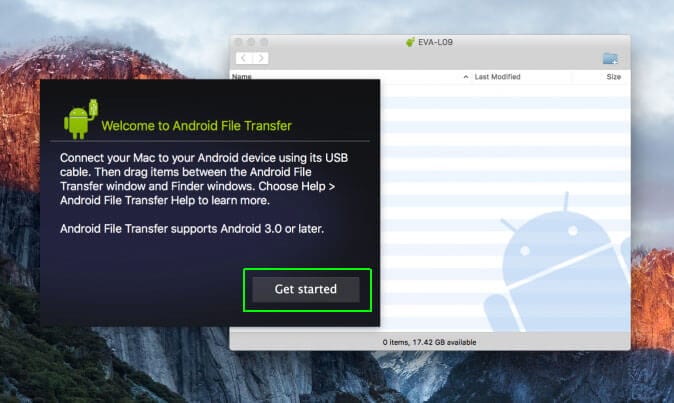 Part 3. Google Drive / Dropbox
Taking the help of a cloud service like Google Drive or Dropbox is also a good option while getting data from Android to Macbook is your concern. The steps for these two are quite similar. Both Google Drive and Dropbox offer a certain amount of free storage i.e. 15GB and 2GB respectively. Here are the steps that need to be followed. Please read them carefully and get your data transferred from Android to Mac.
Step 1 Open the Google Drive or Dropbox app on your device. Tap on the "+" icon to start the process.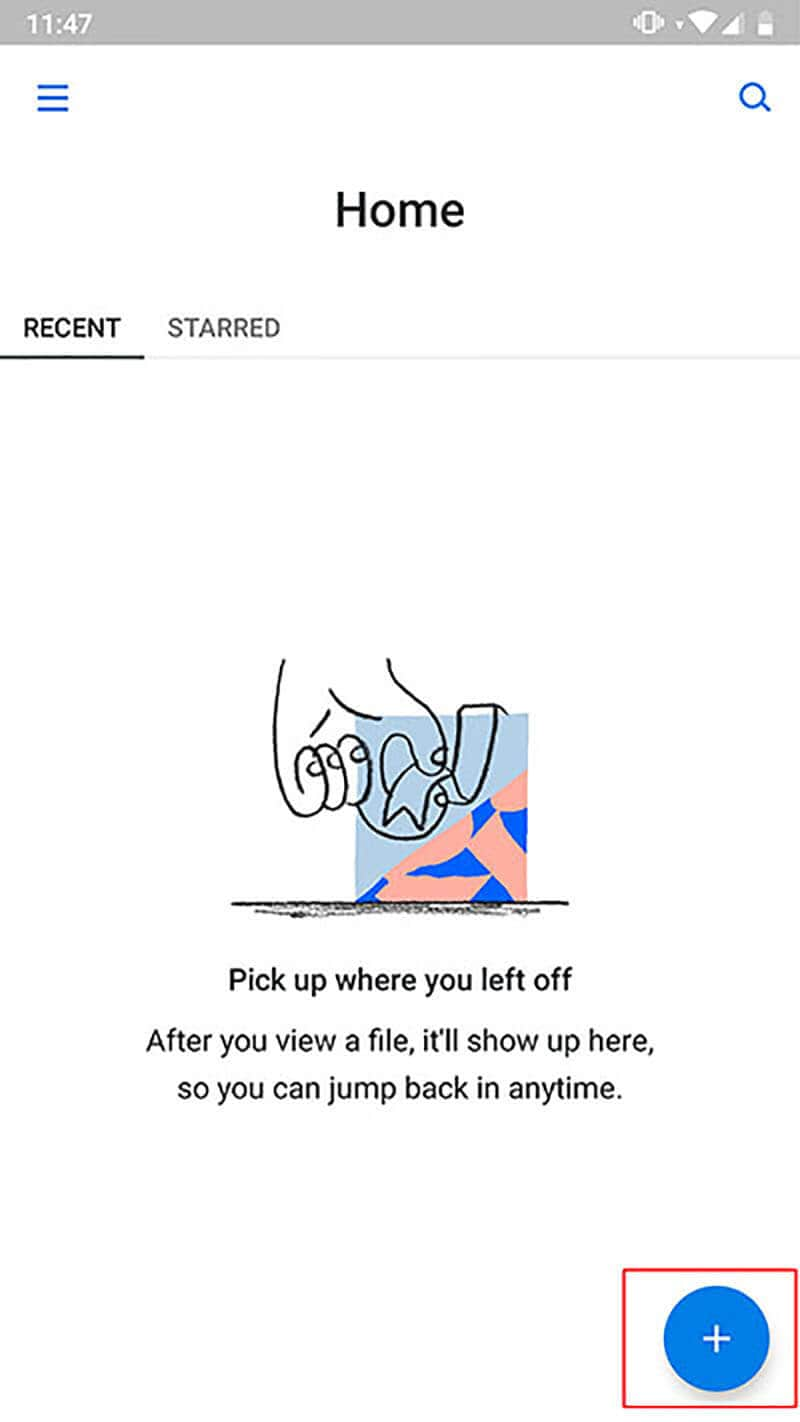 Step 2 Now, look for the desired option like "Upload Files" and you will be navigated to the file manager from where you can browse the data to be transferred.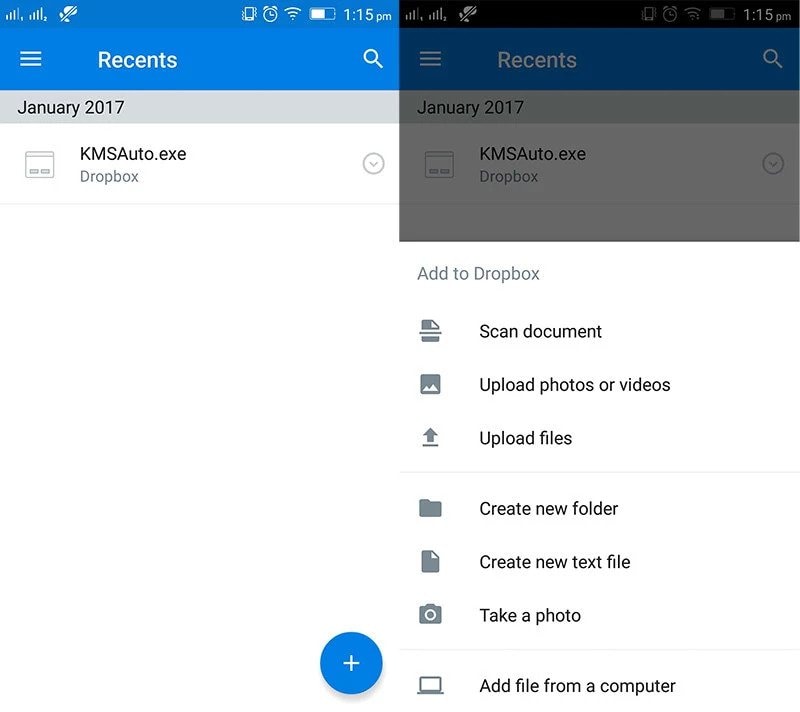 Step 3 The uploading of files will be noticeable now.
Step 4 Open Dropbox/Google Drive on your Mac now. Sign in with the same credentials and catch the files you have just uploaded.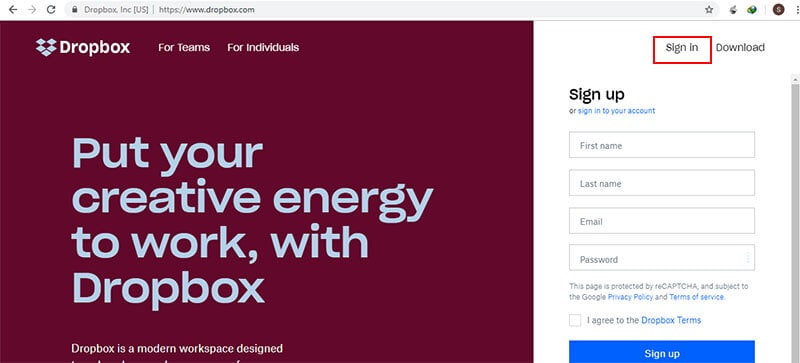 Step 5 Simply click on the "Download" button from the menu and get the files on your Mac easily.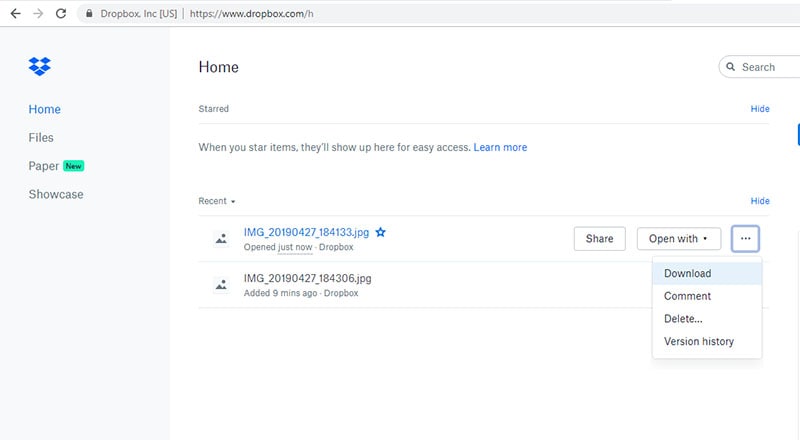 Part 4. By WhatsApp Web Page
Today's one of the undeniable facts is that every other person use WhatsApp and therefore you may find this method easy. So, if the above methods went futile, you can use this for fulfilling the motive. There is no need for plugging the device to the PC. Here is how to import data from Android to Mac using WhatsApp
Step 1 Open WhatsApp on your Android device and send the data to a particular contact. Now, from the menu on WhatsApp, choose "WhatsApp Web" option as shown in the image below. A scanner will open on your device.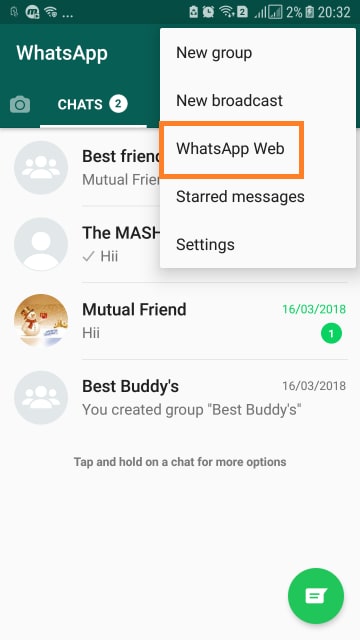 Step 2 Just visit the browser over your Mac now and type web.whatsapp.com.
Step 3 You will find a QR code to be scanned. You must have understood now the scanner you got in the first step.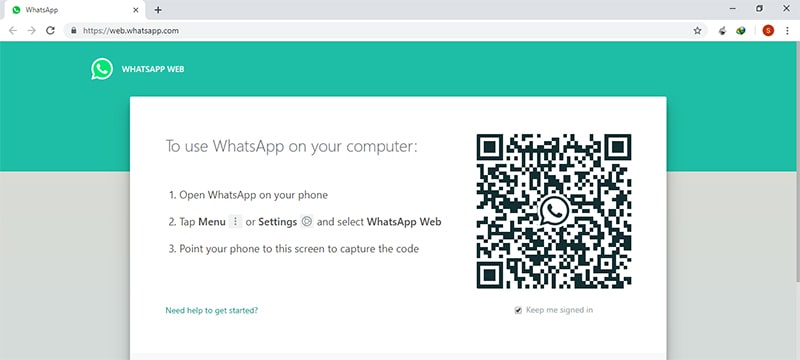 Step 4 Just scan the code and access the WhatsApp on your Mac. Click on the contact on which you forwarded the files. Start opening them one by one and download it on your Mac.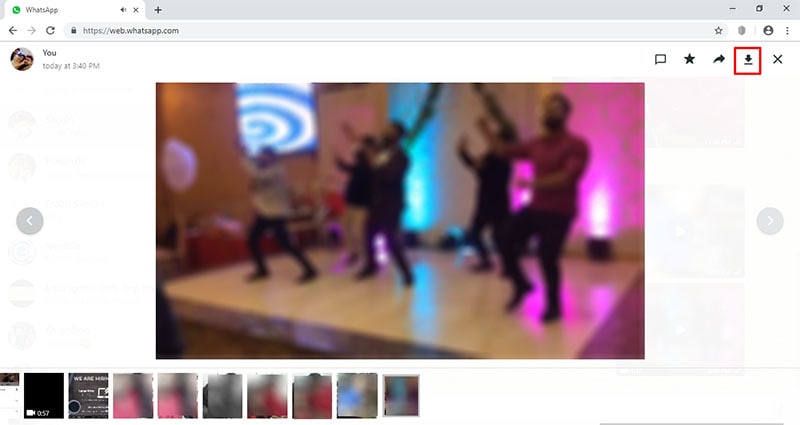 Part 5. Through email
In case you cannot import data from Android to Mac making use of the above methods, here is the last recommended way to get the job done. Simply use Email and send the message as you usually do. If you don't know how we are mentioning the steps below.
Step 1 On your Android, open Gmail and go to the Compose screen as you usually go while sending an email.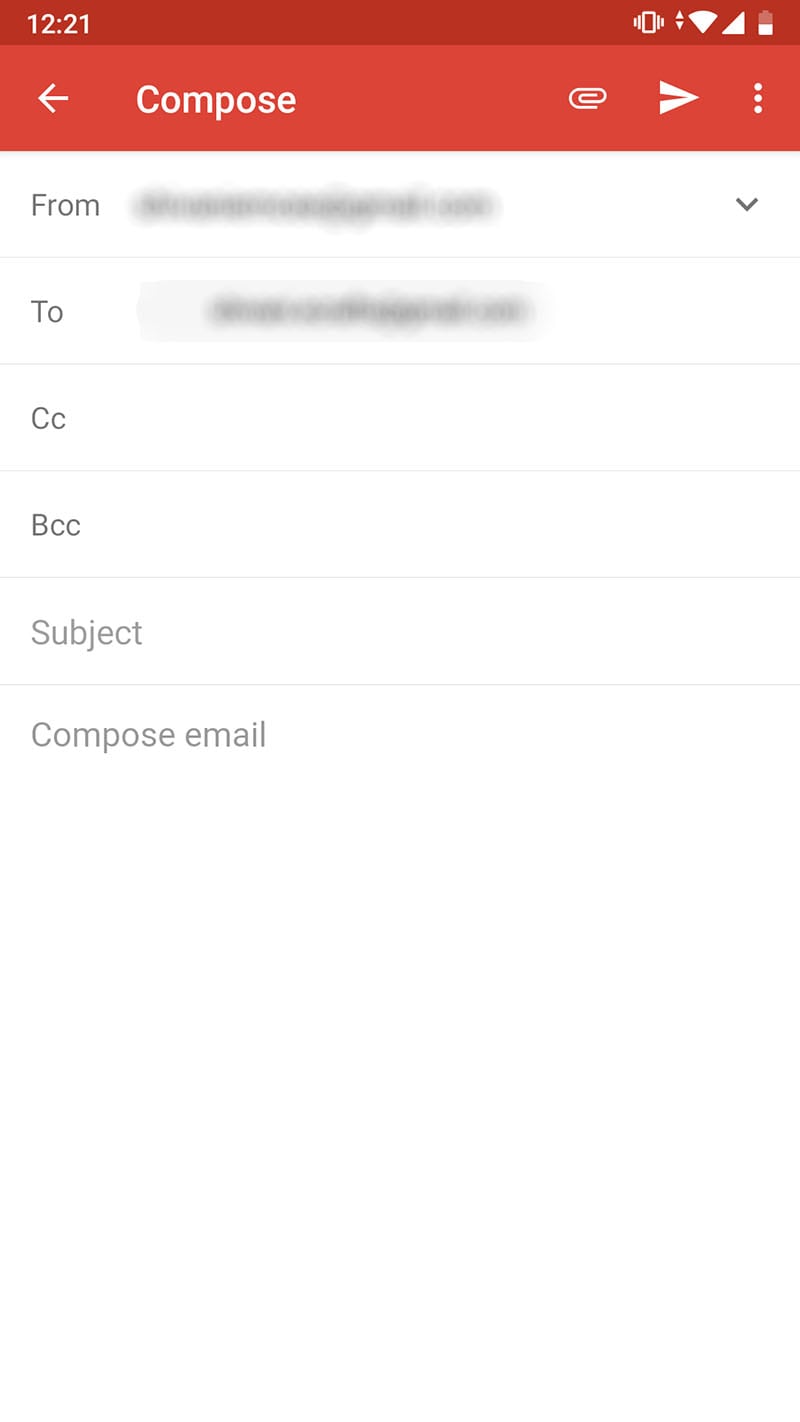 Step 2 Enter the spare email address of yours and tap on the attachment icon followed by clicking on "Attach File".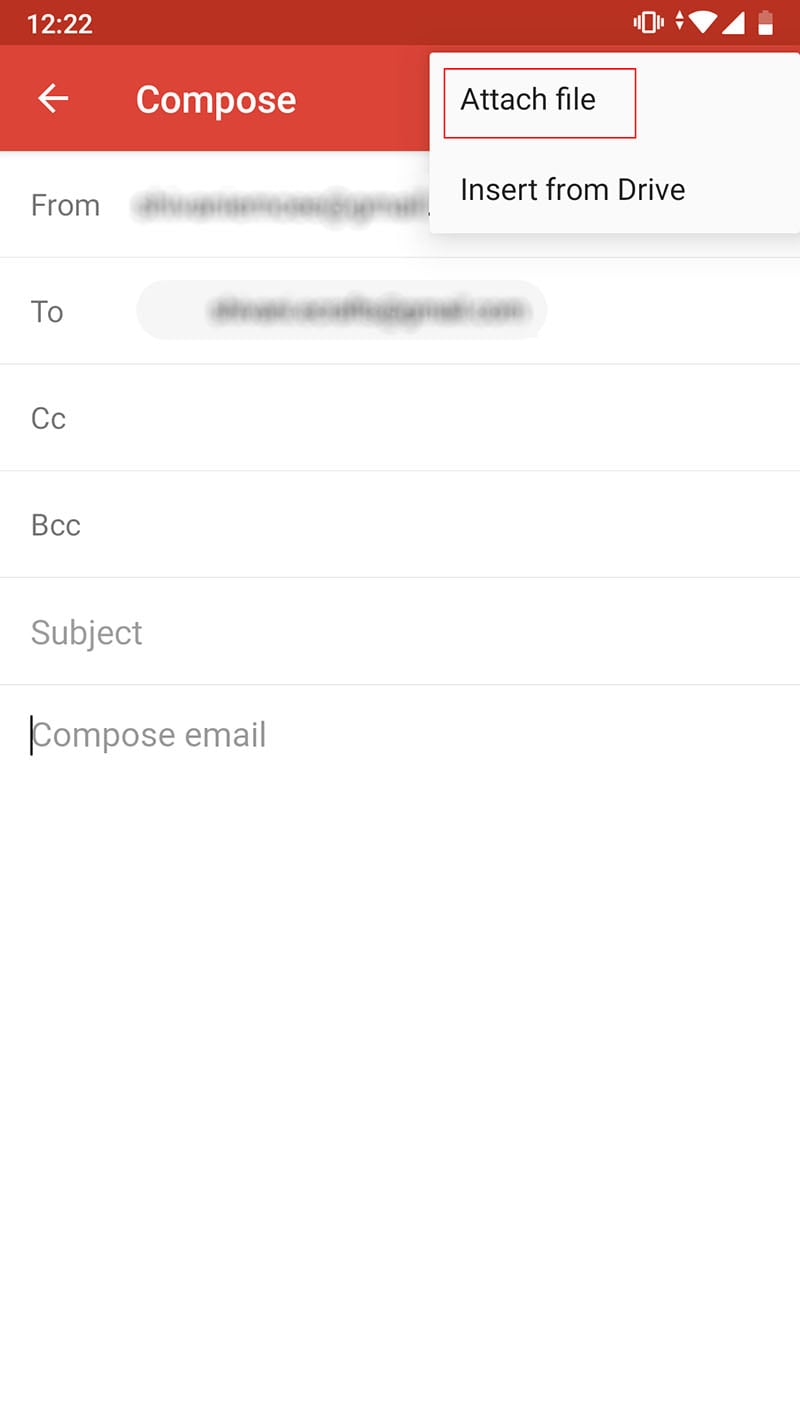 Step 3 Mail the files to be moved to the Mac.
Step 4 Now open Gmail on your Mac and sign in using the address you used on recipients place.
Step 5 Open the mail you have just received and started downloading the attachments.
Part 6. Comparison
It's no denying that one can get confused about which method to use. If you want to give a second thought on the ways, here is a quick analysis of those. Have a glance at it.
| | | | | |
| --- | --- | --- | --- | --- |
| Features | Time Convenience | Supported File Types | High-Speed Internet Requirement | One-click Support |
| dr.fone – Transfer (Android) | Works exceptionally fast | All files including contacts, music, photos, videos, messages are supported easily | No | Yes, one needs to select the files and one click to transfer |
| Android File Transfer | Fast | All supported | No | Yes |
| Dropbox | Works according to the internet speed | Contacts and messages can't be transferred | Yes | One has to download one by one. No collective download facility is there |
| WhatsApp Web Page | Works according to the internet speed | All files supported | Yes | One has to download one by one. No collective download facility is there |
| Email | Works according to the internet speed | All files supported | Yes | One has to download one by one. No collective download facility is there |
Conclusion
We are going to conclude the topic here and hope that you are satisfied reading this article. In case you are still wondering what method you should go for, we would suggest you dr.fone as the best way to transfer data from Android to Mac. Apart from performing remarkably, it is a tool that can be relied upon for its easy steps and no requirement of technical knowledge. We would be content if you will share your thoughts with us. And for more information like this, stay tuned! Thanks!