Whenever your hard drive becomes unresponsive no more, we can probably say it's dead or broken. Vibrating noises are heard when you reboot your PC. Soon after, the booting action may stop indefinitely and nothing is accessible anymore. Many people are afraid of losing their hard disc to a virus or as a result of breaking and often wonder "Is it possible to recover data from a damaged hard drive?"
No matter how careful you might be, accidents are unpredictable and may happen at any time causing your hard drive to crash, broken, or damaged. So there are many reasons for which a hard drive may break. Some of them include the attack by a virus, poor power supply, damaged sensors, damaged block as well as a corrupted operating system which may result from irregular PC maintenance, mechanical damage, or corrupted areas on the hard drive. So in order to recover data from a dead hard drive well, you need to know something as follows:
Part 1. How to Diagnose the Hard Drive is Damaged, Broken, or Dead?
1. The slowdown in the Performance
If you are experiencing a slowdown in the performance of the computer or frequent freezes, then it is time to take a quick backup before the hard disk gives up without notice.
2. Data Corruption
If you fail to open a file saved without errors, and if a file disappears suddenly, then it is a typical sign of gradual hard disk failure.
3. Accumulation of Bad Sectors
Bad sectors do not maintain data integrity. If you are running into bad sectors, then it certainly is a bad sign.
Part 2. Recoverit (IS) - The Simplest Way to Recover Data from Broken Hard Drive/Disc
Recoverit is known as being the fastest, safest, and most user-friendly way of recovering lost data as a result of damage of hard drive, accidental erasure, virus infection, improper software, unexpected power failure, or any other reason that might have led to data loss. In just a few clicks, it helps to achieve a pain-free, safe and complete data recovery.
The software is made with the most recent and robust scanning algorithms that help in scanning any external hard drive, Mac-based drive to help you recover all the data you want including media files such as video, gallery, music, archive files in a very original form while ensuring that no data is damaged.
The beauty about iSky data recovery is that it involves a risk-free process as it scans just the existent data files in a read-only mode. Then, what are the main functions of Recoverit?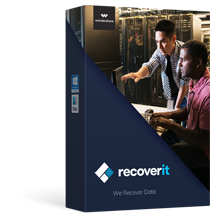 Support to recover data lost in different scenarios, like external hard disk, system crash, formatted disk, crash computer, virus infection, etc.
It can fix playback issues with videos like a corrupt file, dropped frames, audio/video syncing, grainy video, missing audio/video, and so on.
8 different recovery modes to help you locate the lost data and get them back in the shortest time.
Newly upgraded system crash recovery allows you to recover data from an unbootable system within few simple clicks.
Recover more than 1000 types of file types, like documents, audio, videos, graphics, emails, etc.
100% risk-free and easy to use, it can greatly improve your working efficiency.
Require no professional skills for both beginners and experts.

2,965,271 people have downloaded it
Step-by-step Guide on How to Recover Files from Damaged Hard Drive
Step 1. Download Recoverit on your PC and elect A Recovery Mode.
Begin by launching the dead/broken hard drive recovery software and choose the option of "Lost Partition Recovery" or "All-Around Recovery" option to avoid the damaged hard drive cannot be found in another mode. If the hard drive is an external disc, you can also choose "External Devices Recovery".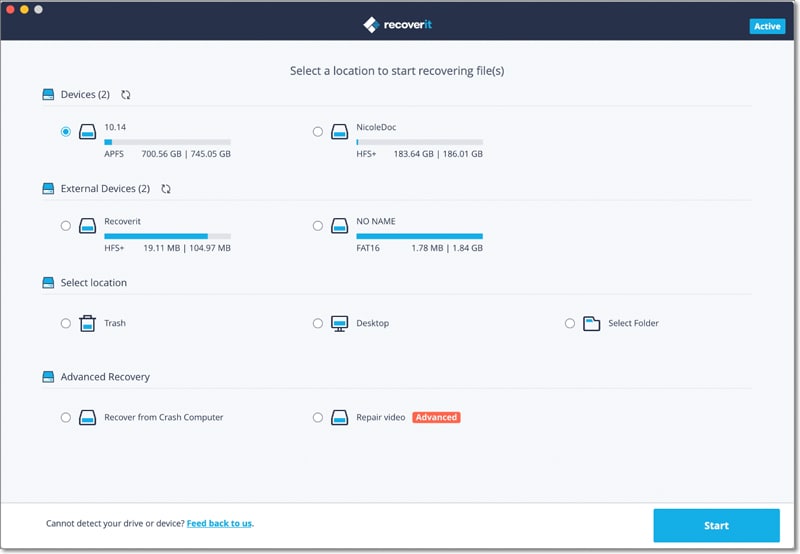 Step 2. Select Your Hard Drive.
Make a selection of the hard drive from which you need to recover data. Next, click on the "Start "button. The scanning will be finished quickly.
Step 3. Preview and Recover Data from A Dead Hard Drive.
When the scanning is finished, you can preview the scanning results according to the files folder, and check the data you wish to recover one by one. Finally, click the "Recover" button to save them well.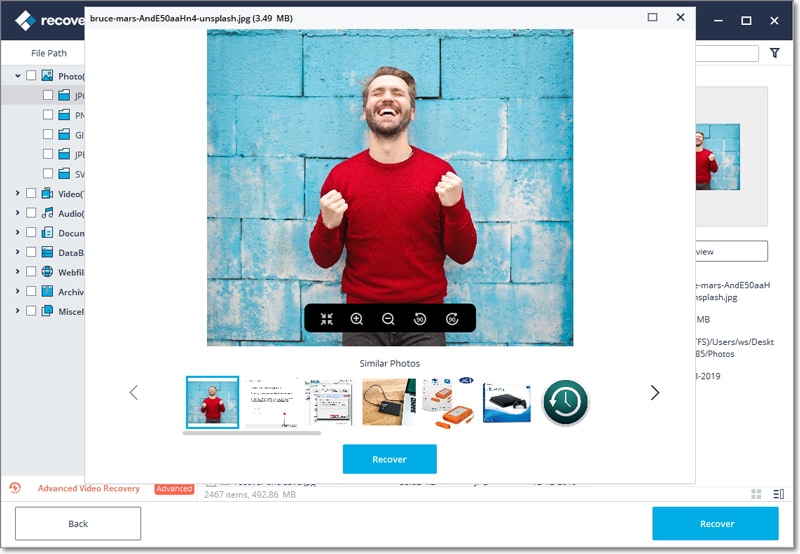 Step 4. Conduct A Deep Scan.
If the "Lost Partition Recovery" mode cannot find you needed data, you can use the "All-Around Recovery" mode to conduct a deeper scanning on your disk to recover data from the bad hard drive. And then you can get more recoverable files.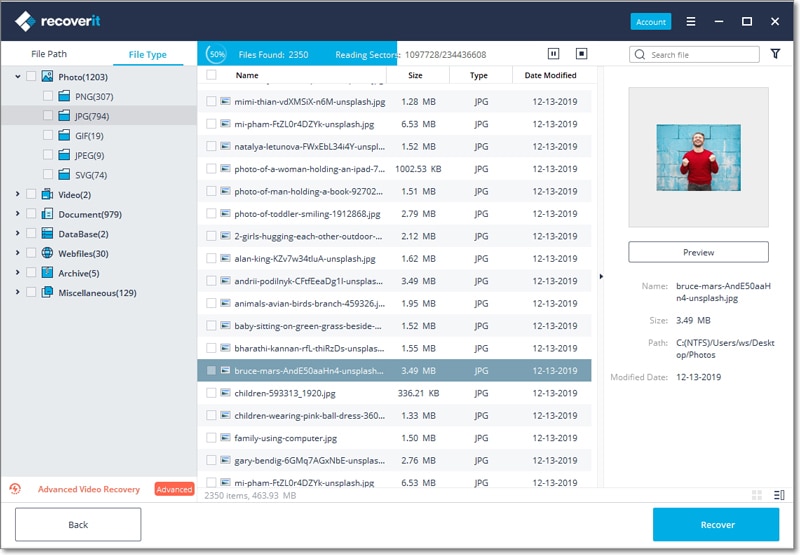 Part 3. How to Do Bad Hard Drive Recovery with Hardware
If the bad hard drive isn't detected by your computer, the machine just hangs when you try to access it, or if it's completely dead and doesn't even spin up, you can try to salvage your data with hardware. Generally, hard drives feature various components that can fail and prevent you from accessing your data. These include PCB, platters, head assemblies, firmware, etc. You can always fix some of these components DIY style and recover your data, but you'll have to put in some time and effort.
Step 1. Confirm Whether the Hard Drive Connections Are Working Properly.
1. Check and Determine If the IDE or SATA to USB Enclosure Is OK (External Hard Drive)
Sometimes the problem might not be with the hard drive, but a connection within the enclosure. Open your machine and remove the hard drive from its casing. You can then use a power connector and IDE/SATA data cable to install the drive internally on a desktop computer. Alternatively, get a new USB enclosure or an IDE/SATA to USB adapter and connect the hard drive externally via USB.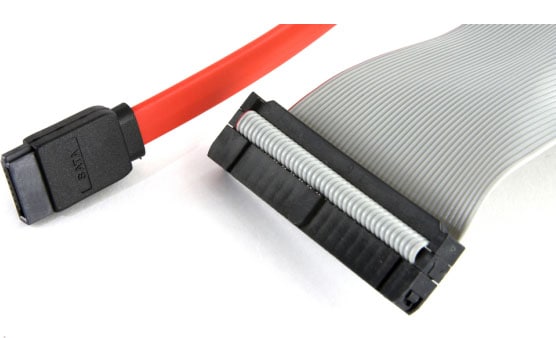 2. Determine Whether the Connections of the Internal Drives Are OK
The physical connection cables that connect the internal hard drives to your computer's motherboard can also fail. Just ensure that the data and power cables are well connected on both ends before you can start thinking about data recovery. If the connections are okay and you now start up your computer.

Step 2. Pay Attention to the Hard Drive Sound.
Once you boot your computer, listen to the sound that comes from the hard drive. This helps you determine the type of damage to the bad hard drive. For example, if you can hear a beeping sound, it means that the motor is trying to spin the drive, but it's failing to do so. Serious mechanical failures cause this problem, the most common one being stiction. Your drive needs to be opened up in a cleanroom/ lab, and the heads carefully removed and replaced with new ones.
Step 3. Check If the Drive Is Recognized By Your Computer.
You'll be expecting your drive letter to pop up, but that might not be the case. If you can hear the drive spinning or even if it's completely dead, try to determine whether it's recognized by your computer or not. If the hard drive you want to recover data from is the primary drive and your computer doesn't boot, you can check if it's recognized by your computer using the manual method, (BIOS). Once you turn on the computer, enter BIOS by pressing the BIOS keys (Can be ESC, F2, F10, OR DEL based on the brand of your machine). The information you are looking for can be found under the "Advanced" menu or "Boot" settings.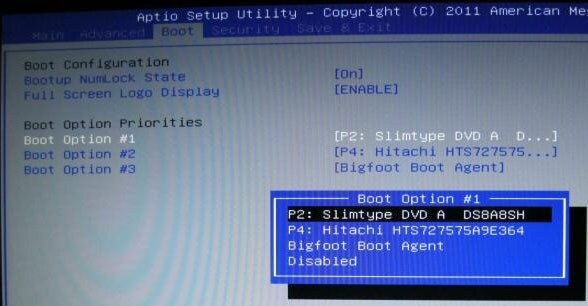 Part 4. What May Lead to Dead Hard Drive and How to Avoid It
Just like internal hard drives and external hard drives are also susceptible to damage which can lead to data loss. Some of the reasons an external hard drive can become "Dead" include the following.
1. Magnetic Head Damage
As the name suggests, it often means that the magnetic head of the drive has been damaged somehow and therefore cannot read or write properly. Some of the factors that can lead to this kind of damage include dust, wear, and tear, magnetic coil damage, and deformation of the head cantilever.
2. Drive Circuit Damage
When a section of the electronic circuit board is broken down or damaged, the drive may malfunction. This is because the drive's platter is unable to receive power and therefore cannot function properly.
3. Hard Drive Surface Damage
The drive itself can have various forms of surface damage that can lead to data loss. This type of surface damage can range anywhere from a surface scratch to the demagnetization of the drive. Aside from the physical reasons for damage that we have seen above, the drive can also become damaged due to a whole host of other logical reasons including a virus attack, an improperly formatted drive, and the lack of a drive letter.
The following are just some of the things to pay attention to if you want to prevent external hard drive problems.
- Ensure that the USB cable used to connect to the drive is not too long, especially if you are using the same cable to supply power to the drive.
- If the drive has a capacity of 10GB and above, you should consider connecting it to an external, additional power source and not use the USB cable as the power source as well.
- Also ensure that you disconnect the drive from the computer correctly and safely.
If your external hard drive is dead or bad, how to fix it to reduce the loss?
1. A problem with the System or System Built-in Drivers
The following are a few troubleshooting processes you can try. Boot in safe mode by pressing "F8" when restarting the computer. Exit the safe mode and the registry may be repaired. If that doesn't work, try using the built-in system restoration function to restore the system to a previous good state.
2. Power Shortage
If this is the problem, you can simply fix it by choosing an external power source for the drive and the problem should be fixed.
3. USB Data Line Failure
It is also entirely possible that the USB data line you are using to connect the drive to the computer is broken. In this case, fixing it is really easy, just replace the USB cable and see if it works.
4. Drive Letter Conflict
A drive letter conflict is a phrase commonly used when you see a drive letter belonging to the external drive having been taken over by some of the computer's local drives. To fix this problem, you can use a disk management tool to change the drive letter.
Part 5. Optional Tips to Retrieve Data from Broken Hard Drive
Here are tips you can follow in your quest to recover data from a damaged hard drive:
1. In case you find out that your hard disc is unresponsive, try plugging it into a different computer so as to establish if it is actually dead.
2. As soon as you're sure, get an effective data recovery software such as Recoverit (IS) which has an impeccable reputation. Usually, almost all data recovery software has a complementary user guide with easy-to-follow instructions on how to effectively and completely recover your data.
3. In case you're unable to troubleshoot manually to establish if your hard drive is crashed or dead so that you can get started on the process of data recovery, you may need to seek well-informed advice from a technician in the nearest area. However, if you're capable of doing it yourself, you will only need to get all the necessary tools before you begin the process.
Truth be told, a broken or dead hard drive can be extremely frustrating. But there's no need to worry unless the lost files were corrupted by a virus so that even if they're recovered, they cannot open. Recoverit (IS) software can help you to recover your entire data from your broken hard drive. (Mac users please click here to learn more details)

2,965,271 people have downloaded it
However, it's important to note that the process of recovering lost files using various software should always be an option of last resort. To be on the safer side, always ensure all your data has been backed up. You can achieve this if you develop a habit of backing up data from time to time.