How to fix Windows has recovered from an unexpected shutdown?
"This appears once every other week or so: "Windows is recovering from an unexpected shutdown." I came up to the laptop, and it was restarting, but no one had been on it. When I clicked on the internet icon that was a frozen circle, it said "Windows explorer has stopped working". I clicked for a solution, and the main screen reloaded. Then the window "Windows has recovered from an unexpected shutdown" appeared."
- a question from malwarebytes forum
There are times when your computer suddenly shuts down and then a message will prompt and says "Windows has recovered from an unexpected shutdown". For some users, they will be prompted with the message after the Blue Screen of Death (BSOD) appears. At times, a user might get stuck in a restart loop before being able to have the Home screen appears again. Others might land on the Home screen in Safe mode. Below is a solution that can help you solve the above mentioned issue.
Part 1. Windows Recovered from an Unexpected Shutdown? Let's Fix It!
Firstly, before we know what to do, this part we are ging to discuss some possible reasons that may cause this issue and how can we fix it in three steps.
Possible Reasons that Caused Windows Computer to Shutdown Unexpectedly?
According to Windows, the blue screen is also known as stop errors. Errors that prompted the unexpected shutdowns may be contributed from both software and hardware issues. Sometimes, unexpected error occurs when a device experience unexpected loss of power or when it is turned off abruptly without following the appropriate shut down sequences.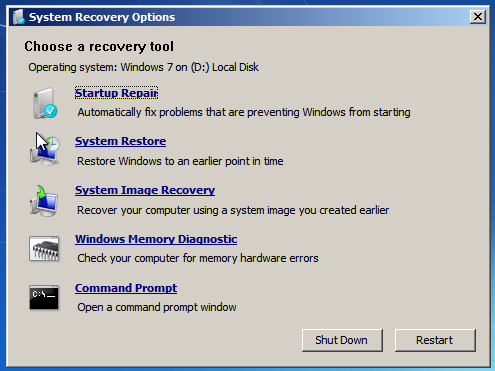 In other cases, incorrect drivers, faulty or incompatible hardware could be the culprits. As the causes can be very different, there are no one standard step to resolve the problem. It will all depend on whether you can identify the root cause.
In any case, usually, a Debug File will also be available whenever you receive the message "Windows has recovered from an unexpected shutdown". Kindly read the Debug File as it will provide information about the crash and its logs; this can be great assistance in pin pointing the cause.
---
How to Fix the Shutdowns on Windows 10/8/7/Vista?
1. Take A Trail on the Solution that Provided by Windows
If you would like to try out solutions offered by Windows, there are various tools and methods that you can utilize, depending on whether you are able to start Windows or if you are not able to start Windows at all.
If you are able to start Windows, consider undoing recent changes by using the "System Restore" function, use "Action Center" to check for potential solutions or checking Windows Update for software updates. In addition to that, a user can also check if there are any errors with their hard disk or memory and use safe mode to trouble shoot potential problems. In the case of incompatible drivers, a user can try to search for a compatible one at the manufacturer's website.


If you are not able to start Windows at all, you can try to start Windows in safe mode, use Startup Repair to fix Windows startup files, try to undo recent changes by utilizing System Restore or restoring your computer by using a system image backup. If none of these works, try reinstalling Windows all over again.
If the above solution cannot help you solve your problem, you can take the below detailed method to fix Windows unexpected shutdown error.
2. Uninstall Incorrect Driver
As we mentioned above, an incompatible driver may be result the error of "windows is recovering from an unexpected shutdown error". So you can check the Windows operating systems as follows:
Check the Windows bit (32bit/64bit) or Windows version (10/8/7/Vista/XP) are installed accordingly or not;
Check the desktop or laptops's model.
Uninstall the incompatible driver in the system by clicking on "My Computer > Properties > Device Manager" and install the supported one.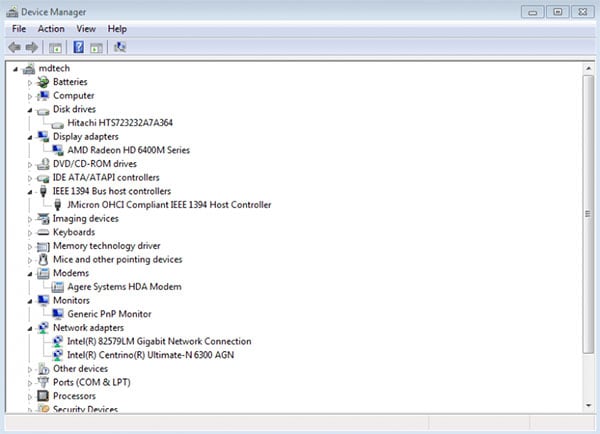 3. Check Hardware Failure
If there is a hardware failure in the system, Windows unexpected shutdown error is found. Just check the CPU and decide how to solve the issue.
Part 2. What to Do If You Lost Data Due to Windows Unexpected Shutdown
It can be quite frustrating if your computer shuts down unexpectedly and then you realized that some of your files went missing. Fortunately, thanks to Recoverit and Recoverit for Mac, you can easily get back your lost files from Windows or Mac computer after an accidentally shutdown error.
This program is an easy to use software that will be able to recover data like audio, videos, photos, documents, emails, etc. from computer, external hard drive, memory cards, etc. within few simple clicks.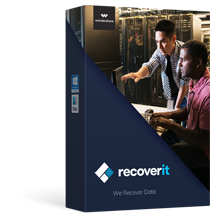 Why Choose This Software to Recover Lost Data in Unexpected Shutdown:
It can retrieve data that was lost due to various causes.
The feature of deep scan can also be enabled.
Users can benefit from its ease of use, fast processes and able to resolve data loss smoothly.
It is also fully compatible with for Windows 10, 8.1, 8, 7, Vista and XP.
2,569,067 people have downloaded it
Now, please follow this easy steps to recover lost data due to unexpected shutdown.
Step 1. Launch the Software
Launch the software and then you can select location where you would like to restore the recovered files into in the next window that appears. To initiate the scanning process, simply click on the "Start" button.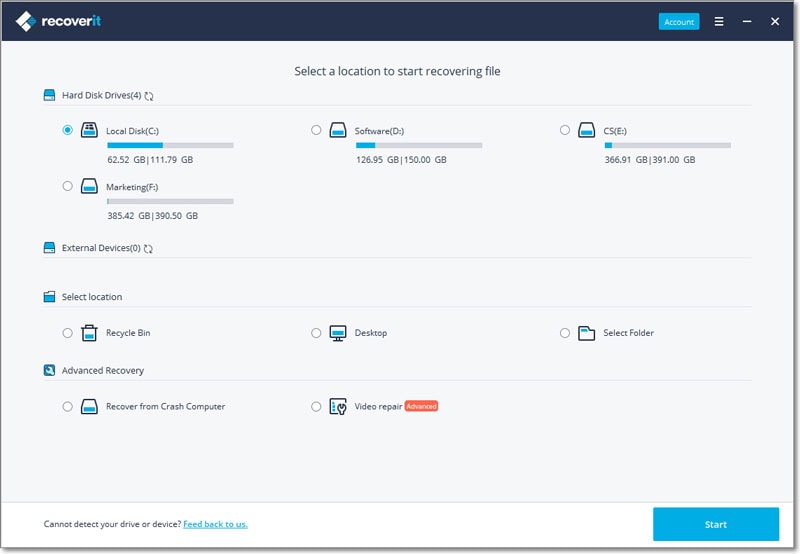 Step 2. Scan the Lost Files
Once scanning process is completed, you will be able to preview the files before recovery process. Files recovered will be listed in accordance to their file type and path and it will show its original file names.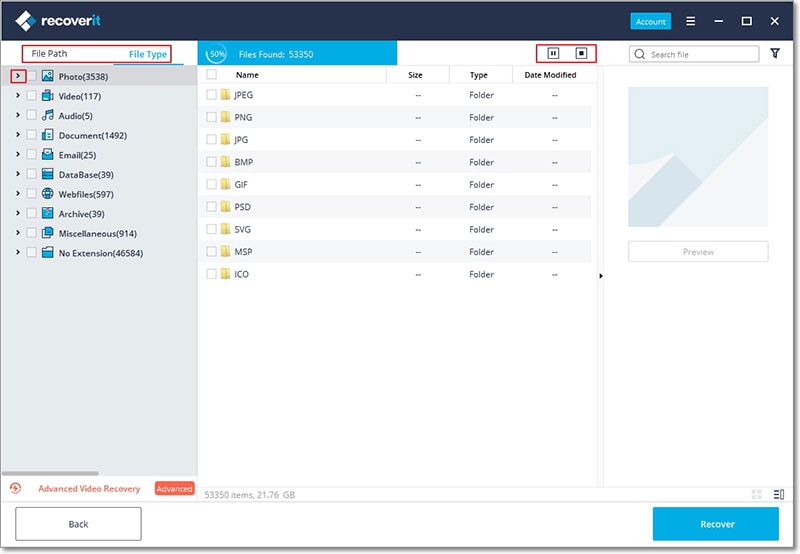 Step 3. Recover Your Files
Simply mark and choose the files that you wish to recover and click on the "Recover" button to complete the process. These files will be saved in the location you have indicated previously.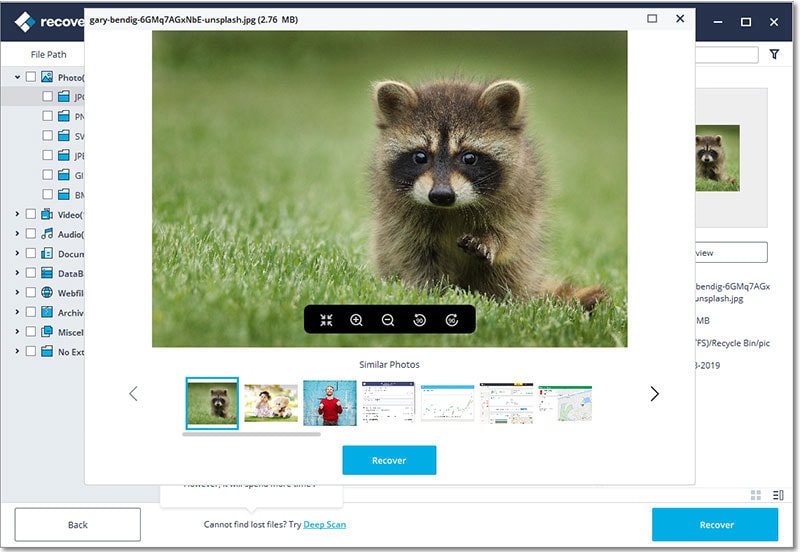 Pro Tips:
Kindly save the recovered files in another location and avoid the same path where you have lost the files previously.
Enable deep scan function to have a more wholly scanning of your device.
Check the status of files as it will indicate if a file is actually good or bad for recovery.