"Is it possible to recover deleted files from recycle bin after empty on Windows 10, 8, 7, Vista or XP?"
- a question from Quora
Yes, it is easy to restore recycle bin on Windows computer if you have selected the right tool. As is it known to all that, when you perform a deletion on the computer, the deleted files always be stored in the Windows recycle bin well. So you can easily restore a mistakenly or accidentally deleted files to its original folder by right-clicking on the file and confirming "Restore" option in the recycle bin on your Windows 10, Windows 8/7, etc. However, you might empty the recycle bin and then realize something important after deleting, now how to recover item deleted from recycle bin?
It is really annoying if you find you need some deleted files back on your Windows 10 computer after empty the recycle bin. But things could be easier after you reading this post. Here, you can get the best data recovery software for recycle bin and learn how to perform it on your Windows 10 or other computer step by step. Now, let's drive to it:
Part 1. How to Restore Deleted Files from Recycle Bin? (If the Recycle Bin isn't Emptied)
As we mentioned above, the Windows deleted files always be saved in the recycle bin, so that you can easily restore files from recycle bin to your computer within few simple clicks. If you don't know how to perform it, lets follow the below steps:
Step 1. Open Recycle Bin by double clicking on the icon that is located on your desktop screen.
Step 2. Find the file that you wish to restore and right click on it.
Step 3. Choose "Restore" option from the list and then the selected file will be restored to its orginal folder.
Attention: If you can't find the file in the recycle bin, then you can take the second method to recover permanently deleted files from recycle bin after empty or deletion as you like.
---
Part 2. Best Recycle Bin Recovery Software for Windows 10 - Recover Items Deleted from Recycle Bin
Recoverit (IS) fully recovers deleted files from the recycle bin or other disks on Windows 10/8/7/Vista/XP in various scenarios. And its intuitive UI design allows users to handle it as easy as 1-2-3. What's more, the facts have proved that the success rate of this program is 90%, which means you have a great opportunity to get back your precious videos, audios, documents, archives, and photos in the recycle bin. And Recoverit also provides the free trial version to every users, so that you can use it to check whether your deleted files can be found with this prominent tool. (Mac users can choose Recoverit (IS) for Mac for more details.)
Besides the function of recovering deleted files from recycle bin on Windows system, it also has lots of other features that you may also interested in. Let's check the details: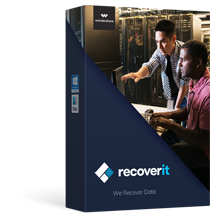 Why Choose This Best Recycle Bin Recovery Software for Windows 10:
Allows users to recover lost, deleted or formatted data from various disks or devices, including computers, digital cameras, music players, portable disk, hard drives, memory cards, etc.
Recover data from lost, deleted, resized, etc. partitions on Windows system.
Preview files before performing the recovery, which can help you quickly locate your target files.
2,556,251 people have downloaded it
How to Recover Deleted Recycle Bin on Windows 10 after Emptying by using Recoverit (IS)
Step 1. Select the Type of Files You Lost on Windows 10
When you first open the program on your computer running windows 10.
Step 2. Scan the Recycle Bin
In the next window directed you should identify the path of the files that you want to recover. You need to click "Recycle Bin" tab so that the program can totally search all your lost data in the recycle bin. After selecting click on "Start" button, the scanning process will commence immediately.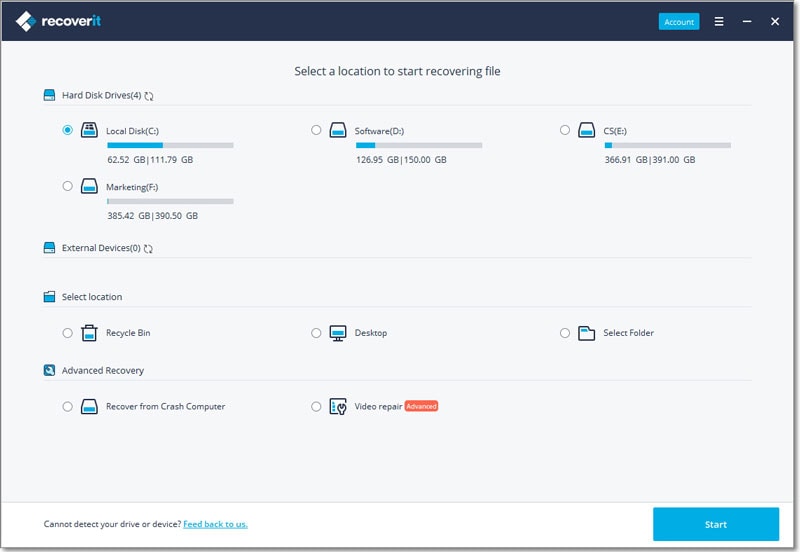 Step 3. Restore Recycle Bin on Windows 10
When the scanning is complete you will see the file type and path of the scanned files on the window. For images and documents you can cross check them to see their quality. Then mark all the files that you want to recover and click on "Recover" button. Then save the files on external drive, a different one from which you lost the files.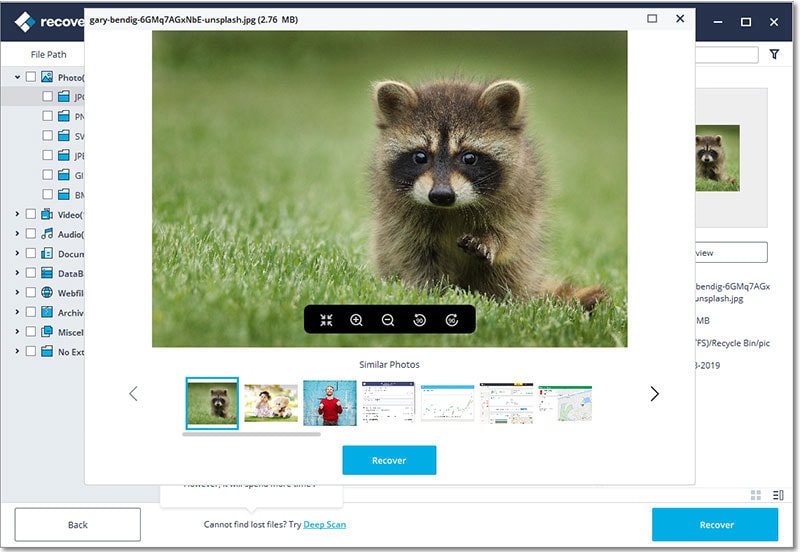 Tips: In order to avoid overwritting the data on your computer, it is highly recommended to save the recovered files to an external hard drive.
---
Part 3. Tips for Recovering Deleted Files after Emptying Recycle Bin
The user interface of Recoverit (IS) for Windows is very easy to use. It is also secure and fast to use the program. Here is what you should know when recovering data from recycle bin using this powerful program.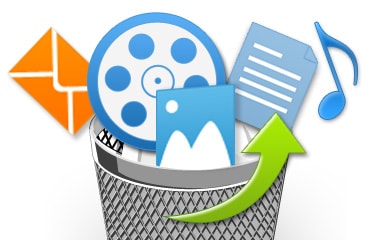 When using your computer, be careful on the commands you give to the computer. For instance, be sure of the items that you want to delete, or being sure that you want to empty files in the recycle bin.


When using Recoverit (IS) to recover files always ensure that you save the results you have scanned. Simply click on Save Scan. These results may be required in future thus you will save time.


To perform any data recovery use Enable Deep Scan mode to fully recover all your lost files in various drives.


You should also take note that the Lost File Recovery mode restores files in the original file name and path. Therefore you can always search for the file name you want to recover in order to save time.


The quality of files scanned is always indicated as either good or bad.
---
Part 4. How to Show or Unhide Recycle Bin Icons on Your Windows Computer?
Generally speaking, you can always find the recycle bin icon on your desktop, but sometimes you may find that it is disappeared and you might suspect that the recycle bin icon is deleted by accident. Actually, recycle bin is an integrated part of the Windows operating system, so it will never be deleted or uninstalled. But it can be hidden with some easy steps.
So, if you can't find the recycle bin icon on your Windows 10/8/7/Vista/XP, it is absolutely because it has been hidden by your computer maker or others. You can follow the below steps to show it again.
Windows 10: Click on Settings > Personalization > Themes > Desktop icon settings > Recycle Bin > OK.


Windows 8: Search for desktop icon settings > Show or hide common icons on the desktop > Recycle Bin > OK.


Windows 7 & Vista: Right-click on the desktop and choose Personalize. Then click Change desktop icons > Recycle Bin > OK.


Windows XP: You can't hide the recycle bin icon in Windows XP without an 3rd-party tool like Tweak UI.