Forgetting the password of your Windows computer is not a new thing, if you have recently installed the Windows and set a new password, you are one of the thousands people who might be the victim of this problem. Natively, Microsoft doesn't provide any tool to recover the forgotten password and you will either have to recover your Windows using a recovery disc or will have to install the new Windows on your computer.
Luckily, there are many third party Windows password recovery software which will let you recover the password of your windows. Some of these tools are disguised as the password cracking tools and will crack the password in just few minutes. However, approximately all software requires an empty disc or DVD or a USB to recover the windows password. You will also need to have another fully functional computer to download and use these recovery tools. More importantly, few of them will recover the previous password and some authenticated tools will reset the password, so, you can easily set a password. Here's our sneak peek on the best Windows password recovery tools.
Part 1. Top 5 Password Recovery Software for Windows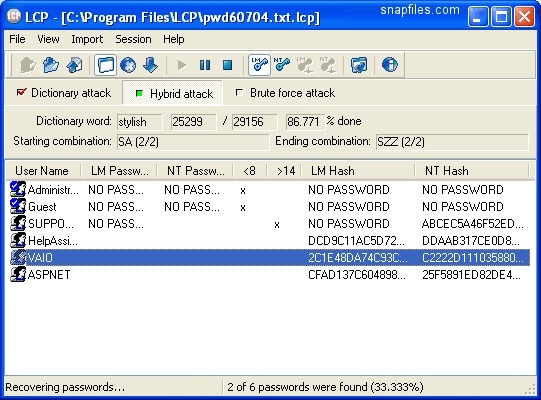 1. LCP
LCP is a free tool to recover password tool which only works with the previous versions of Windows XP, NT, 2000 and 2003. The overall user-interface of the tool is not as appealing as compared to the password recovery tools of its level.
Pros:
Free of cost tool.
Works efficiently on older versions of Windows.
Can import the information from a local computer as well as from a remote computer.
Cons:
Doesn't work with the latest versions of Windows.
Doesn't have user-friendly interface, so, not that easy for the normal people.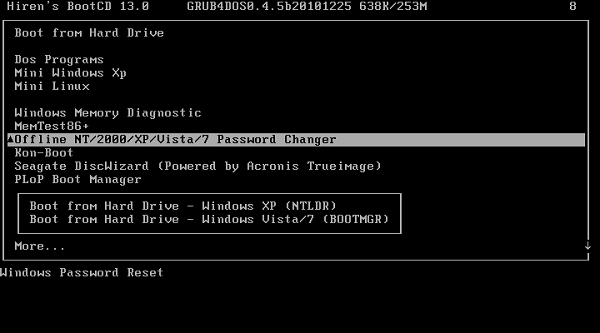 2. Offline NT Password & Registry Editor
It is one of the best software to recover the password on Windows which doesn't need an internet connection to recover the password. You don't have to have the old passwords to recover the password using this tool. Moreover, it is absolutely free and open source tool so the developers can modify the program to meet their needs.
Pros:
Free of cost, fastest and easily to understand.
Works Efficiently with all versions of Windows.
Cons:
This software doesn't have a graphical interface which might not be good for most of the users..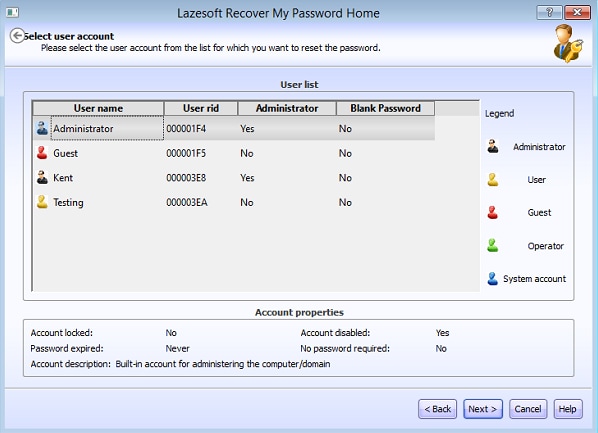 3. Lazesoft Recover My Password
Lazesoft is yet another handy tool to recover the lost password on all versions of Windows 7, 8 and 10. It also works efficiently with the 32 bit and 64 bit system. You can also make a bootable USB, DVD or CD to recover the software.
Pros:
Works with all versions of Windows and easy to user interface.
Great technical support for the users.
Cons:
Costly as compared to the other password recovery tools.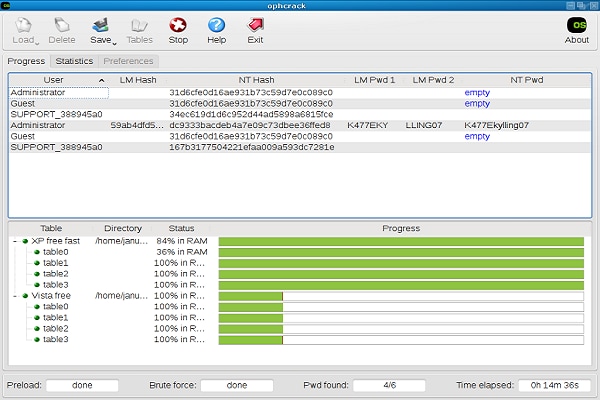 4. Ophcrack
The last but not the least, open source and absolutely free of cost, Ophcrack will work on any system such as Linux, Mac or Windows. It also has the LiveCD version which has more simplified version for the newbie users.
Pros:
Absolutely free of cost and works better than most of the Premium tool.
Faster as compared to all of the above mentioned tools.
Works well with all versions of windows such as Windows XP, 7, 8 and 10.
Cons:
It doesn't have any disadvantage except it doesn't work well the anti-virus software on the computer.
Part 2. Tips for Recovering Data on Windows Computer
Most of the password recovery freeware come with the clumsy software that will be installed on your computer. So, carefully click on any option while installing a freeware password recovery software on your computer.
You can use any of the above mentioned software to recover the lost password on Windows computer, however, this method has some limitations. You will surely need to have a blank CD, DVD or USB and another fully functional Windows PC to recover the password of your computer. However, if you don't have any one of the above mentioned thing, you will not be able to recover the password. The only solution you will leave with will be re-installing the windows on your computer. It is for sure that the previous data on the windows drive will be removed from your computer, but you don't have to worry about it, you can always restore it with Data Recovery for Windows.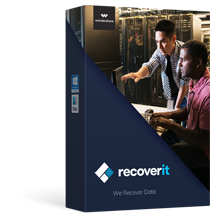 A Life Saver to Solve Your Data Loss Problems!
It is compatible with both Windows and Mac operating system.
It supports a large number of storage device type including hard drives, USB flash drives, SD cards, etc.
All major types of files can be recovered including music, images, video, documents, emails, and archives.
It has a deep scan features for in-depth scanning of the hard drive for searching files to recover.

2,965,271 people have downloaded it
Recoverit will let you recover any recently deleted data on your computer, you can even recover the data after a complete format of the hard drive on your computer. So, no matter what happens, the data will be recovered with in the few seconds. It will not only recover the most popular types of files, but the files without any extension will also be recovered with Recoverit for Windows. Moreover, you can also preview the files before you can recover them on your computer.
Don't restore the data on the same hard drive, because it may overwrite the new data and may cause some problems. Either recover the data on another partition or use an external drive.