How to recover files from formatted partition in Windows 10/8/7?
People use formatting commands for different reasons:
- Completely clear up data from a given partition of the external hard drive so as to create space for storing up new data.
- Repair the operating system in case it starts becoming slow or unresponsive, clear up massive junk in specific partitions of the hard drive.
- To do away with data that may be containing corrupted files due to massive viruses among others.
- Clear confidential files that they do not want unauthorized access to.
Formatting is an extremely essential function as it helps in saving time required to delete files that are no longer useful one by one. In other circumstances, the formatting action is simply mandatory and cannot be avoided.
Through formatting, the files that are stored in a particular partition are erased and the format of such data gets restructured. Usually, restructuring of the data storage helps in enhancing the performance of the hard drive.
Part 1. The Easiest Way to Recover Data From A Partition You Had Previously Formatted.
Many people get extremely troubled whenever they remember that they just formatted a partition containing very important files that they had not backed up elsewhere. I know it sounds impossible but it's possible to recover data from a formatted partition of the hard drive. Recoverit software has been carefully designed to help both Windows and Mac users to recover data they had previously lost on the formatted partition.
Indeed this program has proved to be lifesaving as many positive reviews have been received from people who have recovered data that they had thought of as irrecoverable. It is a powerful tool that can be helpful in recovering any file format from Media files (gallery, music, video), texts, emails, and more.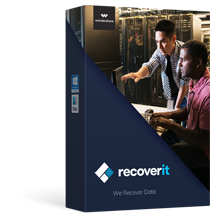 Support to recover data lost in different scenarios, like external hard disk, system creash, formatted disk, crash computer, virus infection, etc.
It can fix playback issues with videos like a corrupt file, dropped frames, audio/video syncing, grainy video, missing audio/video, and so on.
8 different recovery modes to help you locate the lost data and get them back in the shortest time.
Newly upgraded system crash recovery allows you to recover data from an unbootable system within few simple clicks.
Recover more than 1000 types of file types, like documents, audio, videos, graphics, emails, etc.
100% risk-free and easy to use, it can greatly improve your working efficiency.
Require no professional skills for both beginners and experts.

2,965,271 people have downloaded it
Step-by-step Guide on How to Recover Data from A Formatted Partition
Step 1. Select A Recovery Mode.
In order to recover back data from a disk that has been formatted, click on the option "Formatted Disk Recovery" or "Lost Partition Recovery" to begin the process in Windows or Mac computer.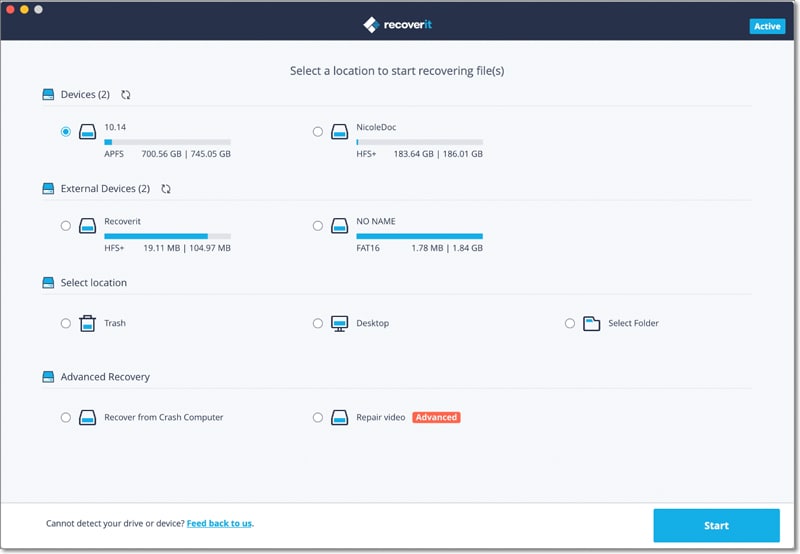 Step 2. Choose the Location to recover your lost data.
Choose the partition that is formatted or files on it, then click the "Start" button to begin a scanning process on it.
Step 3. Preview and select the wanted data to recover.
Scanning the hard drive to locate the formatted partitions takes time but eventually generates results. From the drop-down list of the recoverable files from the formatted partition, you can easily preview to identify the files you would like to recover.
Tick all items you wish to recover, and hit the "Recover" button to save them well.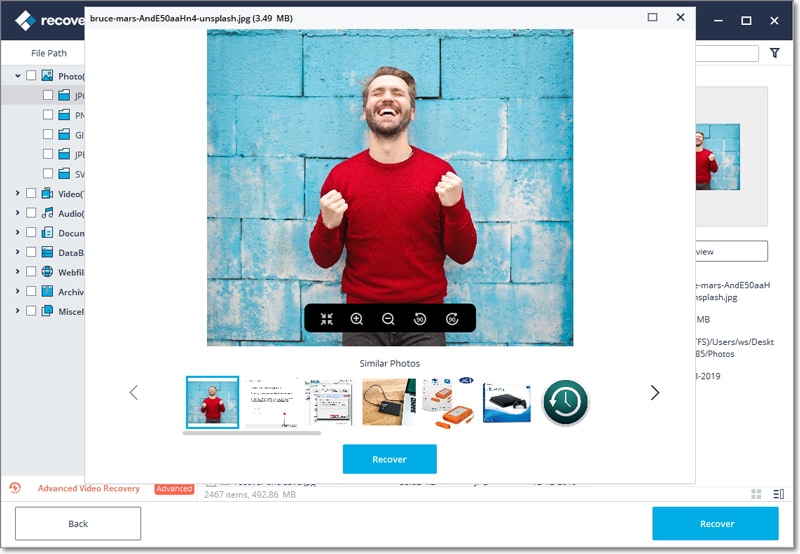 Data Not Be Found? Try All-Around Recovery
If the files you're interested in are not anywhere to be found, do not worry. You can carry out an "All-Around Recovery" for a deeper scan.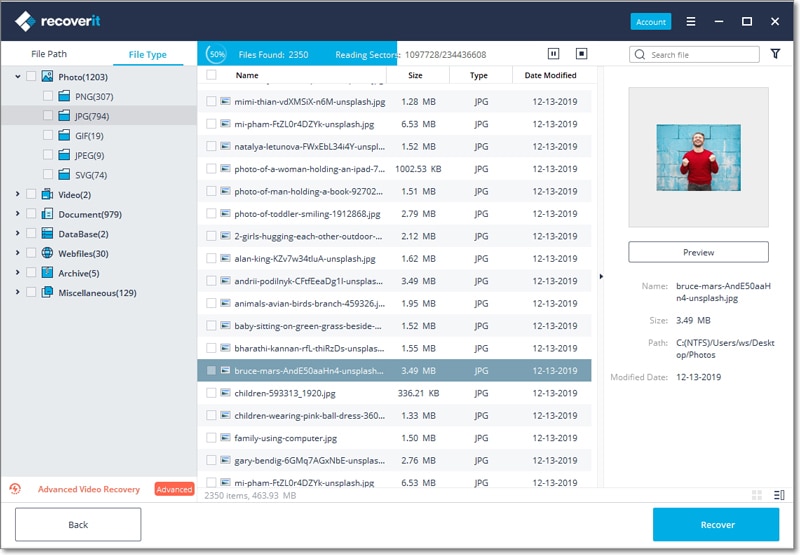 Part 2. Why Data Can Be Recovered from A Partition That Has Been Formatted?
In case a partition is formatted, and all the files stored up getting deleted, why would a user recover data from a formatted partition? Formatting means that all the data that had been stored in that partition is deleted. But in the real sense, data fragments are still existent in the partition that has been just deleted awaiting to get overwritten by new data. As soon as it gets overwritten, that data is lost for good and that is why you should avoid giving the PC any commands before you recover files from formatted partition as it only ends up overwriting data making it permanently unrecoverable by any program.
Part 3. Tips to Avoid Data Loss from A Formatted Partition
1. Always back up important files
All Windows and Mac users should routinely back up data in mass storage devices to avoid frustration when data is lost. This habit helps to ensure that all the files that mean volumes to you have been safely secured in a different storage device should anything happen and you format your hard drive. By backing up files you avoid going through the process of getting suitable software to recover lost files after deletion has taken place.
2. Set up a password to avoid unauthorized access to important files
In some cases, partition of the hard drive is formatted by individuals who are not the actual owners of the data. This can happen accidentally or even maliciously. To avoid losing your data due to such occurrences, ensure that your hard drive is set in such a way that it requires a password in order to give access to especially sensitive data or files.
3. Take time for checking before formatting your hard drive partitions
We're probably all familiar with times when you just feel like formatting your machine instantly to correct annoying system failure or delay in executing just a simple command. This is too risky and can lead you to lose all your data in an event where you have no backup of some very relevant files you just deleted. To avoid such regrets, always take your time before formatting your machine. Ensure that you preview all files in that particular partition you're just about to format.
4. Always ensure that you're using an updated virus version
Among the main reasons why people format their machines is to erase the corrupt files that may have been attacked by a virus and pose a big threat to the PC. A virus attack can cause you to format your machine indefinitely especially when it starts failing to open all other files. Hence, it is important to develop a routine of scanning your machine regularly with updated virus software that is able to instantly detect a virus corrupted file.
Conclusion
As you may have realized above, It's super easy to recover data from a formatted partition. But, it's important to note that not all recovery programs are reliable. You need to ascertain the reputation of the software you want to use to recover data. Recoverit is among the most reliable programs that can help you to recover partition after format.