So you accidentally deleted an important file, email, contact, etc. from your file partition and you have no idea what to do next? Actually, you're not alone.
We used to work with computer and lots of personal yet business materials have been saved in the PC. But sometimes, the computer is easier to dead, broken or even crashed without any predictions. That means you might not create a backup of your crucial data before.
Then, what will you do? How to recover files from a not working computer? Don't worry, a simple File System Recovery software can help you get out of these troubles.
Recover Data after System Crash with Best File System Recovery Software
Recoverit (IS) is the best file system recovery software that can offers users the ability to recover data from a not working computer within few clicks. As a qualified product, it can reduce your data loss worry to zero.
The tool can help with retrieval of accidentally deleted, lost, and even formatted data from a PC's internal drive, pen drive, memory cards, external drive and so on. This program can recover virtually all file types across multiple devices. This includes data that's lost as a result of Shift+delete" erased and emptied into the recycle bin and hasn't been backed up anywhere, data that was formatted, corrupted files, lost/damaged/resized/deleted/invalid partition, improper device handling as well as virus infection. This robust software is completely compatible with Windows 10/8.1/7/8/Vista/XP and can be used in data recovery from FAT16, FAT32, NTFS as well as exFAT file systems.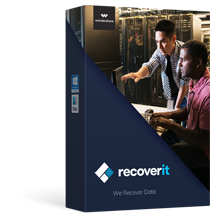 A Life Saver to Solve Your Data Loss Problems!
Recover data from an unbootable system within few clicks. And support data like photos, music, videos, documents, etc.
Data lost in other situations like virus attack, disk format, partition lost, recycle bin emptied, mistakenly deleted, etc. can be found and retrieved by this program easily.
Quick and deep scan mode allows users to find all hidden, lost, deleted or resized data at seconds.
Compatible with all kinds of Windows system well.
Easy to use and risk free.

3,280,924 people have downloaded it
How to Perform the Best File System Recovery Software on Windows 10/8/7 Easily?
Since the process will format the data on your hard drive or CD/DVD to create bootable media file, so please backup data before the whole process or directly prepare a blank USB drive or CD/DVD disc. Next, follow the below instructions to start recovering files after system crash.
Step 1

Choose a Recovery Mode

Install and launch the program, then choose "Recover from Crash Computer" mode in order to start the process of creating a bootable media to the USB drive or to the DVD/CD you just inserted.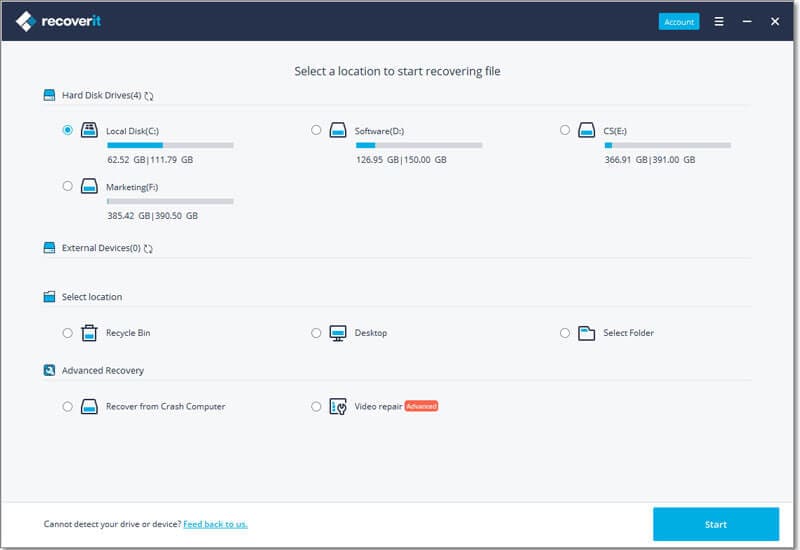 Hit the "Start" button in order to confirm your option.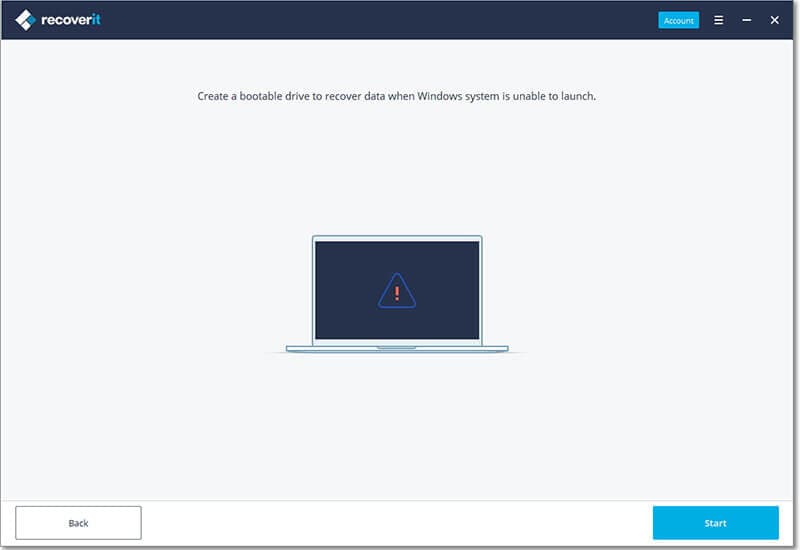 Step 2

Choose the Drive in which you wish to create bootable media file

Choose a mode for creating a bootavle drive in accordance to your needs then simply click the "Create" key as shown below.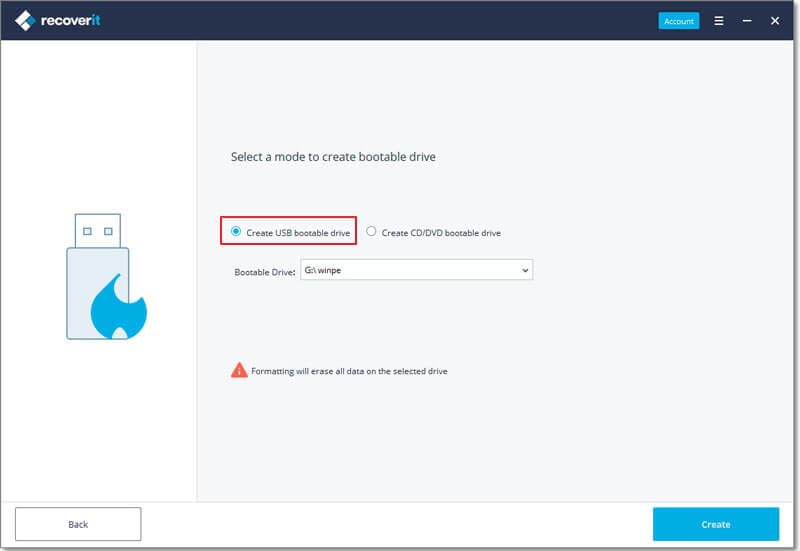 During this step, a message prompt window shows up telling you that this operation will end up formatting your drive and asking you to back up all your data prior to beginning the process. If you sure you have backed up data before, then you can click "Format now" to confirm your option immediately.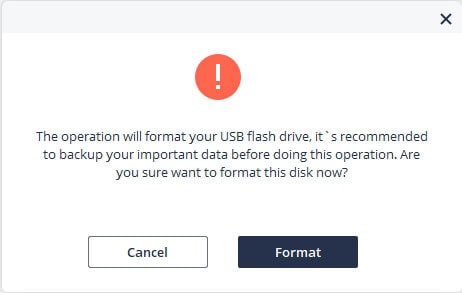 Step 3

Recovering Data from crashed system

As soon as this process is over, now you need to carefully follow the guide that's provided to retrieve back all your lost data. At this point you need to carefully go through an article on setting BIOS on your unbootable PC.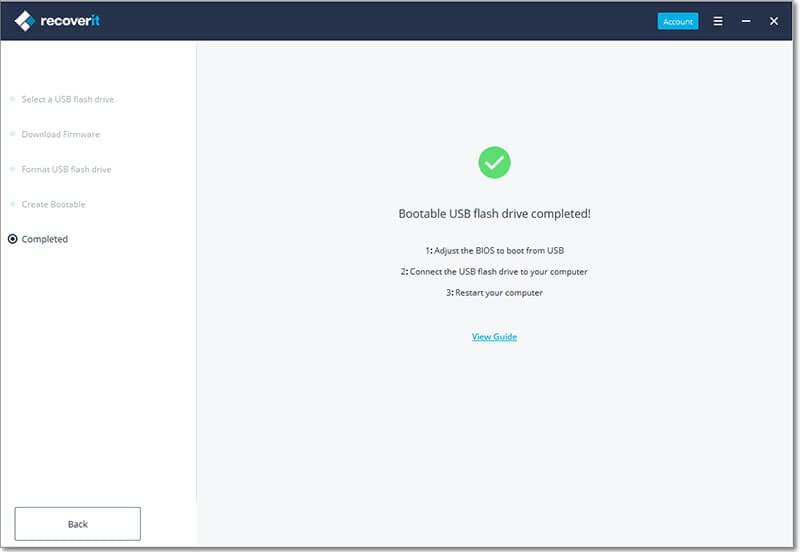 Tips for File System Recovery
Windows system crash issues seem inevitable and it may result from various reasons including virus attack. Your PC of version 8.1/10/7/8 will not suddenly just shut down for no reason. In this section I will list 8 main reasons for Windows System Crashes, and all these situations can be handled by Recoverit (IS) software.
Why computer system crashes/fails suddenly?
- Hard drive failure
Hard drive failure is among the top reasons for booting issues. If your PC mysteriously loses its ability to locate the boot drive, while the BIOS is well configured, a hard drive problem is a verdict. Hard drive issues are the common reasons behind crashes that only result when opening specific files.
- Software
Windows system may crash in case the software in your PC has been improperly installed. Often, this issue is cured by uninstalling the program and then installing it again. use the uninstall shield in order to get rid of the application safely. This also removes references from the system registry and leaves the system program clear for a completely fresh copy.
- Hardware incompatibility
Windows may crash when it receives conflicting information from different hardware pieces. Although it is not always harmful, it is among the main sources of freezes and BSODs.
It's possible to tell when there's a hardware conflict by simply opening the Device Manager. In case of a conflict, its visible in a yellow And black exclamation icon. Have a look at the hardware that seems to be conflicting and look at its properties using the right-click menu to get more information.
- Virus attack
A virus can cause a serious harm to your computer. It may either corrupt or remove the PC drivers, delete crucial system files or even change the administrative settings. All these are likely to cause undue crashes, freezes or make your programs out of reach. Normally, a windows system crash that is caused by the virus can be resolved by simply uninstalling the program or deleting the file that's been attacked by a virus. In case this doesn't work, you can use third party softwares for this.
- Overheating
Overheating can cause permanent damage to your PC components. As a result of this, hardware shuts down before the temperature rises to a point where it may cause the crash error. Whenever you hear a beep from your PC from when it crashes, this simply means that your processor has overheated. You may start by checking the case ventilation or fan which could be the reason as to why your computer is overheating. You may also place your computer in a place where it can cool to avoid overheating.
- Power hitches
Power issues in your building, apartment may lead to system failure. A circuit that's overloaded or poor wiring may also be the culprit. You need to trouble shoot such an issue by transferring your PC to another room to find out if the sudden crashes stop.
- Poor memory/mother board
Most crashes especially those that are as a result o Blue Screen of Death result from a memory or motherboard issue. This may cause a Fatal Exception error meaning that data stored in memory cannot be retrieved.
- BIOS settings
Each motherboard has a batch of chipset settings which are normally decided in the factory. You can access or even change the BIOS settings by simply pressing the delete button or F2 key within the first few seconds of booting. As soon as you're inside the BIOS, you should take great care. It's a good idea to always note down the settings appearing on the screen on a piece of paper. This will enable you to know the settings you can revert to if anything changes or becomes unstable.
Note that at times the windows system failure or crash may be as a result of more than one reason and thus you need to check out for all the possible reasons before finding a way to optimize your windows system.
Conclusion
Recoverit (IS) can handle any data loss scenario and hence it helps PC users to recover data from the missing file systems regardless of the circumstances under which they lost their data. Have a try!