Many a time, we have lost data that was very precious to us due to honest mistakes or faulty hardware/software. We are left to clutch at straws as we devise means to regain that treasured photograph or song. Losing a video has become a headache as well, and with that comes Google searches on the best possible ways to recover our video files, especially those that have been overwritten. Yes, it is hard to recover overwritten video files, however, you need to figure out whether your data is really covered. There is a myriad of software (both free and paid) that will assist in you in finding the file again. Firstly, you should ensure data is not usually permanently erased from a hard drive: instead, the pointer pointing to the data is erased. If the data has not been overwritten, you can scan and recover lost data from the drive.
Part 1. Can You Recover Overwritten Video Files?
Recovering files from an SD card that has been overwritten may sound like a daunting task, but it isn't all that hard. Because many user don't know the accurate meaning of "overwritten". Whether the data loss was due to a formatted SD card, a corrupt SD card, or virus infections, you go ahead and overwrite the card with new data. You now need to know the success rate of recovering lost files.
It all boils down to the amount of new data stored on your memory card. If the overwritten data was much larger than the newer data, the margin of success to recover parts of the video files is large and you can be fairly confident that you will get some video files back. However, it should be noted that if the new data is much larger than the old data, your chances of successful recovery are bleak. Even if you manage to recover the data, it might be corrupted or inaccessible.
At the end of the day, if you manage to access a highly reliable data recovery software, you can recover "overwritten" video files (etc.). It is possible and is worth a shot.
Part 2. How to Recover "Overwritten" Video Files
Recoverit (IS) can recover images, videos, documents, archives, emails, and audio files from a variety of mediums like your Mac computer, MP3 player, memory card, USB, and hard drive. You can scan the device, preview the located files, then choose which ones to recover. The entire process can take minutes, and if one opts for the deeper scan option, it may take hours. Now, if your lost video files are not overwritten completely, follow these steps and find your lost videos back.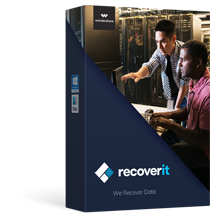 A Life Saver to Solve Your Overwritten Video Problems!
It is compatible with both Windows and Mac operating system.
It supports a large number of storage device type including hard drives, USB flash drives, SD cards, etc.
All major types of files can be recovered including music, images, video, documents, emails, and archives.
It has a deep scan features for in-depth scanning of the hard drive for searching files to recover.
2,521,366 people have downloaded it
Step-by-Step Guide to Recover "Overwritten" Video Files on Mac
Step 1. Download and Install This Program
You can find the software on the official iSkysoft page. Download it and install the software on Mac. Run the program. You will be greeted with the following window. From this window, you can select "Video" tab to only scan lost video files, then please click "Next" button.
Step 2. Search for "Overwritten" Video Files
In the list of drives that comes up, choose the one you lost the data from. Then select "Start" so Recoverit (IS) can search the drive for lost data.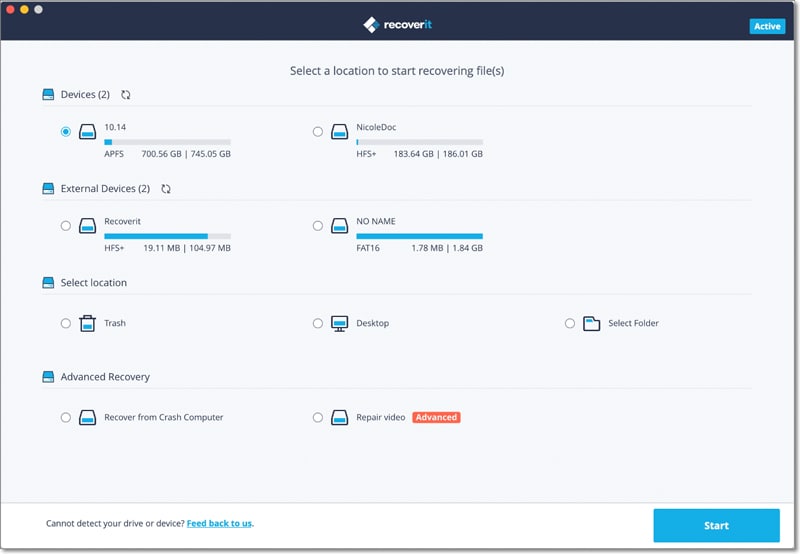 Step 3. Recover Overwritten Video Files
Recoverit (IS) will eventually pull up a list of files it has found on the drive that were accidentally deleted. The useful preview will show you the files that have been found, along with their relative health: files that are labelled "Good" have a high recovery success rate, whilst those labelled either "Poor" or "Bad" will be more difficult to recover. Click on the file you would like to restore, and click "Recover". Recoverit (IS) swill get the file back for you. Remember to choose the destination path in another drive.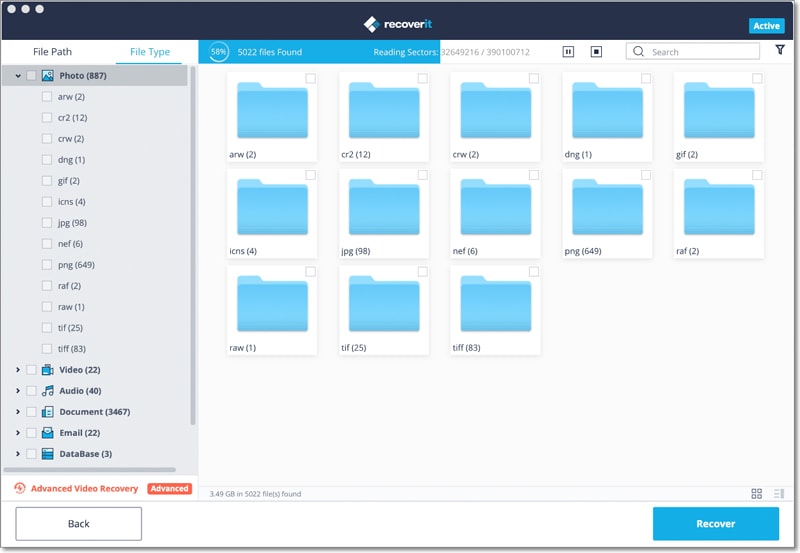 Here are some tips to maximise your experience of Recoverit (IS):
Use the filter option to specifically search for video files in the preview.


If your file is not appearing in default quick scanning result, opt for the "Deep Scan" option. It will take longer, but it will definitely bring your file up.


If the scanning is taking too long, you can pause it and resume it at a later time.