It doesn't matter if you store a lot of videos on your Mac or not, you should know how to recover deleted videos on mac. There can be some instance when you might lose all of your Mac's data, and that may also include some of your very important videos. Videos are a way to store memories of all your precious moments, and if you lose them, or you delete them by accident, all of your precious moments are gone. Thus, to save yourself from such trouble, you must know how to recover deleted videos on your mac.
Part 1. Multiple Reasons Due to Which You Can Lose Your Videos from Mac.
It doesn't take much for your Mac to lose videos, or for you to mistakenly delete them. There can be many reasons behind losing videos on your mac.
It happens a lot and must have happened to you also multiple times. Faulty cables, improper connection, system error, or any random error while transferring your videos, any of these can cause unwanted trouble for you, and then you might need to recover deleted videos on Mac.
Humans commit mistakes very often, you too are a human, and you will commit mistakes too. There might be times when you select all of your videos for bulk transfer and you might click delete. Now, we all know the videos won't be deleted permanently at first, but there are very high chances of them picking up some random errors.
This can happen due to viruses, malware, read and write error, or hard disk issues. Out of nowhere, you might suddenly see some lines flickering through your videos, or some colourful boxes filling up space, and in a few seconds, that video will be of no use.
Part 2. What Steps You Should Take Right After You Lose Your Videos from Mac?
In case, you lost videos from your MacBook, there are few steps you need to take or a few things you need to do before directly going for a full recovery. We have listed some points that you should go through.
Before jumping directly into a full-scale video recovery, we suggest you to first have a look into your trash. It may be possible that you lost or deleted videos are hiding there. So, it is better to have a look in your trash first.
As soon as you notice that you have lost your videos, the very second thing you should do is to stop using your Mac. Because if you keep using your mac, you might overwrite the existing data of deleted files, and that may result in a permanent loss of your videos.
Check if You Already Have a Backup:
It might be possible that you are smart enough to already have a backup, so that will save you from the need of recovering deleted videos. If not, then you will have no other option than doing the recovery.
Part 3. Our Recommendation for the Best Video Recovery Software on the Mac.
Now, here is a simple mindset of a user searching for a software to recover video files on Mac, they want the software to be reliable, efficient, easy to use, and safe. Most of the software available in the market are exactly opposite, many of them are fake, and many of the real ones are not efficient enough. But Recoverit for Mac is all in one, it is highly efficient, it is very easy to use, and it is also very trust able. The feature list of Recoverit is something that sets it apart.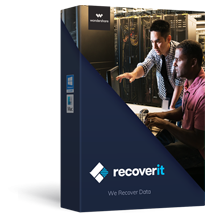 Best Mac Recovery Software!
It has a version supported for Mac, Windows, and even for the android. Recoverit is compatible with all.
It can recover every type of lost file or documents. It can recover, photos, videos, zips, docs, pdf, etc.
It can recover any type of video files on mac i.e. AVI, MOV, MP4, M4V, 3GP, 3G2, MKV, MXF, WMV, ASF, FLV, SWF, MPEG, MPG, RM(RMVB), etc.
It is very easy to use and have multiple recovery modes.

2,965,271 people have downloaded it
How to recover deleted videos from your mac with Recoverit:
Step 1
Install & Launch:
Download, install and launch Recoverit for Mac.
Step 2
Select the Disk and opt for Scanning:
You will see all the drives in your Mac, select the one from which you need to do recovery. Click "Start", your drive will be scanned.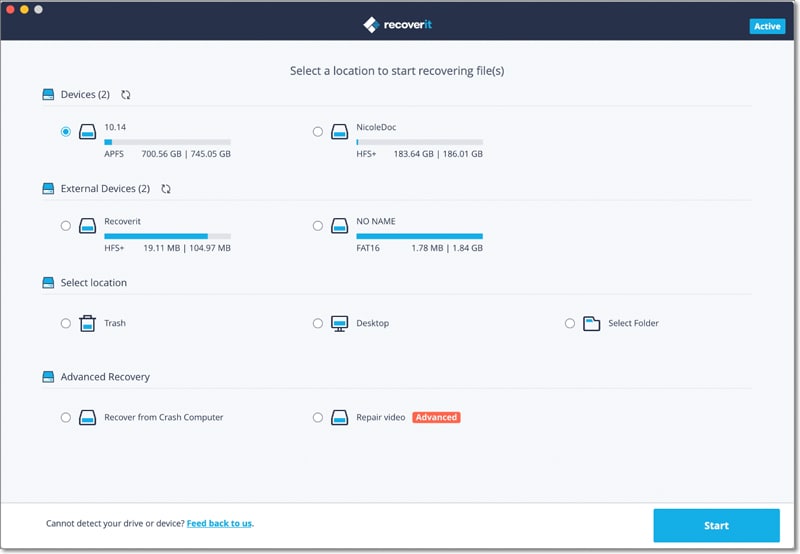 Step 3
Select from Preview and recover:
You will see a preview of all the recoverable lost data after scanning. Select the preview of video files you want to recover from your Mac. Proceed to restore them on Mac.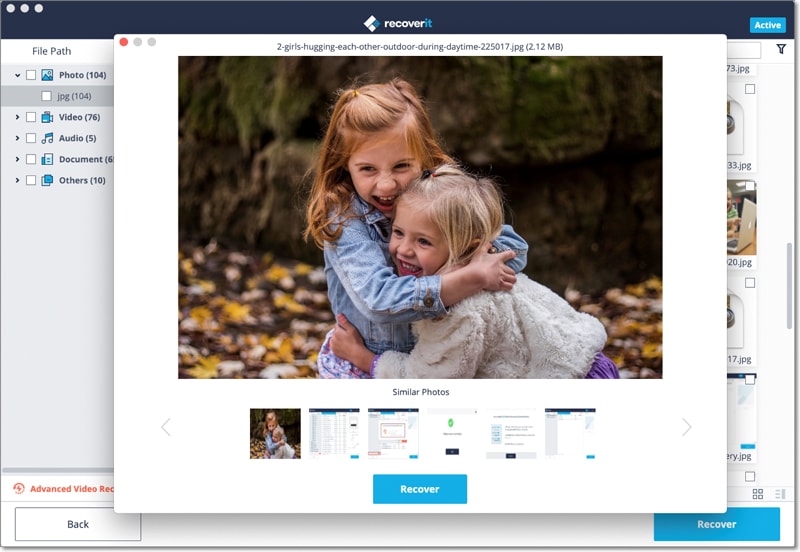 Congratulation! All of your data has been restored.
Part 4. To do Deleted Video Files Recovery from Mac You Need Disable System Integrity Protection.
Before you go for a video recovery on your MacBook, you need to take care of something, you need to disable System Integrity Protection. It is a built-in security feature for your Mac OS 10.13
Why Do You Need to Disable System Integrity Protection?
First, let us understand what is System Integrity Protection. Your Mac is designed to be more secure than any other device. In addition to that security aspect, Integrity protection is a built-in feature for Mac OS 10.13. It is built inside your mac to protect it from any kind of malware attack or hacking attempts. Due to similar reasons, it creates problems for the recovery software to attempt a recovery. Thus, to recover video files on Mac, you need to disable the System Integrity Protection.
How Can You Disable System Integrity Protection?
1. Restart your Mac into recovery mode by holding "Command+R" key at the time of reboot.
2. Once you have entered the Recovery mode, you need to click the "Utilities" option in the menu bar, follow it by selecting the "Terminal" option.

3. You will be redirected to the terminal. In the terminal, enter the command "crucial status", press enter. It will show you the status of system integrity protection.

4. If the protection is enabled, proceed by entering the command "csrutil disable". This will disable the system integrity protection. Now you can proceed by restarting your Mac.

5. To enable it again, enter the command "csrutil enable".
Recovering deleted photos on mac may turn into a disaster for you if you do not exactly know how to do it. But, with our suggested process, it is as simple and safe as it can be. Try recovering video files on Mac with our process, and thank us later.