"I have just realized that some of my videos are out of sight. I have tried to restore them but it is indicating that they cannot be restored. How am I going to get my deleted videos back?"
- a question from Quora
Deletion of data is sometimes a voluntary action that you can apply in order to free some space or do away with unwanted clutter. However, this action may go overboard without you knowing, ending up in deleting your most important videos. When such a scenario happens, it is not always easy to trace back your videos. Better said than done, you need some knowledge on how to deal with such losses, preventive measures and the possible causes of data loss. This article is going to walk you down the path of how to get back recently deleted videos. Whether they are hidden in a folder, within the recycle trash or some backup mechanism, chances are high that you can get all your videos back.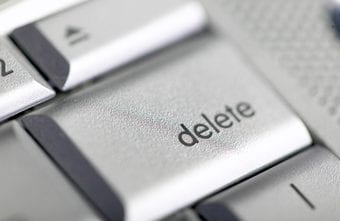 Part 1. Lost Your Videos? It Could Be Because of These Reasons
Most people are not aware of the real risks of losing data and more so, how to avoid them. Reasons such as computer viruses, hard disk breakdowns and accidental deletion are the leading causes of lost videos. Furthermore, the way we save and handle data could also contribute to the same. Let's see what you need to take care in order to avoid data loss and possible ways of how to undelete videos.
Damaging malware
As technology continues to advance, more new viruses crop in. Gadgets are of cause open to various risks from malware infection. Usually, viruses affect the operational software part of the machine or cause damages to the stored data. Installing the recommended anti-virus program or regular backup of your data could be of help in such a scenario.
Mechanical damages
Most of the Smartphones or computers that we use are very fragile. It is easy to experience a breakdown in them especially if not properly handled. Furthermore, these devices have delicate tiny parts that can result to extensive losses if mishandled. It is, therefore, advisable to handle your gadgets with caution at all times, avoid accidental dropping and ensure they are kept in save places.
Accidental deletion
Another common cause that may lead you to delete video is the cleanup of your disk. It could be so as to free some space or remove the videos that are of no use, but you end up deleting some important data. The best remedy is to have a proper backup mechanism so that if you accidentally delete your videos, you can still get them from your backup. It is also vital to properly confirm on the data you need to delete before taking that stern action.
Power failures
Abrupt power shut off or failure can cause great havoc to your gadget. This is because a sudden change in voltage has a high risk in your device's operation ability. Insufficient power supply due to power interruption may cause you your entire data including videos. It is advisable to have a proper power backup to avoid such losses. You should also make it a habit to turn your device to power control mode whenever there is low power supply if you don't have a power backup near you.
Software corruption
It is actually the software part of your device that stores data. In the event that this part gets corrupt, it cannot function any further. What follows is a sudden shutdown that automatically leads to erasing of the present data. Having a good working habit like a tendency of saving your data in a secondary location could be of great essence.
Formatting and factory reset
Even though this helps in cleaning your device from bad sectors, it can also cause video loss. Formatting or factory resetting your device may make it difficult for you to recover all deleted videos in one go. It is, therefore, vital to take proper caution by backing up your data on other media storages before performing this action.
Part 2. How You Can Get Back Your Deleted Videos
Deleted videos are usually not totally lost. They still exist in your drive and can be retrieved using the best means. These are ways on how to retrieve deleted videos from your Phone, tablet or computer.
2.1 Stop Accessing the Drive or Device
Since lost data is not usually erased from your device totally, you need to approach the restore issue with caution. Further usage of your device or saving on more data will cause the inbuilt space to be filled up. Remember the space which the previous data occupied is only marked as free. So, if you save in more data, it results in overwriting of the previously saved data on your drive. The best solution is to stop further operation on the device where lost data was originally stored.
2.2 Check the Recycle Bin or Trash
The recycle bin is used to hold on deleted files for as long as you don't remove them from there. However, the bin has a capacity limit and will be automatically emptied if the limit is reached. So, in an effort to recover lost videos, go to the recycle bin and right click on the video that you want. Click on restore option to take the deleted files to their original stored folder.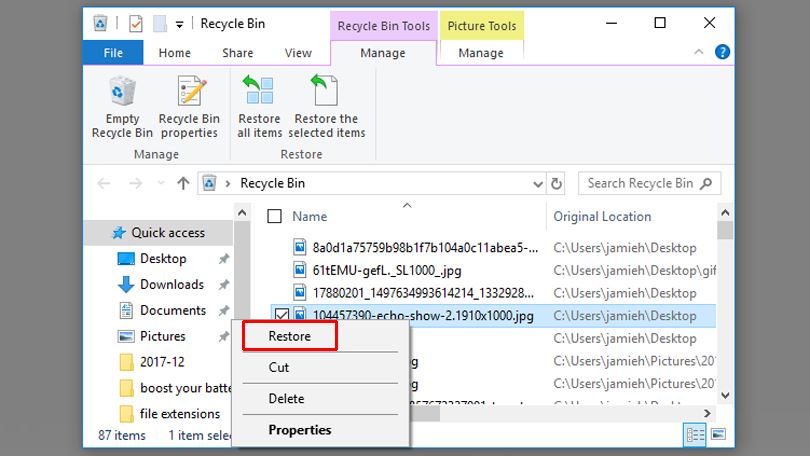 2.3 Check Your Backup
You can also recover deleted video files from your backup location such as google drive, iCloud or iTunes backups. These are online services that are designed for syncing of data from your device. They are proper storage mechanisms that have the capacity to store your data, enabling you to retrieve them back when a need arises.
2.4 Find Video Recovery Software
If the above options don't yield any fruit, then you may opt for recovery software to aid in restoration video. There is numerous software in the market that are within reach for the purpose of data retrieval. You, however, need to look for a software that is easy to use, has the capacity to retrieve numerous data files and can recover data from any data loss scenario.
Part 3. Recoverit – The Best Software to Recover Deleted Videos
This software is encompassed with the latest technological mechanism to help you recover deleted video files from various devices like computer, Phone memory, tablet and much more. It is suitable for system crash data recovery, recycle bin recovery, external device recovery, all-around recovery among other scenarios.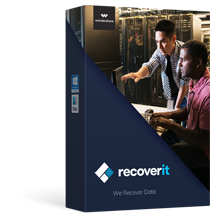 A Life Saver to Solve Your Data Loss Problems!
All-in-one Data Recovery Software: Use Recoverit to get back your videos from any data loss scenario.
Recover Data From any Storage Device: It has the capacity to recover data from devices such as SSD, Camera, Camcorder, Micro SD Card, USB drive among other devices.
Computer Crash and Windows PE: You can use this tool to create a Windows Preinstallation Environment bootable media for accessing your computer when it refuses to restart.
Video Recovery is Easy: With Recoverit, you just need to follow 3 steps to full data recovery.

2,965,271 people have downloaded it
User Guide on How to Recover Deleted Videos using Recoverit:
Step 1

Install the application

Recoverit can be downloaded for free. Then install it and launch it on your computer.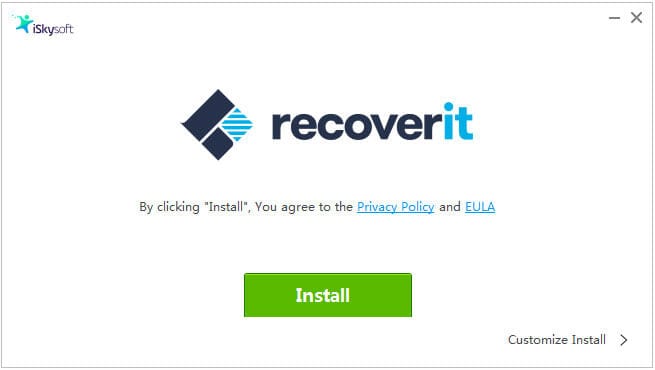 Step 2

Select which disk to scan

Pick the disk that contains your lost video game in order to start the scanning process. Then click on the 'start' button to be redirected to the next step.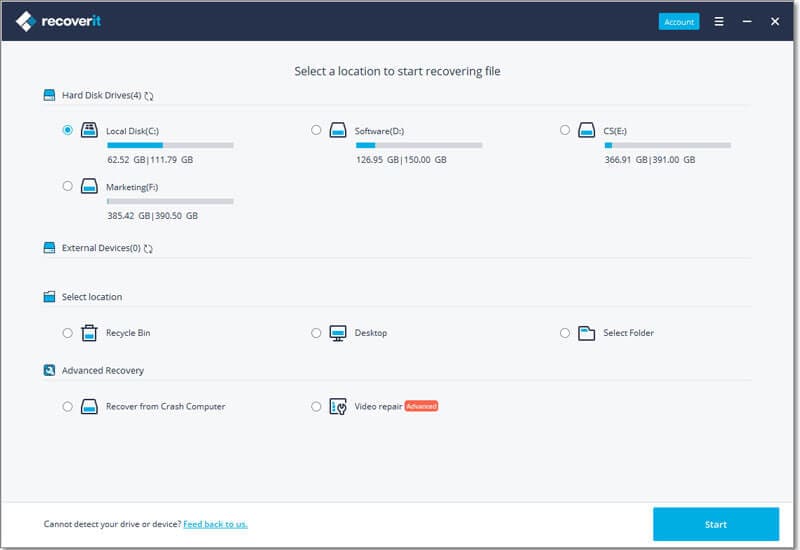 Step 3

Preview the scanned videos

All your videos will be availed after the scanning process. This step lets you preview all your recoverable videos in different forms. Tick the appropriate videos and then click on the 'Recover' button.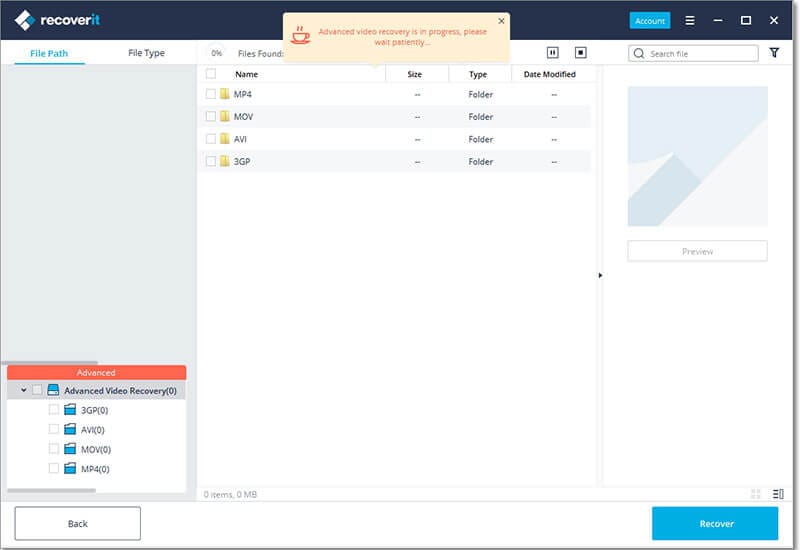 Step 4

Recover your videos

There you go! Your videos have been retrieved in those simple steps. Restore your videos by hitting the 'Recover' button at the far right bottom of the screen. Save your videos to your desired device. You can save to your Phone, tablet or computer.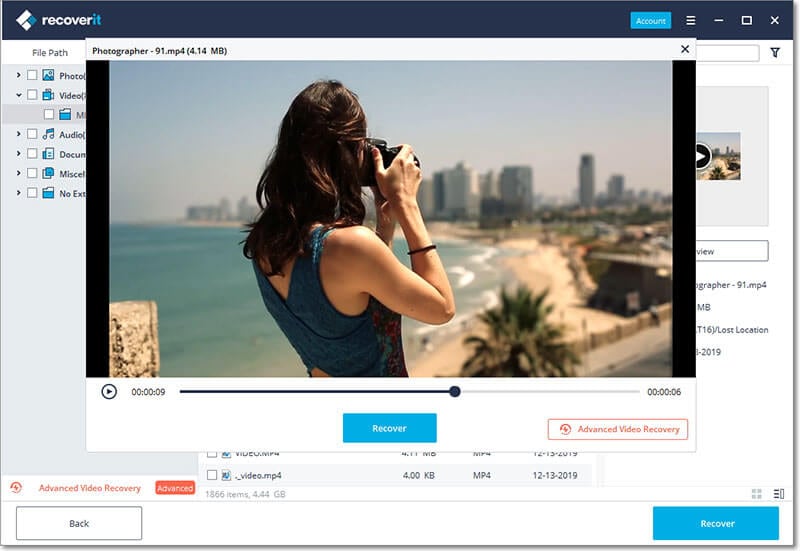 Conclusion
The above means can help you recover deleted videos from various drives or loss scenarios. You, however, have the best opportunity to recover videos that have recently been deleted especially if you are salvaging them from the recycle bin. What may not work for you is when you overwrite more data on your drive. Amidst all these, there is a deluge of quality software that has the potential to recover your videos in simple steps. We highly recommend Recoverit because it has a high chance of recovering your videos and you can use it for Window PE bootable media.