Your Android device is everything in today's world. You carry it everywhere with you, you store data in it, you take photos with it, and you also make videos on it. You know every feature or every setting of it, but do you know how to recover deleted videos from android, if lost somehow? There are very high possibilities of you losing your videos from your Android phone, as you store many videos on it and rely on your device too much. Thus, to save yourself after falling in such problems, you must know how to retrieve deleted videos on Android.
Part 1. Different Video Loss Situations on an Android Device.
When you use your Android phone on a daily basis, and that too for every big and small task, there is a very high risk of you losing your videos for one or another reason. There might be several reasons causing the loss of your videos.
A Physical Damage to Your Phone or SD card:
One of the main reasons behind you lose your videos from Android can be the damaged device or SD card. Physical damage to your card or device may land you in the need to restore deleted videos on Android.
A single malware attack or virus can corrupt your whole SD card and its data, and that may also include all of your videos. You will lose all of your videos once your SD card is corrupted.
There might be chances of you mistakenly format all of your data. It might be possible, as you try to correct some software issues on your Android device by formatting it, and you do it without taking a backup. In that case, you will lose all of your important videos and will need to recover deleted videos on Android.
You never know at which point of time your phone can just get dead, it won't turn on, it won't respond. In that case, you will lose all your videos and won't be able to recover it. But if you know how to recover deleted videos on android, you won't face many problems.
Part 2. What Should Be Your Choice of Software to Retrieve Deleted Videos on Android?
The one and only software that we will recommend that you to use is Recoverit. Use Recoverit to recover videos from your android phone. It is the only video recovery software in the market that gives you an all in one package that includes, efficient recovery, easy to use interface, speedy recovery, and a ton of features. Recoverit lets you recover each and every type of lost data in the matter of a few clicks. Let's have a look at its major features.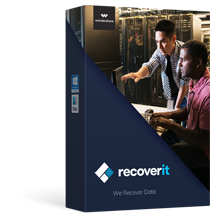 A Life Saver to Solve Your Data Loss Problems!
It is Compatible with your Windows, Macs, Hard Drives, SD card, Camera, and Android devices. You can recover your lost videos or data from any of these devices.
It lets you recover all the type of data i.e. Videos, audios, Docs, Pdf, Zip, Rar, Pictures, and everything else.
You can recover almost every format of deleted videos i.e. AVI, MOV, MP4, M4V, 3GP, 3G2, MKV, MXF, WMV, ASF, FLV, SWF, MPEG, MPG, RM(RMVB), etc.
It gives you multiple recovery mode options like Deleted Data Recovery, Lost Partition Data Recovery, External Device Data Recovery etc. So that you can recover through the suitable mode.
It is easy to use and has a recovery rate of 98%.

2,965,271 people have downloaded it
Note: The Program lets you recover videos and every other data from your Android device, however, it doesn't directly recover from the iPhone or an Android mobile without a data card.
Part 3. How to Recover Videos from Your Android Device Using Recoverit?
Step 1

Installation

Download the Recoverit and install it on your PC. Once installed, launch the program.
Step 2

Connect the SD card or Android Device

You need to connect your SD card from iPhone or Android through a card reader or connect your Android device with the help of a USB cable. Keep the USB debugging mode on if an android device is connected.
Step 3

Selection of Recovery mode and Storage Drive

Select "External Device Recovery" option among all the listed recovery options on the 1st page. On the 2nd page, you will see a number of listed devices or drives connected to your PC, select your SD card or device to recover from it. Click "Next" to scan.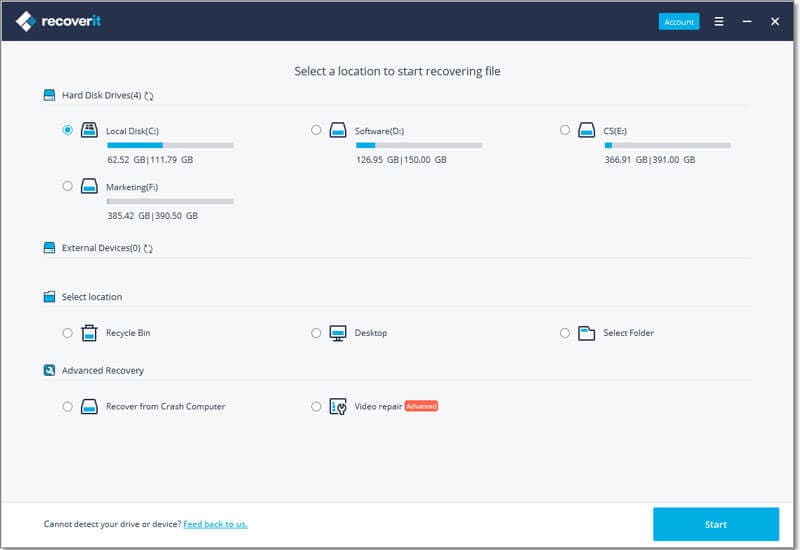 Step 4

Preview and Recovery

The program will present you with a preview of all your recoverable data including all your lost videos. Select all the videos and click "Recover" to restore them. Congratulations! You have recovered your data successfully.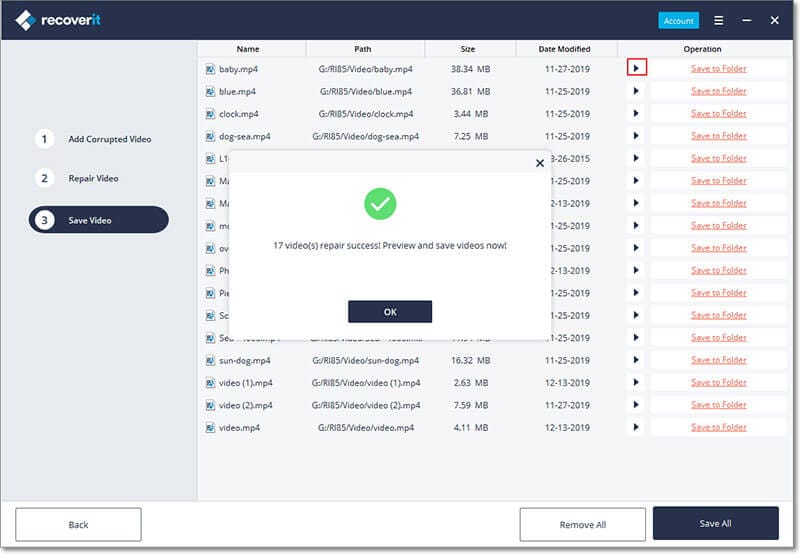 Part 4. Use dr.fone to Directly Retrieve Videos from Your Android Phone. No Root Needed!
Most of the Android video recovery software out there requires root access, but the dr.fone - Data Recovery (Android) lets you recover without root access. dr.fone is specifically designed for Android phones, thus it packs many other android friendly features.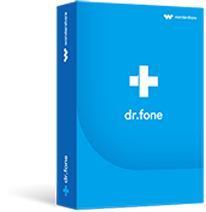 Recover Lost or Deleted Files on Android Phones/Tablets of Any Brand!
It lets you recover data from your android phone without requiring the root access.
Unlike Recoverit, dr.fone lets you recover data from the internal storage of a device too.
It lets you recover data lost due to any situations i.e. root error, format, damage, phone dead, phone bricked etc.
It comes with loaded android features or modes else than recovery. Other mode lets your back up the data, erase it, transfer it, or even repair your software issues.
3,305,812 people have downloaded it
dr.fone comes with many more features that can help you with your Android device problems. It makes the data recovery from android easier.
You need to be prepared and should know how to recover deleted photos from Android, as you might face such situations at any point in time. Android is a highly safe and interactive platform, but it is easy for you to commit mistakes or the device to get corrupted. Follow our steps and do video recovery for android like an expert.