Introduction:
There is no doubt that the external hard drive is an optimal option to store or move data from one device to another. At present, many users rely on the external hard drive to back their important data as it comes with ample storage space at a reasonable price. It allows users to store a large amount of data, which include photos, videos, documents, archives, etc.
Even though external hard drive offers great convenience to users, it is still prone to a data loss situation. If you have experienced data loss issue on your external hard drive, then you may probably know how frustrating it is. At this point, your next main target becomes how you can recover your lost files from the external hard drive. Isn't, it right?
Well, you will be glad to know that it is now not as difficult as before to get back data from the external hard drive and all you need to do is to use right external hard drive recovery software. Here, in this post, we will help you learn how to perform external hard disk recovery in detail.
Part 1: Reasons for External Hard Drive Data Loss
Unfortunately, no one can guarantee data safety of storage devices since you may face external hard drive data loss issues due to several reasons on a regular basis. But, if you know the exact reason about how you lost data from your external hard drive, then it will surely help you in performing data recovery without much hassle.
Human error is one of the most common reasons for external hard drive data loss problem. For instance, you may delete important files by mistake in an attempt to delete unwanted data from your external hard drive or data loss can also occur due to formatting or accidental deletion of partitions on a hard drive.
Malware and virus are dangerous threats to both internal and external hard drive. They are capable of attacking your system while deleting data on the connected hard drive too.
Other common reasons for external hard drive data loss is a sudden loss of power. Unfortunately, sudden power failure or unexpected shutdown on the system you have connected your external hard drive can cause deletion or loss of data from the hard drive.
When a hard disk has a system error, the partition becomes unusable. It could be due to partition become inaccessible and RAW, and as a result, files get deleted or lost from the drive.
There are also other common data loss situations, such as physical damage due to improper handling or dropping, natural disaster, or much more can destroy the data stored in external hard drive.
These are the most common data loss scenarios for the external hard drive. Fortunately, you can still get back lost data under various data loss issues, which include above mentioned too.
Part 2: Best External Hard Drive Recovery Software Free
When your files get deleted from the external hard drive, you can get back all of your lost files with Recoverit (IS). No matter how you lost your files, this external hard drive data recovery software is powerful enough to recover data under several data loss situations. It is an easy-to-use tool and offers click-through process to recover data.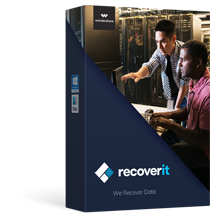 Here are its key features:
Recover a wide range of data, which include documents, videos, graphics, emails, audio and many other types of files from different storage devices.
iSkysoft is an all-in-one data recovery tool that can help you recover for intentional or accidental deletion, virus infection or system error, device formatting, and much more.
Provide support to recover files from a wide range of storage devices with various supported file system including NTFS, exFAT, FAT16 and FAT32.
Provide full support for Windows as well Mac system.

3,165,867 people have downloaded it
To learn how to recover data from external hard drive, you need to download iSkysoft free data recovery software for the external hard drive on your computer and then, follow the below steps:
Step 1

Run iSkysoft

Once installing the software successfully on your computer, run it and connect your external hard drive to the computer. Next, choose the connected hard disk from where you lost your files and then, click "Start" button to move forward.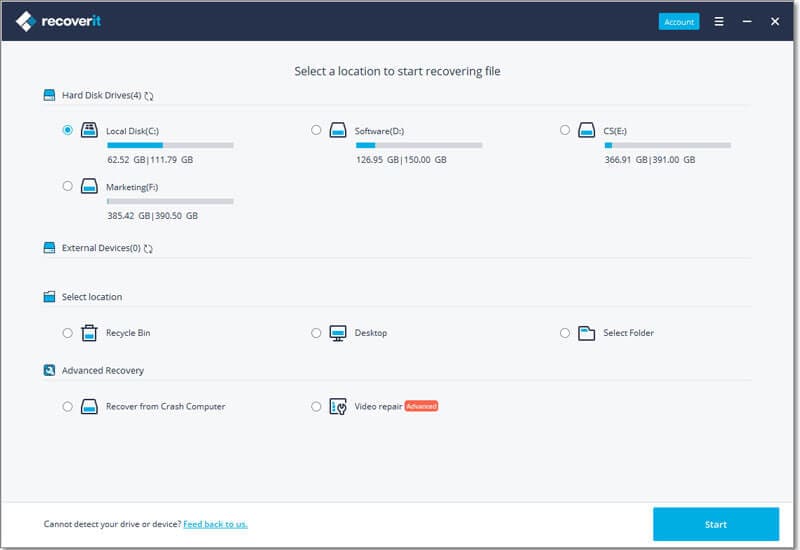 Step 2

Scan the selected location

Now, the software will begin with the scan process to look for the files in the selected hard disk. This process may take several minutes to complete. Here, you can also customize the scan process by specifying selections and selecting filters for scan results.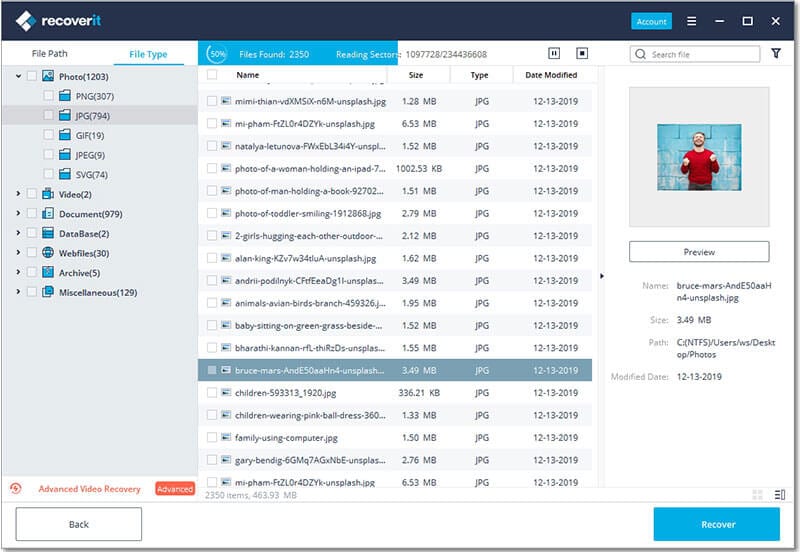 Step 3

Preview and recover files

Once the software completes its scan process, it will show the results on its interface. You can preview your lost file before recovering them. Finally, select the file you would like to recover and hit on the "Recover" button to get back the selected files on your computer.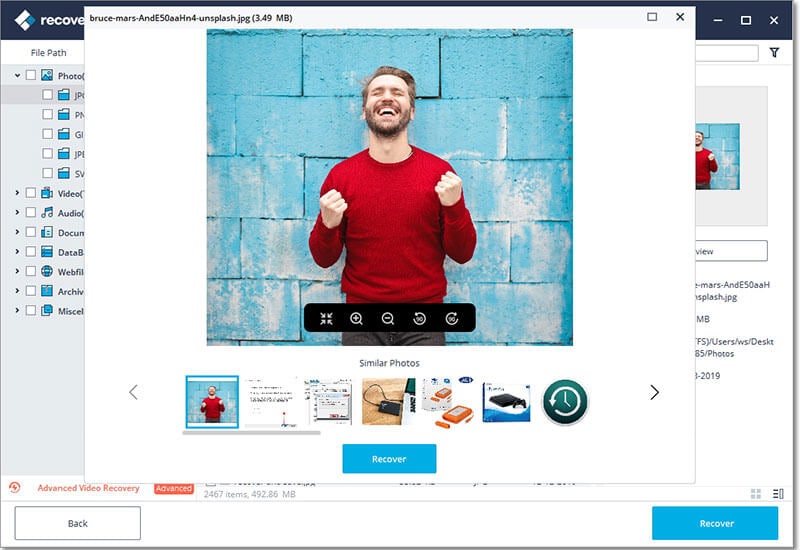 When you are saving the recoverable files with this external hard disk recovery, don't save them on a hard disk or partition where you lost them in the first place. Instead, prefer another destination for your recoverable files.
Part 3: Recover Files from External Hard Drive Using CMD
Are you good at using the command prompt? If so, then you will be pleased to know that you can also recover lost files from external hard drive using CMD. Thus, if you don't want to take any assistance from third-party software, then this method comes quite handy for you.
Follow the below steps to learn how to recover data from external hard drive using CMD:
Step 1 To begin with the process, you need to press "WIN + R" keys or you can use Search and enter - cmd and press "Enter" to launch the command prompt window.
Step 2 After that, you need to enter the command - chkdsk F: /f and press "Enter".
Note: Here, F is the drive letter of the external hard drive and so, you need to replace it with your external hard drive letter.
Step 3 Next, enter - Y and press "Enter" again.
Step 4 Now, enter - F and press "Enter" again.
Step 5 Next, enter - F:\>attrib -h -r -s /s /d *.* and press "Enter".

After following the above steps, you will be able to see and check all files on your external hard drive. What if command prompt isn't working on your system or it fails to provide you the desired results? Then, don't be panic as you can still use iSkysoft and that is best data recovery software for external hard disk.
Conclusion:
Despite all the reliability and convenience that external hard drive offers, it is still possible to face data loss due to various reasons. But, the good news is that it has now become easy to get back files from the external hard drive and all thanks go to the best free data recovery software for an external hard drive like iSkysoft. With the help of this software, you can effectively recover numerous types of files from different storage devices.