As you have lost your important files, it becomes extremely necessary to perform the recovery instantly. Wise Data Recovery software is a great tool to recover lost files for free, and it is reliable, but every tool has its own pros and cons, and you should know about all of them. We have analysed Wise Data Recovery tool for you. Go through the review of Wise Data Recovery and decide if it can fulfil all of your requirements or not.
Part 1. About Wise Data Recovery
Wise Data Recovery is one of the very well-known data recovery software in the market. Although it has got mixed reviews regarding its performance, it has managed to satisfy most of its users with its ability to recover files. The biggest thing that works in its favour is the fact that it is free software, it's very lightweight, and it occupies only a fraction of your drive. It won't be wrong to say that it is probably the only free recovery software out there with so refined and interactive interface. Another thing you should know is that you don't require installing the tool on your system to perform recovery, it comes with a portable version to be used from your Pen Drive or Hard Drive etc.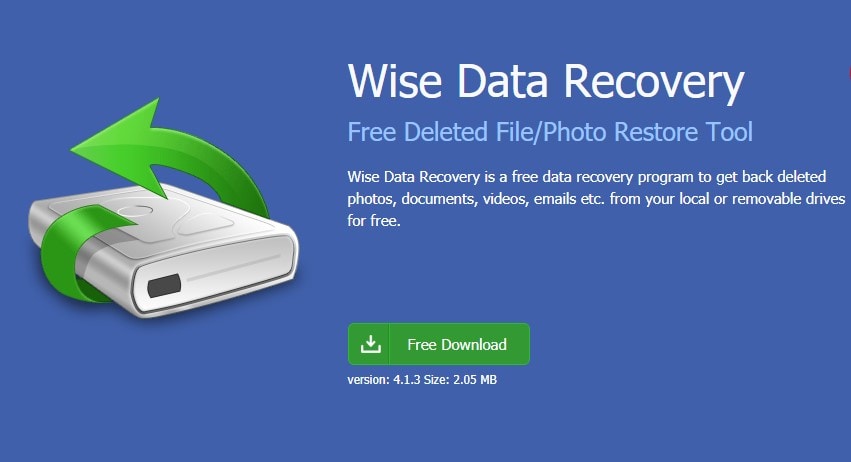 Part 2. Wise Data Recovery Pros vs Cons
Pros:
Wise Data Recovery is a lightweight recovery program, it's easy to install and doesn't takes a lot of space.
It comes with a portable version; thus, you can use it without directly installing it on your PC or drive.
You can use Wise Data Recovery on all the version of Windows, latest and the older ones.
Wise Data Recovery tool has a faster scanning speed if compared to most of its competitors.
Wise Data Recovery shows you the possibility of recovering files.
Cons:
The fact that it shows the recoverability of a file means it cannot recover 100% of files successfully.
Its UI is simple but a few extra popups and windows might feel confusing to a lot of users.
The biggest drawback is that it only supports recovery from Windows Operating System and not from Mac OS, Android OS, or any other OS.
Wise Data Recovery doesn't allow you to preview the files before recovery, so you won't be able to do a selective recovery.
The program doesn't have a great recovery rate, even though it tells you which files it can recover, you will still find out in the end that most of the recoverable files aren't recovered.
The program doesn't let you select a specific folder for scanning.
Wise Data recovery doesn't support bootable recovery from your Windows, that means you won't be able to recover data if your system is not able to switch on.
Part 3. How to Recover Lost Files with the Help of Wise Data Recovery Software
It's easy to recover files with the help of Wise Data Recovery software. Simply follow the steps given below, and you will be able to recover your lost files.
Step 1
Once you launch the program and are on the Home Window, the first two things you will notice are the Drop-Down Menu at the top right of the window, and a search bar at the top left of the window. So, you can either choose the Drive from the drop-down menu for scanning or put in the keywords in the search bar to select a file type. Once selected, you can click "Scan".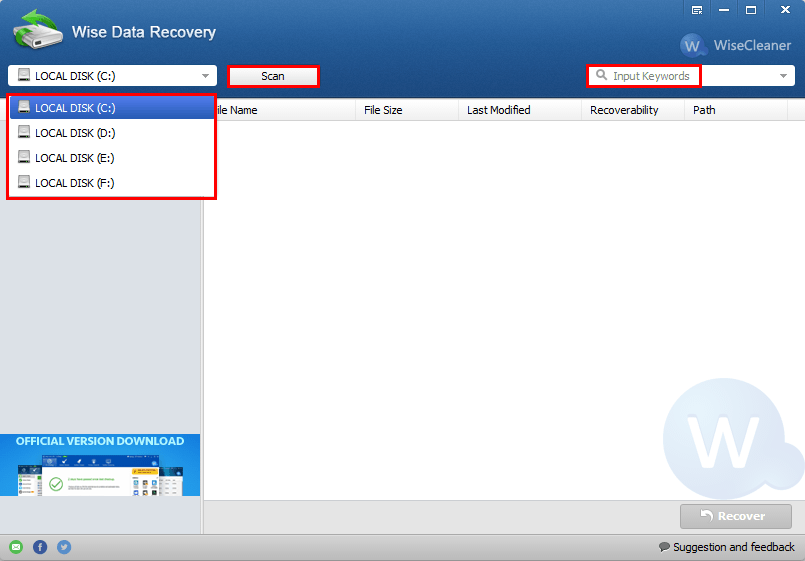 Step 2
Once the scanning is done, you will see all the files listed there with other details like their files size, recoverability etc. Now check all the boxes in front of those items that you want to recover, and then click on the "Recover" button at the bottom of the window.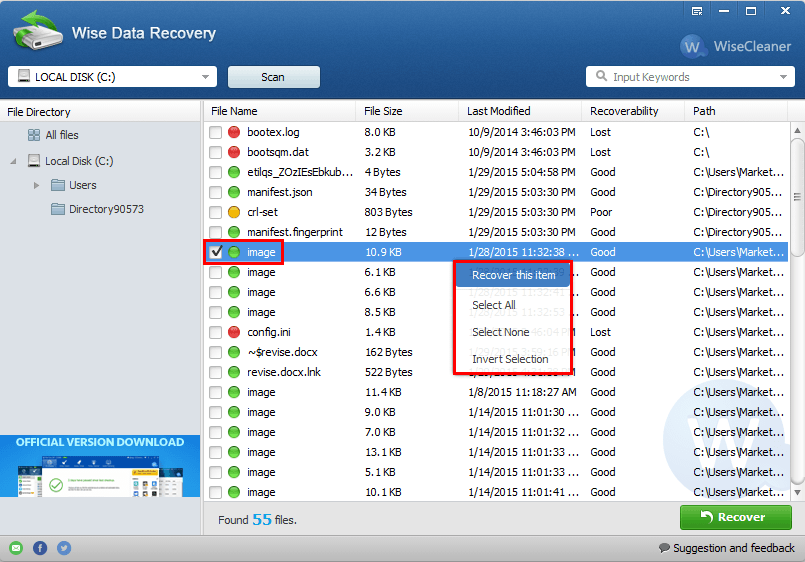 Step 3
Once you click the Recover button, you will be required to choose a storage location, choose it and click Ok. Recovery of files will start and you will see a popup at the end when it's successful.
Note: After the scanning is done the program will show you the list of all the files, that will also include their recoverability details, that means, the program will tell you if the particular file is recoverable, or not. You will see the particular coloured indicator in front of the file names indicating their recoverability, "Red" means lost or unable to recover, "Orange" means partial recovery possible, and "Green" means easily recoverable.

Part 4. What Users Says About the Wise Data Recovery Software
Here are some reviews of those who tried Wise Data Recovery tool.
Aganyo: I was in trouble when I accidentally deleted some important files from my laptop, this software saved me. I recommend it.


Iain: Portable version, I've come to trust, has finally let me down, by not detecting my MicroSD card, installed in a card reader.


Aishwarya: HI! I recovered my files, but when I tried to open them, my file's data not showing correctly. The software didn't recover my files properly.


Justin Smith: This program allowed me to recover the vast majority of nearly 600 pictures that my 2-year old daughter deleted. For whatever reason, it could not recover videos larger than about 85 MB. But, considering it was completely free, I highly recommend this program.


Chuck: It's good, depending on where you need to recover files from. It would not detect anything but my C drive which is not what I needed to recover files from.
Part 5. Recoverit (IS) Tool – The Best Alternative to Wise Data Recovery
The best alternative to Wise Data Recovery software is also the best data recovery software in the market right now, and it's the Recoverit (IS)y tool. The iSkysoft is a paid recovery tool, however, it is one of the most affordable data recovery tools you can get. While being one of the most affordable data recovery tools, it is also one of the most powerful, easiest, and most featureful software.
Why is the Recoverit (IS) tool a best alternative to Wise Data Recovery?
The answer to your "Why" is simple and straightforward, as we know that Wise Data Recovery is free and that free tag makes you compromise on various things that you might need in recovery software. On the other hand, with just a few bucks more, iSkysoft provide you everything that you will ever need in recovery software, everything that Wise Data Recovery might make you compromise on, and even things that more costly software might not provide you. Few of such things being the ability to recover 100% files, the ability to scan specific folders and preview files before recovery, the ability to recover files from various OS and device, etc.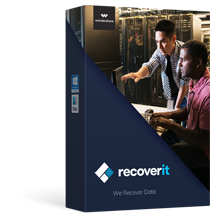 Some of The Best Features of Recoverit (IS) Tool:
iSkysoft is known to recover almost 100% of lost files successfully from your drive, it has one of the best recovery rates.
The UI of iSkysoft is interactive and straightforward, it also has one of the easiest 3-step recovery processes.
iSkysoft is one of the very few software to support recovery from almost all of the operating systems i.e. Windows, Mac, Android. It also allows you to recover data from all types of external devices.
It allows you to preview each and every scanned file before recovery so that you can perform selective recovery. With the latest version, you can even choose a specific folder or file type for more refined scanning.
With iSkysoft you can recover your data from a crashed window, it supports bootable recovery.
With iSkysoft you can recover data lost due to any reason i.e. accidental delete, Formatted Drive, Damaged Drive, Recycle Bean Delete. However, with the latest update, you are not required to choose a recovery mode, the program detects the best mode for you automatically.

3,165,867 people have downloaded it
User Guide of Recoverit (IS) Tool:
Step 1 In the first step, you are required to choose a drive or a storage drive for recovery. When you are on the Home Window, choose a storage device, a specific folder, or a drive from all the listed drives of your system. Once selected, click "Recover".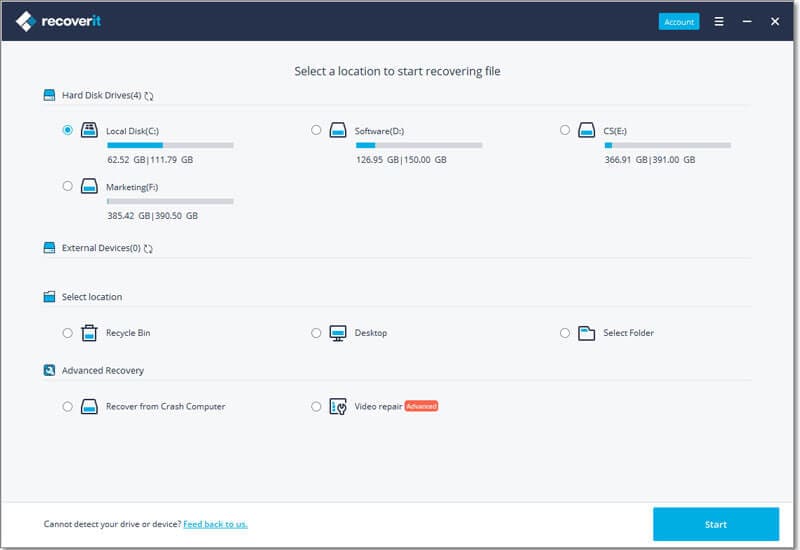 Step 2 Once you click the Start button, the program will choose the best-suited Recovery Mode by itself and will start scanning your selected drive. Once the scanning of the drive or folder is successful, you will see a list of recoverable files sorted according to the date or name.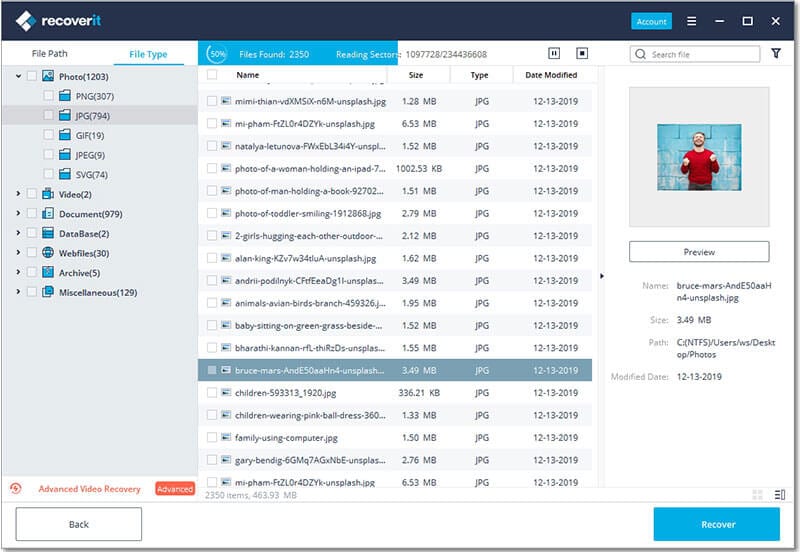 Step 3 Navigate through all those files and preview the files to find out which one you want to recover. After the preview is done, select the files you want to recover and click on "Recover", this will open a browser window for you to choose a location to restore all the files, choose a location and click "OK". All of your selected files will be recovered and restored to the selected location.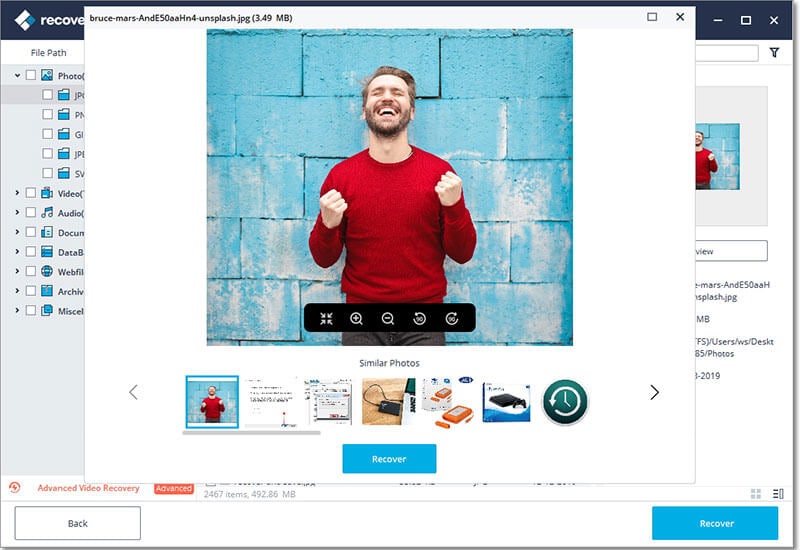 Tip: It's always advisable to not choose the drive you already lost data from to restore the recovered data, choose a secure drive and location. Also, it's better to not install the recovery software in the same drive in which you want to perform data recovery.
We hope that this in-depth review of Wise Data Recovery software tells you everything you need to know about it. It's great if Wise Data Recovery can fulfil all of your needs, but if not, you can try Recoverit (IS) tool as it's alternative, it's the best option. Be quick, and choose any of the tools to recover your most important files.