"My daughter somehow deleted the saved files from the laptop. Is there free software I can use to restore the deleted files?"
- a question from Quora
Many a time when you delete some files and wish to get them, you go to the Recycle Bin and restore them back to their previous location. Now, what happens if the Recycle Bin is also empty? Well, there are high chances you may have lost all the files permanently.
However, here is what you can still try to do, go online and look for Recuva free version. Recuve free is one of the most suitable free file recovery tools. Recuva free software is simple to use and performs as other data recovery programs available for free in the market.
Recuva was developed by Piriform who happen to be the engineers of CCleaner, an excellent product as well. Its debut was in the year 2007 and has remained popular ever since. Although, in 2016, the company discontinued any new updates it remains a better choice for PC or SD card file recovery (free version).
Recuva is only available for Windows. It has two versions: Recuva Pro and Recuva Free.
Here is a glance at what all we will look in to in this article on Recuve free:
Part 1: What is Recuva Free File Recovery?
It is a common perception in our society that anything that's offered free must have a shortcoming, a major one at that. So, in most cases, people opt for paid versions believing that they are the best. However, this is not the case with Piriform Recuva Free. It is a virus-free, malware-immune, efficient and useful free lost file recovery software. So, rest assured Recuva free is safe and secure to use.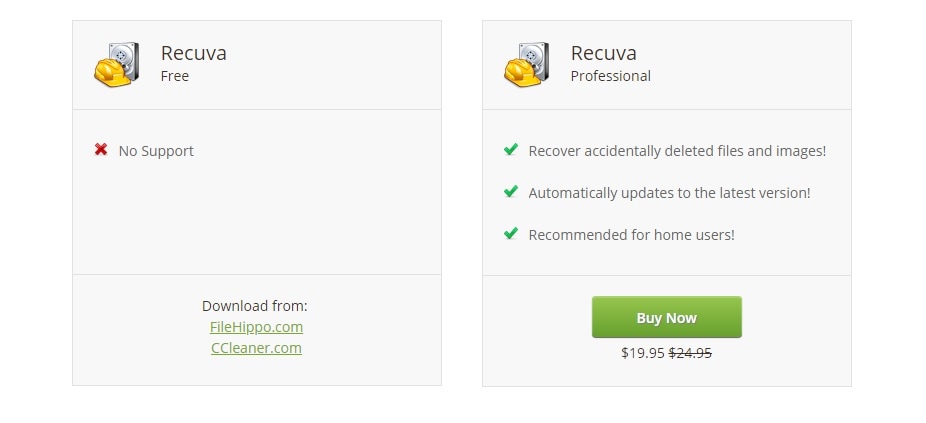 Let us look at its features briefly:
It can recover several types of file. Be it pictures, audio files, videos, emails, documents, compressed files, etc.


You can retrieve data from computers, media storage cards, iPods, Recycle Bin, document folders or a specific location, all thanks to the Advanced mode that ensures quick deep scan and previewing before you restore your files.


It has both basic and advanced scan features.


Its wizard mode has a straightforward, user- friendly interface and is the most recommended mode for Recuva.
Well, it would be a lie to say that Recuva Free Software has no limitation at all. When put against Recuva Pro, it has one or two downsides which we shall talk about in the next section.
Part 2: The Shortcomings of Recuva Free.
Below is a table illustration of Recuva Free verses Recuva Pro:
Software
Features
Recovery Rate
Auto Update
Support
Price
Recuva Free

Recover various file types.


Retrieve from PC, media card, document folder, Recycle Bin, etc.

30% to 60%
No
No
Free
Recuva Pro

Restore different file types.


Recover from a computer, Recycle Bin, media storage card, document folder, etc.


Recover from the virtual disk.

50% to 70%
Yes
Yes
$19.95
It is clear from the table that Recuva Free cannot restore deleted files from a virtual hard drive. Also, it has a lower file recovery rate and is relatively slow when scanning. Also, the fact that its updates halted in June 2016 may make you want to look for a better alternative to it.
Part 3: What is the Best Alternative to Recuva Free?
Recoverit (IS) is the best data recovery software for both Mac and Windows OS. How you lose your files is not an issue at all. This brilliant software gets back everything you need from a computer and external hard drives.
This software is the most efficient and effective data recovery tool. It is excellent to recover permanently deleted files from PC, photos formatted from digital cameras, lost data from lost or virus infested partitions, damaged external hard drives, name them.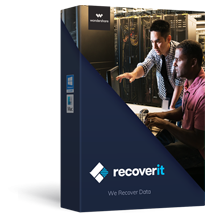 A Life Saver to Solve Your Data Loss Problems!
Recoverit (IS) can be used to restore deleted files from a wide range of devices, accidentally permanently lost data from the Recycle Bin, formatted partitions, lost partitions due to malware, data corruption or disk management errors.
Furthermore, you can retrieve more than 1000 file types with this software. iSkysoft is equipped with the best data recovery tech. This enables it to get back almost all types of data files such as documents, graphics, videos, emails, audio and others from various devices.
Finally, you can recover data from PC and any other media storage device using iSkysoft data Recovery. Data can be safely and securely restored from all kinds of storage devices with file systems such as NTFS, FAT16, FAT32 or exFAT.
There is an important feature worth knowing called the Windows PE also referred to as Windows Preinstalled Environment. It is used for system recovery when the PC crashes. After a crash, instead of reinstalling windows system to get back your lost files, it is easier to select "System Crash Recovery" mode and recover your data from the crashed system. Simple.

3,015,629 people have downloaded it
There are three simple steps of data recovery
Step 1 First, launch the software and select a disk where you lost your data based on your situation.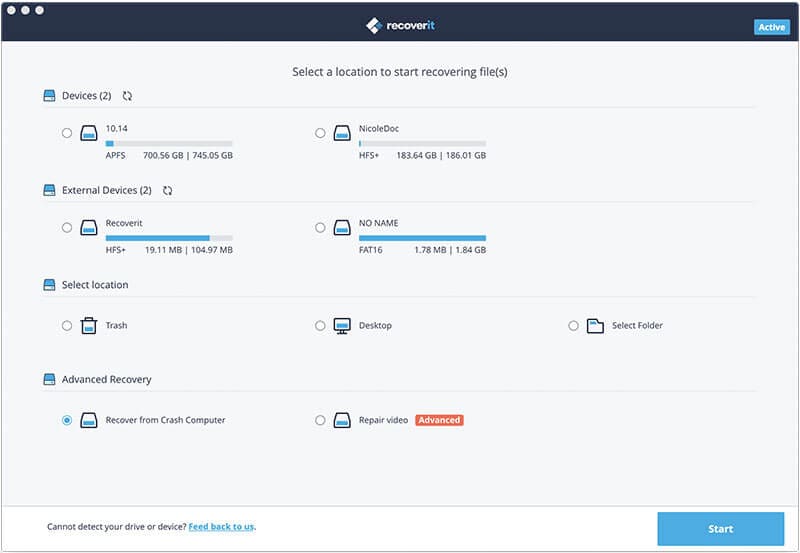 Step 2 Next, allow the program to scan the computer or external disk to search for the lost data files.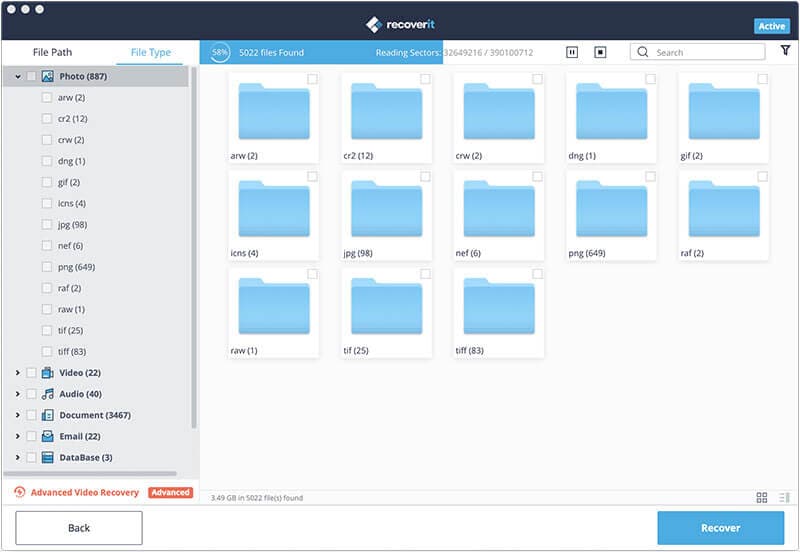 Step 3 Finally, after the search is complete, youcan preview the data. Then make a selection of the ones you need to be retrieved successfully. And viola! You have done it.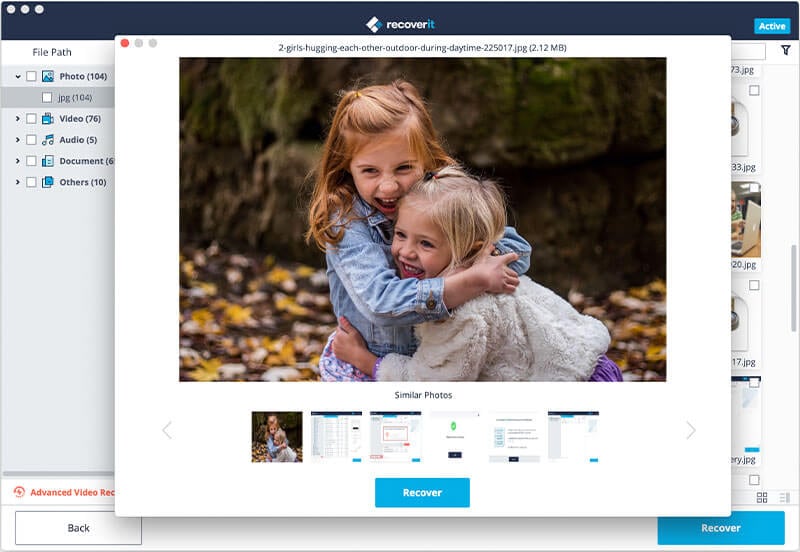 Conclusion
After all, is said and done, here is my parting shot. I believe Recuva Free is worth a try. The significant difference between it and Recuva Pro is the ability to support virtual hard drive recovery. Apart from that, Recuva Free version has some excellent pros one being that it's FREE and hence you have nothing to lose. So, if you wish to try Recuva data recovery software, try Recuva Free first. Otherwise, for major data recovery solutions, Recoverit (IS) is the way to go.
Lastly, we would like to suggest you to share this article on Recoverit (IS) for Mac with your family, and friends.