"I deleted all my files from the computer, and need them immediately. I couldn't find any way to retrieve them. Can you help?"
- a question from Quora
Are you the one facing the same problem? Have you deleted files accidentally and need some help in it? Well, you can now quickly recover all your deleted data with Recuva Data recovery application from CCleaner. Our article today will be beneficial for you to learn how to use Recuva to recover deleted files.
The article below will answer:
Part 1: How to Use Recuva to Recover Deleted Files on Windows PC
CCleaner has introduced the software called "Recuva" especially for the recovery process of all your deleted files, emails and so on…It is recognized as a "superior file recovery tool" that retrieves all sorts of file formats you have lost. External resource data recovery is also possible with Recuva.
Some of the salient features of Recuva data recovery software are:
Recover files from any rewritable media tools like USB drives, memory card, and hard drives.


Is your external disk damaged or formatted? You do not need to worry as Recuva can recover files from them as well.


Do you think that your data is deep buried somewhere in your desktop? Recuva will do a deep scan and find the traces of all the deleted media.


Have you lost your iPod music? Is your unsaved Word document missing? Recuva software will recover it for you.
Well, we hope you now have a basic idea of what is Recuva, how Recuva works and some of its basic features. So, now let us proceed to learn the steps on how to use Recuva file recovery and get back your accidentally deleted files on a Windows PC
Step by step guide on how to recover deleted files on Windows PC with Recuva:
Note: Before starting with the recovery process, you will need to download the right Recuva version from the official site.
Step 1 To start, launch the Recuva program and then, on the primary window, select a location from the drop down, and click on scan.
Step 2 The results will now appear on the screen and to recover the target files, mark the checkboxes, and right-click on them. Then, select "Recover checked" option to move ahead. You can also click on the "Recover" option below to complete the recovering process.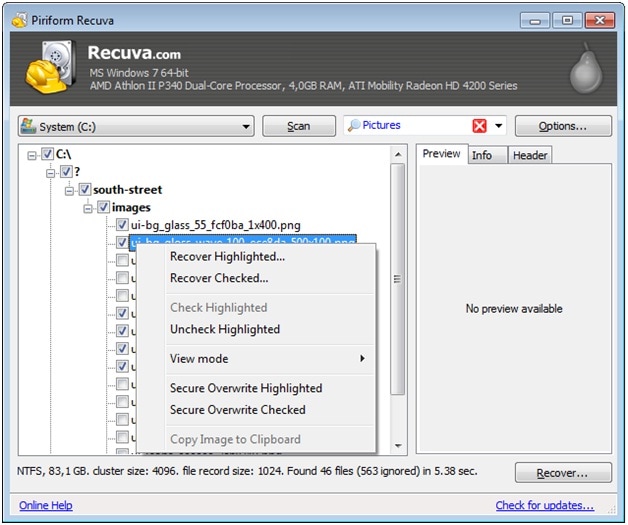 Step 3 Once, you have recovered the files; Recuva will prompt you to select a location to place the entire recovered file. Browse the location and click on the "OK" button.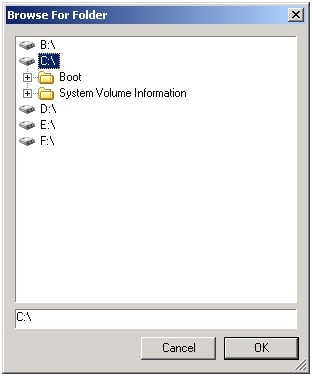 The deleted and lost files are now recovered with the help of Recuva, and you can open and see them.
Part 2: What to Do If Recuva Fails to Recover Deleted Files
There are certain unavoidable cases where Recuva becomes an inconvenient tool. Although Recuva is safe, the retrieval becomes impossible sometimes. So, what else can you do if unfortunately, Recuva fails?
Recoverit (IS) is a suitable alternative if Recuva fails to recover deleted files. It is one of the easiest, fastest, and safest solutions to recover all your deleted files from your Windows PC. Recoverit (IS) also performs variable functions like deleted files recovery, Recycle bin recovery, virus-attack data recovery, formatted disk recovery, and all-around recovery.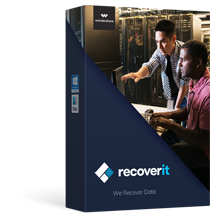 A Life Saver to Solve Your Data Loss Problems!
More than 100 document types including Microsoft Office, Adobe PDF, and other formats like HTML/HTM, ODS, ODG, RTF are highly supported.
You can recover deleted files from your emptied recycle bin at ease with the help of Recoverit (IS).
Recovery is not only confined to file types but also to varied graphic formats like RAW, DCR, DNG, JPG, TIFF, PNG, SR2, CXF, and, a lot more…

3,015,629 people have downloaded it
Here is a simple user guide that you can use to recover deleted files with Recoverit (IS):
Step 1 Once, you are over with downloading and installation of the software, Launch the application in your device. Select the partition or hard disk where you lost your data and then click on "Start".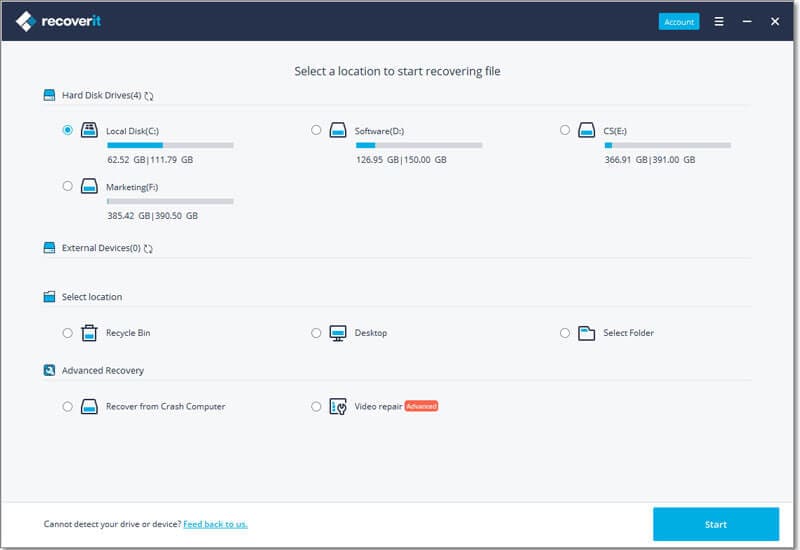 Step 2 The program will now start to scan the computer to find all the deleted files. You can view it in the form of a tree or data.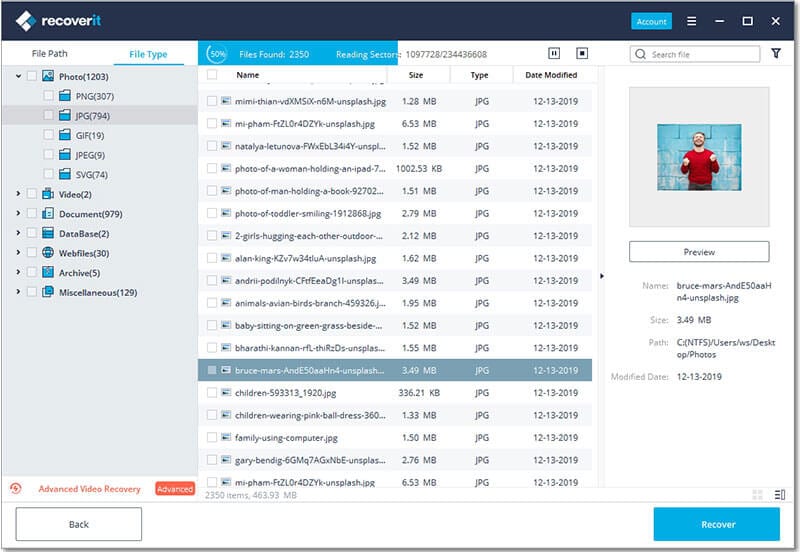 Step 3 if you have found the target files or image from it, preview them, select them and click on the "Recover" option from the bottom of the interface.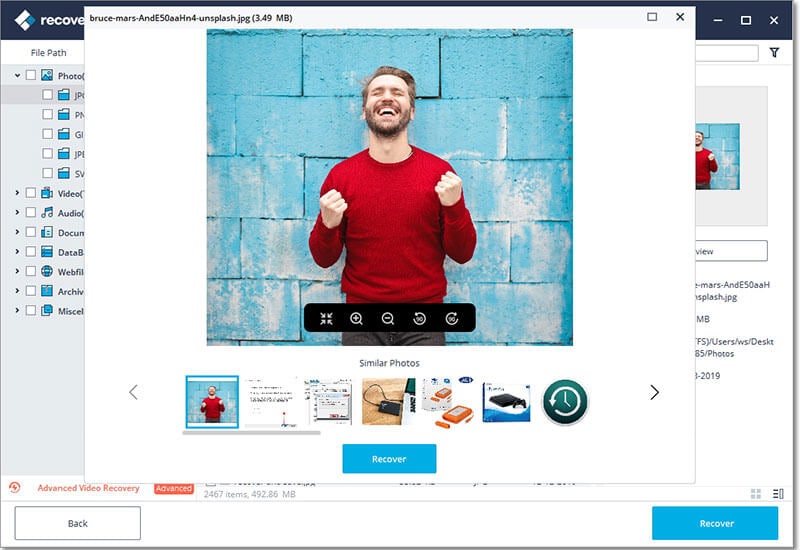 This is how data recovery is carried out by the Recoverit (IS) software if Recuva fails to recover the deleted files.
Part 3: How to Use Recuva to Recover Deleted Files on Mac
Recuva is good and excellent for data recovery for PC or Windows but what about on Mac devices? Well, you guessed it right. Yes, Recuva doesn't support Mac devices, but surely there is an alternative.
Recoverit (IS) for Mac works well for Mac and is an alternative to Recuva from CCleaner. It is widely used by some of the famous brands like HITACHI, Microsoft, Dell, Sony, Samsung, and, IBM. With the help of this third-party software, you can recover unlimited deleted or lost files on Mac without any hassle.
Some of the vibrant features of Recoverit (IS) for Mac include:
From a wide range of storage devices like Camera, Pen drive, RAID, SSD, USB, iMac, Macbook, XD/CF card, and iPod, recovery can be completed easily.


Recoverit (IS) supports all file types starting from images, audio, video, document, archives, to other files like EXE, PKG, and EML, etc.


Additionally, you can recover data from lost partition, from a system crash and can perform time machine backup recovery too. User guide to recover deleted files with Recoverit (IS) for Mac
How to recover lost data with Recuva Mac alternative?
To start the process of restoring your deleted files with Recoverit (IS) for Mac, download and install its software from the official website.
Step 1 As the first step, launch the program, and you will be directed to the primary window with all the recovery options. To perform all-around recovery, select "All around recovery."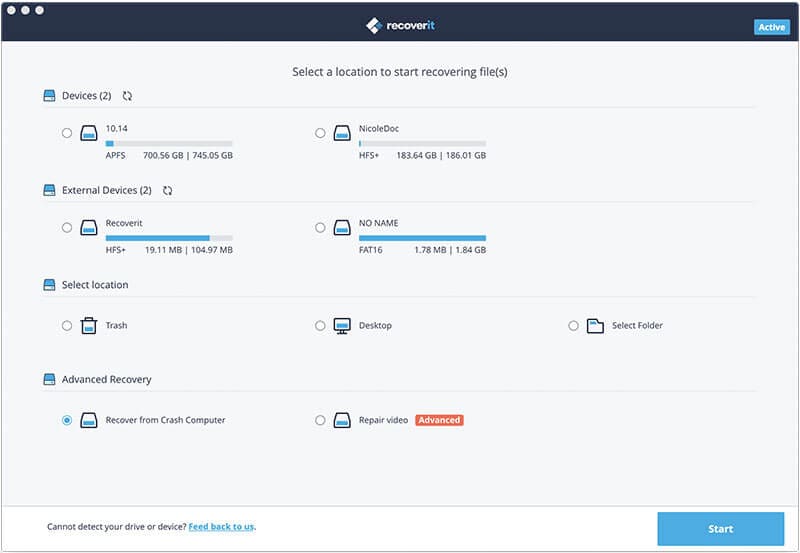 Step 2 Click on "Start" button to start recovering the deleted files from your Mac device. All the data from various sources will appear on the screen similar to the interface.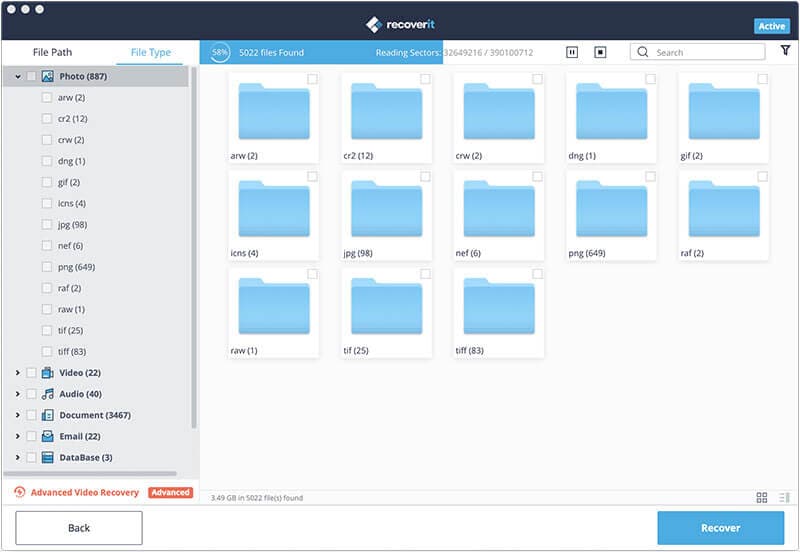 Step 3 Once you have discovered your target files or images, preview them and start recovering them by only hitting on the "Recover" option.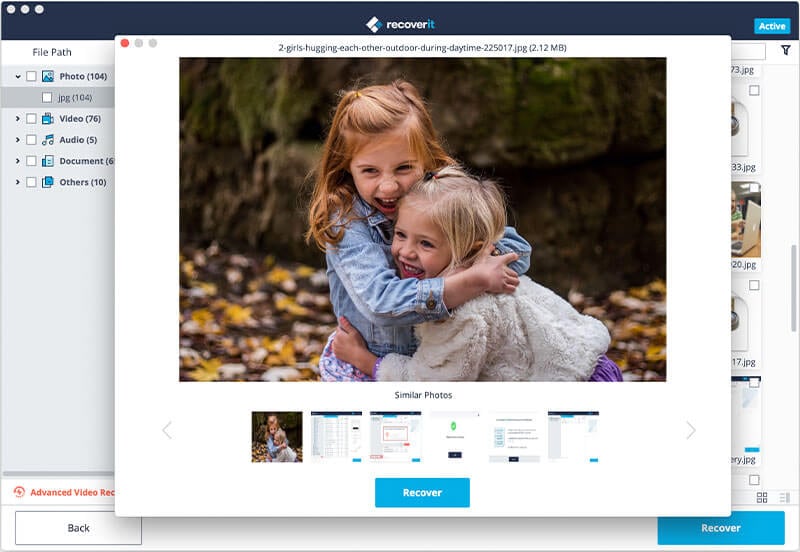 Your deleted files are now successfully recovered with the help of Recoverit (IS) for Mac and are ready for use.
Conclusion
So, from next time, if you have pressed "Yes" for delete, never panic as you can recover them quickly with the help of Recuva. Hope you would have got an idea on how Recuva works and how to use Recuva to recover deleted files. Additionally, we have also discussed in detail about the best alternative to Recuva, i.e., Recoverit (IS)y toolkit.
Lastly, do not forget to recommend this article to your friends and let others also discover how Recuva works to recover deleted files.