DiskDigger comes in two versions – one which you download on your Android device and another which you install on your computer.
Here you shall learn about the DiskDigger APK, which you install on your Android device.
DiskDigger is an application, used to recover deleted files from Android devices, but it is better suited to recovering photo, video and audio files. Sometimes, recovery of other files is not perfect.
Take a look at more information on DiskDigger:
Part 1: About DiskDigger Video Recovery
1.1 DiskDigger Features List:
Here are some of the features of the Diskdigger tool:
It is a small file and does not take up a lot of space on your device


It is one of the best recovery tools especially for photo, video and audio


Allows you to send the recovered files to other storage devices, such as internet cloud services, a computer hard disk or an SD Card
Pros:
It is versatile and works speedily
It saves to several file destinations for better protection of recovered data
Cons:
It does not work well with other files
There may be some loss in video quality
Requires rooting of the device for better search capacity in internal storage
1.2 How to Recover Videos with DiskDigger:
Download the DiskDigger app from Google Play Store and launch it from your home screen. When you first launch the tool, you will be required to give it SuperUser permissions. Click on "Allow" and it will now be able to access the file system.
The app allows for two different search modes:
Basic Scan (No root required): This option is best for non-rooted devices. Tap on "Start basic scan" and DiskDigger will scan all your files. This is best when recovering video files from an SD Card.


Full Scan (Requires root): this allow for a deeper scan of the internal storage of the device. This allows you to see the partition to scans, so you can select them, and also decide on the files types to be scanned.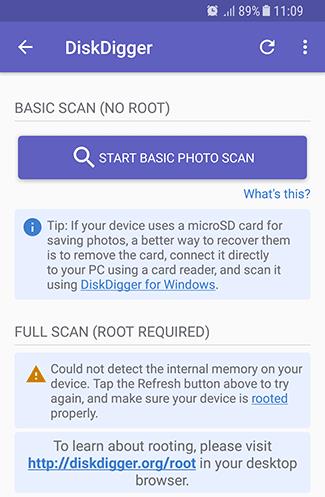 Step 1

Scan and Filter files

Once the scanning starts, you will see a list of the files that it has found. You will be required to check the files manually, otherwise the tools will restore all of them, including those that you do not need.

You can click on the Settings (gear) icon and then choose whether to filer by size or file type.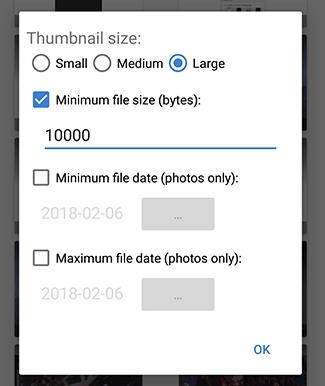 For example, by setting 1MB as the Minimum file size, all files under that size are not displayed, as shown in the image below.
Note: When running the tool on a rooted device, you may have issues when it comes to the quality of video or images that are recovered. Use a root tool to give DiskDigger root access if you want full quality files recovered.
Step 2

Save Recovered Files

In order to recover your files, select them, and then go to the top panel and tap on "Recover". You will then be presented with three destination options where the files will be sent:
Upload the files via FTP – this will require you to have access to an FTP server.
Save selected files locally - this option will save the files to your internal memory or an SD Card.
Send to an app – this allows you to send the files to another app on your device, such as a cloud storage app or email.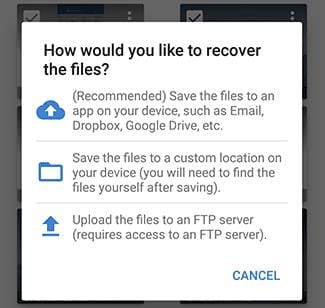 Once you have selected the destination, click on OK, and the recovered files will be saved afresh.
As with most other recovery tools, do not save the files back to their original destination.
1.3 DiskDigger User Experiences
Depending on the types of file that have been recovered and the unique situations, here are some user experiences or reviews from people who have used the tool to recover videos and other files from their mobile devices.
★★★★★
"Usually I don't write reviews on apps but this one literally saved me! I spent half a day taking photos during vacation and then I deleted every single one of them by stupidity. I had several attempts to recover them via my computer and via root with other apps without achieving anything. DiskDigger found three photos, but when I unchecked settings boxes and patiently scrolled down through several hundred photos, I found every single one of them, but of different quality. I should point out that there were several copies of every photo but in different quality. I managed to recover absolutely everything as it was before the deletion! And I found it by searching data WITHOUT root! Most likely it's because I was searching for the photos on the same day as I deleted them, so there wasn't enough time for them to completely sink into oblivion. I'm very grateful to the developers for the only one working app."
★★★★
"I downloaded several apps for recovering deleted photos. Only DiskDigger managed to find photos. It has no obtrusive advertising. The only negative thing is that the photos were recovered in worse quality than they were before the deletion."
Part 2: Best DiskDigger Photo and Video Recovery Alternative
Given that DiskDigger is not such a foolproof recovery tool, such as rooting the device and having undesired options, the other option is to look for a tool that is easy-to-use and will preserve the quality of your videos, and this brings us to iSkysoft Data recovery.
if you want to recover your files in their original condition and not have to root your device, iSkysoft Data recovery is your best option. It is a powerful tool, that is very easy to use, a novice can do recover videos within minutes.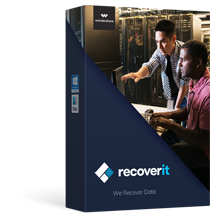 Key features of Recoverit (IS)
Full quality recovery – your videos and other files will be recovered in their original condition.
Extreme versatility – with iSkysoft Data recovery, you can recover files from USB Flash drives, External Hard drives, Local Hard Drives, SD Cards and Internal Storage.
Recover 1000+ files – you can easily recover more than 100 types of files, used in mobile and computer systems.
Saves time – the selective preview recovery method allows you to select the files to recover and saves you time.
3 simple steps – recover your files in three simple steps that any novice can follow.

3,165,867 people have downloaded it
The power of iSkysoft Data recovery is harnessed into three simple steps as shown in the guide below:
Step 1

Install and launch Recoverit (IS)

Go to the official download page for and get the installer. Double click on it to install it on your Windows or Mac computer.

When you click on "Install" the program will be installed and then you can click on "Start Now" in order to launch it.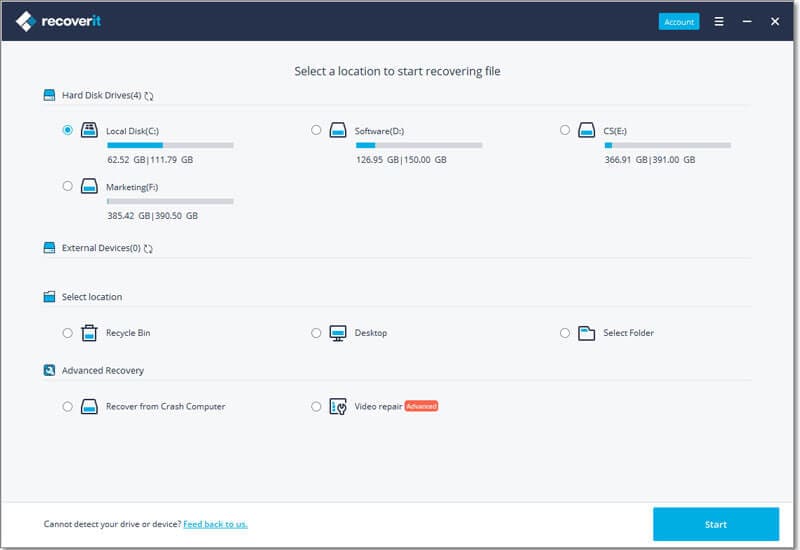 Step 2

Scan for lost files on the Android device

When it is launched, you will first go to the home screen, where you will see a list of all the devices that it has recognized. Select your device and then click on "Scan" and the scanning process will begin. Be patient as the scanning proceeds, and then you will be able to see a preview of the videos that the tool has discovered.

You may pause, restart or fully stop the scanning at any time when you are happy with the recovered data.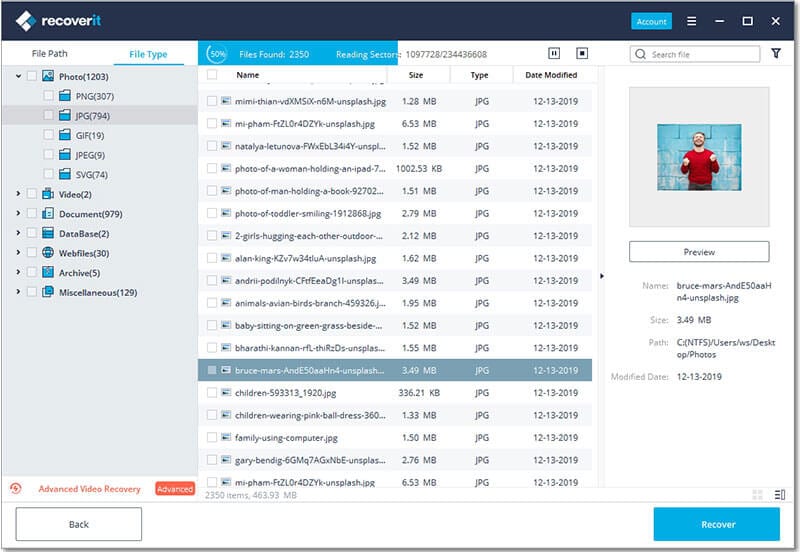 Step 3

Preview and recover files from the Android device

You will now be able to see a preview of the files that Recoverit (IS) has found. Go through the files and preview them, so you can zero in on the files that you really need.

In some cases, you may not be able to preview some files. Simply follow the onscreen instructions and you will finally be able to preview them. The preview mode is a time-saver, and that is why it is important.

When you have made your final selection, simply click on "Recover", grab a cup of coffee and wait for the files to be restored and you can use them like you did before.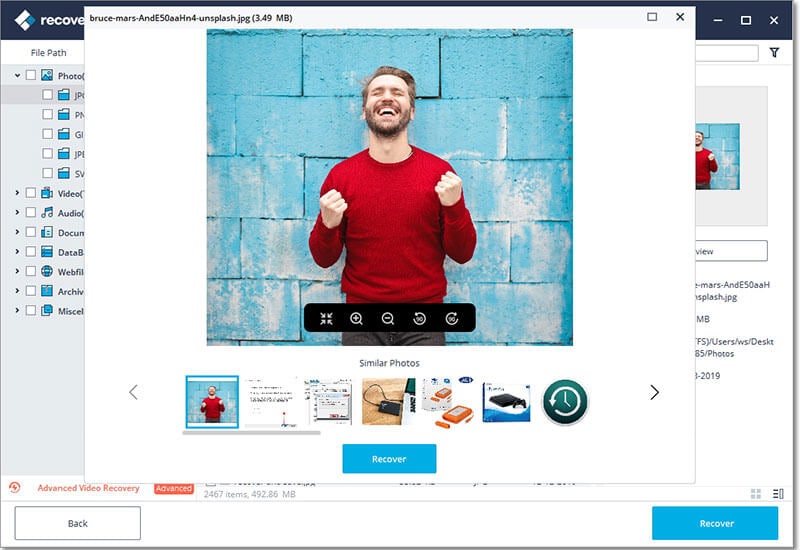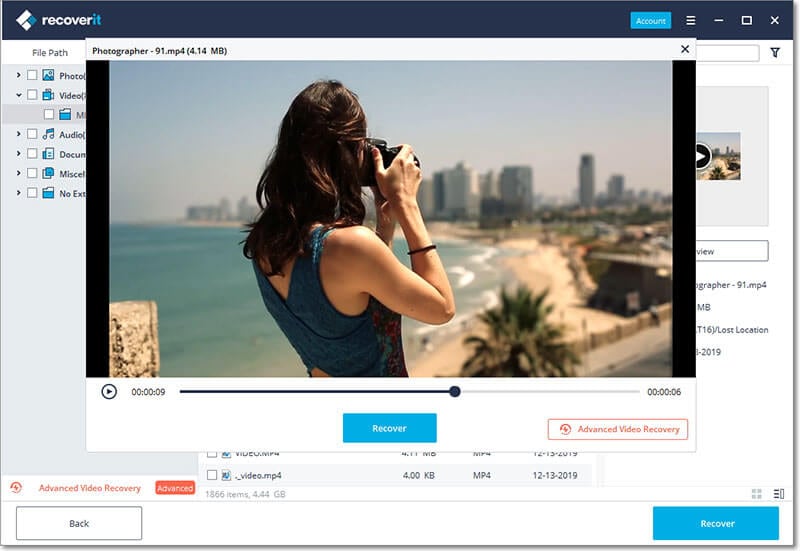 Using these three simple steps, you are able to recover the lost video files and still maintain their original quality, all without having to give this tool access to your root section – quite wonderful, right?
Note: Always save the recovered files to a different file location, to avoid further corruption of the recovered files. It is best to send them to an external storage device or Internet cloud storage facility.
In conclusion
If you ever mistakenly delete images or videos on your device, there are several options that you can use to recover them. However, as shown above, some of the methods can be cumbersome and still have undesired results. In the case of DiskDigger, you have to root your device in order to get the proper quality and also have a deep scan. In the case of Recoverit (IS), you do not need any rooting and your videos and other files are recovered in their original quality.