"I accidentally formatted my hard disk and need to know how I can get my files back. "This guide will show you hard disk recovery software tools that recover files even from formatted disk drives.
- a question from Quora
You may have heard of people accidentally formatting their hard disks, or a virus nearly wiping out the data on their drives. This is an occurrence that used to force people to lose data that they had accumulated for years. It can be quite a painful experience.
Thankfully, there are HDD recovery tools that can be used to recover important data from a damaged computer. You no longer have to go through the stress of having to redo work all over again.
This guide will show you several HDD recovery software tools available to you, in case your hard disk should be damaged in any way, leading to data loss.
Part 1: Top 5 Hard Disk Recovery Software
1. Recoverit Data Recovery
This is a feature-rich tool that will help you recover lost data from your hard disk in three simple steps. The tool works on both Windows and Mac and can recover more than 1000 file types. You can recover files from internal and external disk drives, and also locations such as the Recycle Bin, even after deleting files using the "Shift + Del" command. The data is recovered in its former form and you can save it for use once again.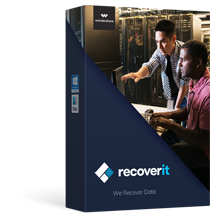 Top features of this Data Recovery Software
You can recover 1000+ file types from any location on the hard disk
It has an easy-to-use interface
It works on all operating systems and file systems (FAT, NTFS, HFS+, etc.)
You get 100% data recovery without damaging or corrupting the recovered files.
You can even recover files from a crashed computer or a disk that has been recently formatted.

3,165,867 people have downloaded it
---
2. Disk Drill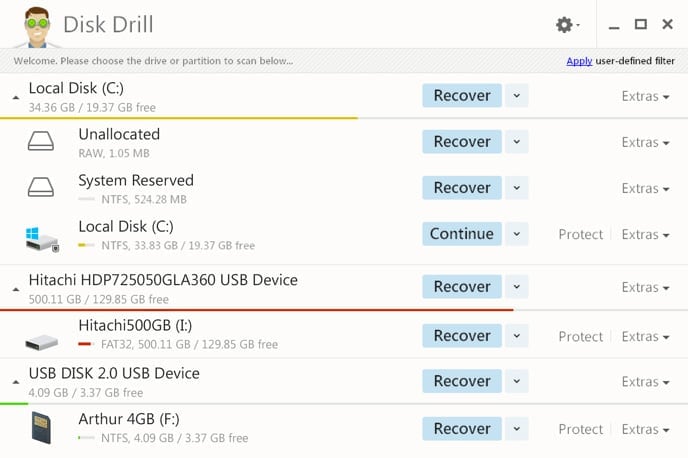 This is one of the first hard disk recovery tools and comes with a host of powerful features. It works specifically with Windows and works with all versions, from Windows XP to Windows 10. It also works on all file systems (FAT, HFS+, and NTFS). It recovers all forms of file types, ranging from Photos and Music all the way to sensitive 3D design files. This is a flexible tool and is easy-to-use.
Top features of Disk Drill
Has a recovery vault that provides an additional layer for your Recycle Bin, making it easy to recover "Shift + Del" files.
It has guaranteed recovery due to the fact that it keeps a copy of every file that is deleted from your hard disk.
It allows for creation of IMG, DMG and ISO files which makes it easy for users to look for cloned files without affecting the original files.
---
3. TestDisk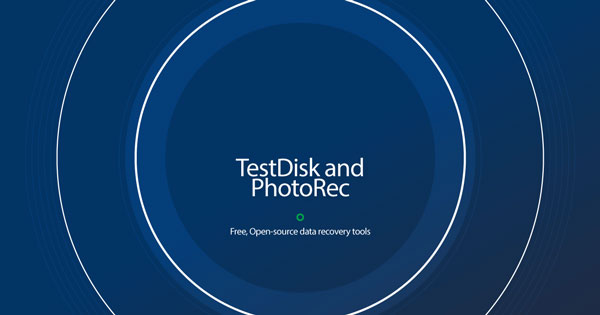 This is a powerful tool that used to be the basis on which other data recovery tools were designed. It comes with a bevy of powerful recovery features that enable you to recover files that were thought to be lost forever. It was first designed to recover lost partitions and fix desks that refused to boot. But one of the major downside is the fact that it runs from the Command Line, which makes it usable by advanced computer specialists.
Top features of TestDisk
It allows for the rebuilding of the boot sector to recover hard disks that refused to boot.
Works on the major Windows versions
It is able to recover and fix partitions such that files can be recovered from various file systems
You can recover a wide range of files, though some files may be rendered unusable.
---
4. Data Rescue 5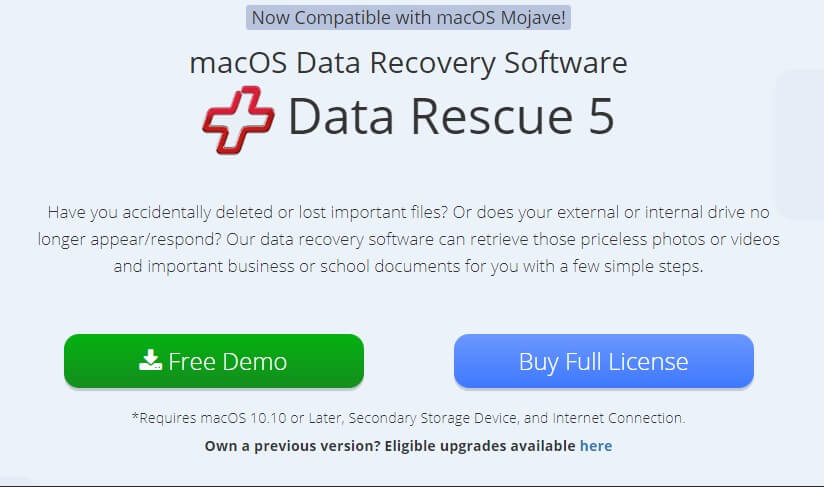 This is another HDD recovery tool for windows that is becoming very popular due to its advanced recovery features. One of the main advantages is that at the front of the powerful recovery engine is an interface that can be followed by a novice computer user. It is clean and simple to work with. It can recover files from any file system and works on both internal and external hard disks.
Top features of Data Rescue 5
It has a clean and simple interface that is easy to use
It can create an exact copy of the disk when it senses the disk may be having a mechanical failure
It warns of any event that may lead to unsuccessful recovery of data, thereby allowing you to rectify in time.
---
5. Recuva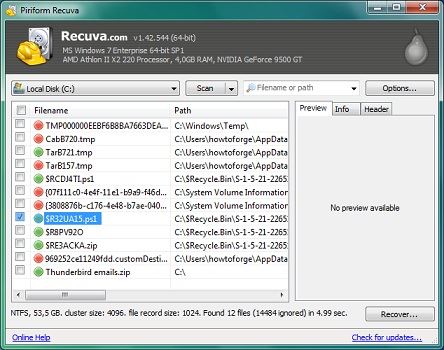 Recuva is one of the top FREE hard disk recovery tools. It is quite simple and will simply install on your machine and automatically start recovery of any lost data.
Top Features of Recuva
It has advanced Deep scanning mode for effective recovery of lost data
It easily recovers files from a hard disk that has been severely damaged or one that was newly formatted
Is has a simple a flowing user interface
It has a preview feature allowing you to see the files before recovery.
It will securely overwrite files even on the damaged hard disk, after recovering the partitions.
Part 2: How to Recover Lost Data with the Hard Disk Recovery Software
Recoverit (IS) is a powerful HDD Recovery tool, which can recover data from disks that had even crashed. The beauty of this tool is that it works on both Mac and Windows unlike most others which work on Windows only. It allows you to easily preview files for effective data recovery.
Step-by-step guide to recover hard disk drive using Recoverit Data Recovery:
Step 1

Select the hard disk where you lost data

Launch Recoverit and proceed to the home screen. Here you will select the partition or hard disk that you want to scan for lost files. Once you select the location, click on "Start" to begin the scanning process.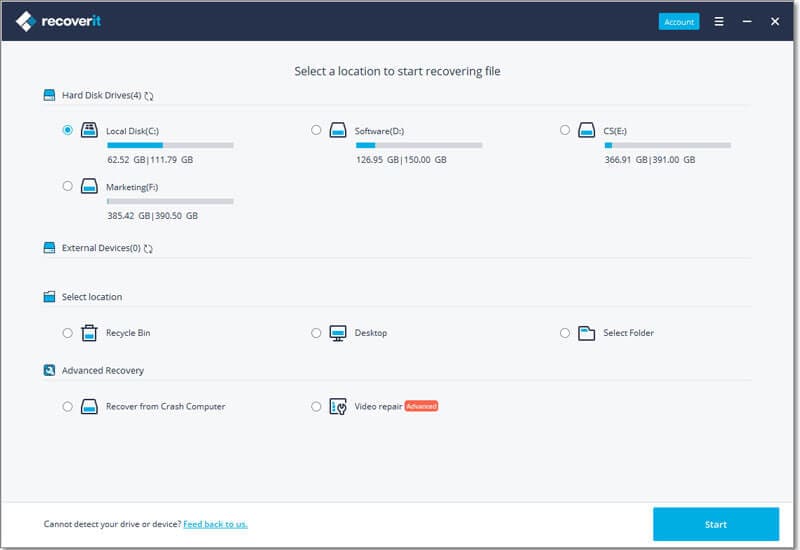 Step 2

Scan the location for lost files

When the scanning process is completed, iSkysoft Data recovery will present you with a list of files that it has located. Remember that the tool comes with specialized filters which you can use to customize the search parameters. You may also select a particular file location to scan instead of the whole hard disk.

You will also be able to pause or stop the scanning process if the desired file is located early in the scanning process.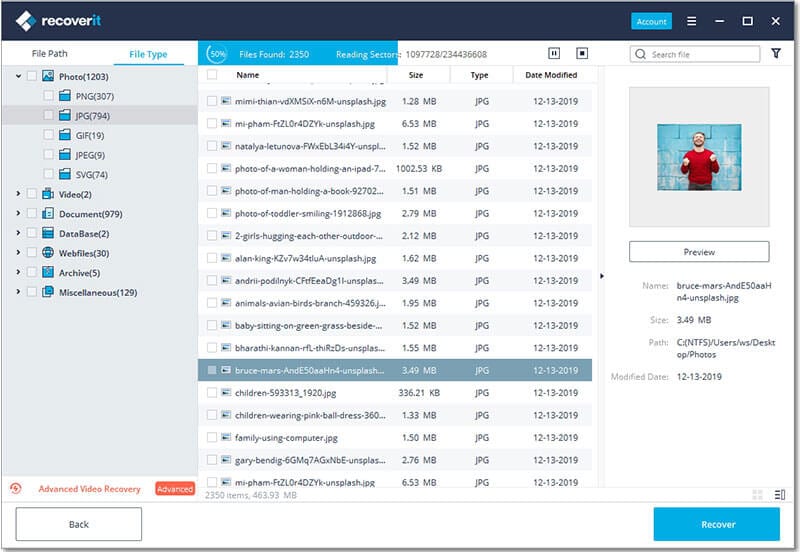 Step 3

Preview and recover files

Recoverit Data Recovery comes with a handy feature that allows you to preview files before you recover them. This makes it very easy to recover desired files and not all. If you cannot preview some of the file, an inbuilt tool will give you onscreen prompts to follow so you can eventually preview all the files.

Once you have previewed your file, click on "Recover". Recoverit Data Recover will recover the file and it will be launched for your use as normal.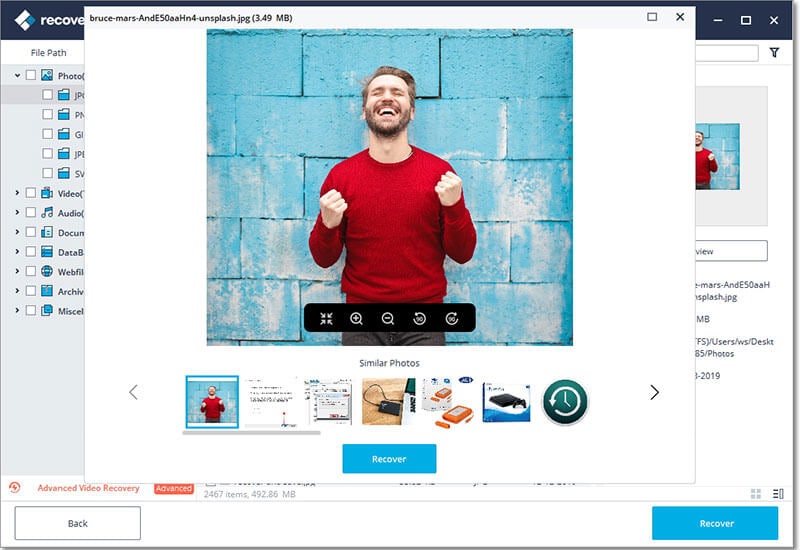 NOTE: DO NOT save the recovered file to the same destination where it was lost. The partition or location could still be damaged leading to the loss of the file once more.
Part 3: How to Avoid Hard Disk Data Loss Issue
There are several things that you can do to protect your computer from hard disk data loss. Here are some of them:
Keep your computer in a dry and dust-free environment


Back up your data on a regular basis


Protect your computer against high data surges using a surge protector


Avoid having static electricity near the computer


Ensure that you update your virus protection regularly


Use tools that can warn you when there are issues that could harm your computer
Using these few steps will protect your from data loss should anything happen to your computer.
In conclusion
Nobody can predict when a hard disk will crash and cause data loss. The only thing you can do is try preventative measures and also backup your data. However, should such an incident happen to you with no warning, you can always rely on HDD recovery tools to get your data back. It is no guarantee that you will get all of it, but you will recover most of it.
Recoverit Data Recovery is a powerful hard disk recovery software tool. It works on all platforms making it the go-to tool when you need to recover lost data from a damaged hard disk. Go to the official page and download your copy now, to protect yourself from Hard disk failure data loss in the future.