"Whenever I try to open any word file or word itself it comes up with this message: Microsoft Word (itself and files) corrupted and unreadable. What can I do to repair?"
- a question from Quora
A corrupted Word document can mean a lot of problems for the person working on it. This is especially true when the document you were working in is large and hence carries a lot of data. Most problematic, is when you have no idea what is causing the corruption or what you can do to fix it.
while there are very many troubleshooting actions you can take to try and fix the problem, most of them are less than effective. One of the nest ways to get your data back is to use a data recovery program, especially the tool that is specially designed for recovering corrupted Word file.

Why Doc. can be corrupted easily?
Word documents are one of the most frequently used files on a computer system and there can be different ways that a Word document goes corrupt.
For example, there might be a malware infestation in your computer or Office suite and result in Word document being damaged, or particular file might have incompatible media components inserted that interrupt the normal functions and so forth. No matter what the problem is, here are 9 ways to recover corrupted word file completely.
Part 1. The Best Way to Recover Corrupted Word File on Mac/PC
You might not know that many effective data recovery tools exist that can help you recover corrupted Word document easily. Recoverit for Mac or Recoverit for Windows is one of the best Data Recovery software on the market. With it, you can easily and quickly recover corrupted Docx or Doc file without data losing.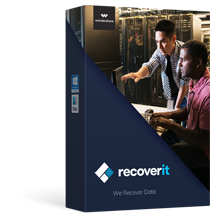 A Life Saver to Solve Your Data Loss Problems!
Recover deleted, lost, formatted or corrupted Word, PPT, Excel or other files from computer disk or external hard drives within few clicks.
Compatible with more than 550 types of files and hard disks.
Easily deal with different data loss issues, and provide 8 different recovery modes, including deleted files recovery, formatted disk recovery, lost partition recovery, external devices recovery, virus attack recovery, system crash recovery and all-round recovery.
Requires no professional skills for every users.
2,531,469 people have downloaded it
Here are the 3 simple steps to guide you through whole process of performing corrupted word recovery software.
Step 1. Directly launch the program after the installation. Then, you need to choose a recovery mode from 8 options according to your own needs. If you want to have a complete scanning, "All-round Recovery" is recommended here.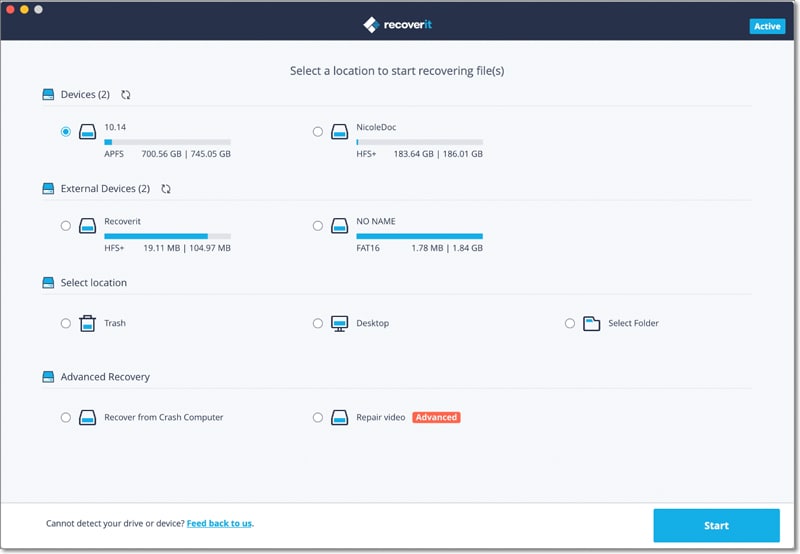 Step 2. Check the scanned hard disk and select your target disk, then click "Next" to start scanning for files. The scanning process will take a little bit longer due to the deep scan mode. So please wait patiently.
Step 3. When the process is completed, you can preview files by clicking the related file folders in the left panel or type the name in the search bar to locate your target Word file. Tick it and hit "Recover" button to save the corrupted Word file.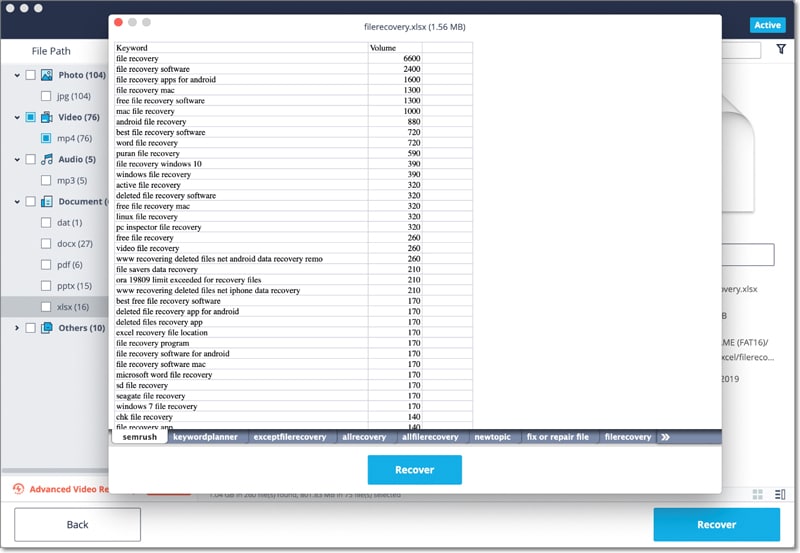 Recoverit could be the best solution to deal with all kinds of file corruption, damaged or deletion issues on your Mac or Windows computer. If you want more options, just go to the next one.
Part 2. Possible Solutions to Restore Corrupted Word File
1. Force Word to Repair A Corrupted Word File
There is an option in Microsoft Word that helps to recover a corrupt Word document. Known as the Open and Repair feature, it can help to detect and remove problems with a document when you have a problem opening it. Steps to follow are:
Open a Word file and go to "File > Open".
Click on the Word file that needs to be repaired, click on down arrow and select the option of "Open and Repair" as below.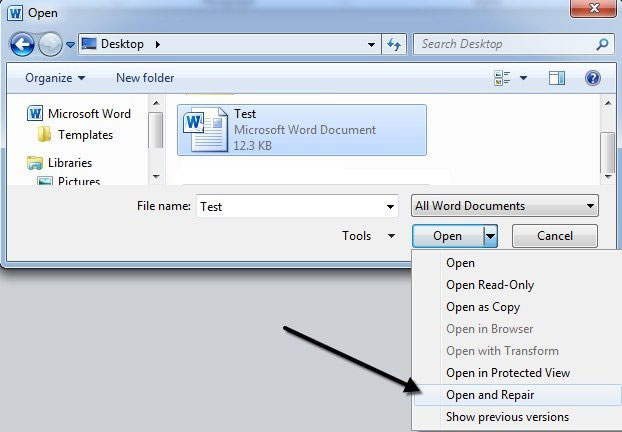 In most situations, the corrupted Word file can be fixed and repaired completely in this way, but if it is not working, see the next part.
---
2. Built-in Recovery Options
Microsoft Word has a bulit-in feature that allows users to recoer text from any file. But this solution is not working all the time. The recovery result will vary depending on the type of corruption that your file has suffered. So, you can take a trial on this built-in recovery option but don't pay all hopes on it.
Open a new Word file and click on "File > Open".
Click on the down arrow in the option of "All Word Documents" and choose "Recover Text from Any File".

Then, the Word will try to recover any text it can from the file. But if it is not working, you can directly try Recoverit to recover a corrupted Word document easily.
---
3. Make A Copy of the Document
This might not work for recovery in many cases, but it is a preliminary step that needs to be taken. Make a backup copy of the document, even if it is corrupted, you could choose to store it in an external hard drive or removable media. That helps you to experiment with the original file to try and recover the documents when a backup copy lies in a safe location.
---
4. Check Your Email or Backup Files
In many cases, the documents arise from email attachments. You might have mailed it to someone or received a version of it from someone. Try to find the original document and download the file if you can recover the same from your email folders. You can use the Search feature in your email or check in Sent or Inbox folder.
Backup folders also can be checked in order to locate an earlier saved version of the file which has corrupted.
---
5. Run CHKDSK
This is a command that allows you to check internal disks and system in order to try and fix the corruption problem. If this command is run, it will check the integrity of underlying file system and help you determine whether there is any problem that lies at the level of the file system or within the corrupted document.
---
6. Try Exporting the File
This can be a process tried which can help to recover a corrupted Word document. The steps to follow are:
Open a Word and go to "File > Open", then you can see the Open dialog box on your computer.


If the file opens, you can try to save files in a different format such as TXT or RTF.


The alternate codes help to retrieve the original content of a Word document, it also strips off some options which can also help to fix the problem.
---
7. Extract RAW Text
This is another option when you are looking to save a corrupt Word document. Usually, the RTF or TXT file recovery option does not work when you are unable to open the file.
In such a case one can opt to use another kind of word processor. If such a program supports or can read Word documents, you can use the same to extract the document. Many file editors such as a hex editor can be used to salvage data from a corrupt Word document.
---
8. Rebuild File Header
Most Word documents are created with a common file header. So, when you use a file editor to check different Word documents, you will be showcased bits of different documents. You could identify header bits that are common to the document that is corrupted and pastes these into the corrupt document by overwriting it.
Part 3. Online Tools to Repair Corrupt Word Document
If you would rather not use Software, you have the option of using online solutions. The following are the top 2 online tools to recover Word Documents.
1. Online File Repair
Here, you would just need to upload the corrupt document and the program will analyze the file and then repair it. because it is an online solution, the service works very fast, allowing you to fix the word document in just a few minutes. It is compatible with all Word documents including Word 2016 and retains the formatting of the original document.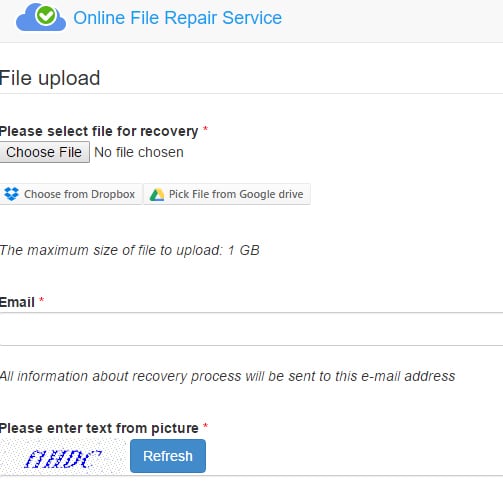 Pros:
There is no need to download software. All you have to do is upload the corrupt file
Recovery is very fast and the formatting is maintained
It is compatible with Word 2016
Cons:
You need an internet connection to use it
---
This is another Online Word Document recovery tool that is also fast to use and highly reliable. All you have to do is upload the corrupted file and the program begins to repair it immediately. It is compatible with all versions of Word except Word 2016 and can be used to recover even images and graphics.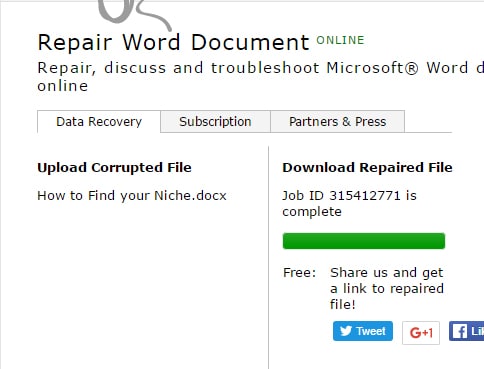 Pros:
It is highly functional and very effective.
The recovered document retains the original formatting and layout.
Can recover graphics and images.
Cons:
It is not compatible with Word 2016.
It can't be used to repair large files.
You have to pay to download the repaired file.
Write in the End
You might have found that not all solutions on the above are working on both Windows and Mac computer, and they are not always working. So, if you don't want to spend too much time on testing these solutions one by one, or you wish to get an effective yet one-stop solution to recover corrupted Microsoft Word file.
Recoverit for Mac or Windows could be an ideal option for you. Now, just take a free trial on this powerful software and experience its functions by yourself!