You never know when disaster might strike and your iPhone goes out of commission. You try restoring the device and all you get is the iTunes error 2005 notification. Here is a story that really fascinated me.
I have this lady friend, who has a temper like that of an Amazonian. One day, after having a heated conversation with her boyfriend, she threw her iPhone to the floor and stomped off in a huff. After calming down, she picked up her iPhone, and realized that it was not working well. What to do? She tried all ways to get her device restored using iTunes, but repeatedly got the error 2005 iTunes notification.

Poor lass, what was she going to do? Thankfully she came across dr.fone – System Repair (iOS) and she was able to fix the error.
Can you relate to this? Not that you are fiery and throw our iPhone around when you get pissed off, but you may have come across such an error and many more when restoring your device.
Part 1. How to restore iPhone when encountering iTunes error 2005
Let's take a moment away from my explosive friend. You can get the error 2005 iPhone 6 problem due to a number of scenarios, which you cannot predict.
Sometimes it is simply because of an iOS update, and other times it is due to p0hysical damage to the device. Online viruses have also been known to create these errors on iOS devices.
dr.fone - System Repair (iOS) is a powerful software that can help you repair your device and restore it to its original mode.
You can quickly, and easily, repair iPhone error 2005, looping Apple logo on staring, black/white screen, unexplained restarting and so much more.
The software comes bundled with powerful tools that help you resolve a wide range of issues related to all iOS devices.
With dr.fone - System Repair (iOS), you can have peace of mind knowing that no errors will be left unsolved.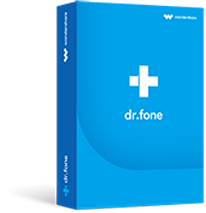 Best iPhone/iPad system recovery tool
Full iOS compatibility; It does not matter which type or version of iOS device you have. Whether it is an old iPhone model, or a new iPad, you can always fix error 2005 iTunes issues. You have a tool that will be accessible to all your iOS devices, hence giving you more control over their management and monitoring.
No data loss; this is one of the main concerns when fixing any issue on a device, whether iOS or Android. No owner wants to lose their favorite pictures, videos, contacts and more. They want to keep it all intact. With dr.fone -

System R

epair (iOS), you run absolutely no risk of losing your data.
Ease of use; Most iPhone users are only so much knowledgeable of the technical functioning of the device. This tool enables even the most tech-challenged user to solve iPhone error 2005 right from their homes.
4,290,481 people have downloaded it
Step 1. Launch dr.fone –

System

Repair (iOS)
Download dr.fone – System Repair (iOS) from the official site and install it on your computer. Launch the software and hit the "Repair" module, once you access the home screen.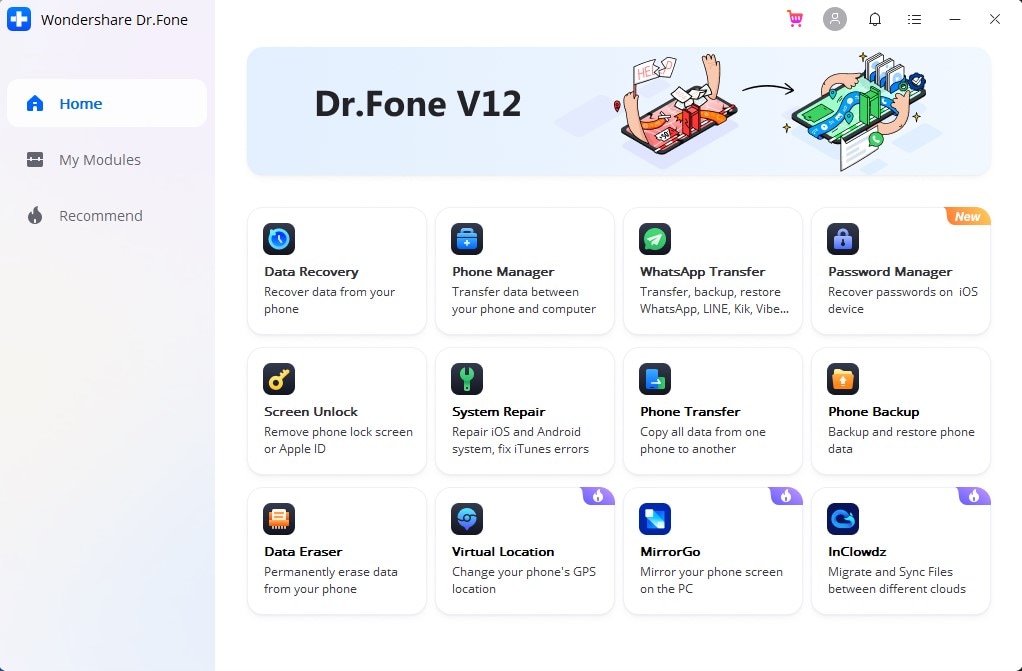 Step 2. Click Start button to move on
A window will popup once you hit the "Repair" module, giving you access to a full list of iPhone issues that can be solved using this application.
Using a lightning cable, connect your iPhone to your computer once the background color of the selected error turns turquoise. Once connected, hit the "Start" button to start the process of repairing your device.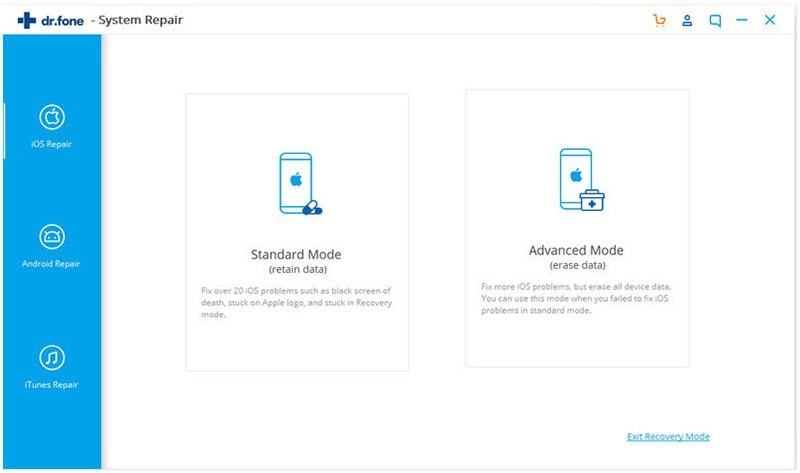 Step 3. Activate DFU mode
You will see the details of your iPhone, iPad or iPod Touch displayed, if the connection has no issues and is successful. Click on "Next" to proceed to the next step.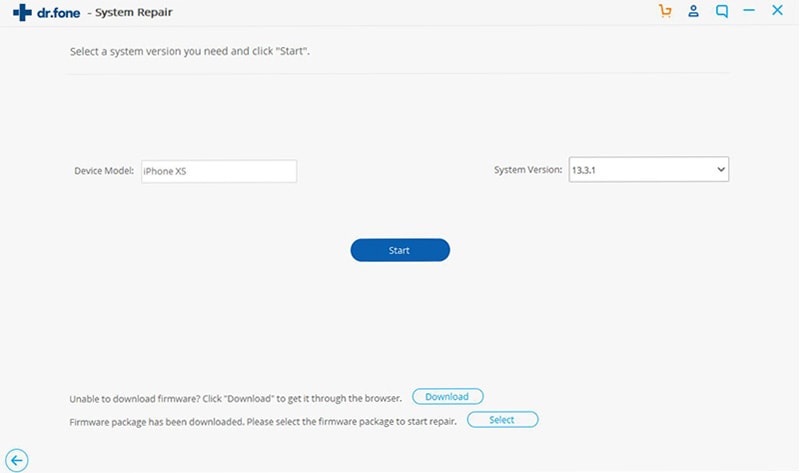 If you do not see the details of your device, then it means that it is not properly connected or cannot be recognized.
You need to go into DFU mode when prompted by the tool.
You don't know how to go about it?
Well, follow these simple steps: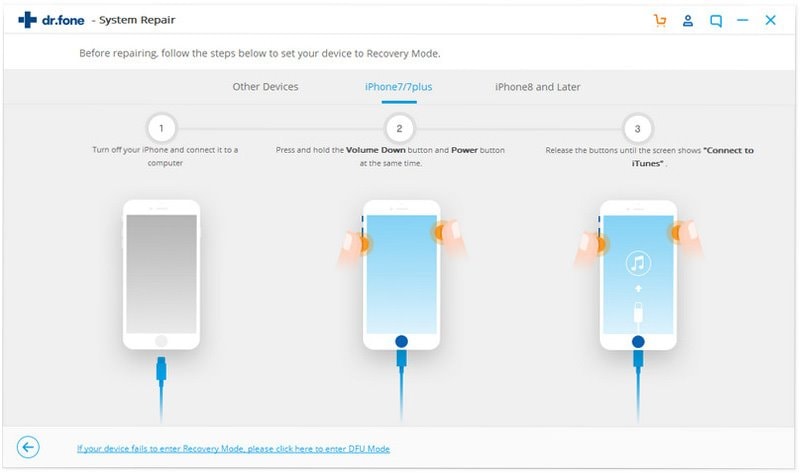 For iPhone 7/7 Plus:
Hit the Start button
Now press the "Power" and "Volume Down" buttons at the same time.
Release the "Power" button but not the "Volume Down" button till you enter DFU mode.
For iPhone 8/8 Plus:
Switch off the iPhone and then connect it to your computer
Start off by pressing and releasing the "Volume Up" button, and immediately followed by pressing and releasing the "Volume Down" button.
Now press and hold the side button to access Recovery Mode.
For other iOS versions and devices:
Connect your iPhone to your computer and then press the "Start" button.
Press the "Home" and "Power" buttons at the same time.
Release the "Power" button but keep pressing the "Home" button to get into DFU mode.
Step 4. Confirm your device
After going through the step above, your iOS device will be detected by the computer. You will need to fill in some options before downloading the required firmware. If you do not know the details of your device, click on the green link under the "Download" button.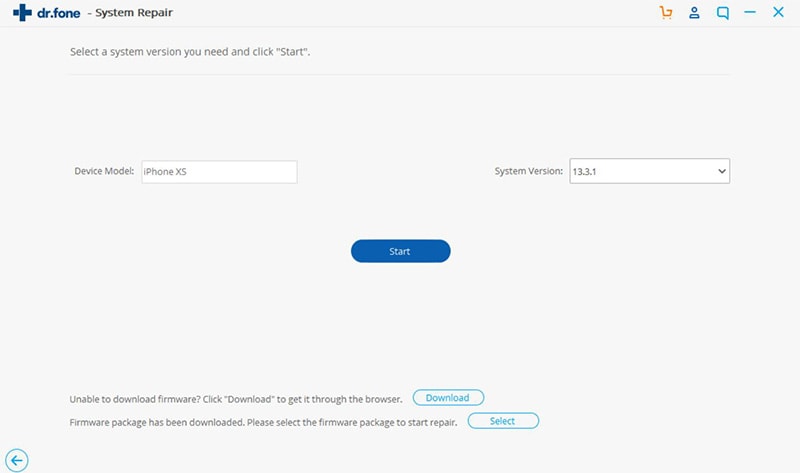 Once you have filled out the options, click on the "Download" button to get the firmware. Get a magazine to read or watch some TV because the download may take a long time.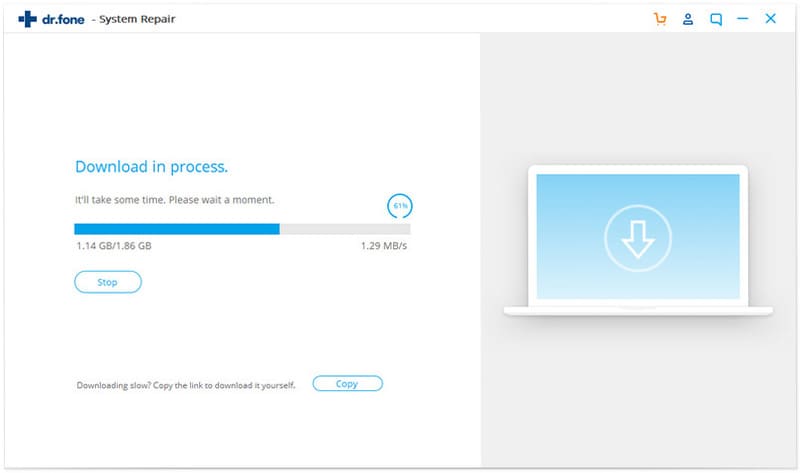 You can hit "Select" and browse to the location of the firmware, if you have previously downloaded it to your computer. Import it to your device.
Step 5. Repair your device
With the firmware installed, you may now repair the error 2005 iPhone 6 issues that has been bothering you for a while. If you want to keep your native data after the repair process is complete, leave the "Retain Native Data" check-box selected. This way you still keep your data when the process is complete.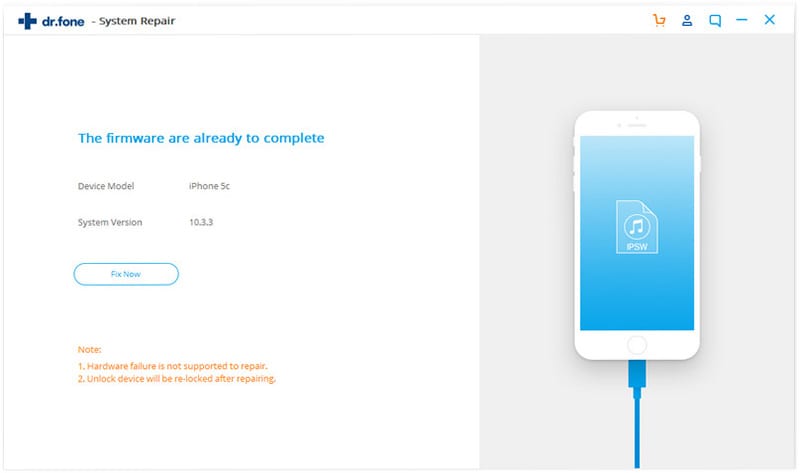 Click on the "Fix Now" button and heave a sigh of relief... Within a few minutes, the iPhone error 2005 issue will be resolved.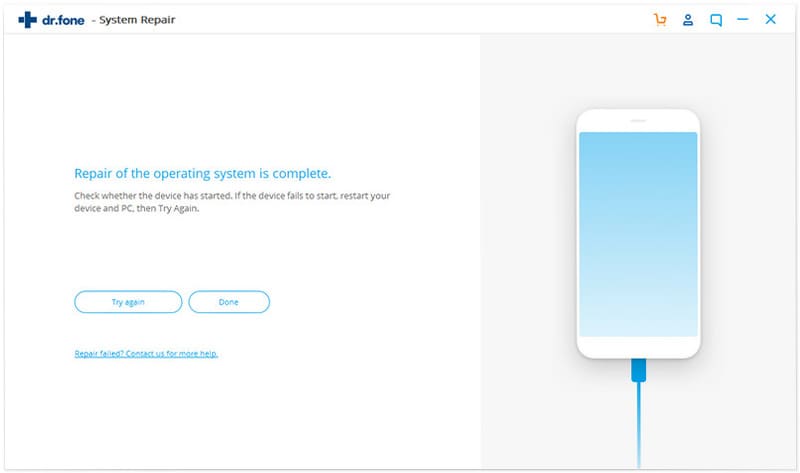 You can now happily access your iTunes account and files once more.
Part 2. 8 most comprehensive ways to fix iTunes error 2005
Switch USB port on computer ; it is quite normal for some ports to malfunction while others are left in good condition. Simply change the USB port and your iPhone error 2005 will slink away.
Change the wall charger ; the wall charger of your iPhone can sometimes causehardware or firmware issues leading to iPad restore error 2005. Simply change the charger and your device will access iTunes in the normal manner.
Try using a different dock connector or leave it out ; The dock connector may also affect how your device connects to iTunes. Change this or connect without the dock connector to access your iTunes account.
Disable antivirus software ; an antivirus may sometimes hinder certain functions of the internet and cause the iPhone 4S 2005 error. Disable the antivirus and try connecting again.
Allow iTunes though firewall:
Choose "Control Panel" from the Windows "Start" Menu
Now select "System and Security", and then choose "Windows Firewall"
Now hit "Allow a program or feature through Windows Firewall"
Go to "Allowed Programs and features" window and select "Change Settings"
Confirm that iTunes is selected for your preferred network
Now choose "iTunes" and then hit "Open".
In the "Add a Program" window hit " Add"
Now click on "OK"
Check Internet connectivity; maybe your iPhone is not connected to the Internet and that is why you are getting the error 2005 iPhone 6 issue. Try accessing a website on your browser to see if you have Internet connectivity.
Update iTunes; For a long time, obsolete version of iTunes have always caused connection errors. Simply update the iTunes software on your computer and the error will be resolved.
Change iTunes host file
Basically this will change how your computer communicates with the Apple servers.
Windows users should go to C:\Windows\System32\drivers\etc\
Mac users should type /etc on the finder
This will allow you to access the host file.
Using notepad, edit the host file and delete the lines with:
208.105.171 gs.apple.com
0.0.1 gs.apple.com
Now you can try restoring your iPhone again and the iPhone error 2005 issue will be gone.
Part 3. Comparison of dr.fone –
System

Repair (iOS) and other 8 ways

The 8 alternative ways of solving the iTunes error 2005 issue bear a high risk to losing your data completely.

Imagine that video you took at your sister's wedding, or your child's first birthday party. You cannot stand to lose such crucial memories.

dr.fone – System Repair (iOS) is one tool that gives you the power to resolve any issue on your device, while keeping all your data safe.

No more losing valuable data because of errors on your device.

Get dr.fone – System Repair (iOS) NOW! And kiss errors and other iOS issues goodbye.