Discovering that you've accidentally deleted your favorite pictures from Motorola Photon 4G can be heart-stopping, but you shouldn't be worried. With a reliable data recovery software and a little patience, there's a good chance that you can to restore your precious photos. However, there are thousands of photo recovery software available online, which makes it difficult to identify the right one for your needs. In this page, we make your work easier by walking you through everything you would like to know about the best Motorola Photon 4G photo recovery software.
Part 1. How to Recover Deleted Pictures from Motorola Photon 4G
Recoverit (IS) (or Recoverit (IS) for Mac) is the most complete and reliable data recovery software available today. With superior picture recovery, an extremely simple interface, an excellent "Deep Scan" mode, and many other advanced features, this software is undeniably the best Motorola Photon picture recovery software.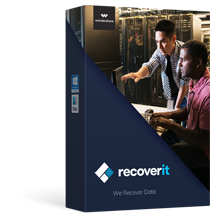 Why Choose This Motorola Photon Picture Recovery Software:
The software recovers data from multiple devices- cell phones, USB flash drives, players, hard drive/SSD, etc.
Recovers almost all kinds of commno files, (photos, videos, documents, emails, audios, archive files, etc.
Offers a 100% risk-free data recovery without overwriting, replacing or damaging your files.
Restore data lost due to different data loss scenarios - (accidental deletion, formatting, unexpected power failure, corruption, etc.)

2,965,271 people have downloaded it
Step-by-step Guide on How to Recover Deleted Pictures from Motorola Photon 4G

Tips:
To recover deleted pictures from Motorola Photon 4G, you need to connect it to your computer as an external SD device. You can either use the original USB cable that it came with or unmount & remove the SD Card, and connect it to the computer using an SD Card reader.
Step 1. Download & Install the Program
Download Recoverit (IS) using Firefox, Chrome or any other browser. Then install the program by opening or clicking the downloaded file. After installing the software, double-click on it's icon to launch it.
Step 2. Select the Location
In the new window, you'll find a list of locations that you can scan- "Devices", "External Devices", "I can't find my partition". Select your Motorola Photon 4G's internal storage space or SD Card from "External Devices" and then click "Start" to start the scanning process.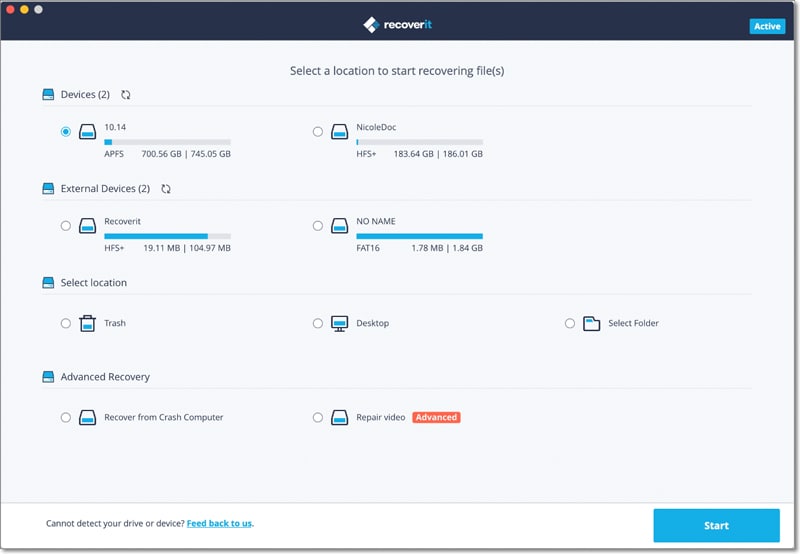 Step 3. Scan & Filter Data
As soon as the default scanning process is completed, a new window will appear with a list of scanned data. You have 2-ways to find your deleted pictures.
Go to the left side of the window, and click either the "Files View" or the "Tree View" option. You can then select "Photos" from the categories and check the status of each of your pictures on the right side of the current window to decide whether you can recover it or not.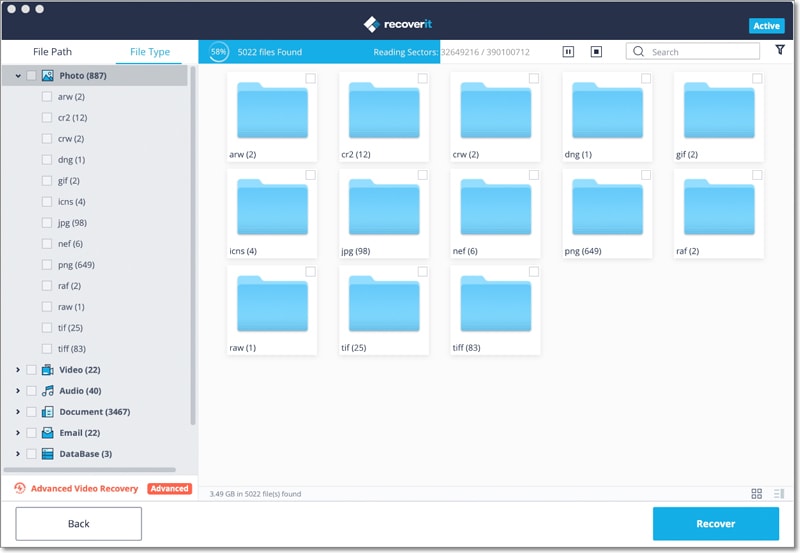 You"ll find an input box, which allows you to type a file name or file path in it. Just do that and then click the "Filter" button beside the box. A pop-up window will then ask you to screen out the target file using "Size" & "Date" of your deleted data.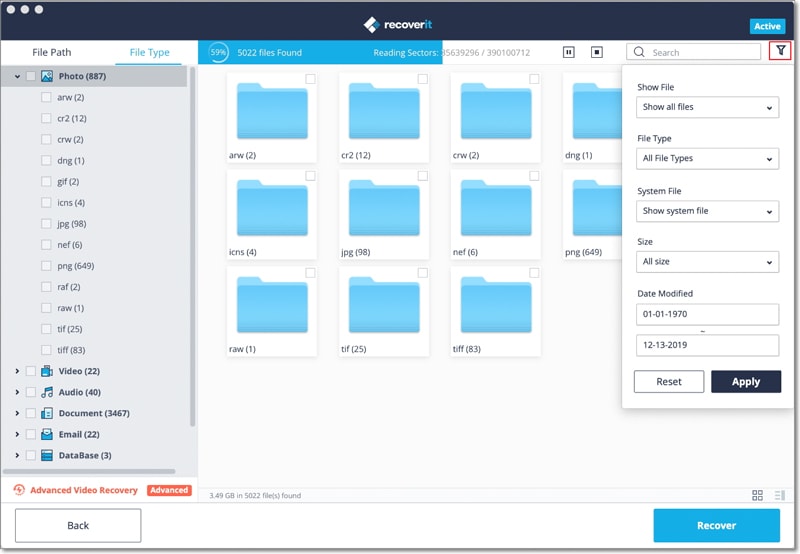 Step 4. Deep Scan
If the software hasn't scanned your desired pictures with the default "Quick Scan" process, you are free to use the "Deep Scan" feature, which scans your Motorola Photon 4G's internal storage space or SD Card more deeply and completely to recover more photos. You can directly trigger this feature by clicking the "Deep Scan" option- located at the bottom section of the software's window.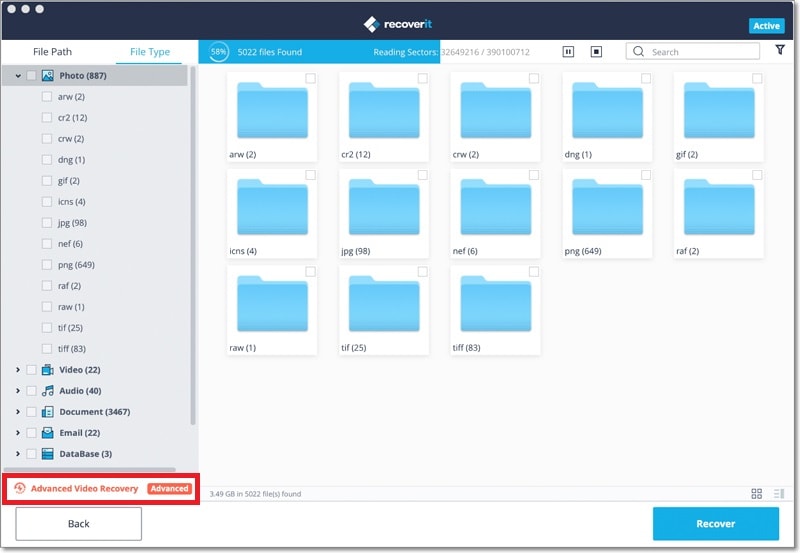 Step 5. Recover Deleted Pictures from Motorola Photon 4G
Find the pictures you would like to restore, check them, and select the "Recover" button to complete Motorola Photon 4G photo recovery with the help of Recoverit (IS).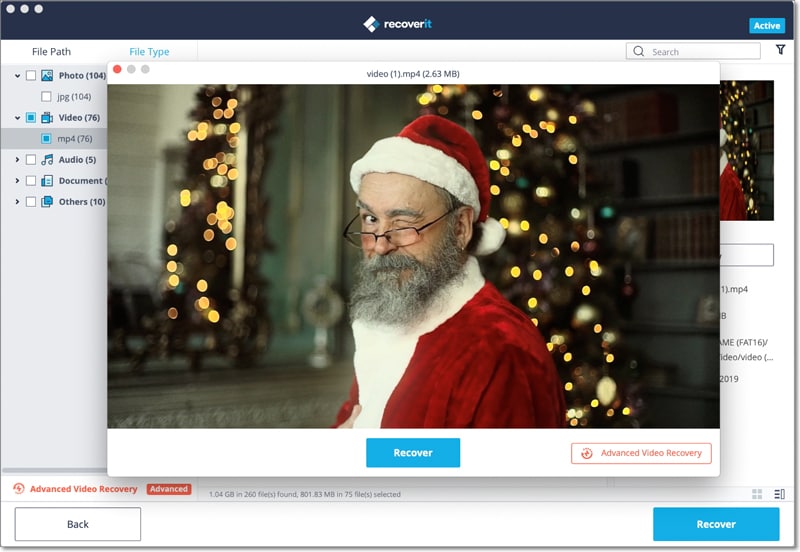 Part 2. Why is It Possible to Recover Deleted Pictures from Motorola Photon 4G?
When you delete pictures from your Motorola Photon 4G's internal storage space or SD Card, they aren't deleted permanently. It's the links to the images that disappear, opening up space for more data, but the pictures remain until overwritten by new files. So if you can act quickly, you'll be able to recover them successfully.
One thing you should keep in mind, though, is that it's safe not to use your Motorola Photon 4G or SD Card until you recover your deleted pictures. As mentioned above, any operation on your phone or SD Card, including taking more photos, will generate new data and overwrite the link to the deleted pictures and the space created once they were deleted. This results in permanent loss, making the photos irrecoverable.