If you want to perform photo recovery after data format, or restore damaged photos, then you have come to the right place. A lot of people end up losing their important photos due to different reasons. The good news is that you can restore damaged photos or recover corrupted images by using the right tools. To help you, I will make you familiar with some of the best ways to do corrupted photo recovery right here.
Part 1. Common Reasons for Loss of Photos
Before we learn about corrupted image recovery software, it is important to know what could have caused the issue. You can lose your photos from your hard disk or any other source due to these common reasons.
An accidental deletion of photos


The overwriting of photos with some other content


The hard disk or photo source can get corrupt


A partition in the hard disk can be lost or corrupt


A malware or virus attack on the data source


The over-processing of photos by third-party tools


Halting of the photo transfer process in between


Formatting of the hard disk or the external source

Part 2. Recoverit (IS) – The Best Data Recovery Tool
If you want to retrieve the lost, deleted, and inaccessible data from a source, then give Recoverit (IS) a try. It has dedicated tools to perform photo recovery after format on Windows, Mac, iOS, and Android. Besides that, it can recover corrupted pictures under different scenarios as well.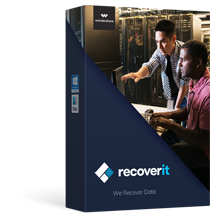 A Life Saver to Solve Your Data Loss Problems!
It supports more than 1000 different types of formats for photos, videos, documents, emails, zipped files, etc.
Users can perform data recovery under different scenarios like accidental deletion, formatted hard disk, virus attack, and more.
You can get a preview of the retrieved content and save it to the desired location.
Extremely user-friendly with high data recovery rate
Different data scanning modes (normal and deep)
Free download available

2,965,271 people have downloaded it
To learn how to recover corrupted photos with Recoverit (IS), follow these steps:
Step 1: Select a recovery mode
Launch Recoverit (IS) and choose a recovery mode from its welcome screen. Also, if you are recovering data from an external source, then connect it beforehand.
Step 2: Choose a location to scan
In case you are scanning an external source, then select the type of storage unit (like hard disk or SD card).
Also, choose the location where you wish the application to look for lost photos.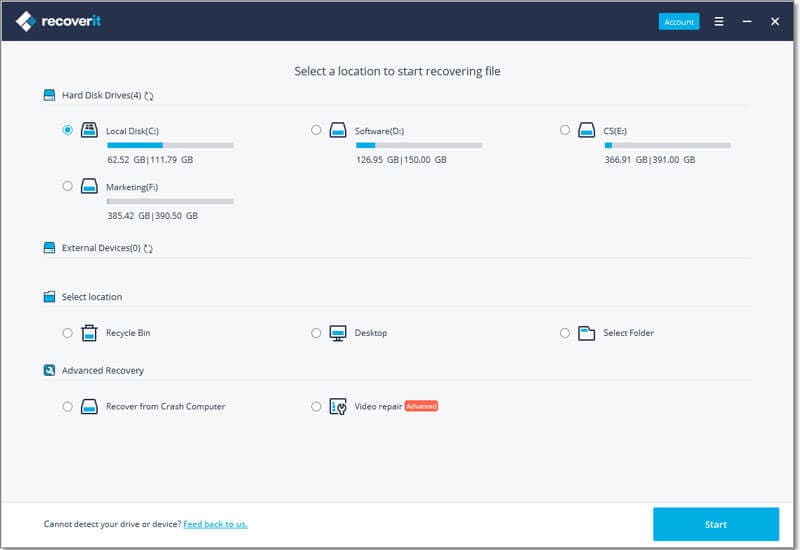 Step 3: Preview and restore your photos
Wait for a while as the application will scan the source for any lost or inaccessible photos.
In the end, you can preview the recovered data and restore it selectively. If you want, you can perform a deep (All-around) scan as well.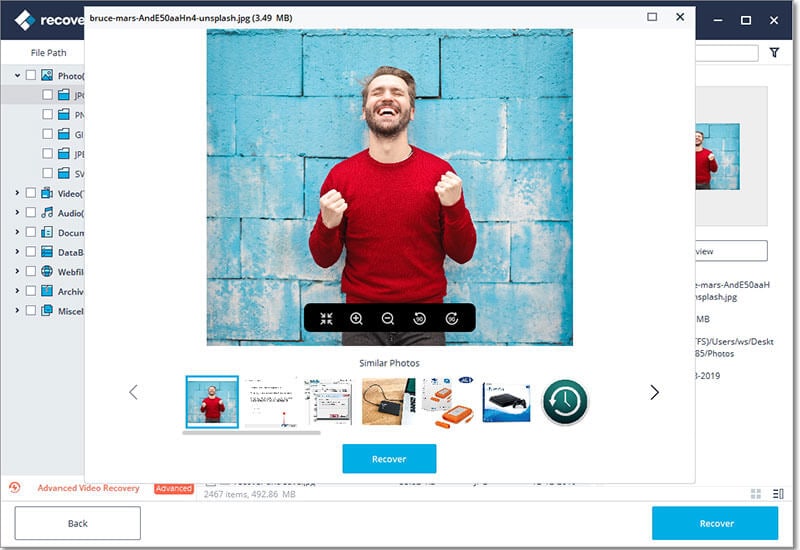 Part 3. Data Repair Solutions to Try
Apart from trying corrupted photo recovery software, you can also wish to repair your photos as well. For instance, if you are not able to open a photo or its meta data has been damaged, then you can use the following photo repair tools.
1. Stellar Photo Repair
Stellar Photo Repair is a popular tool that can fix all kinds of photos in formats like JPEG, GIF, PNG, BMP, SRF, TIFF, and more. You can even load multiple photos and repair them at once. Users can preview the repaired photos and save them to the location of their choice. It is a professional DIY tool that is known to produce exceptional results.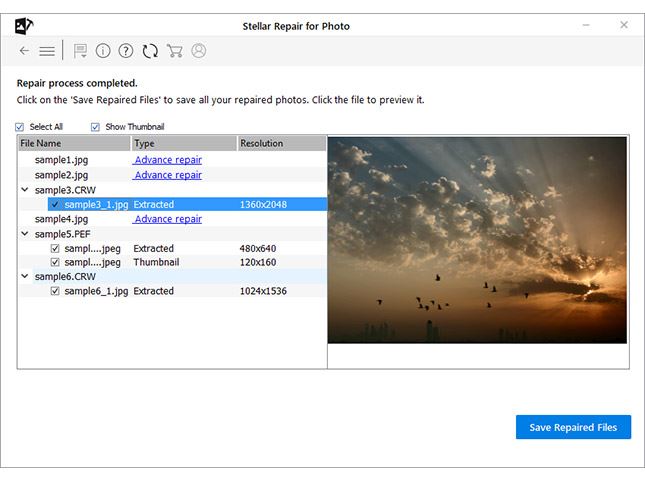 2. File Repair
As the name suggests, the tool can repair different kinds of files (with several formats). You can repair photos, videos, word files, excel sheets, presentations, and more. While the success rate is not as high as Stellar for Photo Repair, it is a lightweight tool with a user-friendly interface.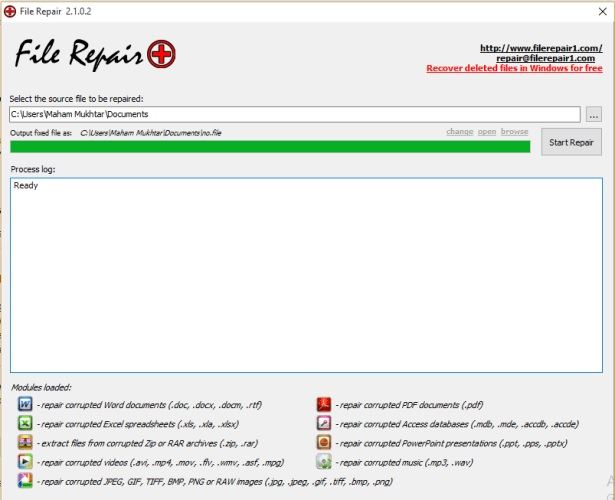 3. PixRecovery
PixRecovery by Office Recovery is a dedicated photo repair tool. Not only common photo formats like JPEG, BMP, PNG, it can also repair RAW files as well. The tool can load multiple images and perform a fast repair of photos automatically. While it is compatible with leading Windows versions, the tool is not available for Mac as of now.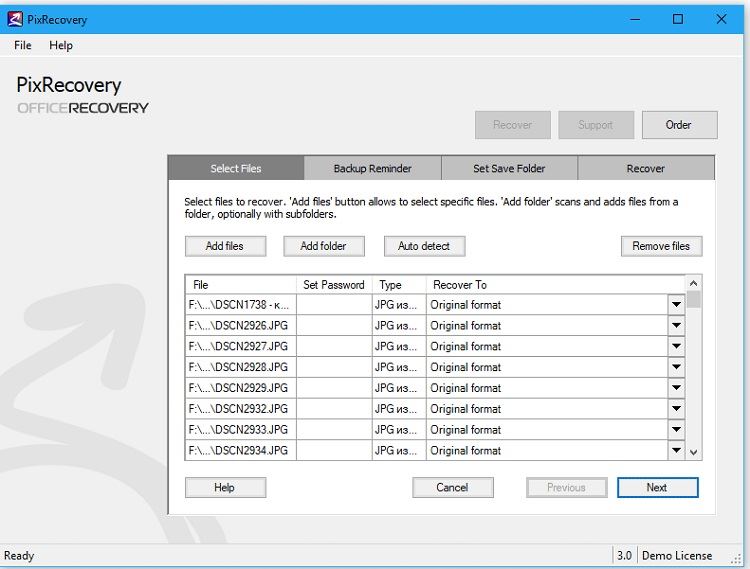 Part 4. How to prevent your photos from getting lost?
Since it is better to be safe than sorry, consider following these quick suggestions to prevent data loss in the future.
Always maintain a backup of your photos at a safe location.


Keep a data recovery tool handy and use it as soon as possible.


Avoid the formatting and partitioning of your hard disk too many times.


Install an anti-virus and keep it active in the background.


Avoid connecting your system to public Wifi or your hard disk to public computers.


Don't close the system when the photo is being transferred or processed in the background.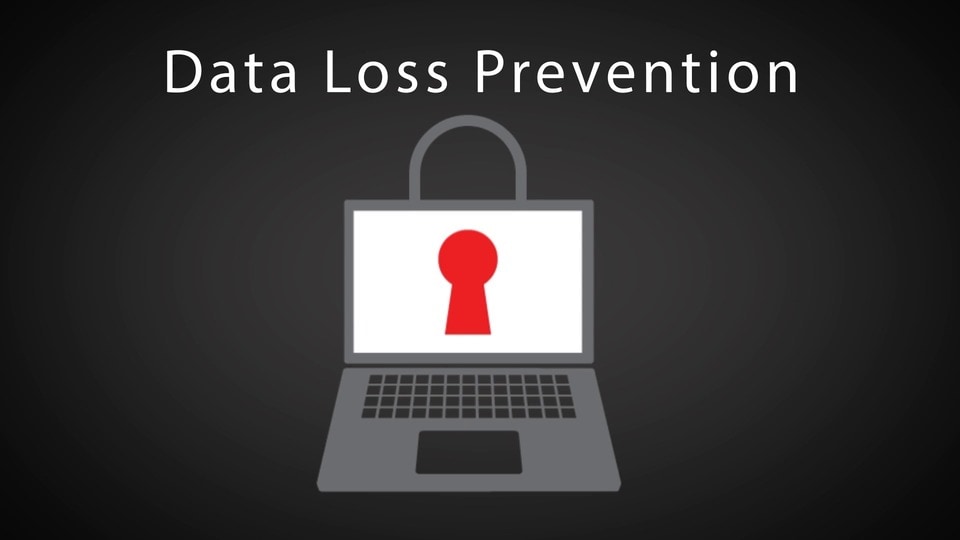 Now when you know how to restore damaged photos under different scenarios, you can easily get back your lost images. Go ahead and download Recoverit (IS) on your Windows or Mac. Keep the tool handy and perform photo recovery after format at the time of an emergency. You never know – Recoverit (IS) might end up saving the day (and your photos) during an unforeseen situation.